She's 25 and on the rise: How L.A. choreographer Micaela Taylor became a hot name in dance
Micaela Taylor thought the accolades might come by the time she was 30. But at 25, the choreographer and dancer is already watching the recognition grow — fast — for her unique style of movement she calls "contemporary pop."
Taylor leaped into Dance magazine's "25 to Watch" in 2019. Her seven-member company TL Collective will premiere its evening-length work "Drift" at Ford Theatres on March 30. And in the summer, the company will take the work to Massachusetts for the historic Jacob's Pillow dance festival.
"Her name keeps coming up over and over," said Dance magazine's editor in chief, Jennifer Stahl. "And then her work itself, it's very intriguing. The movement language she works with has a very fresh quality. … It's got a kind of quirky sense of individuality."
Athletic and graceful. Precise and fluid. Taylor's choreography settles in the dichotomies. Her movement is most clearly based on classical contemporary technique — long extensions and beautiful lines, quick pirouettes. But it also draws from elements in hip-hop: chest popping and the musicality of street dance. Onstage, Taylor is a magnetic presence, her long limbs accentuating her calculated movements.
SPRING ARTS: Highlights for dance, theater, classical, art and architecture »
Taylor was rehearsing an excerpt from "Drift," a piece based on her experiences with isolation and vulnerability, with five of her dancers at a mid-Wilshire studio. Soft-spoken and focused, she easily transitioned between the role of dancer and choreographer, ensuring her movement matched the group's while simultaneously examining the choreography in the mirror to make minor adjustments.
At one point, Taylor worked with Matt Luck and Elizabeth Finfgeld on an expressive, mime-like duet. The two dancers made exaggerated faces at each other while rapidly moving through precise poses. In another moment, Taylor worked with dancer Jen Lacy on using her chin to initiate a dramatic fall to the ground.
Near the end of rehearsal, the company ran through the near-15 minute excerpt. The music, which Taylor said she composed herself on GarageBand, was dark and distorted, mixing crashing sounds, screams, chants. In moments of unison, the dancers looked like synchronized androids. Even brief periods of rest seemed perfectly calculated.
After running the exhausting excerpt, the dancers collapsed on the floor, some propping their feet up on the studio's ballet bars.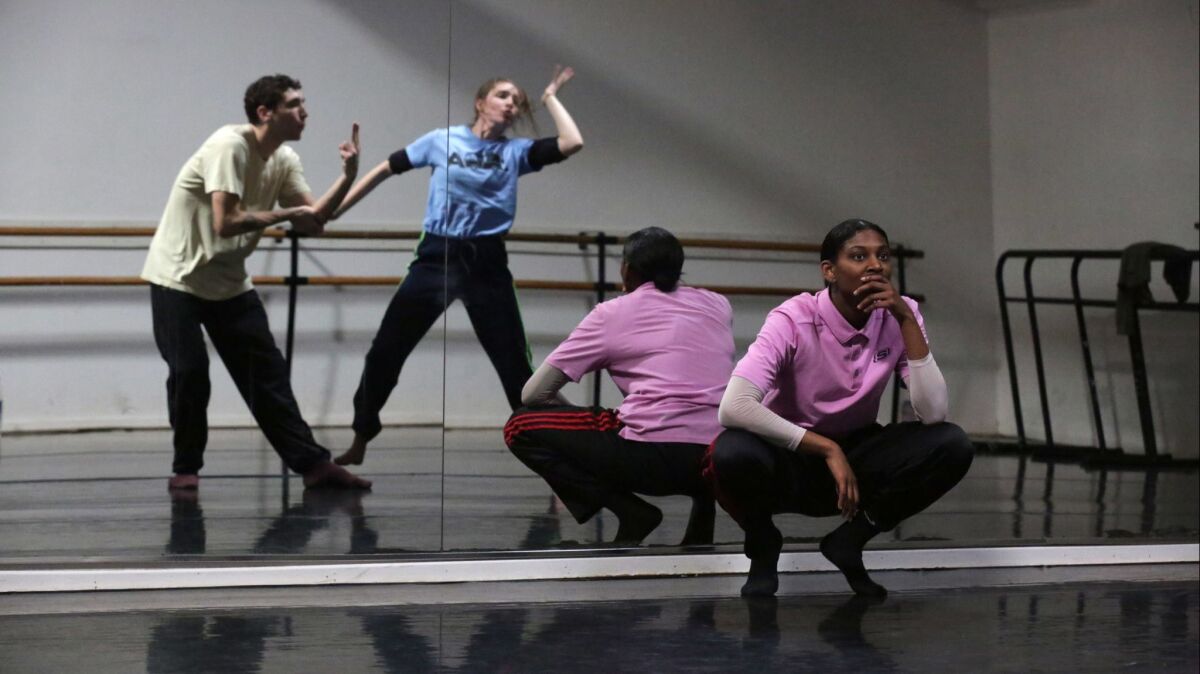 Born and raised in Windsor Hills to pastor parents, Taylor showed off her natural inclination toward dance when she was about 3. When Taylor got up onstage at church, her mother was the first to notice that she was on rhythm. "She saw it and invested in that and put me in a hip-hop class," Taylor said.
Taylor began training in hip-hop and African dance at the Debbie Allen Dance Academy and Lula Washington Dance Theatre. The goal then was to become a commercial dancer, performing in music videos and going on tour with artists.
But around 12 she observed a ballet class at L.A.'s Dance Arts Academy — the same place she holds rehearsals some 13 years later — and immediately saw the importance of classical training.
"I needed this training to enhance even my hip-hop," she said. Although a late bloomer, Taylor shifted her focus to train exclusively in ballet and modern dance.
The movement language she works with has a very fresh quality. … It's got a kind of quirky sense of individuality.
— Jennifer Stahl, editor in chief, Dance magazine
After graduating from the L.A. County High School for the Arts, Taylor attended Cornish College of the Arts in Seattle. In an environment where she heard comments that commercial dance "wasn't real dancing," the desire to be a backup dancer faded. "I kind of lost the respect for hip-hop and jazz, unfortunately," the choreographer said. "Because it takes great training to be precise and strong as a hip-hop dancer as well."
Taylor landed her first professional gig immediately after graduating from college, working with Ate9 Dance Company, a contemporary troupe based on the Gaga dance technique developed by Israeli choreographer Ohad Naharin. Somehow, though, her hip-hop roots found a way back one day while winding down after rehearsal.
"When I moved, I just wanted to hit the hi-hats and isolate and pop-lock," she said. Taylor realized that the "natural ability that I have to groove and to rock out to music can be utilized with the training I had now gained."
Another pivotal moment came when Taylor had the opportunity to choreograph Ate9 dancers. It was the first time she created work for professional dancers and saw her ideas truly come to life. She was also experiencing the ups and downs of dancing with a professional company for the first time.
"The competitiveness can be so overwhelming that you don't really feel known or that you're really connecting with anybody on a deeper level," she said. "That sparked me to want to create a different — not just dance moves but atmosphere for dancers."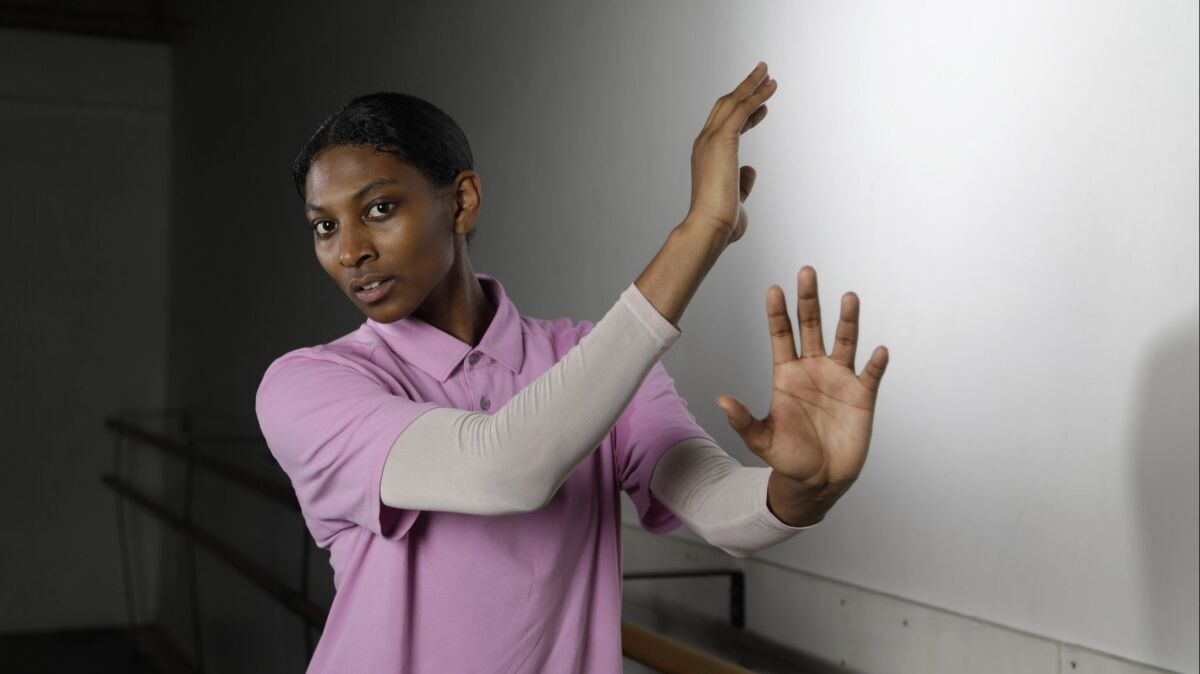 After dancing with the L.A. contemporary company BodyTraffic, Taylor organized a group of dancer-friends to form TL Collective (short for "to love") in 2016. They rehearsed for what turned into a performance at Highways Performance Space in Santa Monica.
While the company performed around L.A., Taylor also worked as an independent choreographer, creating work for L.A. Contemporary Dance Company and other groups.
In 2018 Taylor was commissioned to choreograph for BodyTraffic and won the Springboard Danse Montreal "Emerge" choreographic award, allowing her to create work for the New York-based Gibney Dance Company's current season.
Taylor has realized at a young age the challenges of running her own company. To help fund "Drift," she used the crowd-funding site Kickstarter to raise more than $9,400 to pay dancers and fund travel. "Internally, there's this battle that I have to overcome daily, which is, 'What are you doing?'" she said, laughing. "You're young and you don't have much experience. … You're not rich."
She really has a very well-defined and advanced ability to make dance.
— Olga Garay-English, executive director Ford Theatres
Olga Garay-English, executive director of Ford Theatres, first experienced Taylor's choreography at the annual Dance/USA conference last June. During a question-and-answer session, she learned about Taylor's struggles with expensive rehearsal space.
"Here's an obviously extremely talented young woman," Garay-English said, "and she's prevented from really spending the kind of dedicated time she should be spending on creating her work."
So Garay-English offered Taylor an artist-in-residence position at the Ford Theatres, which allows the choreographer and her company to rehearse for free every day in March leading up to the evening-length performance. The position also provides an artist fee to help fund Taylor's work.
"It was just clear that she really has a very well-defined and advanced ability to make dance," Garay-English said. "She really just needs to be nurtured and supported."
Taylor credits her success to her faith. God, she said, gave her the confidence she needed. "I don't think without God I would have even taken that leap of faith, but I was reassured that things would work out."
And now, the young choreographer has a new set of goals for 30.
She wants to establish the TL Collective as a nonprofit. She wants to break ground in Europe. She also wants to return to her early dream and become a successful choreographer for TV, film and music. She wants the TL Collective to be recognized as one of the biggest dance companies in L.A. and beyond.
"Sky's the limit," she said. "I have big, big dreams. Just barely touched the surface right now."
MORE DANCE: For choreographer Jessica Lang, her company's final tour is a beginning, not the end »
♦ ♦ ♦ ♦ ♦ ♦ ♦ ♦ ♦ ♦
Micaela Taylor 'Drift'
Where: Ford Theatres, 2580 Cahuenga Blvd. East, Hollywood
When: 5 p.m. March 30
Tickets: $15-$20
Info: (323) 461-3673, www.fordtheatres.org
---
Get our L.A. Goes Out newsletter, with the week's best events, to help you explore and experience our city.
You may occasionally receive promotional content from the Los Angeles Times.