Review: Benedict Cumberbatch's 'Hamlet' is good and righteous; lifts London broadcast
Los Angeles Times Theater Critic
There has been such a frenzy of ticket-buying desperation and media-manufactured hype and controversy over the London production of "Hamlet" at the Barbican starring Benedict Cumberbatch that it was a relief to hear the soothingly familiar language of Shakespeare's tragedy as I settled into my seat at the cinema for the NT Live broadcast.
This melancholy Dane may have been dressed as though he had a personal shopper at Barneys, but the self-dissecting words falling from his lips transcended the cult of Cumberbatch's celebrity. The play is still, blessedly, the thing.
Cumberbatch's Hamlet struck me as modern traditionalist. His well-balanced portrayal combines classical clarity with an emotional openness that draws us deeper into the character's inner stalemate.
SIGN UP for the free Essential Arts & Culture newsletter >>
The production, which will have encore screenings throughout the area (visit www.ntlive.com for details), tries to be adventurous with old-fashioned auteur touches that don't — on the big screen, anyway — translate into a developing vision.
With Benedict Cumberbatch announcing his foray into "Hamlet," we take a look at other notable portrayals.
(Clockwise from top left: Johan Persson / Associated Press; Liz O. Baylen / Los Angeles Times; Patrick T. Fallon / Los Angeles Times; United Press Internatinal)
This Donmar Warehouse Production, directed by Michael Grandage, debuted in London and then came to Broadway in 2009. In London, Law starred opposite "Downton Abbey's" Penelope Wilton, who played his mother, Gertrude.
(Johan Persson / Associated Press)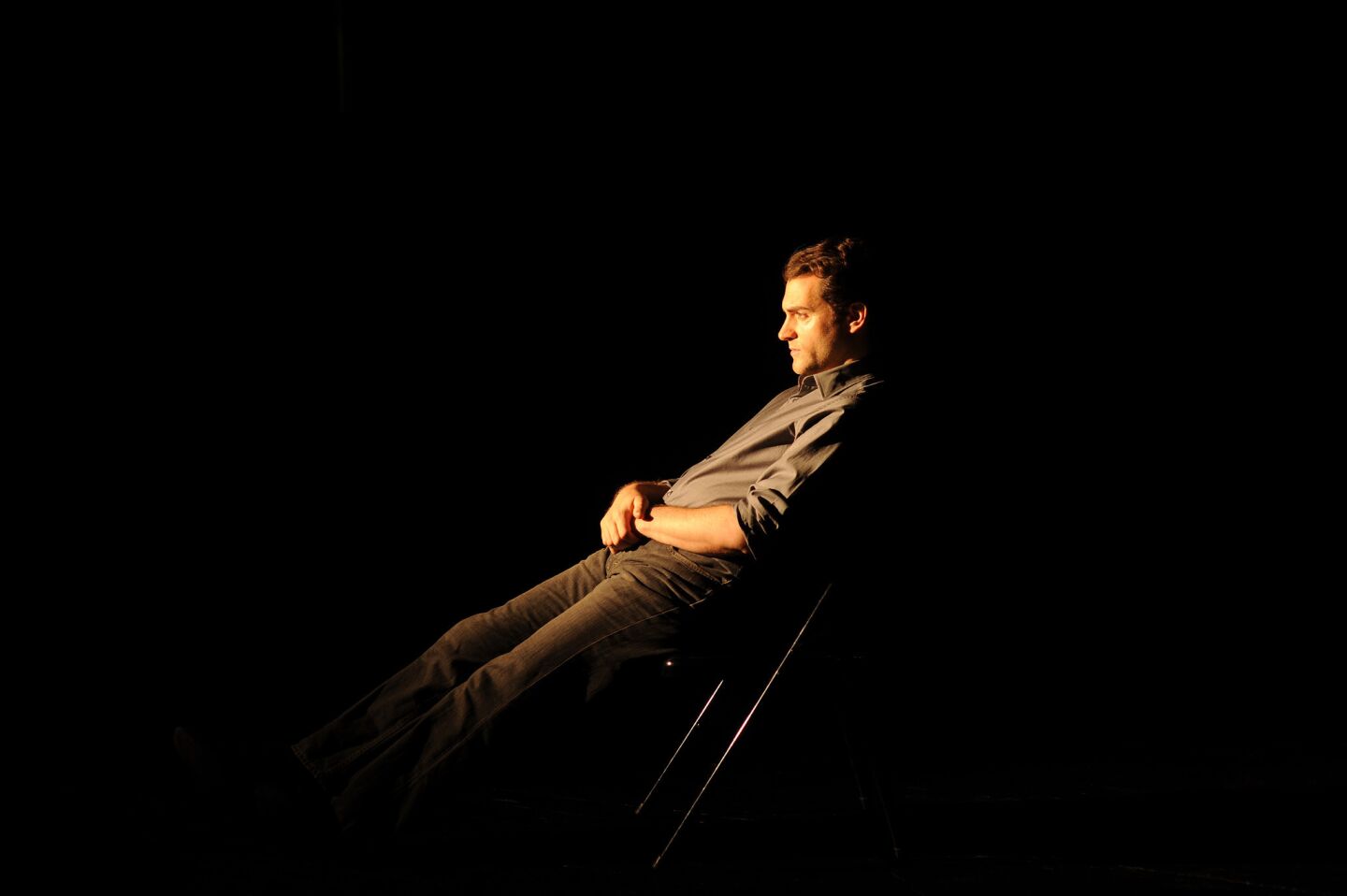 The "Boardwalk Empire" actor appeared in a 2008 Public Theater production, directed by Oskar Eustis, in New York's Central Park. The cast included Sam Waterston, who had played Hamlet in the park three decades earlier.
(Jennifer S. Altman / For the Times)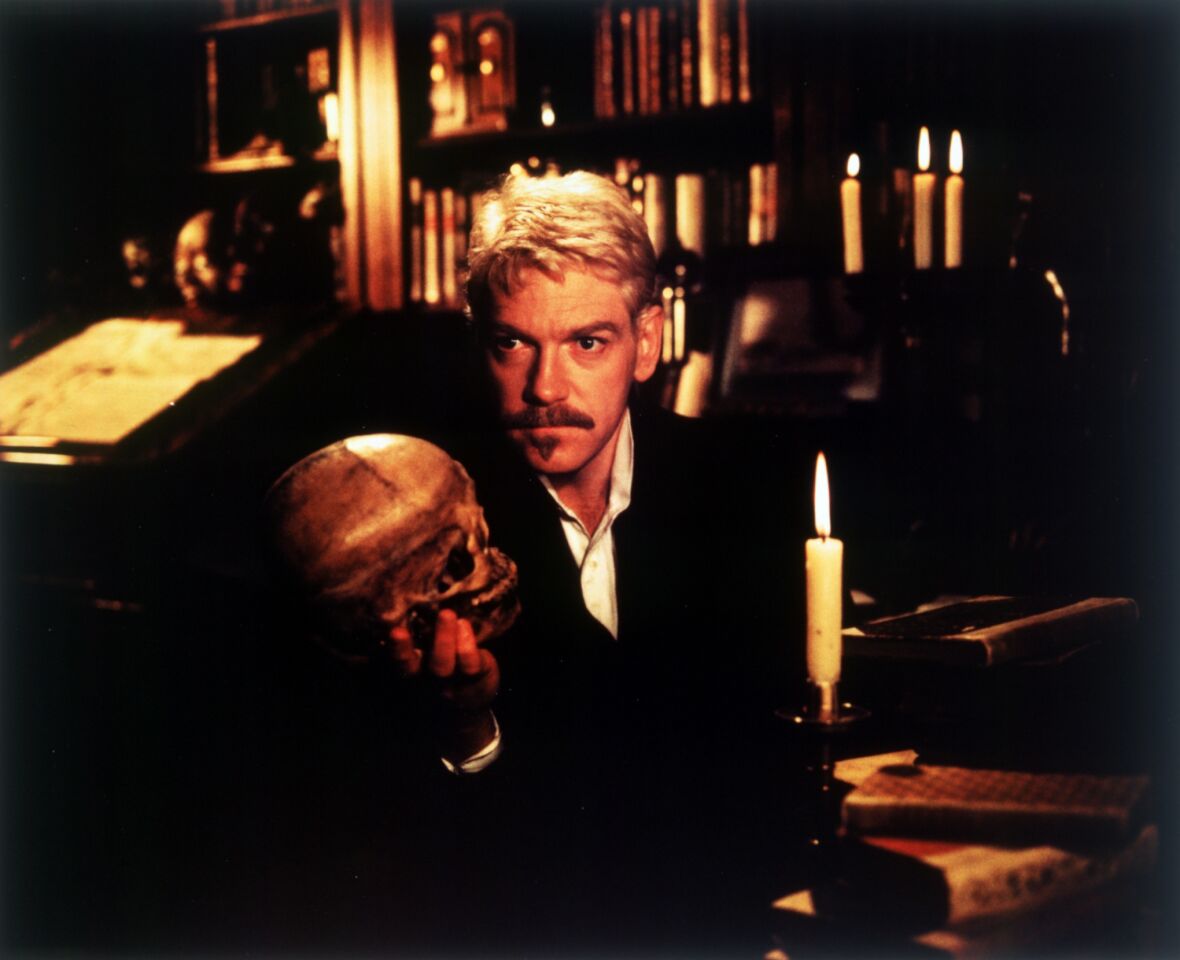 This 1996 movie version, which Branagh also directed, ran four hours and used the play's entire text, which was actually an amalgam of the Second Quarto, with additions from the First Folio.
(Handout / Los Angeles Times)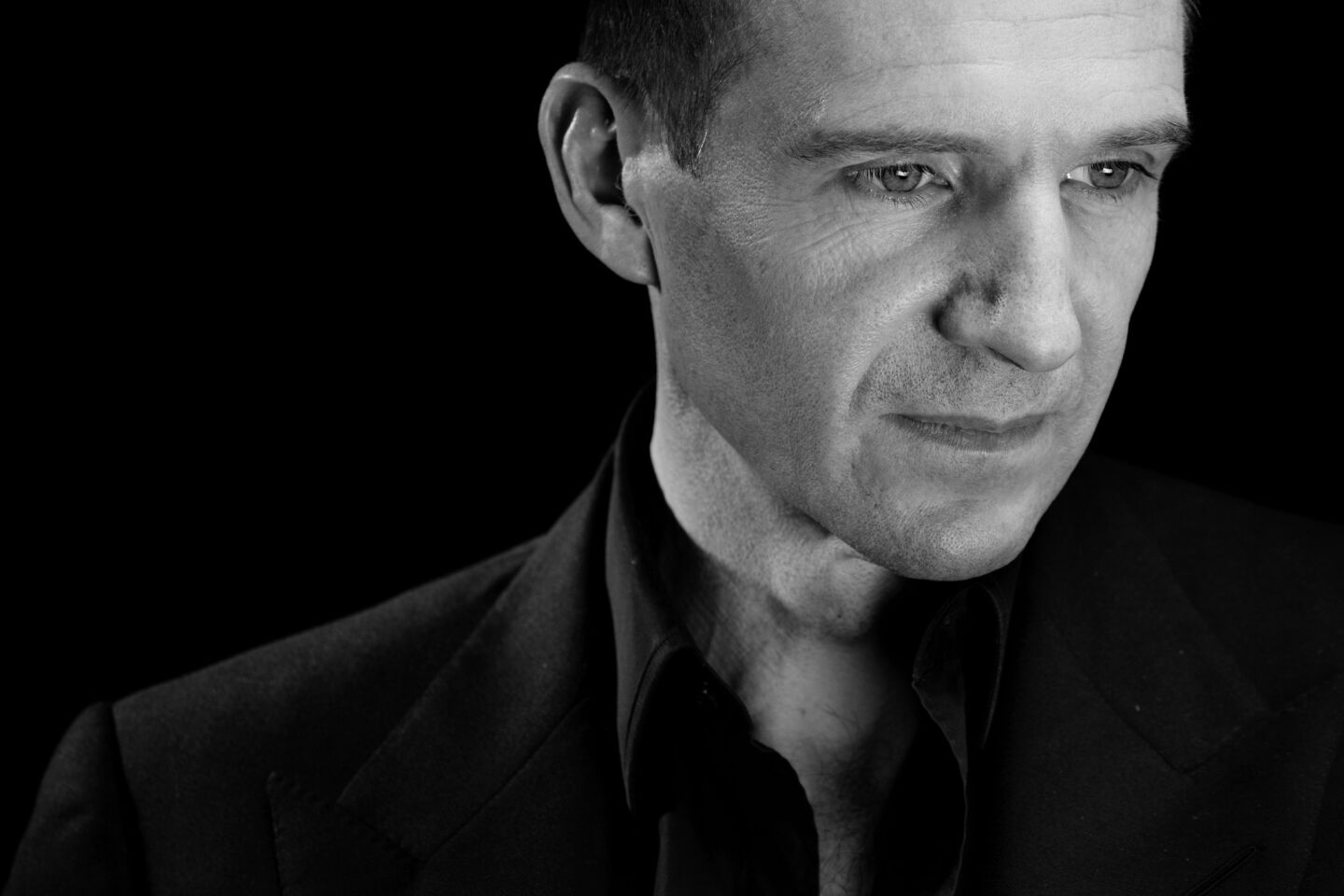 The actor won a Tony Award for a 1995 Almeida Theatre Company production, directed by Jonathan Kent.
(Liz O. Baylen / Los Angeles Times)
Franco Zeffirelli's 1990 movie version took a considerable risk casting Gibson, who at the time was known primarily as an action star. The film featured a cast including Glenn Close, Helena Bonham Carter, Alan Bates, Ian Holm and Paul Scofield.
(Kirk McKoy / Los Angeles Times)
As one of the few actresses to play the male role, Venora made a splash in a production directed by Joseph Papp at the New York Shakespeare Festival in 1983.
(Patrick T. Fallon / Los Angeles Times)
The Welsh actor impressed New York theater audiences in a 1964 production directed by John Gielgud. The production reaped significant publicity from the actor's recent marriage to Elizabeth Taylor.
(Central Press / Getty Images)
Lyndsey Turner's staging traps the characters inside an eerily posh Elsinore castle. This Denmark is so politically rotten that the palace is eventually reduced to rubble. To exact his revenge before those flights of angels sing him to his rest, Cumberbatch's Hamlet must pick his way through this superficial apocalypse.
It's a credit to his agility as a performer that he can execute all the empty gestures of Turner's production — donning a silly drum-major uniform, taking cover inside a toy fort, delivering soliloquies while standing on a giant banquet table — without ever losing the interior thread of a scene.
Tall, lean, athletic and weirdly handsome, Cumberbatch cuts a dashing figure as he flies gamely across the stage. Clearly he didn't want to star in a tame museum reconstruction of the play, though Turner's liberties are hardly groundbreaking.
The text is edited in ways that I found occasionally vexing, but the production ditched the silly idea of starting the show with Hamlet's "To be or not to be" speech and the rearrangements that remain are neither especially disruptive nor purposeful.
The cast fails to coalesce into an ensemble, though Jim Norton's busybody Polonius, always digging into his notebook of tired precepts, and Ciarán Hinds' suavely Machiavellian Claudius bring an unforced freshness to their roles. The same cannot be said of Sian Brooke's Ophelia, who mopes about looking like the recently axed frontwoman of a cover band, and Leo Bill's Horatio, who wouldn't register at all were it not for his tattoos.
Cumberbatch holds the center with his sympathetic responsiveness to Hamlet's plight. His grief at his father's death is intermixed with disgust at his mother's overhasty marriage. When he explains the situation to Horatio, he wants to convince his friend of the lucidity of his emotional logic.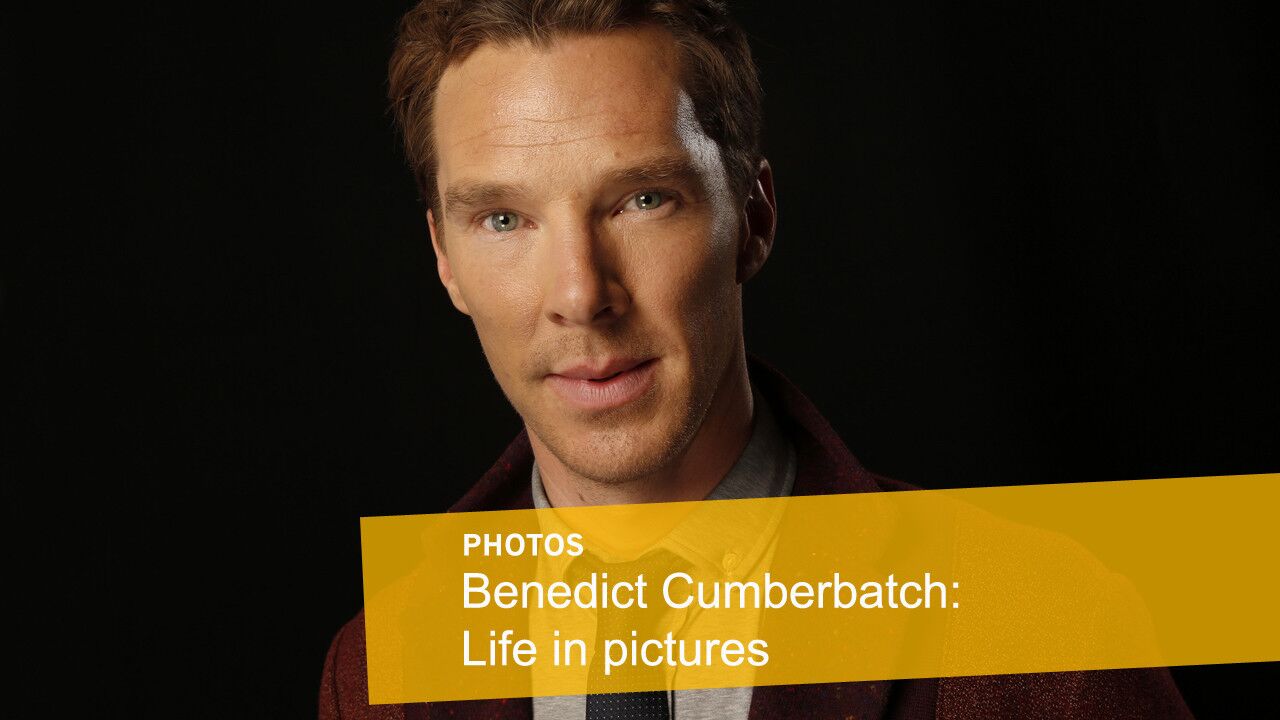 The actor has kept himself busy over the last few years, popping up in big-screen franchises like "The Hobbit" and "Star Trek," in the BBC series "Sherlock" and in awards-season fodder like "12 Years a Slave" and "The Imitation Game," the latter of which landed him his first Oscar nomination.
(Kirk McKoy / Los Angeles Times)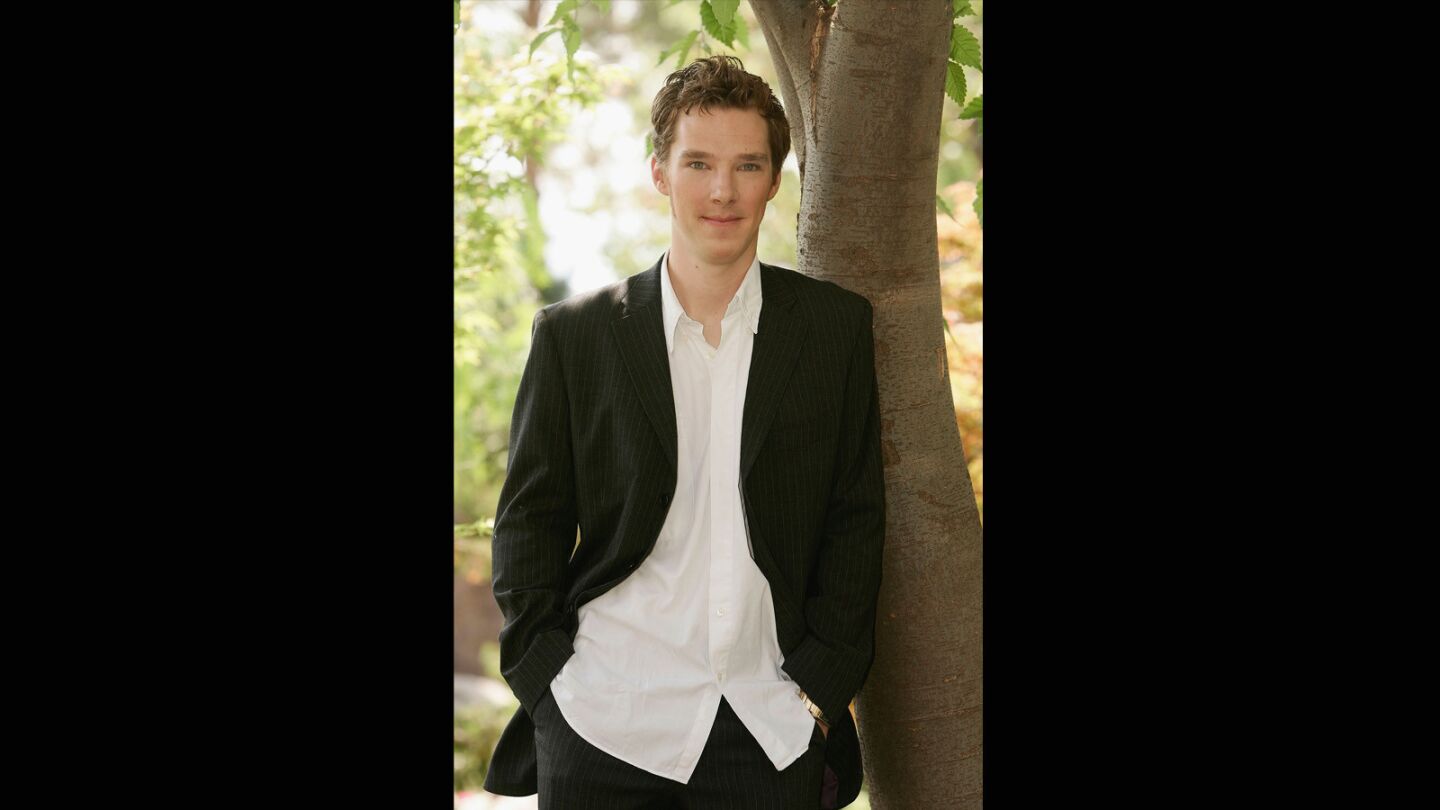 Cumberbatch was born July 19, 1976 in London. He studied drama at the University of Manchester and the London Academy of Music and Dramatic Art, and quickly became a fixture on the British theater scene. Pictured: Cumberbatch at a July 3, 2004 photo call at the Monte Carlo Television Festival.
(Pascal Le Segretain / Getty Images)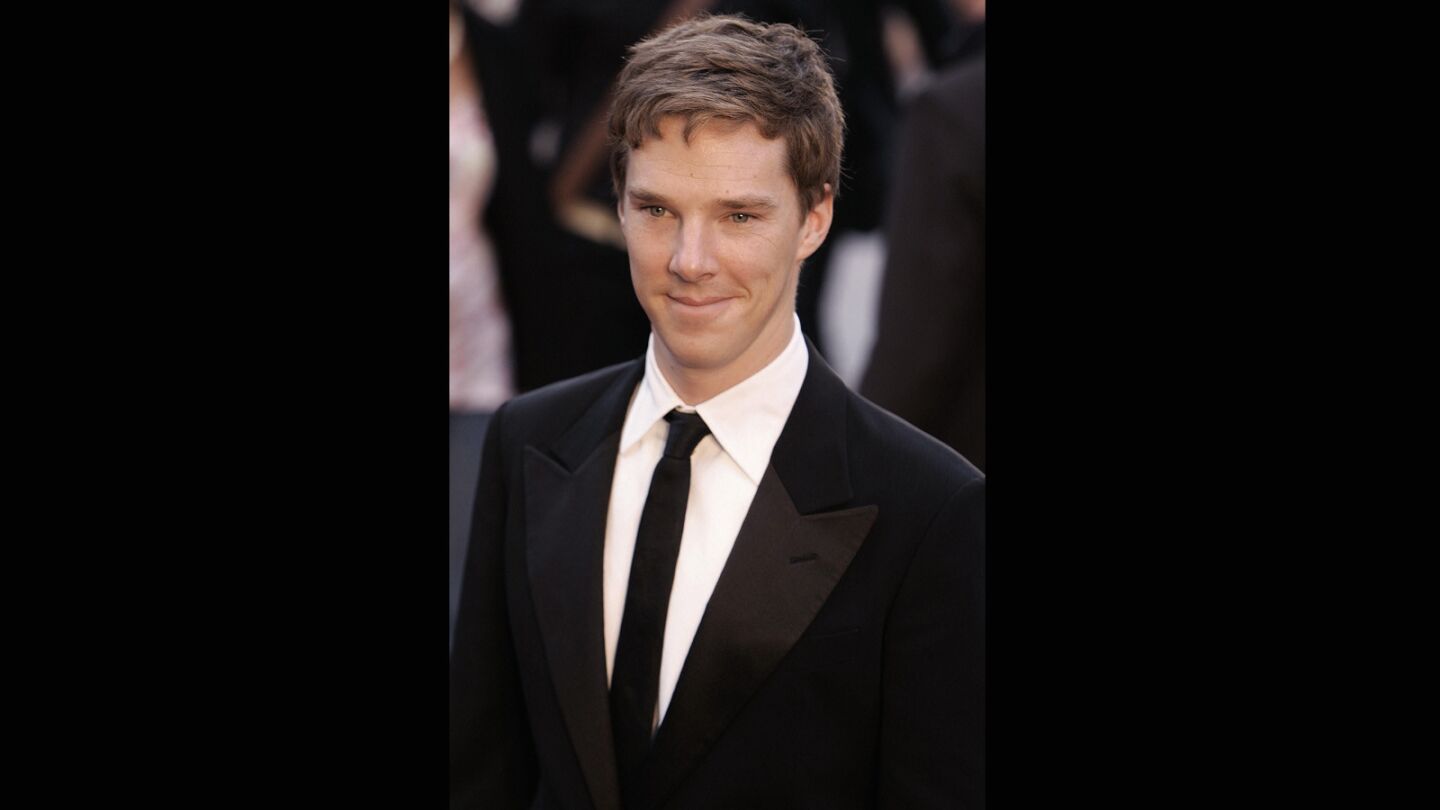 In 2007, Cumberbatch played a small role alongside his "Starter for Ten" costar James McAvoy in the period drama "Atonement," which also starred Keira Knightley. Seen here: Cumberbatch arriving at the film's British premiere on Sept. 4, 2007.
(Shaun Curry / Getty Images)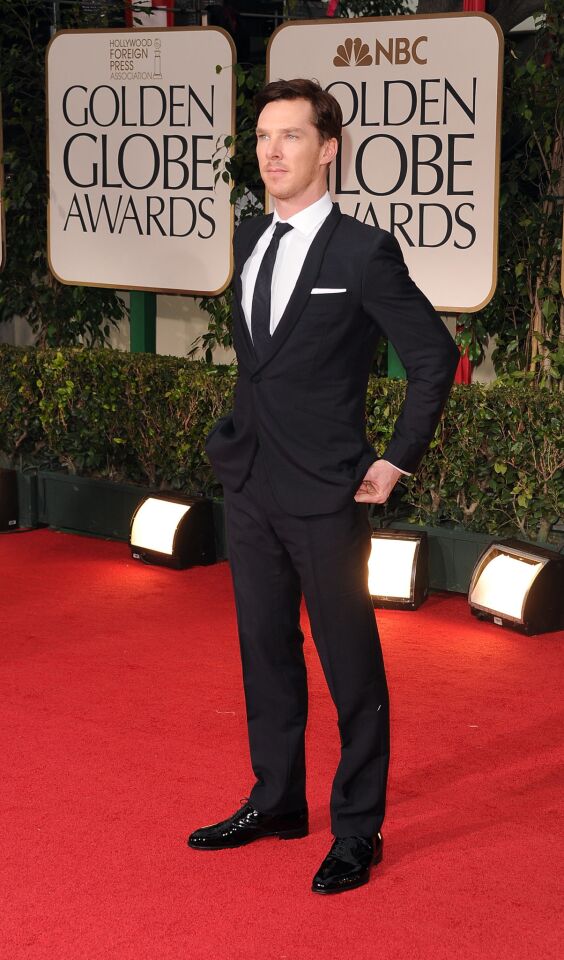 Cumberbatch on the red carpet of the 2012 Golden Globes, where he was nominated for his work on "Sherlock."
(Jason Merritt / Getty Images)
Cumberbatch at the 2012 Emmy Awards reception on Sept. 21, 2012. He was nominated for an Emmy for lead actor in a miniseries for "Sherlock." He won in that category two years later.
(Imeh Akpanudosen / Getty Images)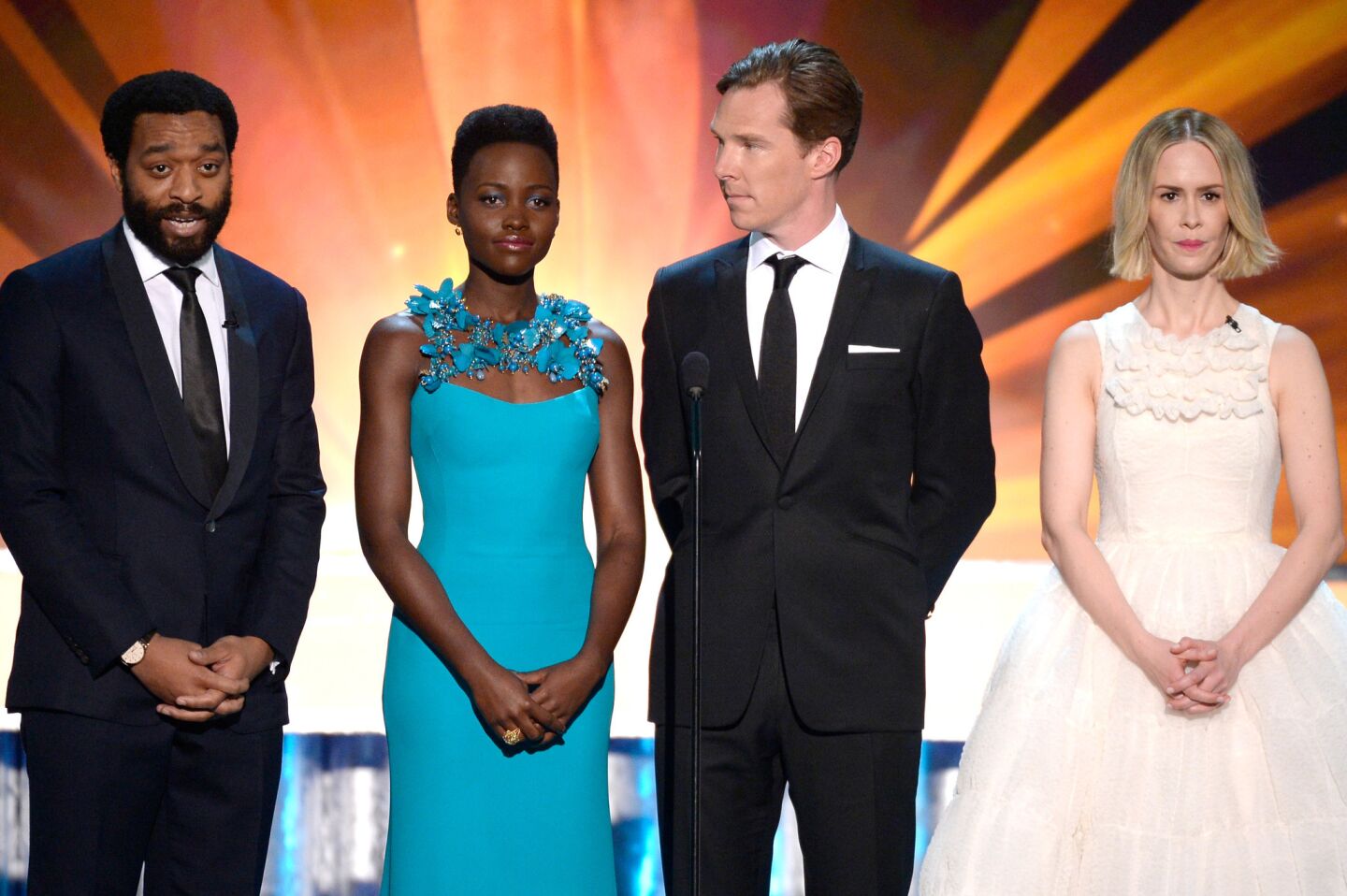 "12 Years a Slave" stars Chiwetel Ejiofor, left, Lupita Nyong'o, Cumberbatch and Sarah Paulson appeared onstage at the Screen Actors Guild Awards on Jan. 18, 2014, where the film was nominated for the ensemble cast award.
(Kevork Djansezian / Getty Images)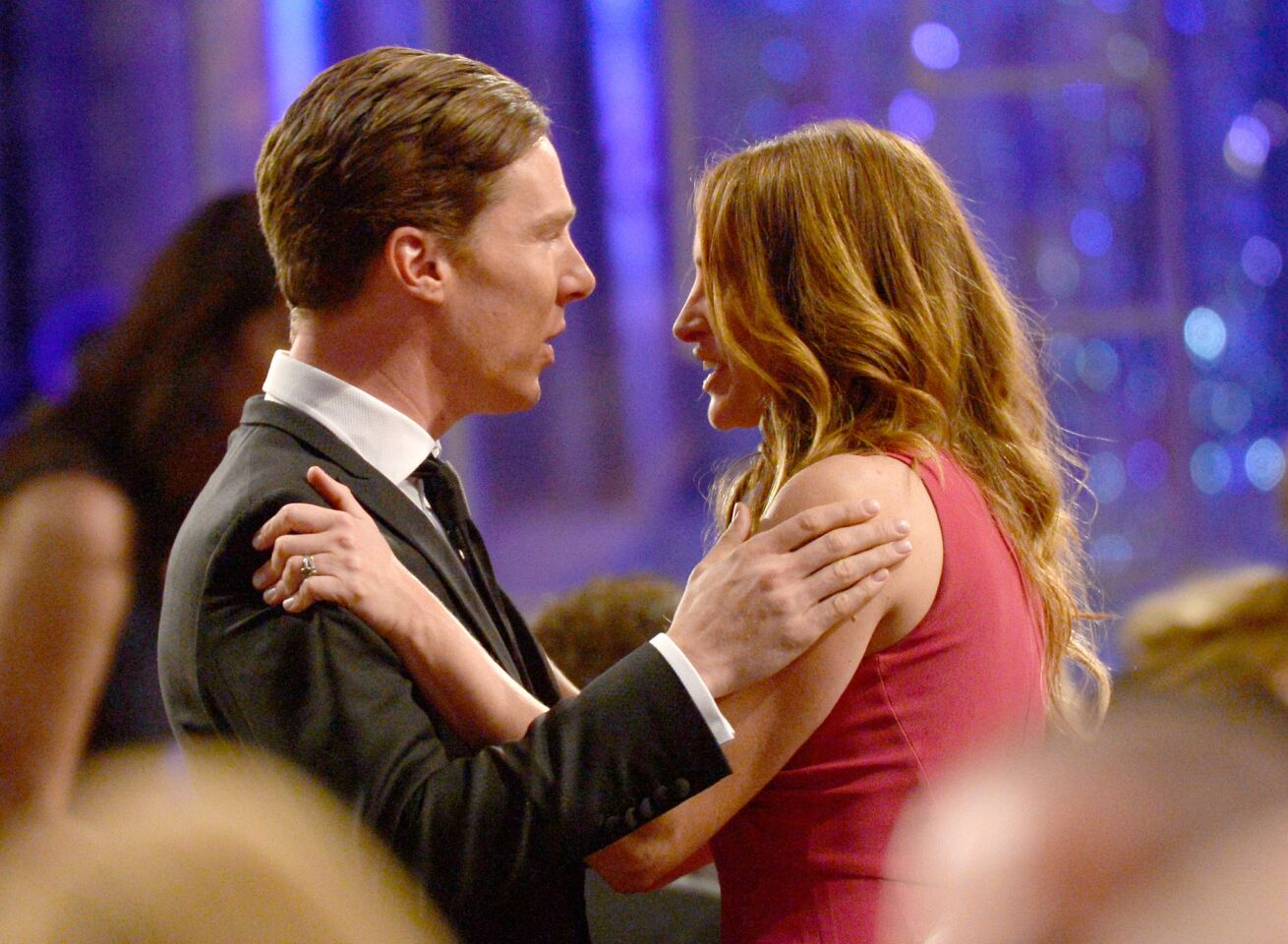 Cumberbatch and his "August: Osage County" costar Julia Roberts were among cast members nominated in the ensemble acting category at the 2014 SAG Awards.
(Kevork Djansezian / Getty Images)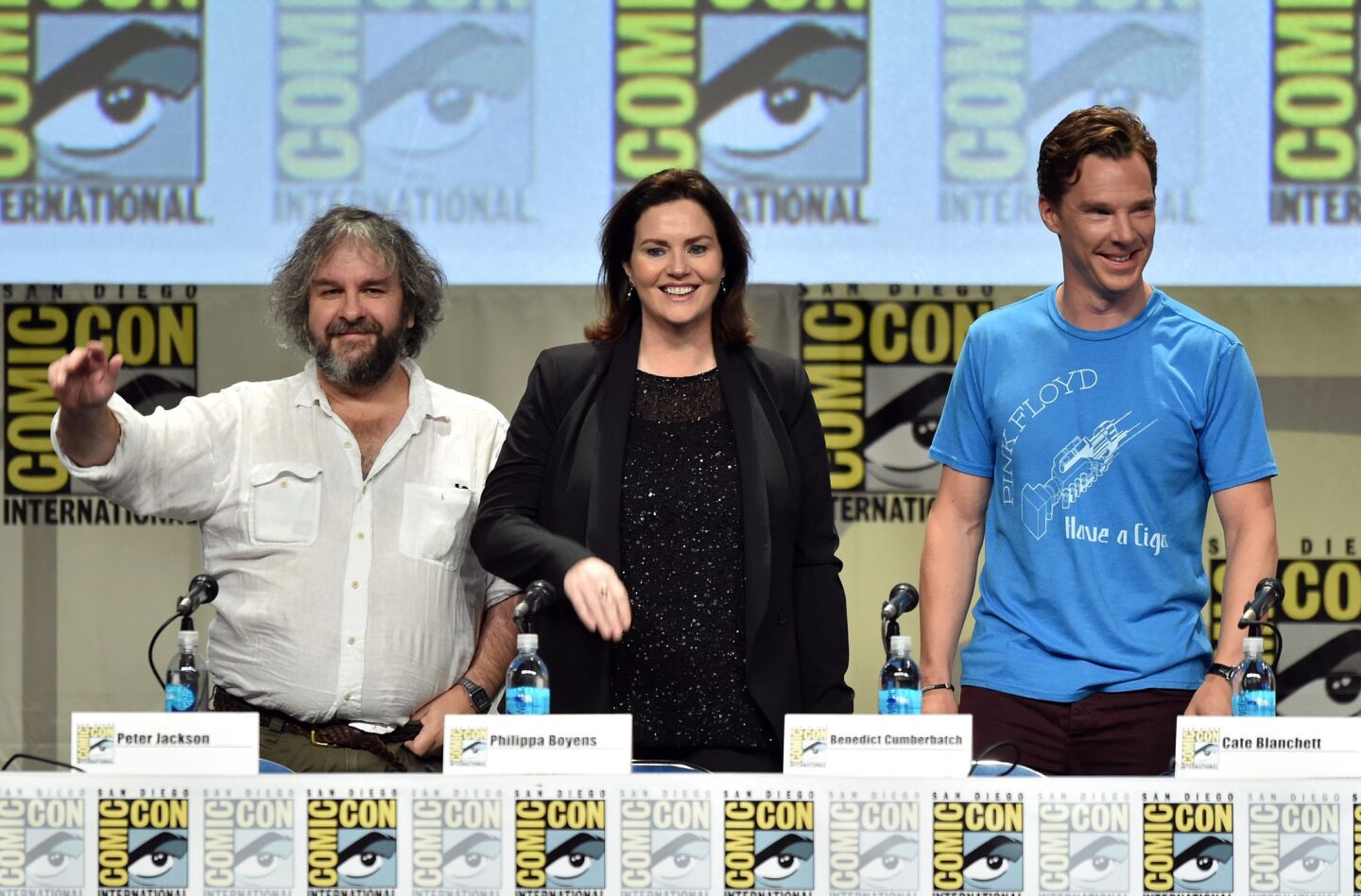 In 2014, Cumberbatch, right, made his first trip to the San Diego International Comic-Con, and joined "The Hobbit" panel with director Peter Jackson and screenwriter Philippa Boyens.
(Kevin Winter / Getty Images)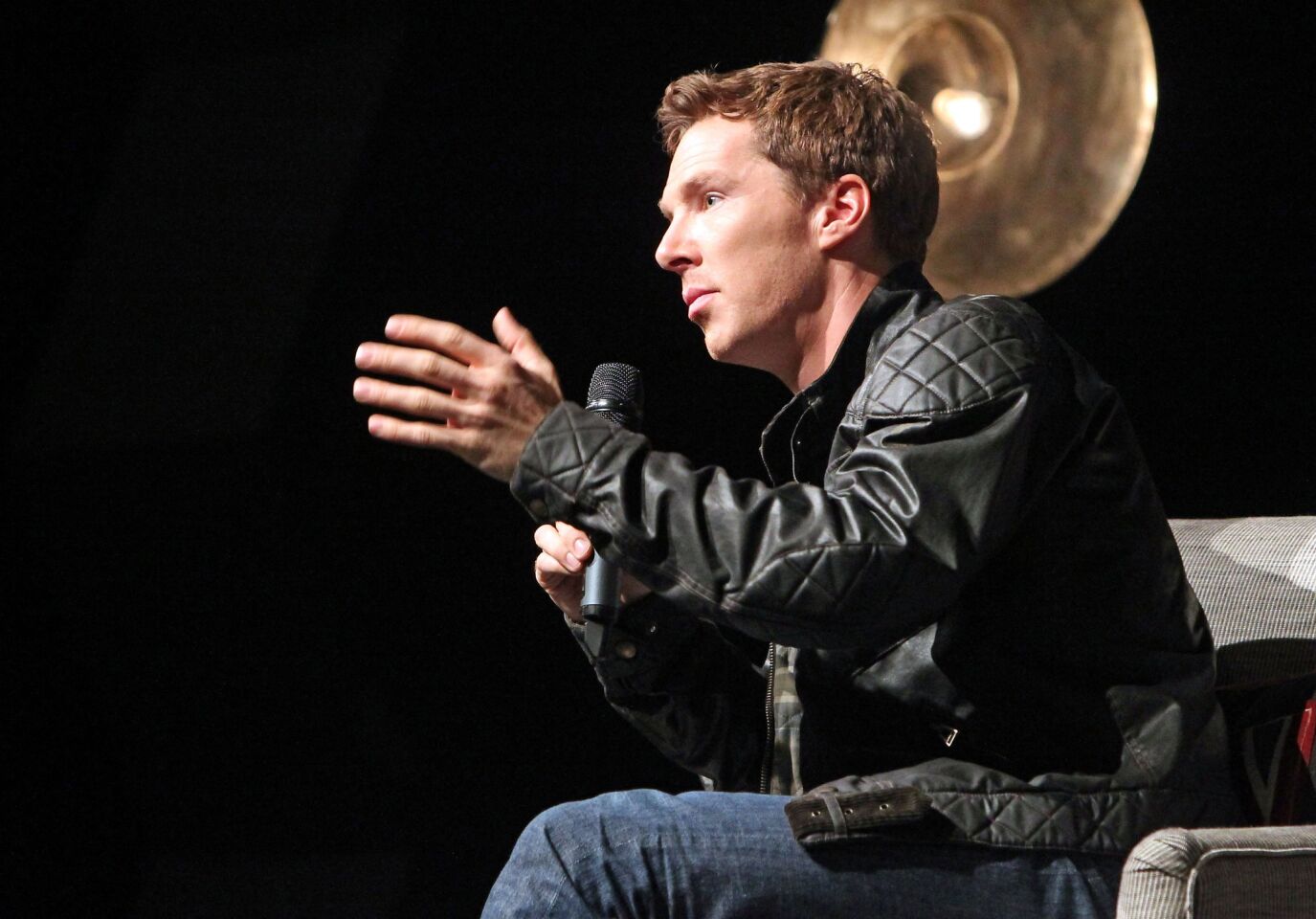 On Nov. 7, 2014, Cumberbatch took part in BAFTA L.A.'s Behind Closed Doors discussion series at the Pacific Design Center, where he talked about his career.
(David Buchan / Getty Images)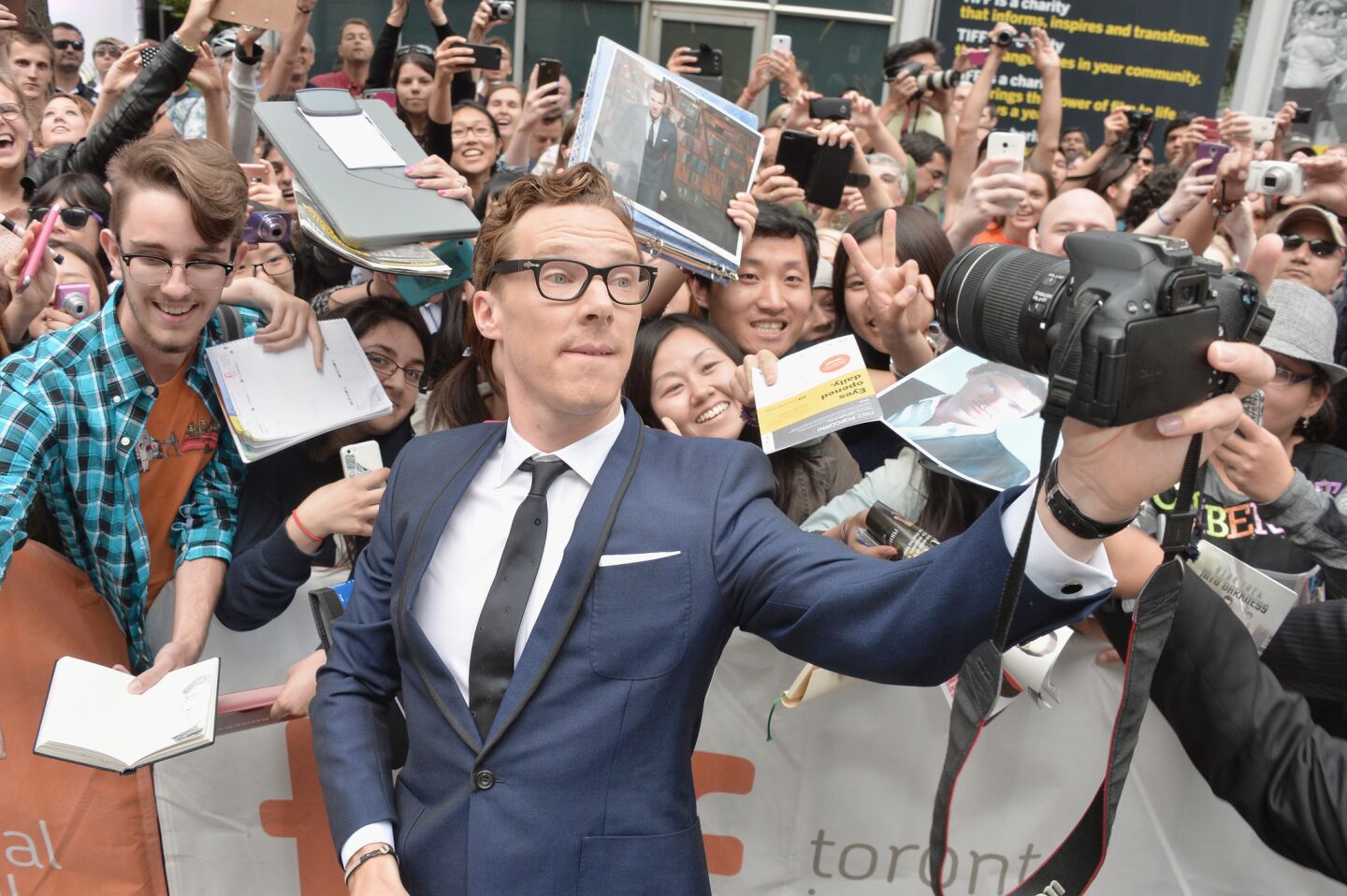 Cumberbatch, who has developed a fervent following, takes a selfie with fans at "The Imitation Game" premiere on Sept. 9, 2014.
(George Pimentel / Getty Images)
Cumberbatch is also known for photo bombing stars on the red carpet. Here, he jumps into a photo of U2 being taken at the 2014 Academy Awards.
(Kevork Djansezian / Getty Images)
Cumberbatch won the Hollywood Actor Award for "The Imitation Game" at the 18th Hollywood Film Awards on Nov. 14, 2014.
(Kevin Winter / Getty Images)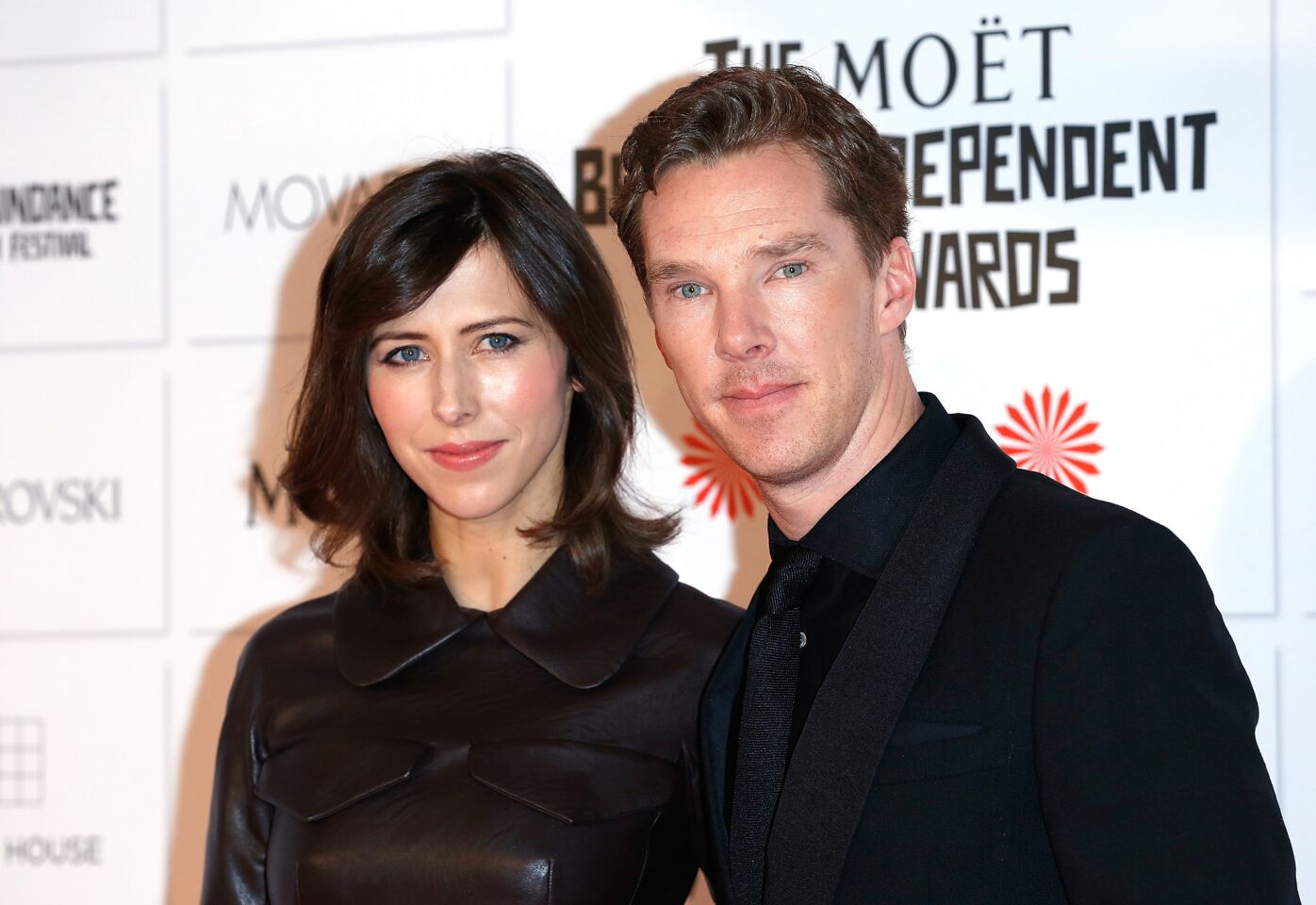 Cumberbatch was engaged to theater director Sophie Hunter on Nov. 5, 2014. They're shown at the Moet British Independent Film Awards on Dec. 7, 2014
(Tristan Fewings / Getty Images for the Moet British Independent Film Awards)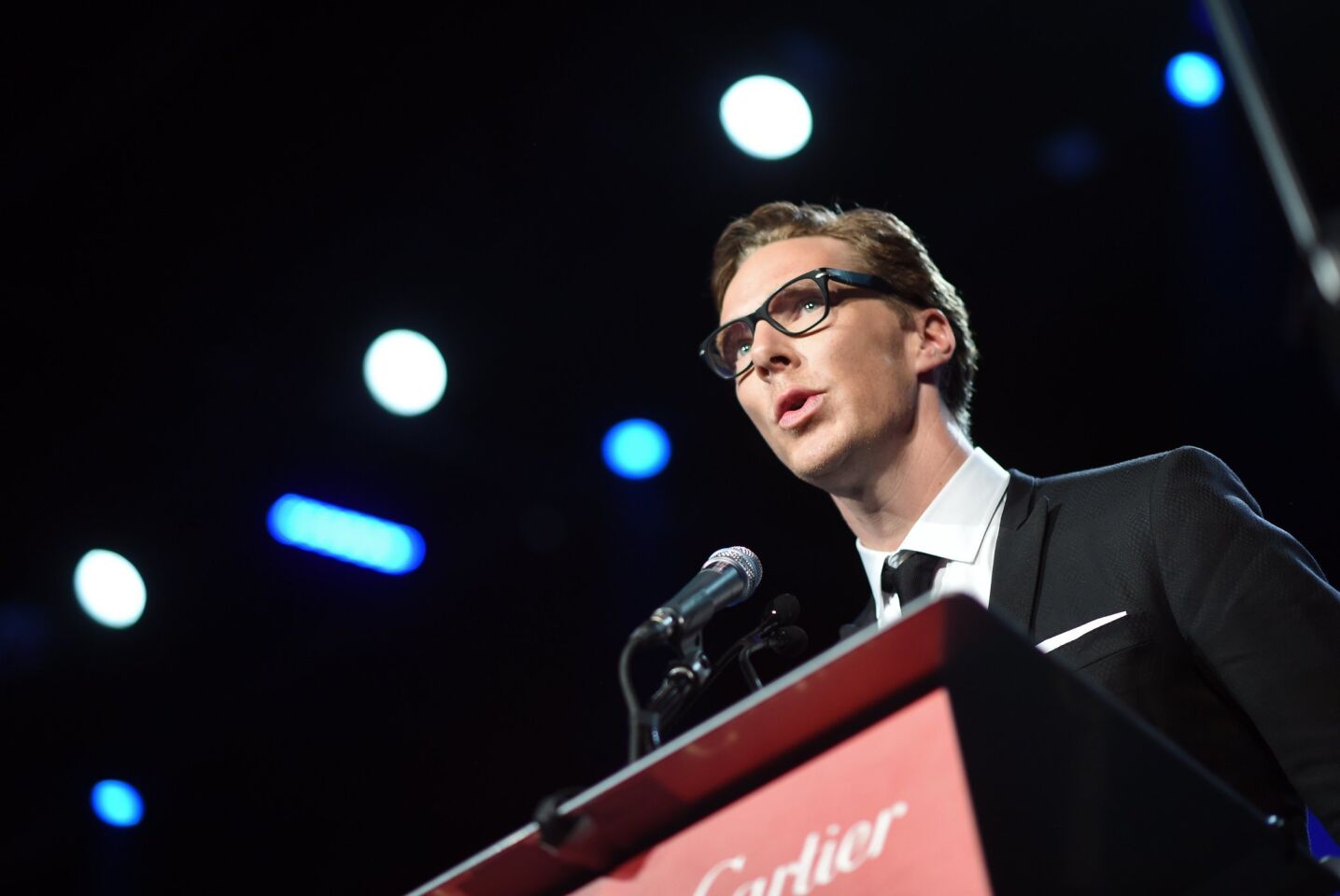 Cumberbatch accepts the ensemble performance award for "The Imitation Game" at the Palm Springs International Film Festival awards gala on Jan. 3.
(Michael Buckner / Getty Images for PSIFF)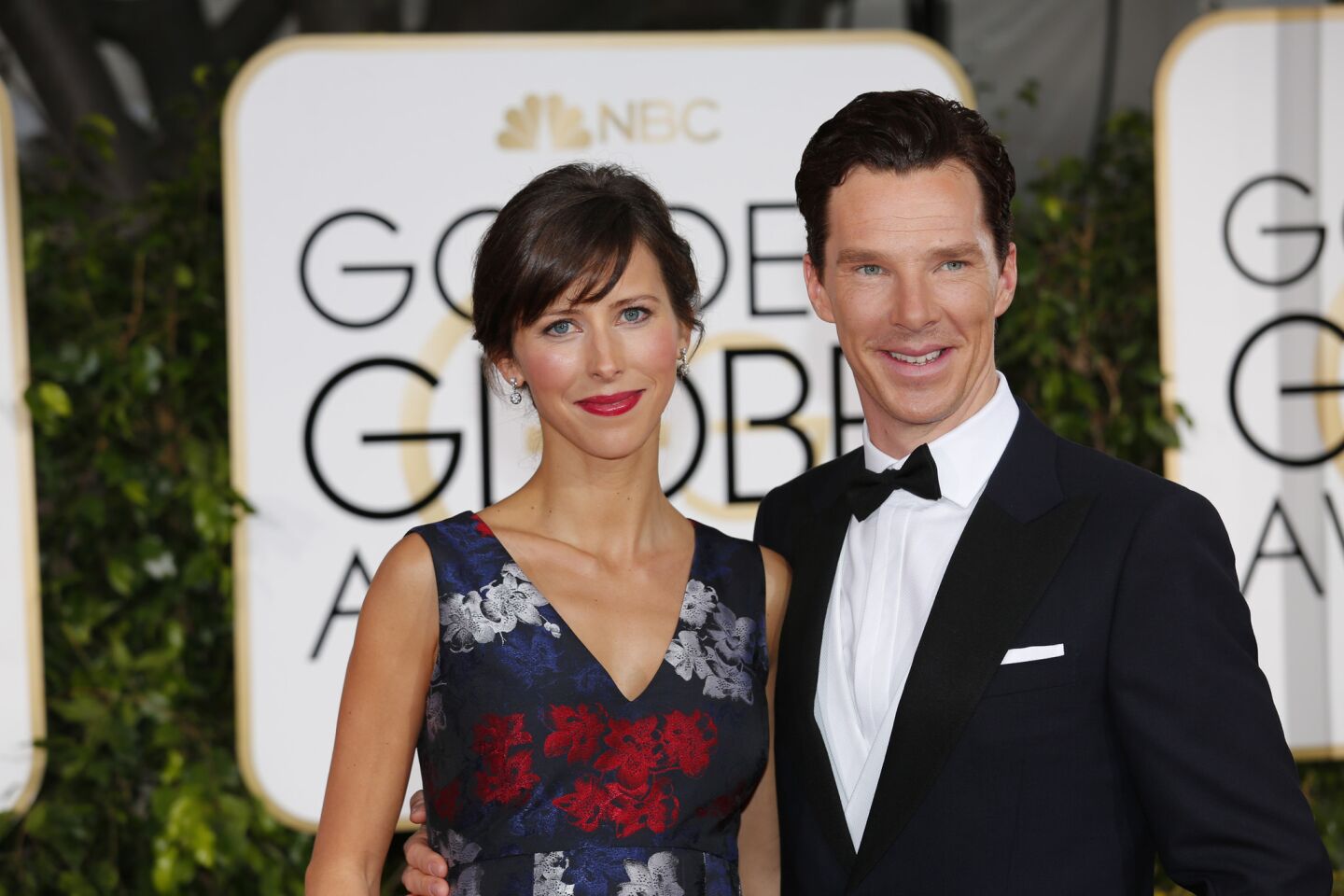 Cumberbatch, shown with Sophie Hunter at the 2015 Golden Globes, will soon be seen opposite Johnny Depp in "Black Mass," and was recently announced as the star of Marvel Studios' "Doctor Strange," set for a 2016 release. He'll also reprise his "Sherlock" role in 2016.
(Jay L. Clendenin / Los Angeles Times)
This Hamlet is fundamentally good and righteous. When he tells Ophelia to get to a nunnery, there's not a hint of salacious innuendo.
In the bedroom scene with his mother after he's caught the conscience of the king with his theatrical trap, Cumberbatch's Hamlet doesn't betray any Freudian complications. Anastasia Hille's Gertrude might be perfectly at home in a lusty Ingmar Bergman deconstruction, but her fastidious son is too busy coping with shattered ideals to notice.
If this characterization sounds dull, it isn't in the least. Cumberbatch's intelligence and empathy illuminate Hamlet's moral dilemma. To redress his father's murder he must become a murderer himself — no easy task for an intellectual accustomed to debating every side of an argument. The tragedy here is of a ruined mind, too noble and smart for the swamp of politics yet unable to shirk the responsibility that fortune has mercilessly assigned.
Cumberbatch's Hamlet's descends into chaos only to restore order. This may not be the most deeply probing of appraisals, and it certainly isn't radical or revisionary. But it elegantly builds a solidarity between the character and the audience. The sorrow at the end is mixed with relief. This wise and sensitive Hamlet could never have survived the guilt over such bloody, necessary deeds.
ALSO:

The cult persona of Courtney Love in 'Kansas City Choir Boy,' more concert than musical
Self-criticism: A theater critic's search for nuance in the age of Yelp
Geffen Playhouse's 'Guards at the Taj' has elements of 'Godot' and gallows humor
---
Get our daily Entertainment newsletter
Get the day's top stories on Hollywood, film, television, music, arts, culture and more.
You may occasionally receive promotional content from the Los Angeles Times.