Boni B. Alvarez brings a rare voice to the stage: Filipino America's
To understand the American dream, playwright Boni B. Alvarez, son of Filipino immigrants, looks at what it means to those on the outside, looking in.
His current play, "America Adjacent," eavesdrops on a group of Filipinas who covertly reside in East Hollywood while waiting to give birth. Their newborns will have U.S. citizenship, but as the women get a closer look at this country they've heard such good things about, they begin to wonder whether it's all they were led to believe.
The characters are all women, a rarity. Rarer still, all seven are Filipina or of Philippine descent.
"I started writing plays that I wanted to see," Alvarez says, "but also plays that I could see myself in, or people that I know in.
"I'm definitely Filipino American in my work — equal stress on Filipino and American. I'm exploring it for myself, and I'm also showing how Filipinos fit into the national landscape — that we didn't just pop up over here, and that the relationship with the Philippines is not accidental. There was imperialism, the bounties of war. People are here for a reason, and there's always something more meaningful behind why they're here."
Alvarez sits in the office at the Skylight Theatre, where "America Adjacent" is being introduced. It's his sixth play produced in L.A. in the last decade. A native of East Palo Alto, he moved from the Bay Area to L.A. in 2004 to attend USC and now lives in Hollywood.
These are American stories, not just Filipino American stories. His canvas is really a bigger canvas. ... People get something out of it that is true for them.
— Director Jon Lawrence Rivera
Prominent among his plays are "Bloodletting," introduced by Playwrights' Arena and remounted for Center Theatre Group's annual Block Party, and "Fixed," introduced by the Echo.
In the former, a Filipino American brother and sister sense supernatural forces at work while visiting the Philippines to scatter their father's ashes but come to realize they're the ones with an extraordinary power: the strength to root out the pain in their lives and begin to heal.
"Fixed" takes place here in Los Angeles, where a diaphanous star of drag balls and a macho but soulful lover might live happily ever after if the world would just let them alone.
These vivid, funny, complex individuals — all standing their ground amid buffeting cultural, social and familial forces — are a hallmark of Alvarez's writing.
"Everything about me lends itself to my writing," he says. "Being Filipino American and growing up in a black and Latino neighborhood. Being the fat kid who doesn't want to get beat up or teased. Being the gay kid who's closeted.
"At a young age I had a pretty wide perspective on people. I knew how to behave within various populations. And that, I think, is huge, being aware of your environment and how you fit in or how you don't fit in — and if you want to fit in how you need to adjust. It's, like, this forced character study."
Through a story about motherhood and dreams for the future, Alvarez positions "America Adjacent" to address such hot-button issues as immigration and perceptions of what makes America great.
The Filipinas in the play don't intend for their children to be "anchor babies." They'll take the infants home to raise them, but they want to provide their children the option to one day return as citizens to study or relocate permanently.
The women are warehoused in a "birthing house," a residence in an ordinary neighborhood where they live a secluded existence, away from prying eyes. It's a clandestine business venture of a sort uncovered in Southern California, although those catered to the Chinese. Alvarez is not aware of such enterprises for Filipinas.
Although Los Angeles seems a veritable land of plenty, the Filipina mothers-to-be mostly end up experiencing it as crowded and dirty — populated by struggling masses.
"It's a great country," Alvarez says, "but it is very unlivable for most of the people here. I feel that way all the time. Just driving down the street, I'm pleading with people, 'Please don't crash into me,' because that would set me off, financially, for a while.
"It's my own disillusionment, that there is no American dream."
The production is directed by Jon Lawrence Rivera, who gave Alvarez his entrée to L.A. theater. Rivera — who runs another L.A. company, Playwrights' Arena — checked out Alvarez's student work at the urging of a USC professor, and a bond quickly formed.
"There was something really, truly authentic about his depiction of Filipinos in the United States," Rivera says, "and I felt I was hearing a fresh new voice." He presented the student-begun "Ruby, Tragically Rotund" in 2009.
"These are American stories, not just Filipino American stories," adds Rivera, who has now directed four of Alvarez's plays. "His canvas is really a bigger canvas, telling stories about living in the United States — about being displaced, about identity crisis. People get something out of it that is true for them."
Having participated in playwrights labs run by theaters across the city, Alvarez has ties to a number of companies. "America Adjacent" grew out of a play nurtured in Skylight's lab. "He's tenacious," Skylight's producing artistic director, Gary Grossman, says. "He's never settling; he's always working and he's always listening."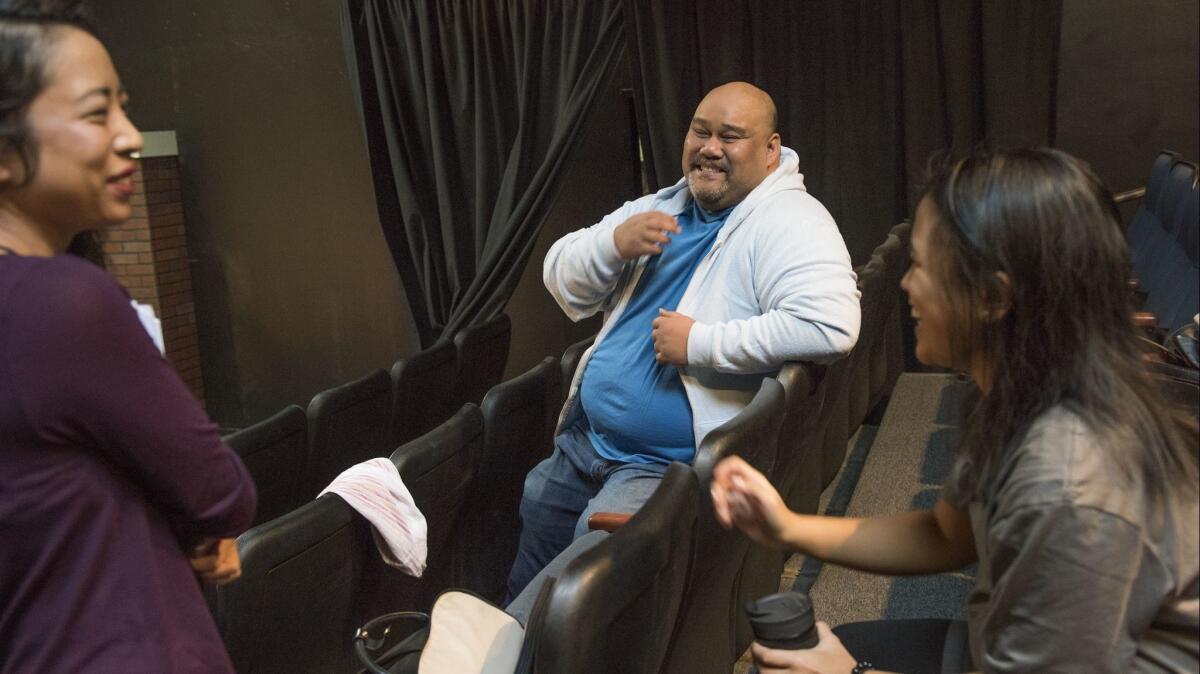 An actor before he was a writer, Alvarez performed in "Bloodletting" and "Fixed."
He has been thoroughly immersed in theater since junior high, when he landed his first role in a children's theater production. He pursued acting as an undergraduate at Sarah Lawrence College and as a graduate student at the ART/MXAT (American Repertory Theater/Moscow Art Theater) Institute at Harvard — and performed in New York — before reassessing and switching to writing.
Moving to L.A. in 2004, he became a member of USC's inaugural class in a master of fine arts program in dramatic writing. He credits the local playwrights who instructed him there — principally Velina Hasu Houston ("Tea"), Oliver Mayer ("Blade to the Heat") and Luis Alfaro ("Mojada: A Medea in Los Angeles") — as mentors.
When he graduated three years later, the Playwrights' Arena production of "Ruby, Tragically Rotund" was already in the works.
A decade in, Alvarez's career has reached a classic good news/bad news point. "I think people think I'm more successful than I am," he says. Yes, he's been steadily produced in L.A.'s small theaters: three shows by Playwrights' Arena and one each by Coeurage, Echo and Skylight. But "most playwrights are making their money in TV," he says, a medium in which he has tried but not yet secured a gig. "I just don't have enough friends who are creators of shows yet," he jokes.
Nor does he have an agent for his writing, although he does for acting.
For the bulk of his income, Alvarez teaches — including at least one class a semester as an adjunct professor at USC — and makes himself available as a script consultant to other writers.
His roster of projects-in-the-works includes one about the 1904 World's Fair in St. Louis, for which 1,000 Filipinos were shipped in to inhabit a re-created Philippines; another about European Jews who found refuge in the Philippines during World War II; and one prompted by the fact that 2017 Las Vegas shooter Stephen Paddock had a Filipina girlfriend.
They're all stories of outsiders, and for Alvarez, being an outsider has been an inside track to achievement.
"I'm still trying to find my place," Alvarez says. "I think that's why my plays don't really offer solutions or timelines. My plays just offer you things to think about, from multiple lenses."
♦ ♦ ♦ ♦ ♦ ♦ ♦ ♦ ♦ ♦
'America Adjacent'
Where: Skylight Theatre, 1816½ N. Vermont Ave., Los Feliz
When: 8:30 p.m. Fridays-Saturdays, 3 p.m. Sundays and, beginning March 4, 8 p.m. Mondays; ends March 24
Tickets: $15-$41
Info: (213) 761-7061, skylighttheatre.org
Get our L.A. Goes Out newsletter, with the week's best events, to help you explore and experience our city.
You may occasionally receive promotional content from the Los Angeles Times.