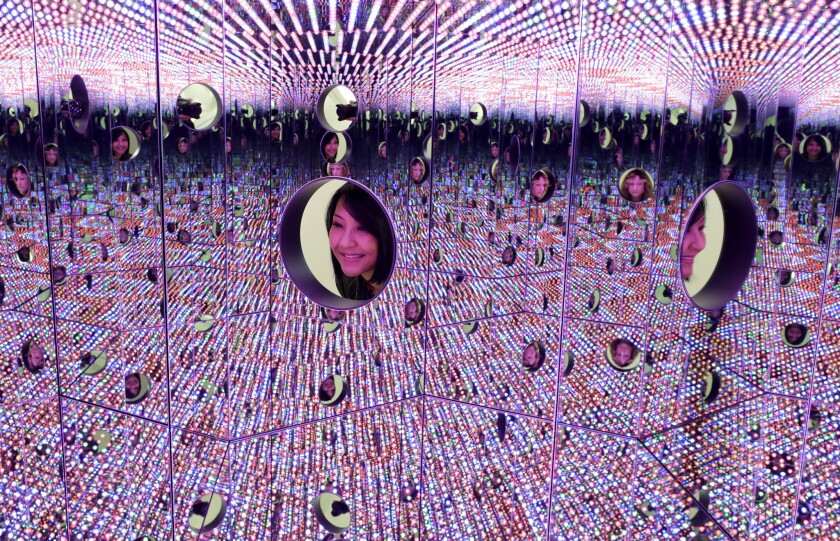 Yayoi Kusama fans, the Broad has some new eye candy: The museum has acquired one of the artist's Infinity Mirror Rooms, a spokesperson said, and will install it for public viewing as soon as Saturday.
"Longing for Eternity" (2017) is a hexagonal-shaped, LED light-filled chamber that visitors peep into through portholes. It joins the Broad's other Infinity Mirror Room, "Souls of Millions of Light Years Away" (2013), which is the museum's most popular artwork. If the frenzy around the museum's recent Kusama exhibition is any indication, entrance lines at the Broad this weekend will be longer than usual.
For the best chance to view the new work, visitors can make a general admission or special exhibition reservation on the museum's website. Once inside the Broad, they sign up on the lobby iPad kiosk for timed entry to "Longing for Eternity."
The Kusama piece is part of an acquisition of 24 works. Chief among them: Two Mark Bradford paintings, the 32-foot-long "Helter Skelter I" (2007) and "I heard you got arrested today" (2018).
On March 8 "Helter Skelter I" sold for about $12 million (including fees) at Phillips London — the highest auction price a living African American artist has ever commanded. Tennis great John McEnroe was the seller; the Broad did not disclose itself as the buyer until now.
The museum also acquired its first Kerry James Marshall work ("Untitled," 2017) as well as a 60-part photography work by Sherrie Levine ("After Russell Lee: 1-60," 2016), who's already heavily represented in the Broad collection.
Museum Director Joanne Heyler called Bradford's "Helter Skelter I," which is about Charles Manson's 1960s race war obsession, "among the most significant works" the artist has produced. It "confronts the economic and social structures that perpetuate the issues of power, race and crime," she said, adding that it's destined to be "a centerpiece in our galleries."
The museum also has added to its collection works by Jeff Koons, Robert Longo, Julie Mehretu, Sam Francis, Sharon Lockhart, Lari Pittman, Jonas Wood, Thomas Struth, Jeff Wall and Jasper Johns. The Broad's "Jasper Johns: 'Something Resembling Truth'" will be on view through May 13.
Bradford's "I heard you got arrested today" will go on display in the museum's third-floor galleries this summer; Levine's "After Russell Lee: 1-60" will go on view as part of a new collection exhibition, "A Journey That Wasn't," opening June 30.
No date has been set for the debut of "Helter Skelter I."
Follow me on Twitter: @debvankin
---