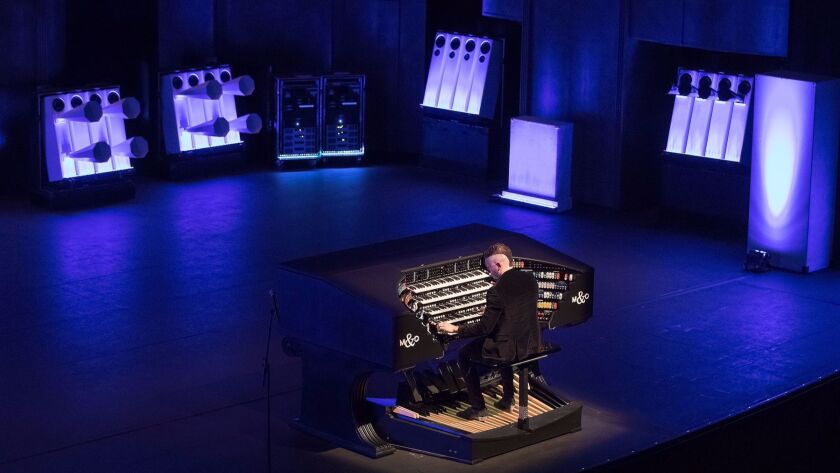 Compared with, say, violinists, flutists and even cellists, classical keyboard players have it rough in that they can't carry their own instruments with them on tour. OK, a few determined pianists like Vladimir Horowitz and Krystian Zimerman have done so, but organists?
Enter Cameron Carpenter, who took a sledgehammer to the traditional organ recital. He's breaking ground again by traveling with his International Touring Organ, a digital instrument that contains samples from Carpenter's favorite pipe organs in churches, movie palaces, anywhere.
Built by Marshall & Ogletree, the organ was to have made its first local appearance at the Hollywood Bowl in 2015, but that was canceled, as a press release said, "due to complications in transporting the International Touring Organ arising from errors made by his [Carpenter's] management." So Royce Hall, which already has a fine pipe organ, a 1930-vintage Skinner, became the site of the touring organ's first Los Angeles date Thursday night — and quite a sight the new instrument was.
The sleek black console, which attracted dozens of smartphone-wielding gawkers before the concert, is shaped in the usual curved configuration. A 52-channel sound system with speakers and subwoofers that also travels with Carpenter in America (a duplicate is parked in Europe) surrounded the organ on the Royce stage. The mammoth apparatus was lighted in warm red or moody blue, and seated before it Carpenter seemed like a 21st century space commander with a Mohawk haircut.
A printed program was loaded with Carpenter's thoughtful, occasionally provocative notes, but typically it bore only fleeting resemblance to what Carpenter wanted to play. And by Carpenter's standards, it was a rather serious-minded lineup, concentrating upon the classical organ repertoire of J.S. Bach, Schumann and Louis Vierne, plus a couple of his own transcriptions.
Carpenter remains a phenomenally resourceful organist, equipped with the foot speed of a professional dancer and seemingly more than 10 fingers. His transcription of Wagner's Prelude to Act I of "Die Meistersinger von Nurnberg" was a marvel of contrapuntal clarity and varied textures; one strand sounded like a brass band in the distance. His very fast, unorthodox take on Bach's Passacaglia and Fugue in C minor juxtaposed lots of ornamentation with voicings that reminded me of Eugene Ormandy's orchestral transcription.
We heard Carpenter playing his flamboyant transcription of Scriabin's Piano Sonata No. 4 twice on the Walt Disney Concert Hall pipe organ in 2014. But when heard on the digital instrument for which he said it was written, there was more varied directional detail in its orchestration, more flexibility in dynamics, and a deafening wall of bass at the end.
After intermission came the acid test. After eloquently denying at length that he was hostile to conventional acoustic pipe organs, Carpenter strode to the console of the Skinner and proceeded to weave an extraordinary, highly Romantic three-movement organ symphony on the spot. The difference between Carpenter's instrument and the Skinner was not subtle; the pipe organ sounded airier, more floating, and at peak volume, easier on the eardrums. Carpenter even admitted that a new stop on the Skinner was something that his organ "should aspire to."
Still, Carpenter's touring organ gives him a portable, pitch-stable instrument with almost unlimited room for growth — and with a whoosh and a sis-boom-bah, he unleashed some of its out-there timbral capabilities in a circus-like encore based on "California, Here I Come!"
SIGN UP for the free Essential Arts & Culture newsletter »
Follow The Times' arts team @culturemonster.
ALSO
In a startling coup, New York lures L.A. Phil chief Deborah Borda
We're still on a sugar high: Run (or leap) to ABT's 'Whipped Cream'
Mark Ryden's set design is a fantastical ballet of candyland delights
Underground Railroad inspires a wave of books, plays, TV and more
---