Review: Dinh Q. Lê at Shoshana Wayne Gallery: Unspooling the horrors of Vietnam
The recent Ken Burns and Lynn Novick documentary notwithstanding, the Vietnam War is an event that simply can't be fully understood. Much of Dinh Q. Lê's art is driven by this sense of the unresolvable, of competing narratives — personal experience, collective memory, historical record, fictional accounts, propaganda and more.
Born in Vietnam in 1968, Lê and his family sought refuge in the U.S. in 1978. Educated in Southern California and New York, Lê returned to Vietnam in the mid-'90s, and he lives in Ho Chi Minh City. He has worked in a range of media but is best known for photographic weavings of disparate images. No single image can be fully read. Wholeness is unachievable; the most we can grasp are flickering parts of the tessellated, pixelated field.
A vivid materialization of Lê's reflections on his own fragmented and recombined identity, it also serves as a metaphor for cultural self-knowledge. Five recent works made by this compelling process mix portraits of victims of the Khmer Rouge's notorious S-21 prison and mural paintings of a Cambodian epic poem. They hang in the side gallery of Lê's show at Shoshana Wayne Gallery.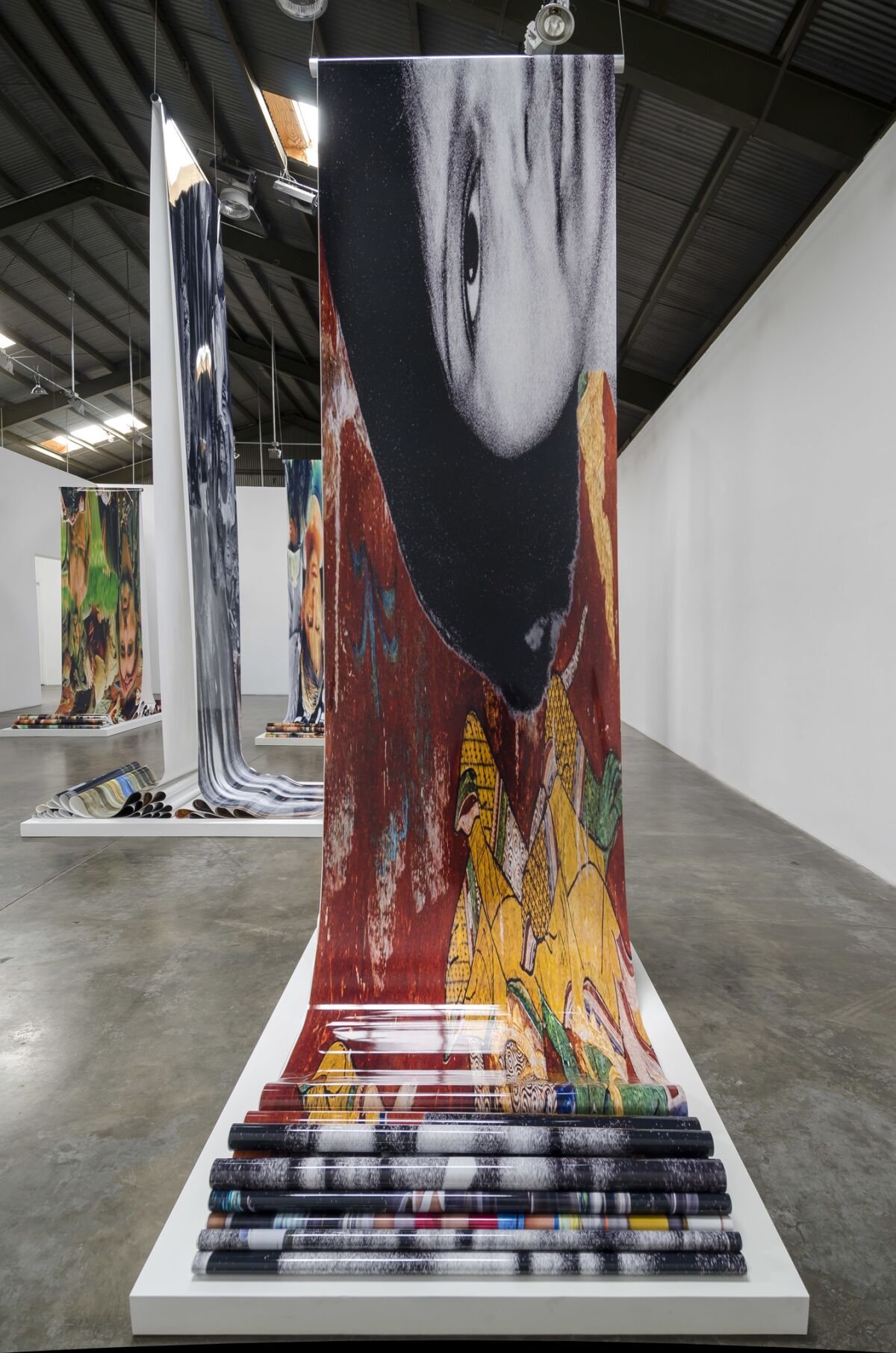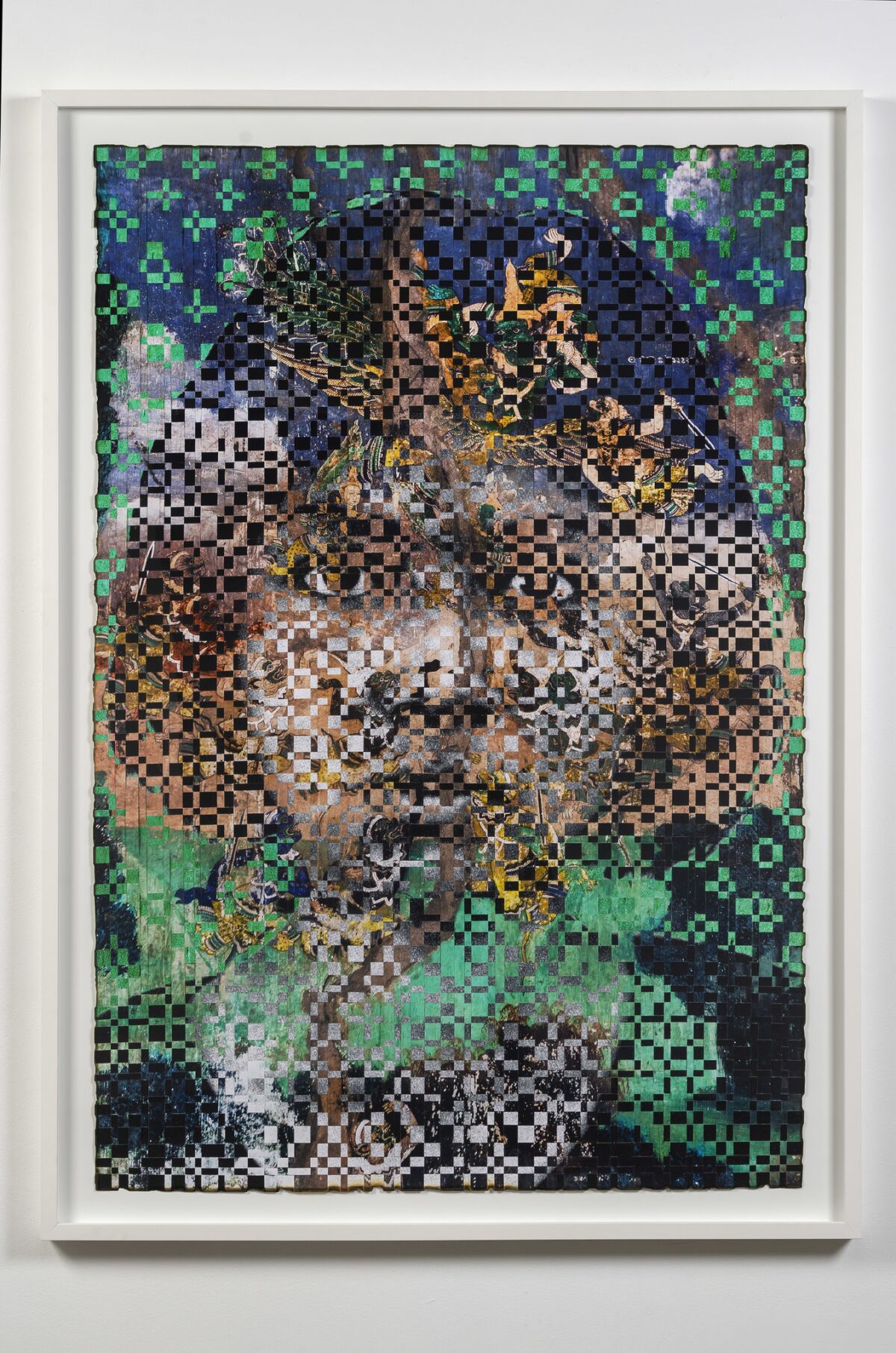 SIGN UP for the free Essential Arts & Culture newsletter »
Eight pieces in the gallery's high-ceilinged main space push the notion of fluidity in historical memory to a daunting scale. For each work, Lê has printed a photo-montage pertaining to the conflicts in Vietnam and Cambodia — Hollywood stills, photojournalistic records, those mural paintings and more — onto a continuous scroll of paper, some 4 feet wide and 164 feet long. Draped over metal rods high overhead, the scrolls unfurl onto platforms just a few inches above the floor, where the glossy paper curls and ripples.
Discontinuous images spread across the continuous surface. Radically enlarged faces are pulled sideways like taffy, groups of figures (monks?) hang upside down, skulls pile up. Visual logic is subverted in what feels, viscerally, like an urgent, bad dream. The connective tissue of reason has gone rogue, and legibility is compromised. Even though they're not moving, the images seem to keep unspooling, indigestibly tough beneath their seductive sheen.
Shoshana Wayne Gallery, Bergamot Station, 2525 Michigan Ave., Santa Monica. Through Dec. 23; closed Sundays and Mondays. (310) 453-7535, www.shoshanawayne.com
See all of our latest arts news and reviews at latimes.com/arts.
ALSO
'Yayoi Kusama: Infinity Mirrors' at the Broad
With Lucas Museum on the way, Natural History Museum plans another makeover
Bellini masterpieces make for one of the year's best museum shows
Two decades after Gehry's Guggenheim Bilbao, where does architecture stand?
---
Get our L.A. Goes Out newsletter, with the week's best events, to help you explore and experience our city.
You may occasionally receive promotional content from the Los Angeles Times.