Review: The radical and politically potent opening show at DTLA's new Hauser Wirth & Schimmel
Los Angeles Times Art Critic
Sometimes the seemingly simple act of occupying space can be a radical, profoundly political act.
So it was for the thousands who crowded into a corporate plaza in lower Manhattan five years ago to metaphorically Occupy Wall Street, galvanizing national focus on a theme of economic inequality that is now central to the rambunctious presidential primaries.
Or, back in 1963, for the quarter-million who thronged the Lincoln Memorial and Reflecting Pool for the March on Washington for Jobs and Freedom, creating a landmark moment in the civil rights movement.
See more of Entertainment's top stories on Facebook >>
Over the past many decades, occupying space has also had a quieter if no less radical and politically potent dimension. Space invasion is the savvy artistic subject of the fine inaugural exhibition at the new Hauser Wirth & Schimmel Gallery, opening Sunday in downtown Los Angeles.
Exterior front entrance of new Hauser Wirth & Schimmel gallery at 901 E. 3rd St.
(Kirk McKoy / Los Angeles Times)
Large sculptures by Ruth Asawa are part of the "Revolution in the Making: Abstract Sculpture by Women, 1947-2016" exhibition at Hauser Wirth & Schimmel.
(Kirk McKoy / Los Angeles Times)
Large sculptures at entry are by Claire Falkenstein and Ruth Asawa.
(Kirk McKoy / Los Angeles Times)
Ceiling canopy work in breezeway is by Shinique Smith.
(Kirk McKoy / Los Angeles Times)
Magdalena Abakanowicz created "Wheel with Rope."
(Kirk McKoy / Los Angeles Times)
Ruth Asawa's hanging sculptures are part of the exhibition on the entrance floor.
(Kirk McKoy / Los Angeles Times)
Bound trees in the courtyard are by Jackie Winsor.
(Kirk McKoy / Los Angeles Times)
New Hauser Wirth & Schimmel gallery encompasses 116,000 square feet at 901 E. 3rd St.
(Kirk McKoy / Los Angeles Times)
This is the sixth outpost for the Zurich-based Hauser & Wirth, which also has powerhouse galleries in London and New York. The 100,000-square-foot renovated industrial building dwarfs conventional commercial galleries. It includes a whopping 23,700 square feet of gallery space, plus a 6,000-square-foot open-air sculpture court.
"Revolution in the Making: Abstract Sculpture by Women 1947-2016" is the brainchild of gallery partner Paul Schimmel, former chief curator at the Museum of Contemporary Art, where he guided the program for 22 years, and his colleague Jenni Sorkin, who teaches at UC Santa Barbara. Their show features three-dimensional work from the last 70 years by 34 artists.
The largest group is American, including the five sculptors from the show's earliest years who are positioned as groundbreakers from before the 1960s. But artists subsequently working in Europe, Latin America and Japan are also on view.
FULL COVERAGE: Spring 2016 arts preview | Exhibits | Theater | Dance | Pop music | Books
Abstract painters led the emergence of American art into international prominence in the decade following World War II. Notable sculptors were few and far between.
But hold on, this sprawling exhibition says. Not so fast.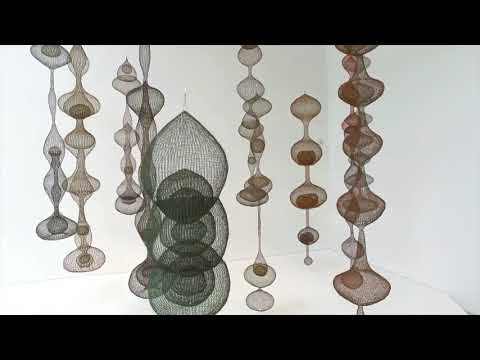 A preview of the Hauser Wirth & Schimmel gallery in a revamped 19th century flour mill in downtown Los Angeles. It's set to open to the public on March 13 with its inaugural show "Revolution in the Making: Abstract Sculpture by Women, 1947-2016."
Women in Los Angeles, San Francisco and New York were up to something big. If their sculptural achievement has not been fully recognized, the prominence of painting and of male artists in the 1950s are primary reasons why.
So is the tendency today to view art's feminist revolution in the 1960s and 1970s as having chiefly come about in Conceptual, media-based and performance art. There's considerable truth to that because those were new or historically marginalized forms that women smartly colonized.
But the contributions of sculptors working in a studio-based practice here get renewed focus. In the show's title, "Revolution in the Making," the operative word is making.
As if to italicize the distinction from what has been called "the dematerialization of art," its largest representation is sculpture of the '60s and '70s. Of nearly 100 works, almost half date from those years.
The show is divided into four roughly 20-year chronological sections — one for each of the four gallery spaces in the sprawling industrial complex. It opens with a bang.
See the most-read stories in Entertainment this hour >>
From the earliest years, a powerful room includes 12 organically shaped hanging sculptures in woven wire by Ruth Asawa; a dozen totemic quasi-figures by Louise Bourgeois; a big wall of salvaged wooden castoffs painted black by Louise Nevelson; a cluster of seven of Claire Falkenstein's tangled metal blobs, each suggesting the pupa of some unborn beast of the Atomic Age; and, not least, a fearsome selection of six canvas, saw-toothed metal and twisted wire wall reliefs by Lee Bontecou.
In purely abstract terms, all of them evoke an emerging new life. And they generally set aside the methods and materials of traditional sculpture, such as carving stone and casting bronze. The result is a sharp sense of starting over from scratch — unsurprising (but exciting) from a postwar generation.
And speaking of twisted and woven wire: It shows up again and again throughout the exhibition, sometimes as the main motif, sometimes in a supporting role and sometimes morphed into rope, thread, fabric, hemp or polyurethane. I counted 14 artists who employ it.
The material technique culminates in Jackie Winsor's 20-foot-tall column of birch trees and branches tightly bound in hemp. Nature's looming, thwarted tower-of-power rises in the urban central courtyard as the spindle around which the exhibition turns.
Arachne, the gifted mortal woman who challenged Athena's incomparable weaving skills in Greco-Roman mythology and was turned into a spider-goddess for her impudence, takes a contemporary spin.
The other material frequently encountered is latex. In a thin sheet, it conjures skin, such as the clusters of vulva-like leaves in Hannah Wilke's wall works. Figurative associations arise from abstract forms.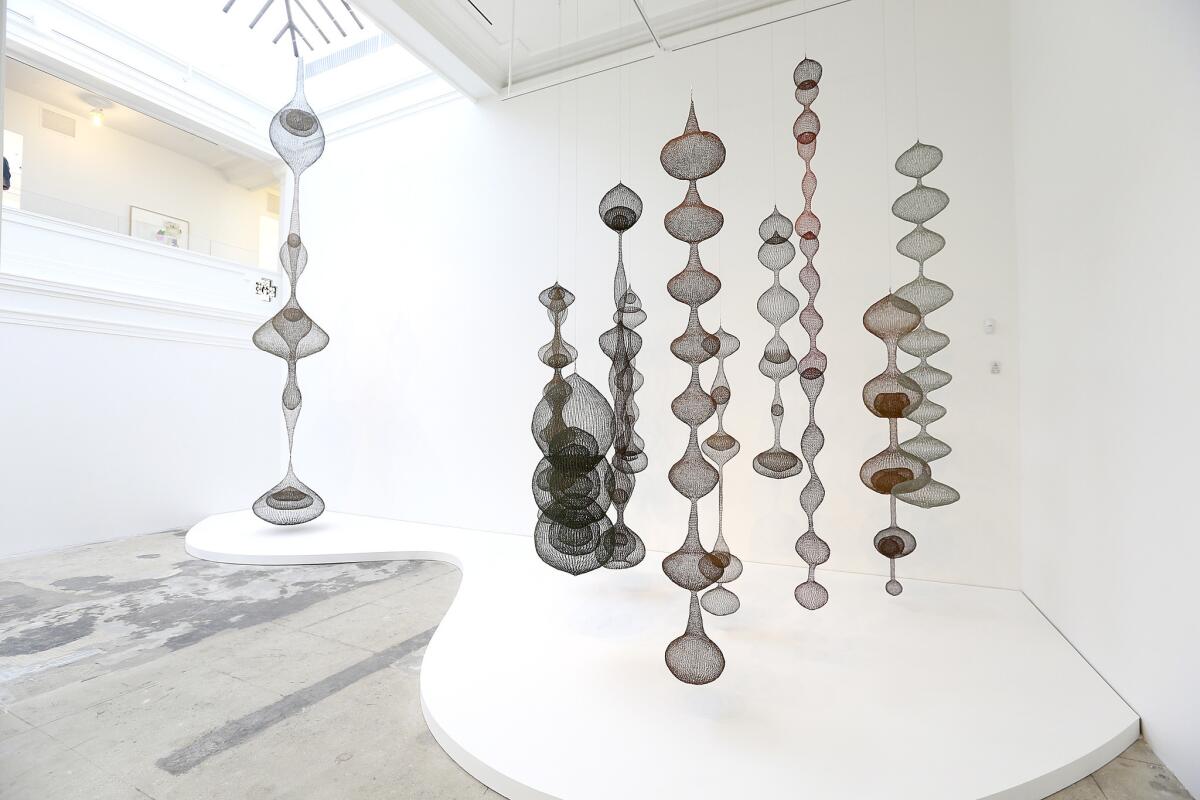 Arguably the show's most beautiful room brings these tendencies together in fragile, gorgeous works by three artists.
Eva Hesse spread thin layers of translucent latex over canvas, giving a traditional painting support an abstract bodily connotation, quietly radiant with captured inner light. Gego (Gertrud Louise Goldschmidt) twisted silvery stainless-steel wire into delicate, open-framework suspended sculptures that playfully cross crystalline forms with ethereal star maps.
Finally, Mira Schendel pierced slight sheets of fibrous rice paper with thread, hanging them on a line between two walls like frail bits of laundry gently rippling on the slightest currents of air. Schendel's sculpture is like an unwritten book deconstructed, its blank pages courting serendipity.
Cross-generational connections are also drawn. In the last room, Lara Schnitger's recent works, which dress up tall poles in abstract warrior-princess costumes of leather and lace, nod back to the tall, skinny, totemic personages by Bourgeois in the first room.
The references are not parochially limited, either. Classic Mike Kelley stuffed-animal sculptures from the 1980s are in the knowing ancestry of Shinique Smith's swollen, vagabond-like bundles of colorful fabric suspended overhead; Phyllida Barlow's explosive forest of hanging cloth-clusters, at once playful and vaguely ominous (think hangman's noose) as it gobbles space; and the tangled, found-textile wall reliefs of Sonia Gomes, nestled in a corner.
The show strikes only one false note, and it is not from the hands of the gallery. Instead, a slew of art museums have tossed professional standards overboard to lend a boatload of sculptures from their permanent collections to what is, for all its intellectual provocations, an inescapably commercial endeavor.
Thirteen American museums, including major institutions in Los Angeles, Chicago, Houston, Boston and New York, have lent fully one-quarter of the show. That must be some kind of record. Given Schimmel's well-earned respect as a curator, collegiality is no doubt involved in so many museums agreeing to this perhaps unprecedented situation.
Still, nonprofit museums, whose mission is education, are different from galleries, whose mission is commerce — even when a show is as thoughtful and provocative as this one. Museum works are here interspersed with gallery inventory, as well as with loans from private collectors and other galleries — all actually or potentially for sale.
On one hand, the inappropriate loans indicate the degree to which museums today must court the goodwill of high-powered international art dealerships. On the other, they leave you with a nagging question: Why, if a revisionist exhibition of historically important sculpture by women was such a good idea, did none of these 13 museums manage it?
The gallery is doing its job, but the museums aren't. Few care much about such distinctions anymore, so pervasive is the global art market. More should.
Twitter: @KnightLAT
------------
Hauser Wirth & Schimmel
What: "Revolution in the Making: Abstract Sculpture by Women 1947-2016"
Where: 901 E. Third St., Los Angeles
When: Sunday through Sept. 4; closed Mondays and Tuesdays
Info: (213) 537-0858, www.hauserwirth.com
Get our L.A. Goes Out newsletter, with the week's best events, to help you explore and experience our city.
You may occasionally receive promotional content from the Los Angeles Times.