Review: Keeping the faith in Tarell Alvin McCraney's 'Head of Passes'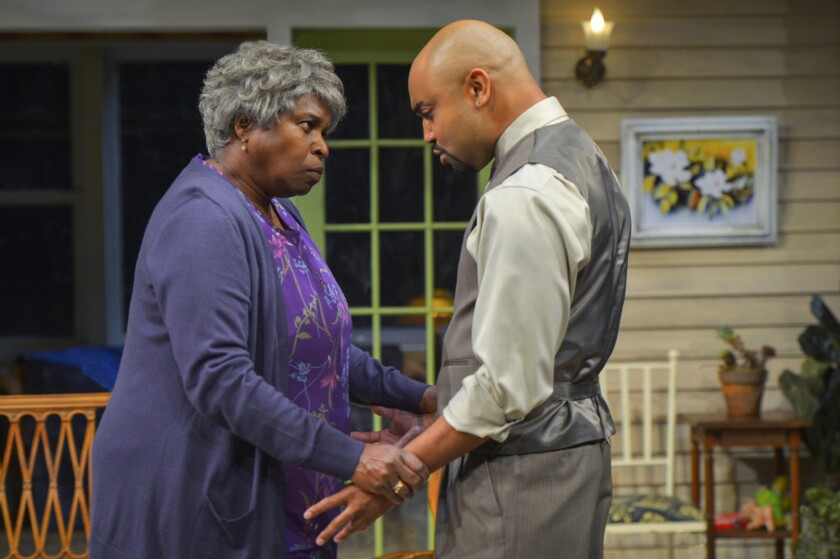 Los Angeles Times Theater Critic
reporting from BERKELEY —
Tarell Alvin McCraney, the prodigiously talented author of "The Brother/Sister Plays," has called August Wilson a mentor, though Wilson's stylistic influence hasn't been conspicuous.
McCraney's work, a gumbo of myth, poetry and musical fragments, registers an impatience with realism even when capturing a moment with just the right messy detail. As a storyteller, McCraney would rather slip and slide than steadily build.
The old model of domestic drama, in which characters are trapped in living rooms with their secrets, has influenced generations of dramatists, including Wilson, who deftly wove historical trauma into family back stories. Taking his cues from other sources, McCraney is more of a feverishly postmodern Tennessee Williams, riding R&B riffs into playwriting's future.
ESSENTIAL ARTS & CULTURE NEWSLETTER >> Get great stories delivered to your inbox
But the first act of "Head of Passes," a rich though still unfulfilled drama, might have McCraney fans checking the program to make sure that he is indeed the author.
The second act is more characteristically free-form, but the play — under the direction of McCraney's fellow Steppenwolf Theatre Company ensemble member and frequent collaborator Tina Landau — begins as a standard family drama, complete with elaborate character introductions and complicated explanations about the past. The play premiered at Steppenwolf in 2013 and is now at Berkeley Repertory Theatre through Sunday in a co-production with New York's Public Theater.
The atmospheric setting is a former bed-and-breakfast in the Head of Passes section of southern Louisiana, where three branches of the Mississippi River succumb to the Gulf of Mexico. The story takes place in the "distant present," meaning that the tides are rising and that the storms have become more menacing.
Shelah (Cheryl Lynn Bruce), the matriarch of this graceful if dilapidated home, (magnificently conjured by scenic designer G.W. Skip Mercier in all its leaky glory), is in failing health. She coughs into a bloodstained handkerchief (a very 19th century touch) but radiates kindness and generosity to the friends and family that have gathered for her birthday.
This is her story, and it is a parable of faith evoking the Book of Job. Shelah is spiritually preparing for her own death. Recognizing that her situation is hopeless, she doesn't want medical intervention, and one of the few times she loses her temper in the play is when well-meaning Dr. Anderson (James Carpenter) shows up at her door to offer his help.
An angel in the guise of a handsome catering waiter (Sullivan Jones) occasionally shadows Shelah, but only she can see him. This is taken as a further sign that her time is nearly up. Her mission in these final days is simply to make peace with those she loves.
Shelah tries to heal the breach between Creaker (Michael A. Shepperd) and his son, Crier (Jonathan Burke), both of whom are working for her at the party. She forgives her old friend Mae (Kimberly Scott) her debt. She tries to reinforce all that is best in her two grown sons, Aubrey (Francois Battiste) and Spencer (Brian Tyree Henry). And to Cookie (Nikkole Salter), her late husband's illegitimate daughter whom she loves as much as her own flesh and blood, she offers her purse, knowing full well that the money will be used for drugs.
Her goodness is almost otherworldly, but this is a deeply religious woman eyeing the finish line. What happens to Shelah, however, doesn't go according to her own script. Instead of being mourned, she will be the mourner — on a scale that puts her in some unenviable company (think Oedipus, Hecuba and Lear). Not even her beloved house will be spared, as the storm that has been causing water damage through her home grows more savage. (The scenic handling of the destruction is inspired.)
This précis may make it seem as though McCraney has written a Hurricane Katrina drama. "Head of Passes" is not that play. This is a meditation on suffering, about which, Auden famously said, the old masters were never wrong. It is about the journey of faith through a nightmare of pain and loss. And it is a confrontation with the intransigent mystery of our existential condition.
Unfortunately, the play has major structural problems. The first section is meandering, and the second is rushed. After painstakingly setting up this world in a realistic vein, McCraney relinquishes his concern for psychological accuracy once the devastation hits.
When the calamitous reports come in, Bruce's Shelah barely has time to make sense of the information. Her reactions are those of a character thrust into a modern Job drama, not a recognizable mother confronting the worst news imaginable.
Dramatically, the work doesn't parse. But then McCraney almost writes the last movement of the play as a dance solo, a reworking of Martha Graham's "Lamentation," intermixing gestures with monologue shards for comparable choreographic effects.
It is always a challenge for a dramatist when a character is more or less a passive victim. In such cases, a playwright must direct our attention to the points of freedom and choice.
Yet how can Shelah in the throes of agony ponder the possibility of the hubris of her religious certainty or come to terms with the ineradicable ignorance that is our collective plight? The rhythms of the play would have to be recalibrated for this to happen in a meaningful manner. Right now McCraney has given Bruce too little room to maneuver — she's being asked to do the introspective equivalent of cartwheels in a closet.
Landau has corralled a first-rate company, though the actors occasionally stumble in transitional moments. This is symptomatic of a writing problem. The cast members do a good job of individualizing even the vaguer characters, but when the emotional tension spikes they can seem at sea. And this is before the torrent of disasters. It's as though McCraney has deleted all incremental steps from his script.
The theater has from its origins been a place to contemplate the biggest theological conundrums, and it's heartening to see a contemporary playwright tackle a principal subject of classical tragedy from a modern standpoint. "Head of Passes" is still evolving, but McCraney shouldn't lose faith.
Twitter: @charlesmcnulty
---
The complete guide to home viewing
Get Screen Gab for weekly recommendations, analysis, interviews and irreverent discussion of the TV and streaming movies everyone's talking about.
You may occasionally receive promotional content from the Los Angeles Times.