Review: Philip Rich's speculative Surrealism asks the question: what if?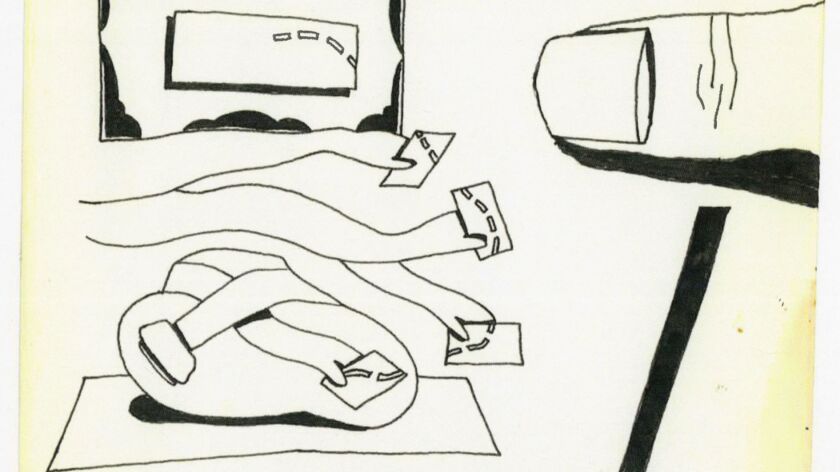 Art Critic
Philip Rich (1935-2017) is not a name that has been heard much in the Los Angeles art world over the past 50 years. A notable 1965 debut at the celebrated Ferus Gallery was accompanied by his selection that year for a Young Talent Award at the Los Angeles County Museum of Art. (His now prominent co-recipients of the prize were Tony Berlant, Melvin Edwards, Llyn Foulkes and Lloyd Hamrol.) Not long after, a potential career was sadly pulled up short when mental illness prompted Rich's withdrawal into lifelong relative seclusion.
Thirty-four intriguing line-drawings at As-Is Gallery in the West Adams neighborhood recall what might have been. The show amounts to a small but genuine rediscovery. The precision drawings – made between 1965 and 1967 and rendered in black ink on six-inch-square pieces of paper, now yellowing around the edges – are late-Surrealist gems.
Forms that oscillate between figurative fragments and abstract shapes seem to fold back in on themselves. Intensely focused, almost to the point of claustrophobia, it's as if every outward gesture or recognizable movement recoils, tugging itself into an indescribable if tightly contained world.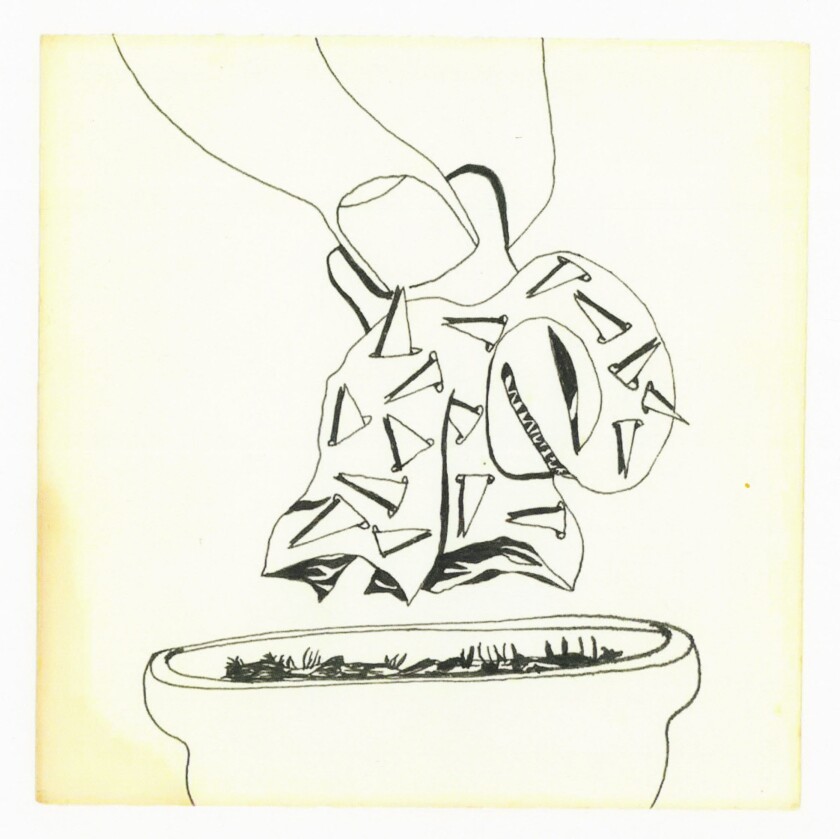 A bit of torso, a leg or a few fingers merge into evocative suggestions of an inflatable swimming pool float, a coffee mug or a swivel chair. Sometimes the cluster wears a jaunty fedora. An apparent magnifying glass or frying pan holds forth with a potted cactus and rabbit ears. Most compositions seem to be interiors, but occasionally a suggestion emerges of a sunny day at the beach.
The drawn black lines are clear, crisp and unmodulated or revised, the compositions less so. Rich's Surrealism is of a speculative sort, composed to ask "what if?" and loosely akin to that of such Ferus Gallery stablemates as Ken Price and John Altoon, as well as to the outsider ethos of H.C. Westermann. One distinctive touch: Individual shapes or clusters of fragmentary objects are frequently paired in a single small space, as if an internalized communication is being attempted between them.
Desk lamps commune, and mirrored puddles visually connect. Rich is making art as a conversation within itself. In this quirky, often engrossing exhibition, we're invited to listen in.
As-Is Gallery, 1133 Venice Blvd., (213) 610-4110, through Sept. 22. Closed Sun. and Mon. www.as-is.la
christopher.knight@latimes.com
Twitter: @KnightLAT
christopher.knight@latimes.com
---
Inside the business of entertainment
The Wide Shot brings you news, analysis and insights on everything from streaming wars to production — and what it all means for the future.
You may occasionally receive promotional content from the Los Angeles Times.