Yayoi Kusama is back in town, this time at the Marciano Art Foundation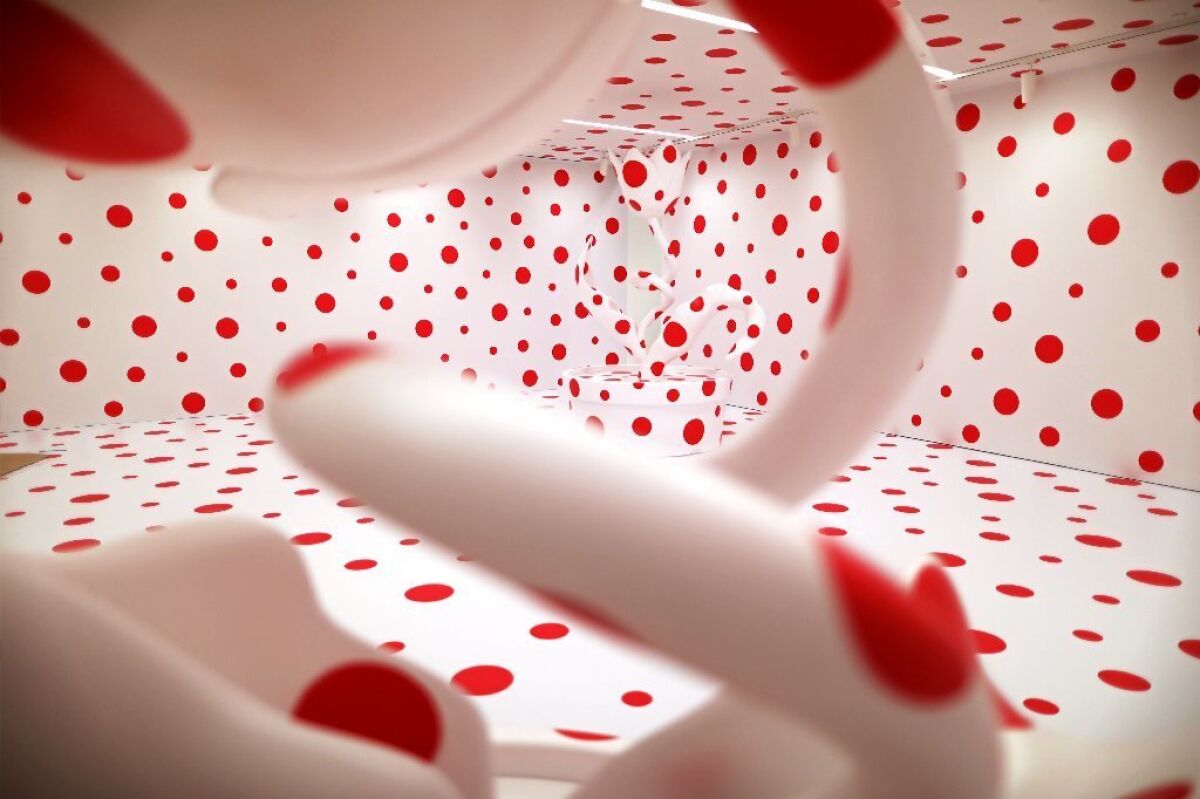 There's a Yayoi Kusama installation in town — again.
The Marciano Art Foundation announced that it has acquired the installation "With All My Love for the Tulips, I Pray Forever" (2011) by the Japanese artist who drew fans by the thousands last year to her show at the Broad museum. The immersive artwork, featuring three fiberglass-reinforced plastic potted tulip sculptures in a stark white environment that's plastered with red dots, will debut to the public on Thursday. It's the first time the artwork has been displayed on the West Coast.
"With All My Love for the Tulips, I Pray Forever" first went on view at David Zwirner in New York in 2017 as part of the gallery's "Festival of Life" exhibition. Maurice Maricano, whose Wilshire Boulevard art museum owns multiple paintings and sculptures by the 89-year-old artist, fell in love with it there.
At the Broad in downtown Los Angeles, the Kusama Infinity Mirror Room titled "Souls of Millions of Light Years Away" (2013) remains one of the most popular artworks. When the museum put advance tickets on sale last September for its survey of Kusama's Infinity Mirror Rooms, it caused an online frenzy. About 50,000 tickets sold out in less than an hour. The excitement was partly due to the fact that the rooms — popular selfie backdrops that are widely seen on social media — had rarely been on view.
In March, after the Broad exhibition closed, the museum announced that it had acquired another Kusama Infinity Mirror Room, "Longing for Eternity" (2017), a hexagonal-shaped, LED light-filled chamber that visitors peer into through portholes.
Which raises the question: If the rules of supply and demand apply, will Kusama-mania in L.A. simmer down? Or does the Marciano expect just as much excitement when it opens "With All My Love for the Tulips, I Pray Forever?"
"We're not sure what to expect," Marciano Deputy Director Jamie G. Manné said during a sneak peek of the work. "We do anticipate lines. We hope people will get excited about it. But the thing about Marciano Art Foundation is, we really limit the number of people who are allowed in at any one time." That mitigates crowds, Manné said. The museum plans to let 15 to 20 people at a time into the new installation.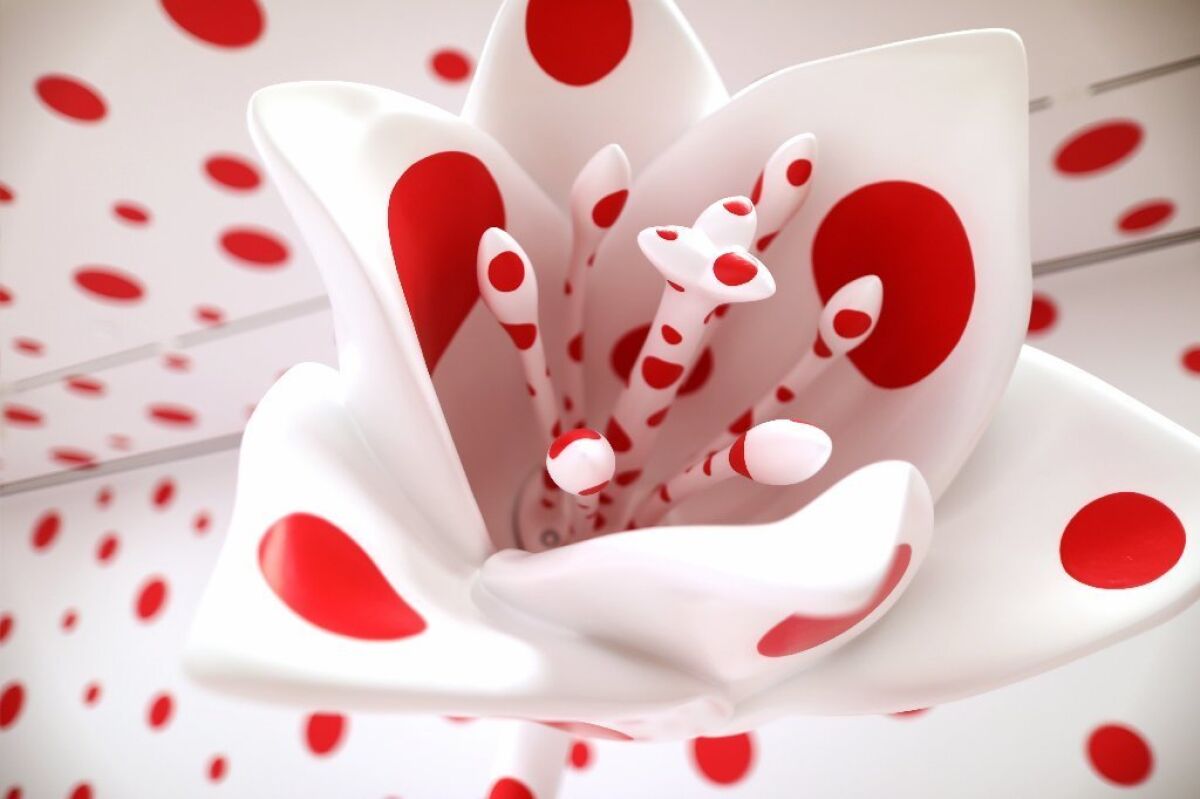 The Marciano Art Foundation owns Kusama works dating to the early 1980s, including the artist's infinity net paintings and tulip sculptures, but the addition of a large-scale, immersive Kusama work was key, Manné said.
"This is something that was really missing from the collection," Manné said. "Not every collection can acquire a room like this, so you'll find them in more institutional settings, because of space and logistics. The institutions that house these are kind of few and far between."
The version of "With All My Love for the Tulips, I Pray Forever" at the Marciano is more expansive than what appeared at David Zwirner. The artwork takes over an entire third-floor gallery that's more than 1,700 square feet. Other Kusama works from the Marciano collection will be on view nearby, and an exhibition of Jennifer Guidi paintings adjacent to "With All My Love for the Tulips, I Pray Forever" appears in conversation with Kusama's infinity net paintings, though Manné said that was a "happy accident."
With its repetitive mix of organic and geometric shapes, and with the ceiling, floor and walls plastered with red dots, the Kusama installation's flattened visual effect can be delightfully dizzying. The work's red and white palette and spotted tulip planters are reminiscent of Kusama's first Infinity Mirror Room, "Phalli's Field," which she finished in 1965.
The exhibition that was at the Broad is still traveling, currently on view at the Cleveland Museum of Art before heading to the High Museum in Atlanta.
But Kusama overkill is not a concern, Manné said.
"I think Kusama is such an important figure in art history," Manné said, "especially because she's a woman and she's been so prolific. She's become almost a household name in a way. But there are always going to be people who don't know about her and want to learn more, experience more."
Follow me on Twitter: @debvankin
---
Get our L.A. Goes Out newsletter, with the week's best events, to help you explore and experience our city.
You may occasionally receive promotional content from the Los Angeles Times.