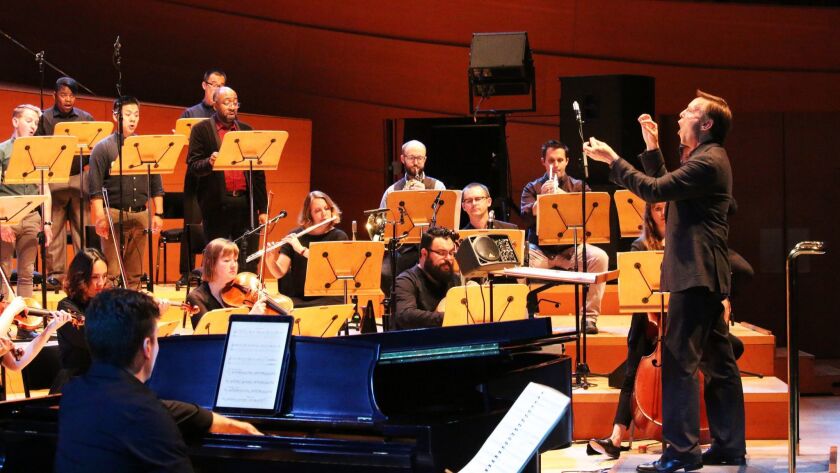 Ellen Reid identifies herself as "composer and sound artist" on her website. Those aren't two separate or distinct aspects of her work, even though she creates site-specific pieces as well as writing for standard concert situations.
What has made Reid such a beguiling composer, and one who suits Los Angeles so well, is that pretty much whatever she does and wherever she does it, space, to misquote Sun Ra, is ever the place.

As Reid's prominence rises, and it's currently soaring as the city's most prestigious musical institutions line up to commission her, the worry might be that sonic space becomes constricted with the need to fit in. Still, in "Petrichor," a recent new piece for Los Angeles Chamber Orchestra, she made Royce Hall feel uncannily like a rain forest through instrumental magic alone.
With "dreams of the new world," her oratorio for the Los Angeles Master Chorale, which had its premiere Sunday night at Walt Disney Concert Hall, Reid showed less interest in specific sonic transformation than in imagining space and time. Her subject is vast. Working with a writer and a researcher, she set out to examine American westward expansion through the examples of three cities in epochs of optimistic boom — Memphis in 1890, 1950 and 2016, Houston in 1970 and Los Angeles 2018.
There is biographical significance in that Reid is from Oak Ridge, a small town in Tennessee, and her librettist, Sarah LaBrie, grew up in Houston. Reid and LaBrie traveled with an anthropologist, Sayd Randle, to interview a variety of people who could help understand prosperity and its consequences in a journey to find a larger narrative.
"It's the American psyche," one futurist told the women, and that became the first line in LaBrie's libretto. "It's the drive of our forefathers," another interviewee noted about the great movement westward.
Reid's score is wildly inventive, leaving little question about what all the fuss over her music is about. She has a special feel for the chorus, which here is reduced to 32 voices, including five soloists. The 14-member instrumental ensemble was the experimental chamber group wild Up, with whom Reid has a long connection.
Grant Gershon conducted with a flexibility that made it seem as though Reid could do absolutely anything. The Memphis section ranged from soulful folk song to New Orleans jazz to a section in which American hymn took on the character of Arvo Pärt's Eastern European spiritualism. The topic was Robert Church, who went from slave to millionaire at the end of 19th century but whose legacy was later stamped out in the city's racially insensitive modernization.
In "dreams," Houston makes oil money to the tunes of electronic funk. The Gulf region gets fat with the sounds of big band jazz. But it cared little about the fate of oil rig workers or the environment, a golden era represented in golden harmonies, sung a cappella, a drone that proves surprisingly somber.
In L.A., it's the race to the future. Elon Musk. Rockets. Sopranos, with the help of a flute, are remarkably reminiscent of buoyant early electronic music. A sanguine sax solo blasts to Mars. Space, cinematically rousing, is our next frontier.
This is a lot of territory to cover in 45 minutes and necessarily fragmentary. That meant Reid's usual luxurious sound environments tended to be tantalizingly hinted at, as she engagingly reacted to the moment. The moment had to matter.
Unfortunately the earnestness of the text, and the project itself, made that difficult. It is possible — as John Adams and Peter Sellars have shown, and Julia Wolfe in her oratorio, "Anthracite Fields" — to create profound musical expression around documentary material. Some of the libretto's historical lines, especially from Memphis, really do sing, but too often there is conventional wisdom. When we get to L.A., it's basically TED talk.
Further holding the work back was the amplification. Reid and her sound designer, Nicolas Tipp, did almost the opposite of what the composer accomplished at Royce. Instead of making a confined space seem to open up, they lessened Disney's dimensionality, focusing the ear on only semi-dimenstional speakers.
What the evening did have, however, was the ambiance of a committed performance that captured the sheer exhilaration of Reid's music. Gershon wasn't about to let anything stand in Reid's way. He paired "dreams" with Terry Riley's "In C," knowing that this is music that lives in a world of its own.
It was an odd performance. Chorus members mingled in groups on stage and around the hall. The instruments were spread about. The room remained brightly lighted. The whole thing had the character of a grooving performance by the Village People, the 1970s disco group.
Riley may have envisioned less purposeful interactions and more distinct individuality of the performers, who work their way independently but not insensitively through 53 melodic fragments repeated at individual will. But it is hard to resist choristers dancing in the aisles or Gershon happily banging out the pulse on the piano.
The performance lasted a little over an hour. Like "dreams," it felt much shorter, a sure way beyond criticism to judge any work's effectiveness.
---