The L.A. Phil's 100th season plans: No orchestra has been this ambitious, ever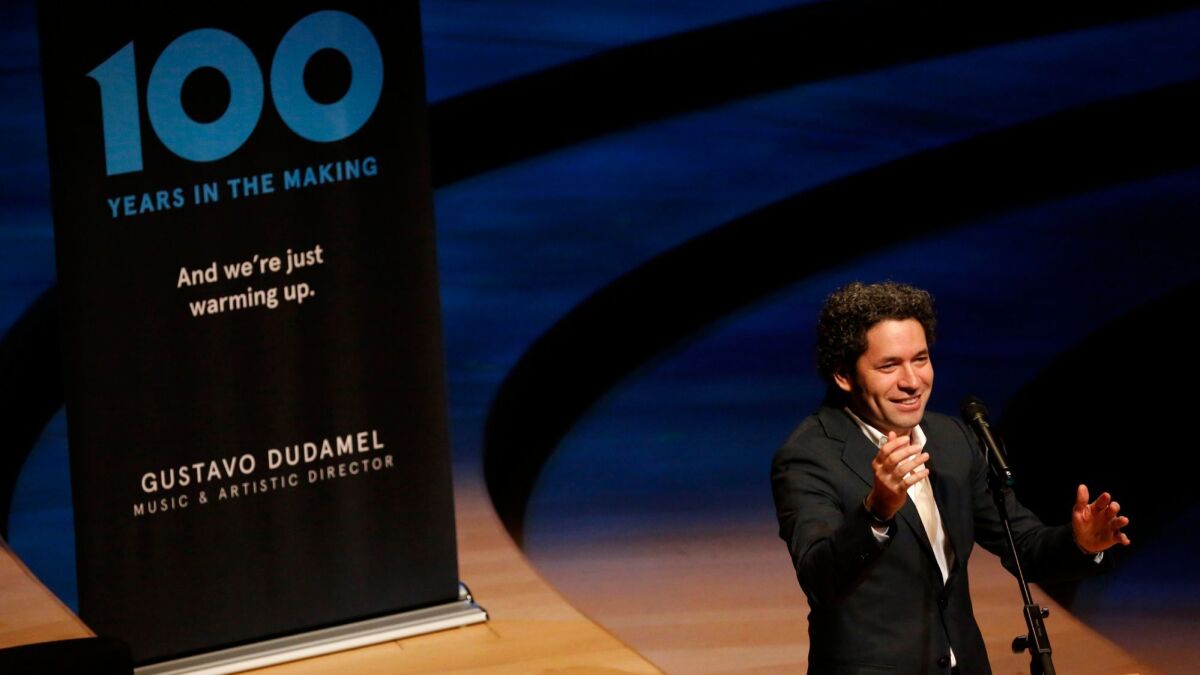 Music Critic
When the Los Angeles Philharmonic revealed grand goals for its celebratory 100th season beginning fall 2018, the orchestra promised an array of unspecified spectacles at Walt Disney Concert Hall, a parade to the Hollywood Bowl, ticket handouts, a new Frank Gehry-designed YOLA Center in Inglewood to serve the L.A. Phil's expanding education efforts for inner city youth, 50 commissions of new music and a $500-million fundraising campaign to pay for it all.
But at the end of the day, the L.A. Phil must put its music where its mouth is. On Wednesday the orchestra will do just that, unveiling the programming details of its Disney schedule — a lineup that makes news from the first day of the season to the last.
In an interview with The Times, Gustavo Dudamel stressed just how much the rambunctious effort ups the artistic and civic ante for what a 21st century arts institution might mean to the life of a quintessential 21st century city. No orchestra has ever come close to the ambition of this centennial season.
It all begins (an extravagant celebration of L.A.) and ends (Mahler's immense "Symphony of the Thousand") with Dudamel, for whom this will be his 10th season as music director and third full season as artistic director. What comes in between is the obvious look at the foundations of the orchestra. Major projects involve its surviving former music directors — Zubin Mehta, conductor laureate Esa-Pekka Salonen and, yes, even André Previn, who resigned in a feud with management three decades ago and has refused to set foot in Los Angeles since.
2015 Special Report: Inside the L.A. Phil »
Other participants in the vast L.A. Phil family will be principal guest conductor Susanna Mälkki, native Angeleno Michael Tilson Thomas, creative chair John Adams, creative chair for jazz Herbie Hancock and two opera directors: Yuval Sharon, who will be completing his three-year residence with the orchestra, along with Peter Sellars, whose relationship with the orchestra goes back to 1992 when he became the first dramaturge, and to this day the only dramaturge, of a symphony orchestra. Two former associate conductors mentored by Dudamel, still young but already making it big, Lionel Bringuier and Mirga Grazinyte-Tyla, will be back as well.
Forget a mere 50 commissions pointing the way to the future. The latest list shows 54. There will be ever more of the elaborate productions and collaborations with dancers, actors, filmmakers, visual artists, media artists and others that the L.A. Phil has made a practice of pioneering. That's a big family, which further includes the likes of composer Thomas Adès and pianist Yuja Wang.
"I can talk to you for hours about what we have been thinking," Dudamel said last week, taking a break from rehearsing yet another massive project, Leonard Bernstein's "Mass." "But the most important part is to celebrate Los Angeles. With our initiatives we have already been changing the way people think about classical music, about everything. That doesn't happen in other places."
But mainly Dudamel said what doesn't happen in other places is a doughty optimism that art, that classical music, that the symphony orchestra, which is anything but dead, can still improve the world.
"I never stop to dream here," he said. "It's crazy, because every day I'm more and more in love with what I do here."
Conductor Gustavo Dudamel reflects on Walt Disney Concert Hall. Interview by David Ng. 
Dudamel will conduct 20 programs and work with a vast range of collaborators. He's premiering works large and small; taking on a Haydn/Beethoven cycle of concertos, symphonies and masses; and celebrating his love for the movies with a John Williams salute and the L.A. Phil's first participation at the Academy Awards.
"I wanted a season that's about the Los Angeles Philharmonic's ability to embrace everything," Dudamel explained. "This is for Los Angeles, for the institution but especially for the community.
"This is what it is about. It is about the evolution of this orchestra and in the place where it is right now in the world."
The season begins with the exterior of Disney lighted by projections, at long last, as Gehry had always intended (before the cost-cutting). The projections won't yet be of the concerts inside (Gehry's idea), but rather patterns created from the orchestra's digital archives by media artist Refik Anadol.
The opening gala will concentrate on California music, from Adams to Frank Zappa, the latter a mocking mother of invention who, it is safe to presume, has never before been accorded a slot on so high-society an orchestral event. There are still no specifics about the Sept. 30 parade, envisioned as a street fair along which the audience can ramble or bicycle, sampling performers on streets closed from Disney Hall to the Hollywood Bowl. At the Bowl, Dudamel and the orchestra will give a free concert.
The LA Fest series will feature Dudamel conducting Esa-Pekka Salonen's "LA Variations" and a new orchestral work by Andrew Norman; a Green Umbrella program of five new pieces commissioned from emerging L.A. composers; and programs with the orchestra and pop singer-songwriter-violinist Andrew Bird, electronic whiz Moby and Hancock.
Dudamel's other big events will be mounting Prokofiev's ballet "Romeo and Juliet" in Disney, choreographed by Benjamin Millepied and in collaboration with American Ballet Theatre and L.A. Dance Project; the premiere of an evening-long multimedia work by Tan Dun, "Buddha Passion," in celebration of Chinese New Year; and the pairing of Beethoven's five piano concertos (with Lang Lang as soloist) with Haydn's last four symphonies.
Mehta has chosen to concentrate on Brahms, his four symphonies and four concertos (with pianist Yefim Bronfman, violinist Pinchas Zukerman and cellist Amanda Forsyth as the soloists). Salonen has picked Stravinsky, with three programs addressing the composer's fascination with ritual (one being the Salonen trademark reading of "The Rite of Spring"), faith (late religious works) and myths (highlighted by a Sellars staging of "Perséphone"). Salonen's month with the orchestra will additionally feature the world premiere of an orchestra piece by Dutch master Louis Andriessen and a dip into music of the Weimar Republic.
Composer-conductor John Adams leads the Los Angeles Philharmonic's New Music Group in a performance of his "Son of Chamber Symphony," part of a Green Umbrella program on Feb. 26, 2013. Adams is the Philharmonic's creative chairman.
(Lawrence K. Ho / Los Angeles Times)
Zubin Mehta, the Los Angeles Philharmonic's music director from 1962-78, returns to conduct the Phil at a 50th anniversary concert on Dec. 13, 2012.
(Lawrence K. Ho / Los Angeles Times)
The New York Philharmonic, conducted by Alan Gilbert, makes a belated Walt Disney Concert Hall debut on May 9, 2012.
(Glenn Koenig / Los Angeles Times)
Grant Gershon, music director of the Los Angeles Master Chorale, leads his group in a March 6, 2011, performance at Walt Disney Concert Hall.
(Allen J. Schaben / Los Angeles Times)
Gustavo Dudamel, the Los Angeles Philharmonic's music director since 2009, leads the Phil in Tchaikovsky's three Shakespeare concert pieces -- "Hamlet," "Romeo and Juliet" and "The Tempest" -- on March 10, 2011.
(Lawrence K. Ho / Los Angeles Times)
Michael Tilson Thomas and the San Francisco Symphony visit Walt Disney Concert Hall on Jan. 26, 2009. Tchaikovsky's Fifth Symphony closes their program.
(Lawrence K. Ho / Los Angeles Times)
Christoph Eschenbach leads the Los Angeles Philharmonic at Walt Disney Concert Hall on Nov. 11, 2004. On the program is Mahler's "Kindertotenlieder" (Songs on the Death of Children) with bass-baritone soloist Thomas Quasthoff.
(Anne Cusack / Los Angeles Times)
James Conlon visits in October 2004 to conduct the Los Angeles Philharmonic in concerts devoted to the work of composers who perished in Nazi concentration camps. Shortly before, he was named to succeed Kent Nagano as music director of Los Angeles Opera.
(Damon Winter / Los Angeles Times)
Marin Alsop, rising through the ranks of conductors, leads the Los Angeles Philharmonic on April 8, 2004. Lang Lang is piano soloist.
(Ricardo DeAratanha / Los Angeles Times)
Franz Welser-Most, the Austrian conductor of the Cleveland Orchestra, visits on Feb. 19, 2004, to conduct the Los Angeles Philharmonic at Walt Disney Concert Hall. Radu Lupu is piano soloist.
(Lawrence K. Ho / Los Angeles Times)
Russian conductor Valery Gergiev makes his Disney Hall debut on Feb. 14, 2004, leading the Los Angeles Philharmonic in a program of Prokofiev, Mussorgsky and Rimsky-Korsakov.
(Glenn Koenig / Los Angeles Times)
Simon Rattle conducts the Berlin Philharmonic at Walt Disney Concert Hall on Nov. 21, 2003. The program's pinnacle is Schubert's C-Major Symphony ("The Great").
(Lawrence K. Ho / Los Angeles Times)
Esa-Pekka Salonen and the Los Angeles Philharmonic dive into the second night of Walt Disney Concert Hall's gala openings on Oct. 24, 2003. John Adams' "The Dharma at Big Sur" anchors the program, which also includes Salonen's "LA Variations," Witold Lutoslawski's Cello Concerto and Silvestre Revueltas' "Sensemaya." Yo-Yo Ma is cello soloist.
(Lawrence K. Ho / Los Angeles Times)
Nearly everyone who comes to conduct gets a premiere or six. Along with presenting Shakespeare's "The Tempest" with Sibelius' seldom heard incidental music (in collaboration with the Old Globe), principal guest conductor Mälkki will give the first performance of Steve Reich's "Music for Ensemble and Orchestra" and lead a Green Umbrella program of five works commissioned from European avant-garde composers little known in the U.S. Mälkki also takes on Messiaen's epic "Turangalila" Symphony.
Adams' role is both as conductor and composer. His new piece for the centennial is a piano concerto for Yuja Wang called "Must the Devil Have All the Good Tunes?" which Dudamel will conduct. Adams will conduct the world premiere of Philip Glass' Symphony No. 12, based on the all the good tunes in "Lodger," the classic David Bowie and Brian Eno album.
Grazinyte-Tyla's premiere is by Korean composer Unsuk Chin on a program that also features the L.A. Phil debut of violinist Patricia Kopatchinskaja in Tchaikovsky's Violin Concerto. For his part, Tilson Thomas will conduct his own "Four Preludes on Playthings of the Wind."
The other headline-grabbing centennial events will be an investigation of African American composer William Grant Still along with the Harlem Renaissance led by Thomas Wilkins; a look at the Fluxus art and performance movement of the 1950s and 1960s headed by Christopher Rountree; new Sharon stagings of John Cage's "Europeras 1 and 2" and Meredith Monk's "Atlas"; a Robert Mapplethorpe project by Bryce Dessner of the band the National; dance works by Adès conducted by the composer, choreographed by Wayne McGregor and co-presented by the Music Center in the Dorothy Chandler Pavilion; and — whew! — a site-specific installation in and around Disney Hall by Janet Cardiff and George Bures Miller.
And Previn? He's still not setting foot in L.A., but he has accepted a commission. That will be for a later season, and Dudamel says he'll conduct it. Plus Previn has also been allowed to give his side of the L.A. Phil story in a tell-all oral history that the orchestra is commissioning for the centennial.
---
Get our L.A. Goes Out newsletter, with the week's best events, to help you explore and experience our city.
You may occasionally receive promotional content from the Los Angeles Times.