Review: As L.A. voted, John Cage's anarchic 'Europeras 1 & 2' set the tone for election day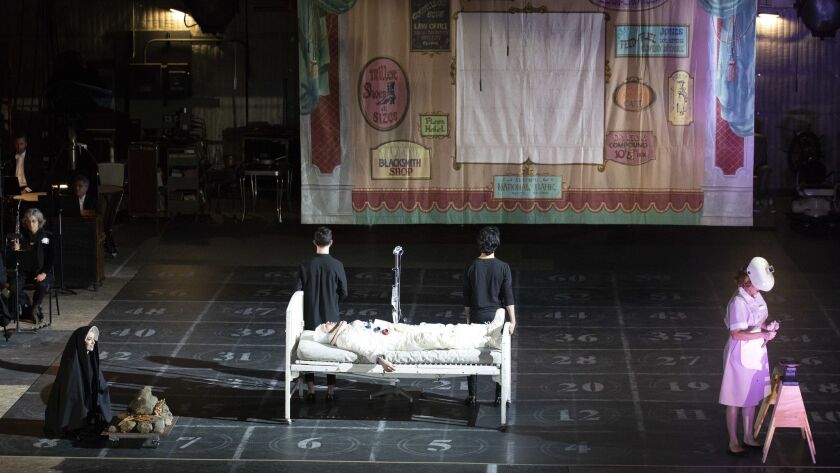 Music Critic
"For two hundred years the Europeans have been sending us their operas," John Cage once wrote only half jokingly about his "Europeras 1 & 2."
"Now I'm sending them back."
That's about as good of ad copy as you will find, and the Los Angeles Philharmonic has understandably latched on to it in its promotion of what is technically the work's West Coast premiere.
The premiere, directed by Yuval Sharon and a co-production between the orchestra and his company, The Industry, took place Tuesday night (with further performances Saturday and Sunday) in the unlikely location of Soundstage 23 on the Sony Studios lot in Culver City. Not only could this wind up being the most audacious, let alone dauntingly complex, event in the orchestra's dauntingly audacious centennial season, it is much more than a West Coast premiere.
This is, astonishingly, the first American effort to send back home a milestone in American opera.
An effort will be required to understand why a singer dressed as a Chinese warrior sings an aria from Mozart's "Marriage of Figaro," and why a mermaid is in the picture. What's up with the maid wearing a welding helmet hitting a rubber anvil placed on a sawhorse? And how about that barber dressed for a disco of yore singing the Toreador Song from "Carmen" while cutting hair? Or the Cleopatra standing in front of a painting of snowy pines, while every member of the orchestra is playing something different, and the lighting and dancers are going their own way?
We need context.
"Europeras 1 & 2" was commissioned by Frankfurt Opera as part of the celebration of the composer's 75th birthday in 1987 and given its first performance in December of that year. Cage had never shown much interest in opera. As far as I could tell, the only operas he cared for were by Mozart (his favorite classical composer) or Arnold Schoenberg (his teacher), although he fell in love with Verdi's "Falstaff" when he heard it in Frankfurt while preparing "Europeras."
He was serious about the shipping of European opera, lock, stock and barrel. His idea was for the opera company to delight in all that it had. A packrat himself, Cage found a way for a large European opera house to retrieve the old costumes and sets and yellowing pages of orchestral parts molding away in storage and has given them new life and new light. The same would go with old operas.
Nineteen opera singers, each a different voice type, were asked to select arias from operas in the public domain. Mind-bogglingly intricate computer-generated chance operations based on coin throws for the Chinese oracle "I Ching" were used to determined when something was sung, what the lighting would be, what the costumes would be, as well as the action and just about everything. Each member of the orchestra had individual parts to play, also taken, by chance, from 49 operas in public domain.
Nothing could happen, there could be silence, or you could have six arias being sung simultaneously in front of heaven-knows-what backdrops surrounded onstage by any old thing. Dancers dressed in black served as the singer's shadows and helped guide them. Bodies were the only element not suitable for collision.
There was even more.
A tape collage of 101 operas played at once was occasionally broadcast, serving as a kind of operatic wind blowing through the auditorium. No conductor tells anyone what to do. "Europera 1" lasts exactly 90 minutes and "Europera 2," 45. A large clock keeps track.
The result proved unbelievably beautiful and powerfully moving.
There was an Old World elegance to this operatic antique shop of costumes and decor. There was also intensity of the concentration required by singers to remain superbly focused individuals, in the midst of all the noise around them. What "Europeras" proved in the end was a celebration of humanity.
But how to bring what I would assert is America's most profound comic opera back to America? No one has, until now, tried. Frankfurt Opera imported its production, along with 150 members of its company, to a summer festival outside New York City in 1988. That's been the last of it. There have been other European productions and what I've seen of them, unimpressive.
The problem, of course, is that "Europeras" is "their" operas. Few American opera houses have the resources. But even if they do, using them in this way goes completely against the deeper implication that "Europeras" is cleansing the New World of the Old.
Sharon's fascinating idea was to employ the Sony studios. Let all their old costumes and props and painted backdrops be excavated. That's what resonates with Americans — and especially with Angelenos. Plus a soundstage is a pretty cool and acoustically lively space. It's not a European-style opera house and getting there adds to the sense of adventure.
What is lost is the elegance.
The performance was for the most part brilliant but brash. As the mastermind of "Hopscotch," the mobile opera, Sharon has shown he is the world's most adroit stage director when it comes to logistics, which makes him the ideal traffic cop for the "Europeras 1 & 2" obstacle course.
The 19 singers, too many to name but every one stunning, included many regulars from The Industry and the L.A. new music scene. In Frankfurt, the singers had a huge job overcoming the unfamiliarity of their surroundings and the acoustical challenges of singing against a cacophony. It was hard to get the orchestra players to take their role seriously. At one performance I heard in Frankfurt, after Cage had left town, an obnoxious trombone player started screwing around playing jazz and there were chuckles from the pit.
The members of the L.A. Phil New Music Group, who were seated in two groups on either side of the stage, were a joy, although too much of a joy at times. Rather than being in the pit, in their own sound world, they were right there in your face competing with the singers, and things got a little intense at times. Wagner stood out.
The movie costumes also had the curious effect of making "Europeras" seem less radical than it does in the opera house. This was for the simple reason that the characters, instead of looking like they came from another century and were now in our century, appeared as they already were of our age. In an era of, say, updated "Carmen" productions, the toreador might actually be a barber dressed for the disco.
I could have also used less of the staged silliness. Chance takes care of that perfectly well on its own.
Still, the challenge, and surely one that Cage relished, is that any performance of "Europeras 1 & 2" is a next-to-impossible, yet meaningful, challenge to make relevant, and this was done with full knowledge of what the piece is and what kind of world we live in now.
What I found resonated on election eve remarkably well was the concentration of each performer focusing on what matters no matter what the noise. That alone proved not just exhilarating but downright mood-altering.
------------
'Europeras 1 & 2'
Where: Sony Studios, 4080 Overland Ave. Culver City
When: 7:30 p.m. Saturday, 2 p.m. Sunday
Tickets: $55
Info: (213) 850-2000, laphil.com
---
Inside the business of entertainment
The Wide Shot brings you news, analysis and insights on everything from streaming wars to production — and what it all means for the future.
You may occasionally receive promotional content from the Los Angeles Times.