Review: In Boston Court's 'With Love and a Major Organ,' she gave him her heart, quite literally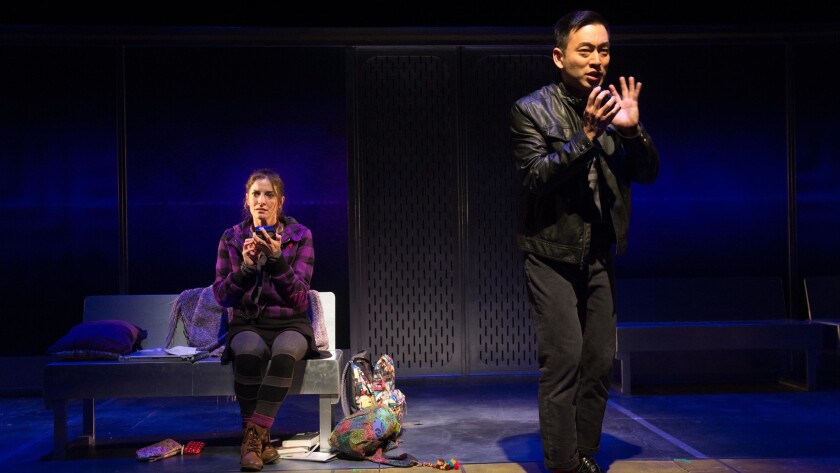 A heart given away can be tough to recover — a risk explored with considerable charm in the West Coast premiere of "With Love and a Major Organ," Canadian playwright Julia Lederer's romantic fable at Theatre @ Boston Court in Pasadena.
There's an appropriately childlike innocence in the young author's debut play, with its quirky reversal of the oft-quoted child's definition of myth as "a story that is make-believe on the outside, but true on the inside." Here, the idealistic Anabel (Paige Lindsey White) performs radical cardiac surgery on herself and surreptitiously gifts her still-beating organ to an aloof stranger with whom she's been unsuccessfully flirting. While not lethal, the evisceration leaves Anabel in numb, semi-zombified aimlessness as she awaits the results of her bold gambit to get his attention.
It turns out the heart recipient, George (Daisuke Tsuji), needs all the emotional life support he can get. His well-intentioned but overprotective mother, Mona (Bonita Friedericy), had tried to shield her only child from flesh-and-blood heartbreak by "upgrading" him with a heart of paper. After installing Anabel's heart, George at first selfishly coddles it as a mere possession, but under its humanizing influence his innate decency blossoms until he's at last able to reciprocate Anabel's generosity.
OK, it's a fairy tale, but that's not meant to imply immaturity. On the contrary, Lederer's dialogue is laced with sophisticated poetry and wry insight into the isolation faced by a generation for whom the meaning of "friend"-ship has been devalued by social media. The eccentric young postmodern characters are played with touching emotional delicacy, and the mother adds a layer of humorous technophobia in her clueless struggles with online dating.
The production greatly benefits from veteran director Jessica Kubzansky's assured hand in reworking the script and enlisting a first-rate design team for her staging, which includes inventive use of video and a stylish ballet fantasy sequence. Unabashedly romantic, this one actually wears its heart on its narrative sleeve.
♦ ♦ ♦ ♦ ♦ ♦ ♦ ♦ ♦ ♦
'With Love and a Major Organ'
Where: Boston Court Theatre, 70 N. Mentor Ave., Pasadena
When: 8 p.m. Thursdays-Saturdays, 2 p.m. Sundays; ends Nov. 5
Price: $39
Info: (626) 683-6801, www.bostoncourt.com
Running time: 1 hour, 30 minutes
Look for our latest theater reviews to post every Friday at latimes.com/arts.
MORE THEATER:
Why Carmen Cusack is now a 'Bright Star' of L.A.
The 99-Seat Beat: This week's picks from L.A.'s small theater scene
We post arts coverage daily at latimes.com/arts.
---
Your essential guide to the arts in L.A.
Get Carolina A. Miranda's weekly newsletter for what's happening, plus openings, critics' picks and more.
You may occasionally receive promotional content from the Los Angeles Times.