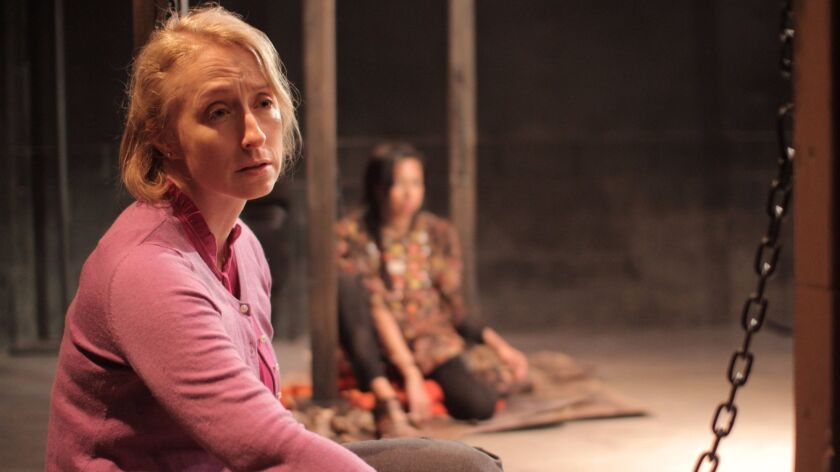 "Mice" is the first show from the Ensemble Studio Theatre/L.A.'s New West Playwrights Program, a series featuring writers under 30.
Schaeffer Nelson, the author of "Mice," may be young, but he's certainly not timid when it comes to expressing the offbeat (and some would say repulsive) themes largely inspired by his evangelical upbringing in Kansas. And if those themes don't ultimately coalesce into a sustained whole, Nelson is nevertheless an intriguing new voice — one who may not be easy to listen to but who should be heard.
In "Mice," Ayushi (Sharmila Devar) and Grace (Heather Robinson), both pastors' wives, are being held captive in a basement dungeon by the deranged Mouseman (Kevin Comartin), a cannibal in a blood-spattered mouse costume, complete with huge prosthetic rodent head. (Costume designer Michael Mullen's creepy get-up could linger in nightmare.)
Ayushi, Mouseman's long-term captive and special "little mouse," has been spared the fate of her predecessors, for whom the basement wasn't so much a prison as Mouseman's grisly "pantry." Grace is a new addition to the larder who seems headed for the same fate until Mouseman's whispering mouse suit counsels him to spare her life.
Whether the suit's power is a manifestation of Mouseman's psychosis or a supernatural agent of evil is anybody's guess, but whatever the case, Nelson's bizarre plot results in suspenseful moments that are genuinely unsettling.
The design elements — Ellen Monocroussos' lighting, David Boman's sound and Amanda Knehans' set – provide the disturbing atmosphere for Nelson's imperfect yet intriguing oddity.
Nelson has a tendency to shorthand his plot, such as when he removes a character from the play's final scenes for ill-defined reasons. However, director Roderick Menzies keeps the action taut, smoothing over the plot's irregularities with a well-paced staging.
Apparent line lapses marked an opening-weekend performance, and Devar and Robinson are a bit one-note. Comartin, though we never see his face until the final moments of the play, delivers the most fully fleshed (no pun intended) performance. He lends his rapacious, repugnant character an unexpectedly sympathetic edge — a quality that makes "Mice" all the eerier.
♦ ♦ ♦ ♦ ♦ ♦ ♦ ♦ ♦ ♦
'Mice'
Where: Ensemble Studio Theatre/LA in Atwater Village Theatre Complex, 3269 Casitas Ave., Los Angeles
When: 8 p.m. Thursdays-Saturdays; 4 p.m. Sundays; ends Nov. 5
Running time: 1 hour, 10 minutes
Tickets: $20-$25
Info: (818) 839-1197. dime.io/events/mice/10/2017/
Support coverage of the arts. Share this article.
MORE THEATER:
Why Carmen Cusack is now a 'Bright Star' of L.A.
Review: 'With Love and a Major Organ'
The 99-Seat Beat: This week's picks from L.A.'s small theater scene
We post arts coverage daily at latimes.com/arts.
---