The 99-Seat-Beat: Renew old friendships with 'A Love Affair' or 'Resolving Hedda'
Los Angeles playwrights are in the spotlight this week. The shows below are all by locals. Bonus: Two of the playwrights, both longtime favorites, are being presented at durable theaters run by couples, and both halves of the couple are working on the plays. Perhaps it's time to reconnect with old friends.
---
1. 'A Love Affair' at Santa Monica Playhouse
The essentials: As a TV writer and his wife of 38 years face life's diminishing returns, sexually and financially, their thoughts return to their newlywed selves. The 1991 play was the third in a series of semiautobiographical marital tales by Jerry Mayer.
Why this? Mayer turned to playwriting after a TV career writing for such shows as "MASH," "The Mary Tyler Moore Show" and "The Facts of Life." "A Love Affair," one of his first plays, was introduced at Santa Monica Playhouse, the launchpad for most of his nine plays, where it ran for more than nine months. Part of a two-year "Jerry-Mayer-a-Thon," the revival is directed by the playhouse's co-artistic director, Chris DeCarlo, as it was in 1991. The casting presents two real-life couples as the story's older and younger selves, DeCarlo with his wife and co-artistic director, Evelyn Rudie, and newly engaged Andrea Adnoff and Jacob Cooper. Mayer is 86 and still writing.
Details: Santa Monica Playhouse, 1211 4th St. 7:30 p.m. Saturdays, 3:30 p.m. Sundays; ends Nov. 19. $35. (310) 394-9779, Ext. 1, www.SantaMonicaPlayhouse.com
---
2. 'Resolving Hedda' at Victory Theatre
The essentials: Trapped in a diminished and demeaning life, Hedda Gabler escapes at the end of Henrik Ibsen's 1891 drama by killing herself. But what if Hedda, 126 years later, rejects that fate and sets about trying to sabotage the play? That's the premise of Jon Klein's new comedy.
Why this? The year has given us an alternate look at another Ibsen heroine in Lucas Hnath's "A Doll's House, Part 2." Klein's play sounds a bit more straightforwardly comic than Hnath's sociopolitical and philosophical one, though. Director Maria Gobetti describes it as "Pirandello meets the Marx Brothers." This is the fourth of Klein's plays presented by the Victory, after such pieces as "T Bone N Weasel" and "Wishing Well." Gobetti, who runs the Victory with husband Tom Ormeny, has directed many of the hits in the theater's revered 38-year history. Ormeny is in the cast.
Details: The Victory Theatre, 3326 W. Victory Blvd., Burbank. 8 p.m. Fridays and Saturdays, 4 p.m. Sundays; ends Nov. 12. $24 and $34. (818) 841-5421, www.thevictorytheatrecenter.org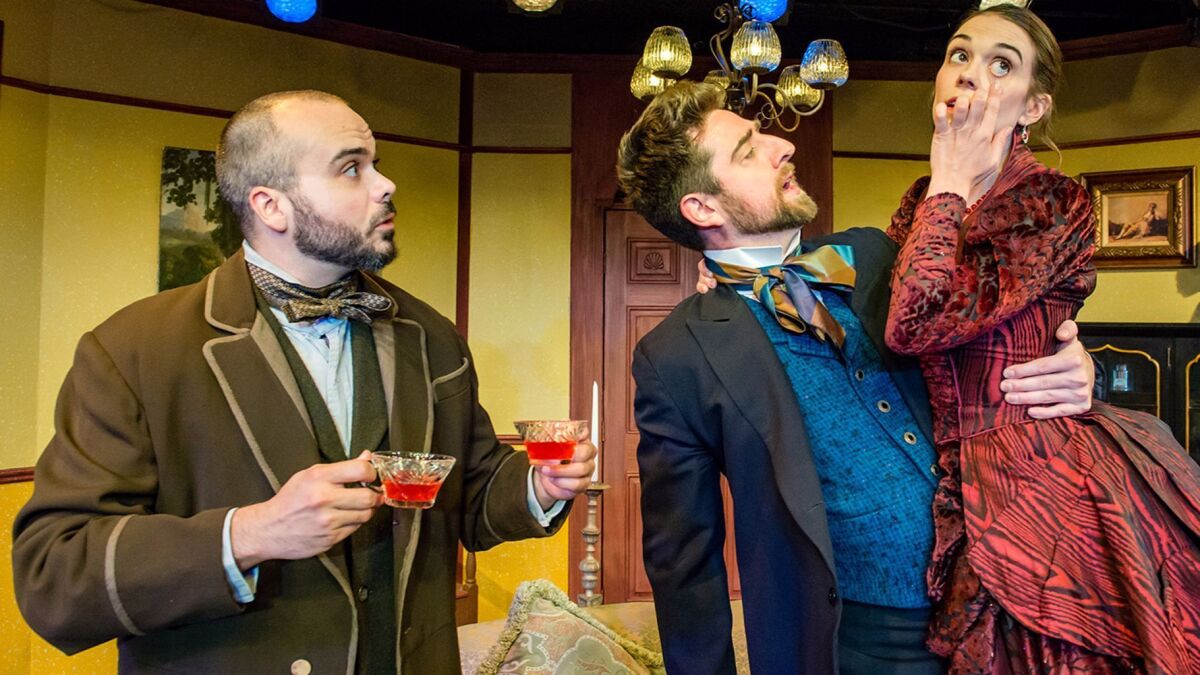 ---
3. 'Kaidan Project' by Rogue Artists
The essentials: The creaking freight elevator is enough to make you rethink the whole plan, but there's no turning back. Intent on helping a friend, you've agreed to show up at a warehouse, a place so creepy you're ready to jump out of your skin. A voice calls out; you sense something stir. Hey, what's … aieeee!
Why this? Kaidan are Japanese ghost stories, often about vengeful spirits. You've probably seen enough Japanese horror movies — "Ring," anyone? — to know where that can lead. Here the genre can be experienced in an immersive, haunted house environment with artful twists. "Kaidan Project" is presented by Rogue Artists Ensemble in association with East West Players. Inside a warehouse, groups of 12 face unleashed spirits and other unnerving phenomena in the form of puppets, projections, special effects, illusions and masked or unmasked actors.
Details: Mid-City L.A. warehouse; address and entry instructions revealed upon purchase. Entry every 20 minutes beginning at 7:30 p.m. Thursdays-Sundays, with some additional dates and times; ends Nov. 5. $65-$75; Friday's official opening, $125. (213) 596-9468, www.rogueartists.org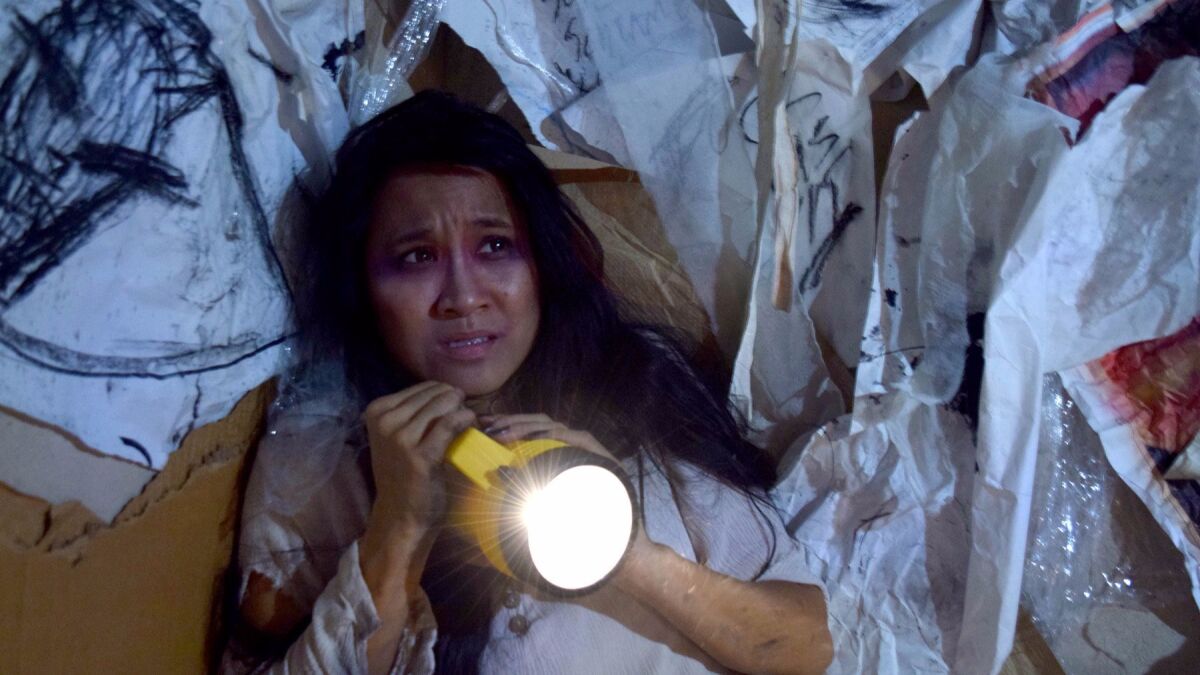 ---
4. 'The House on Mango Street' at Greenway Court Theatre
The essentials: The play is adapted from Sandra Cisneros' 1984 novel about a young Chicana in a poor, crowded community. Creative and sensitive, she becomes increasingly aware that her neighbors are constrained by race, gender and economic circumstance, but she also begins to sense the power that might one day free her.
Why this?: Like the novel, Amy Ludwig's stage adaptation has spread across the nation, providing insight — and opening dialogues — about the limitations that can clip young people's wings. The Greenway Court Theatre is on the grounds of Fairfax High School, where the play's presenter, the Greenway Arts Alliance, is celebrating its 20th anniversary of providing arts education to the school's students and theater to the community at large. The nonprofit group's economic engine is the popular Sunday Melrose Trading Post held on school grounds. During the "Mango Street" run, the novel and the play are woven into the school's curriculum, with 300 students participating.
Details: Greenway Court Theatre, 544 N. Fairfax Ave., Los Angeles. 8 p.m. Fridays, 2 and 8 p.m. Saturdays; ends Oct. 28. $30. (323) 673-0544, www.GreenwayCourtTheatre.org
SIGN UP for the free Essential Arts & Culture newsletter »
---
The 99-Seat Beat appears every Friday. Our team of reviewers — with more than 50 years of combined experience tracking local theater — shortlist current offerings at 99-seat houses and other smaller venues. Some (but not all) recommendations are shows we've seen; others have caught our attention because of the track record of the company, playwright, director or cast. You can find more comprehensive theater listings posted every Sunday at latimes.com/arts.
Twitter: @darylhmiller
MORE THEATER:
Why Carmen Cusack is now a 'Bright Star' of L.A.
Review: Boston Court's 'With Love and a Major Organ'
Review: Celebration's 'The View UpStairs'
Review: Deaf West-Pasadena Playhouse's "Our Town"
Review: A Noise Within's 'Madwoman of Chaillot'
Review: Echo Theater's 'Fixed'
Review: Open Fist's 'Walking to Buchenwald'
Review: Tarell Alvin McCraney's 'Head of Passes'
We post arts coverage daily at latimes.com/arts.
---
Get our L.A. Goes Out newsletter, with the week's best events, to help you explore and experience our city.
You may occasionally receive promotional content from the Los Angeles Times.