Review: Cellist Antonio Lysy and fortepianist Tom Beghin try to capture real Beethoven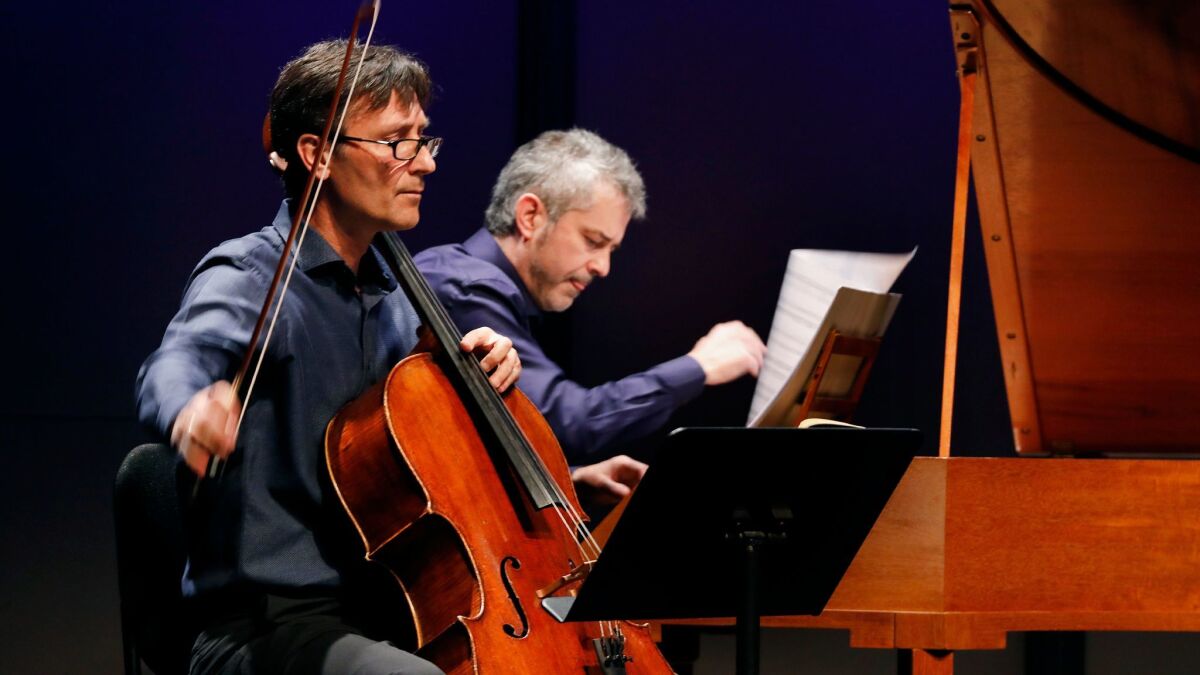 Music Critic
There is a special cloud in cello heaven for Beethoven.
Unlike his Classical-era forbearers, Haydn and Mozart, Beethoven wrote sonatas for cello and piano. Furthermore, these five cello sonatas fit tightly on a two-hour concert program, providing a concise overview of Beethoven's three compositional periods.
Cellist Antonio Lysy's traversal of the sonatas, joined by Tom Beghin playing historical fortepianos, at the Broad Stage on Sunday promised a fine way to spend the day after Beethoven's 247th birthday. Because Lysy is a star cellist in the UCLA music department, the program also proved a fascinating rival school's response to an exceptional recording of the sonatas that USC star cellist Ralph Kirshbaum released on Beethoven's birthday last year.
Kirshbaum's set, with pianist Shai Wosner, is the ideal of modern Beethoven. Beautifully recorded, it boasts Beethoven as we imagine him today. Cello and piano are perfectly balanced. Both musicians have big, involving tones that pick every Beethovenian nuance. The performances are straightforward to the point of being all Beethoven, all the time. How in the world could the Grammys have missed this one in its recent chamber music nominations?
Lysy and Beghin, however, were the ones with the real Beethoven up their sleeve. As the pianist told the audience, the fortepiano, the forerunner of the modern grand, went though considerable changes during Beethoven's lifetime, and the composer kept up with them. So did Lysy and Beghin.
For the two early sonatas — Opus 5, Nos. 1 and 2, written in 1796 — Beghin played a slender copy by Philip R. Belt of a 1780 fortepiano. It has a meltingly smooth sound able to blend so closely with the cello that a tremolo played in the bass register of the keyboard could sound almost like a quietly held note bowed on a string. Whether that was supposed to be the case was another matter.
Although I was sitting quite close to stage, everything on the fortepiano sounded like little more than a shadow of the cello. The Broad is not a large hall, but it is far too large for an instrument meant to be heard from only a few feet away. Some notes couldn't be heard at all. Other people seated farther away and in the balcony told me that a large number of notes couldn't be heard.
Lysy is a cellist with lithe tone. He is elegant, not dramatic. Beghin had little choice but to be as dramatic as he could. He percussively banged his instrument as though it were a toy piano. Beethoven wrote these early sonatas to play himself, and he had plenty to show off as a composer and performer. But all that was accomplished in this setting was a piano so tame that the cellist was constantly holding back.
For the rest of the program, Beghin switched to a restored 1816 Broadwood, not unlike an instrument Beethoven himself owned at the end of his life. It produced a tone with more body and had greater capacity for articulation. That helped a little.
It worked best in the middle-period A Major Sonata, Opus 69, written eight years earlier than the Broadwood's manufacture. This is Beethoven's most expansive sonata, and Lysy's grace gave it a special glow. Still, Beghin remained ever the Broadwood banger, underscoring rather than interacting with the cello.
In the late sonatas — Opus 102, Nos. 1 and 2 — Beethoven began his exploration of harmonic, contrapuntal, formal, sonic and prophetic realms new to music. The Broadwood was contemporary with these scores. This is what we are led to believe Beethoven heard.
The composer was, of course, deaf by this point — and divinatory. I'm therefore willing to believe that what Beethoven heard in his inner ear was something akin to the modern piano. Certainly in the last sonata, with its otherworldly slow movement and fugal Finale, he imagined a piano yet to be invented that would have been able to equal in volume and expression to the cello. That was not case on this real world modern stage.
Amplification might have worked. So too might have a later model Broadwood. Cellist Matt Haimovitz more effectively recorded the Beethoven sonatas with an 1826 Broadwood played by Christopher O'Reilly and the advantage of helpful engineers twisting enough dials so that everything could be audible.
Lysy himself has made an outstanding live recording of music from his native Argentina at the Broad Stage. It's possible that mikes picking up Sunday's concert would reveal an imaginative dialogue that the audience couldn't hear, rather than the cellist seemingly kept in a sonic straitjacket by the dim instruments that we did hear. Then again, a modern Steinway might have done the trick.
MORE ARTS:
Classical in 2017: L.A. Phil deserves a top 10 list of its own
Best architecture in 2017: In a tough year, plenty of highlights
Best theater in 2017: Midler, Metcalf and Bruuuuce
Best art in 2017: Our critic's top 10 exhibitions, plus one very big worry
---
Get our L.A. Goes Out newsletter, with the week's best events, to help you explore and experience our city.
You may occasionally receive promotional content from the Los Angeles Times.