Review: Classical music in 2017: After an astounding year, the L.A. Phil deserves a top 10 list of its own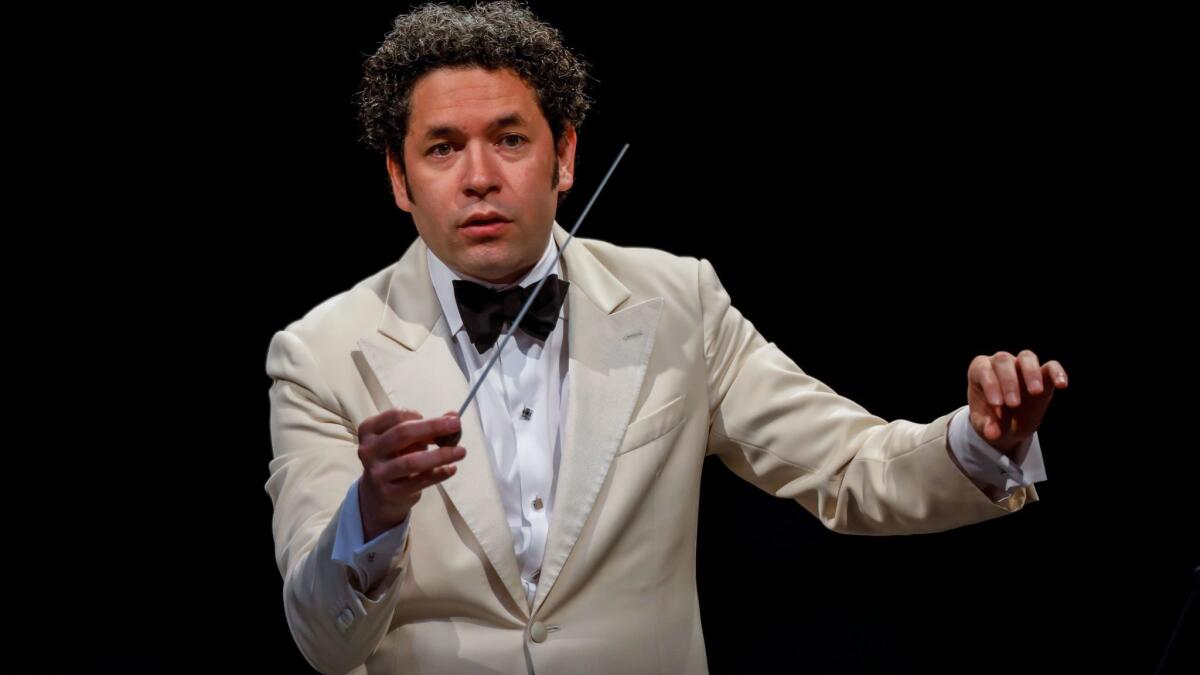 Music Critic
Now look what the Los Angeles Philharmonic has done.
It isn't enough to be America's most important orchestra, a progressive opera company, a leader in enlightened arts administration, a major festival maker, an unbelievably fertile factory for new music, an international trailblazer in community involvement and education. The incurably disruptive L.A. Phil has even gone and upended the year-end 10-best list.
I could come up with two dozen L.A. Phil entries alone for 2017, as if nothing else is happening in town and beyond. Well, much else is happening, so the only thing to do is put the L.A. Phil in a category by itself and hand over most of the list to everyone else deserving.
FULL COVERAGE: Year-end entertainment 2018 »
Gustavo Dudamel had an exceptional year leading memorable performances of a range of composers, be it Schoenberg, Wagner, Mozart (a mini-festival devoted to the composer's last year), an unexpectedly relevant cycle of Schubert symphonies as well as a vibrant cycle of Bartók piano concertos with Yuja Wang as soloist. He made appearances at the Hollywood Bowl with ballet star Misty Copeland, legendary Dodgers announcer Vin Scully and Tony Bennett. He conducted a Sondheim show at the Bowl and headed the CDMX festival of music from Mexico City in Disney Hall.
Laureate conductor Esa-Pekka Salonen provided incandescent Sibelius and took over the orchestra's other hip city-themed festival, this one centered on Reykjavík, Iceland. Resident artist and newly anointed MacArthur genius Yuval Sharon probed the intersection of Schubert songs with Samuel Beckett drama, presented a revelatory revival of Lou Harrison's formerly unappreciated opera, "Young Caesar," and masterminded the DTLA spectacle of Annie Gosfield's opera "War of the Worlds," the merriest opera premiere of the year.
The orchestra even walked away with the best opera recording of the year. Nonesuch just released its live performance of the world premiere of Louis Andriessen's "Theatre of the World," which the L.A. Phil commissioned.
There were the women, who reached parity with male conductors for the fall's subscription concerts. Susanna Mälkki, Mirga Grazinyte-Tyla, Emmanuelle Haïm and Xian Zhang each proved terrific in her individual way. There was "Noon to Midnight," a 12-hour new music marathon that gathered feisty new-music groups from around the city, playing in one day more new pieces that America's other major orchestras combined play in a season.
In November the orchestra then went on to announce preliminary plans for next season, leading up to its 2019 centennial that will include 50 commissions, a Frank Gehry-designed education center in Inglewood, a $500-million fund-raising project (with more than half already in pocket), a host of community projects, festivals, theatrical productions and whatnot in the orchestra's ongoing effort to obliterate year-end lists for years to come.
Conductor of the year. On top of his overstuffed L.A. Phil plate, Gustavo Dudamel welcomed 2017 by being the youngest conductor (and the most ingratiating in recent memory) to lead the Vienna Philharmonic's famed New Year's concert. He took a bold political stand for free elections and nonviolence in Venezuela (for which he was attacked by the country's autocratic leader, Nicolás Maduro), conducted a new Paris production of "La Bohème" set on an alien planet and led the concert for the Nobel Prize laureates in Stockholm.
Composer of the year. John Adams' 70th birthday in February was celebrated year-round and around the world, the two biggest highlights being the premiere of his startlingly pertinent opera, "Girls of the Golden West," and the release of a large Berlin Philharmonic set of outstanding live performances of his work in hi-res sound and on hi-def video.
Violinist of the year. Gidon Kremer also took advantage of turning 70, in his case by continuing to spearhead the revival of neglected Soviet composer Mieczyslaw Weinberg, releasing a profoundly gripping CD set with his Kremerata Baltica that includes Grazinyte-Tyla's conducting on her first major recording; he also gave a great performance of Weinberg's Violin Concerto with Grazinyte-Tyla and the L.A. Phil in Disney Hall.
Fond farewell of the year. Jeffrey Kahane called it quits after 20 seasons as music director of the Los Angeles Chamber Orchestra with a probing UCLA production of Kurt Weill's neglected musical quest for equality in South Africa, "Lost in the Stars," and a rapturously personal performance of Beethoven's Ninth Symphony.
Concert hall of the year. Herzog & de Meuron's $800-million look-at-me Elbphilharmonie in Hamburg, Germany, got all the attention when it opened in January, but it was Frank Gehry's hidden-away Pierre Boulez Saal in Berlin, built for less than 5% the sum, that proved to be the truly remarkable space.
Newish new-music series of the year. The exquisitely curated monthly Tuesdays@Monk Space in an intimate gallery on the outskirts of Koreatown has a welcoming personal hospitality that also makes even the most challenging new work seem personal and welcoming as well.
Centennial event of the year. There were wonderfully worthy celebrations of Lou Harrison's 100th birthday all over town, up and down the California coast and beyond. But the funky, unpredictable 24-hour happening at Harrison House, the straw bale residence the composer had built in Joshua Tree near the end of his life, captured both his outlier essence and the sheer magic of his music and being as no other possibly could.
Festival of the year. The once-glorious Salzburg Festival is glorious again under the new leadership of the pianist Markus Hinterhäuser, and nothing proved that more than Peter Sellars' new production of Mozart's last opera, "La Clemenza di Tito." It took a hard, long, historical look at the European immigration crisis and featured a phenomenal cast and conductor, the bizarrely, mind-bogglingly vivid Teodor Currentzis, setting new standards for what Mozart opera can look like, sound like and mean.
Opera artist of the year. South African William Kentridge turned a Salzburg Festival stage into a vast video and installation-art World War I canvas in his new production of Berg's "Wozzeck" and starred in his operatic, cinematic, performance-art masterpiece "Refuse the Hour" at UCLA.
Ingmar Bergman operas of the year. Believe it or not there were two based on the work of the Swedish film director: Los Angeles Opera gave us the West Coast premiere of Keeril Makan's illuminating "Persona," and Finnish National Opera premiered Sebastian Fagerlund's "Autumn Sonata," digging darkly into the corners of characters' minds.
The unfortunate trend of the year. The DTLA developers and landlords who have been hiking rents are generating a forced exodus of the young composers and performers who helped to pioneer the scene in places like the wulf.
Get our L.A. Goes Out newsletter, with the week's best events, to help you explore and experience our city.
You may occasionally receive promotional content from the Los Angeles Times.