Q&A: For painter Michael Gittes, the key presence in his latest show is his psychiatrist
Ten years ago, L.A. artist Michael Gittes thought he had superpowers. As a student at Wesleyan University, he said, he was gripped by a mental crisis so profound that he spoke mostly in colors and numbers, and he thought he could stop traffic simply by walking into the street.
He was placed in a mental institution. When his mother brought him back to Los Angeles, Gittes said, she put him in the care of Dr. Lewis Engel, who happens also to be an artist.
Today, Gittes credits the doctor with saving his life and has organized an exhibition featuring work by both of them.
"Since We Met," on view by appointment (email contact@mgittes.com) through Thursday at the Gabriella Foundation in downtown L.A., is a celebration of their relationship and a tribute to art's role in Gittes' recovery. It is also, some will say, a problematic blurring of the therapeutic boundary between doctor and patient. Engel is still his doctor, but Gittes prefers to see the show as an evolution of their relationship.
Gittes also will be included in the group show "Michael Jackson: On the Wall" opening in June at the National Portrait Gallery of London. He recently sat down in his live-work space in the Arts District for this conversation, which has been edited for length.
How did this L.A. show come about?
It was my idea, and I had been pushing for it for years. First and foremost, I liked Dr. Engel's work, but I just knew I wanted to show with him, and for whatever reason, he for years said, "No." And then, after my dad died last year, he agreed to do the show.
How did you and Dr. Engel meet?
I had a serious mental episode for a year or so where I slowly became a different person, and then eventually I was a completely different person, from my religious beliefs to my morals and ethics. A girl who I loved more than anyone else meant nothing to me. It was the weirdest thing, almost like "the ultimate betrayal," is how I think of it.
As I got crazier and crazier and crazier, I eventually ended up in a mental institution in Connecticut, and I essentially had stopped speaking. I would speak almost exclusively in numbers and colors because I remember thinking that too much got lost in translation, even in the same language.
It was really, really hard to communicate with me. This guy, Dr. Engel, figured it out. He figured out that the color that I was naming had significance to what we were talking about. I was extremely surprised, because I really thought that no one else could ever get to my level. But I was also just really relieved, because it felt like I had been alone for so long.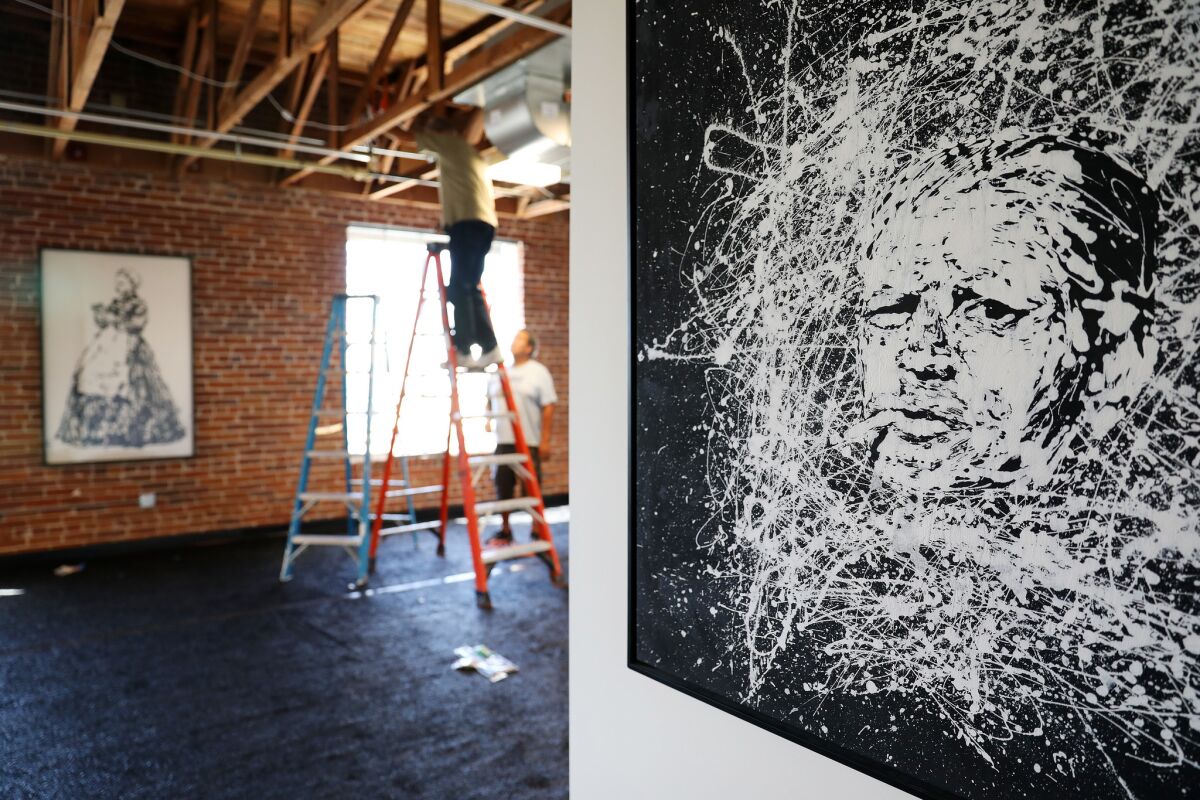 SIGN UP for the free Essential Arts & Culture newsletter »
Do you think he understood you because he's an artist?
I think so. I think that we're vastly different people, but that overlap is important. I think if you really care about art, a lot of that is just honesty and understanding. And I don't think it's just necessarily painting and drawing; it could be music or surfing.
I want to celebrate this language, and I want to celebrate the fact that he knows it, and the combination of those two things, I think, is frankly why I'm alive today.
So would he speak back to you in numbers?
He asked me a question and I think I said, "Red." And he said, "No," and I went, "Then blue!" And he said, "Yes." And that was, like, "Ooh!" I could finally just relax, because somebody was finally there with me. I was no longer on the other side.
To many people, this exhibition sounds like a breach of the doctor-patient relationship. What do you think about that?
I haven't really talked to him about it. I think he wants to do [the show] for me because I think he knows that it's really important to me that people know that therapy is important. But for me, a big part of it is coming to terms with the fact that it happened, and wearing that feeling as a badge. Yes, it was embarrassing; it was shameful and it was terrible. But because of this man and because of art I was able to heal.
How were the works in "Since We Met" selected?
It's inspired by when Dr. Engel and I met, which was May 6, 2008, and it's our favorite works we've done since we met.
But "Since We Met" means a lot of other things as well. It's when I met art. It was like meeting myself for the first time. But also it's, for me, a celebration of the fact that I'm comfortable in my own skin and I have a relatively good sense of my identity. So now I'm capable of functioning in the real world. So the "we" is me and you, the audience.
What's important to me is celebrating the idea that there exists a mechanism for finding harmony with something that's bigger and more beautiful than all the things on Earth that cause you pain. And I don't know how it works for other people, but I do believe that that area of understanding, and expression, and fun, that's the gravity that holds us all together.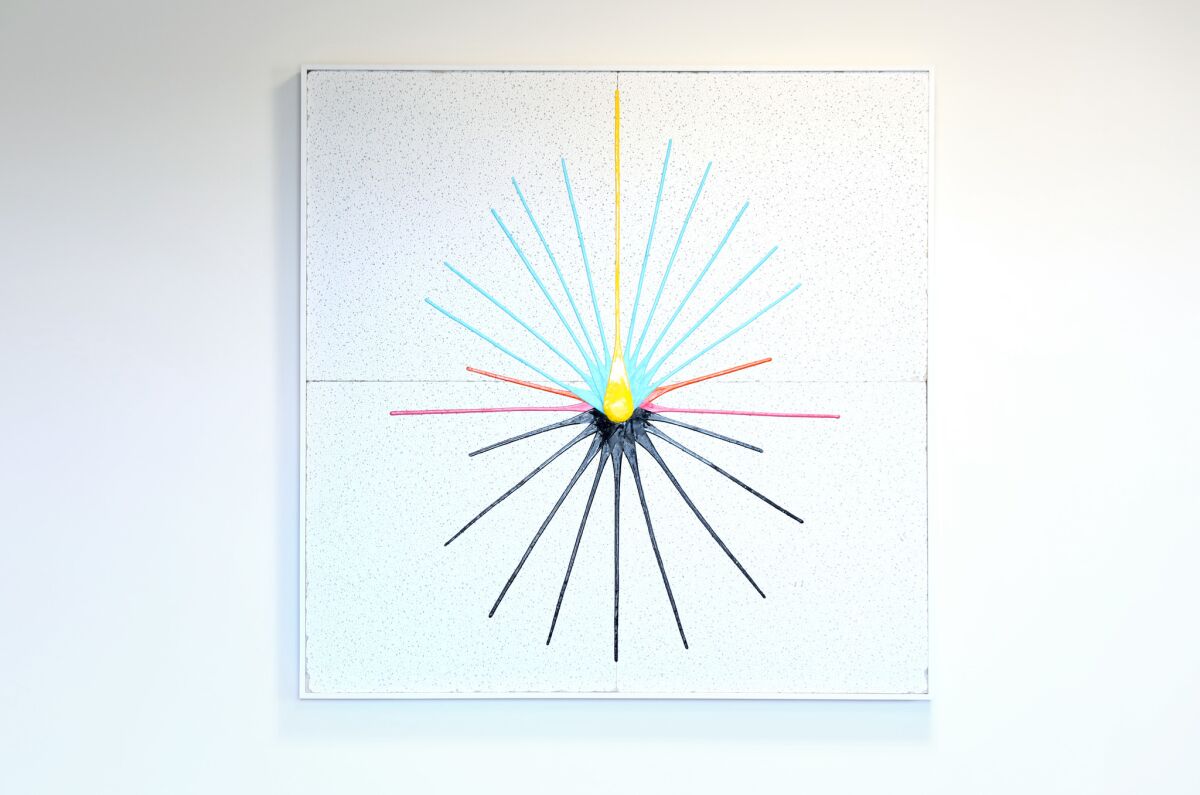 See all of our latest arts news and reviews at latimes.com/arts.
MORE ART:
The art of existence: Meleko Mokgosi's provocative show at the UCLA Fowler Museum
Mark Innerst at Kohn Gallery: City of light, and loneliness
Rashid Johnson at David Kordansky Gallery: Power, protection, plus 'Ugly Pots'
---
Get our L.A. Goes Out newsletter, with the week's best events, to help you explore and experience our city.
You may occasionally receive promotional content from the Los Angeles Times.