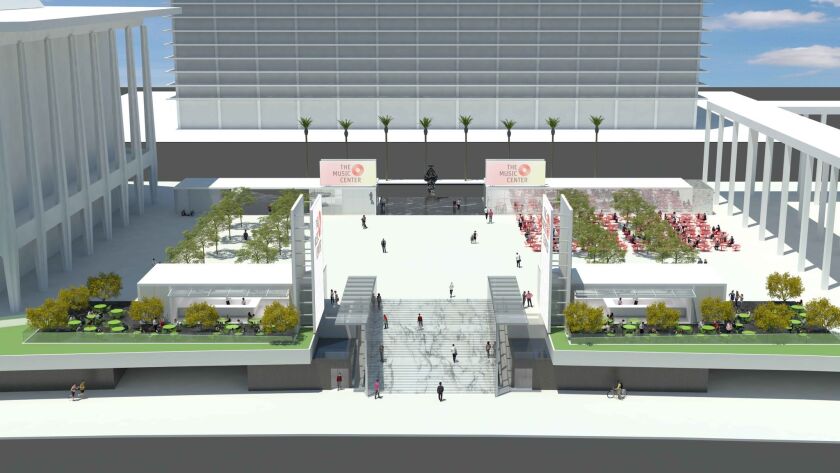 The Los Angeles County Board of Supervisors on Tuesday approved $30 million for a renovation of the Music Center plaza that will include new restaurants and escalators from the street.
The Music Center will contribute an additional $10 million for the project, which officials said likely will break ground in January. The performing arts organization also plans to raise an additional $5 million for free and low-cost public programming in the new plaza.
Nestled between the Dorothy Chandler Pavilion and the Mark Taper Forum, the plaza has never been renovated since it opened in 1964. The immediate surroundings, however, have changed dramatically: The 12-acre Grand Park, on the other side of Grand Avenue, opened in 2012. Walt Disney Concert Hall and the Broad museum have risen in the two blocks to the south. Foot traffic in the area has surged, especially after dark.
The plaza renovation will be led by the L.A. firm Rios Clementi Hale Studios, which also designed Grand Park. The goal is to better integrate the raised outdoor space with the city and make it more accessible to passersby, creating a town square of sorts.
"The new plaza is a physical manifestation of the Music Center's commitment to access and inclusion, making it possible for us to present artists, festivals and special events that will engage audiences of diverse ethnic and cultural backgrounds, personal resources and age," Music Center President and Chief Executive Rachel Moore said in the announcement.
The renovation will widen the pedestrian entry, replacing a steep staircase with a more gradual one and flanked by escalators, the Music Center said. With the Music Center's Disney Hall next door, and the Dorothy Chandler, Taper and Ahmanson Theatre around the plaza, the renovations create a fifth space for performances.
Leveling the plaza and relocating the "Peace on Earth" sculpture that currently sits in the plaza's fountain will create outdoor room for programming and double the audience capacity to 5,000 people, the Music Center said. The sculpture will be relocated west of the renovated plaza, adjacent to Hope Street. The fountain will stay and can be covered for events.
The Patina Restaurant Group dining area, bar and Tina's Tacos stand will be replaced by multiple dining options at varying price points, all operated by Patina, the Music Center said. The new plan calls for a full-service restaurant with a rotating chef program, a wine bar and a coffee house.
The design also includes permanent restrooms to replace the temporary structure by the Taper, as well as a welcome center for visitors to get information about Music Center shows and to buy tickets.
The renovation, Los Angeles County Supervisor Hilda L. Solis said in a statement, will help to draw more diverse audiences to the Music Center.
"This new plaza will become a much-sought-after gathering space," Solis said. "This warm and inviting space builds upon our collective desire to make the arts both inclusive and accessible while extending a welcoming message: This is everyone's Music Center."
Follow me on Twitter: @debvankin
ALSO:
Best architecture in 2017: In a tough year, plenty of highlights
Best theater in 2017: Our critic's top picks, including Midler, Metcalf and Bruuuuce
Classical music in 2017: After an astounding year, the L.A. Phil deserves a top 10 list of its own
---