Dracula, the minimalist: How Philip Glass' music keeps bringing Bela Lugosi back from the dead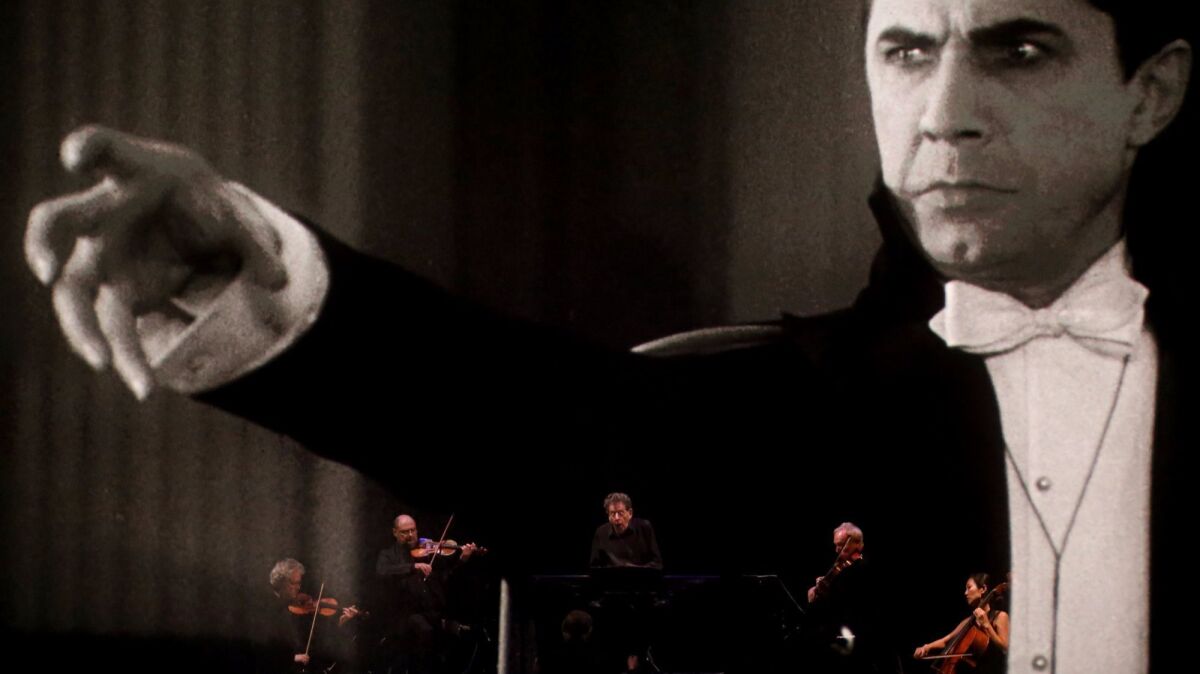 Count Dracula keeps coming back to life, repeating his strangely addictive cycle over and over — much like the music of Philip Glass.
How fitting that Glass wrote a cyclical score to be added to the 1931 vampire movie, the music played by the Kronos Quartet to shadow star Bela Lugosi. Universal commissioned the work when the studio remastered "Dracula" for DVD in 1999 — the film never had an original score — and in the years since, Glass and Kronos have performed the music live-to-picture all around the world.
"I think it's pure gold," Glass said. "In a sense, we didn't deserve it — this classic from 75 years ago. It was a gift from history, and a gift of art."
They'll bring the experience to the Segerstrom Center for the Arts in Costa Mesa on Saturday, just in time for Halloween. The concert screening is co-presented by Segerstrom and the Philharmonic Society of Orange County.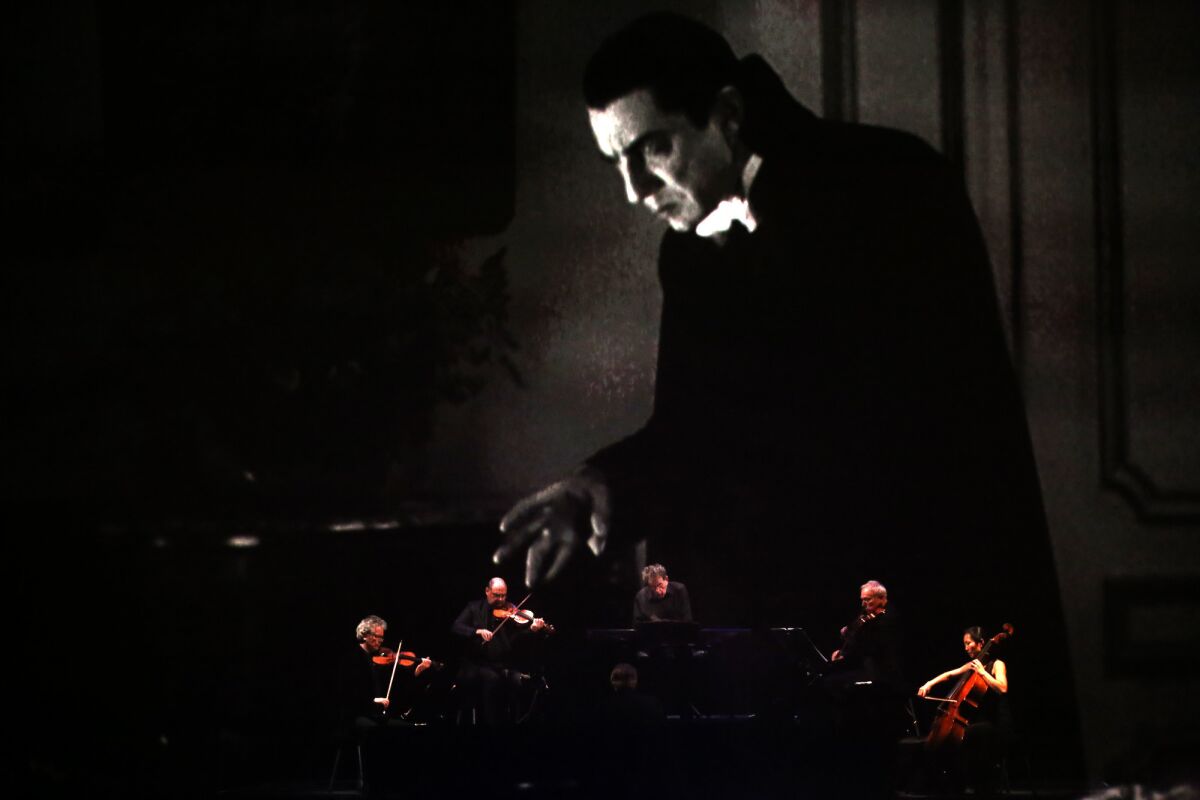 "The film is almost a classic film, but it had big problems," Glass said. "It was basically a film of a play, so it's very clunky. The scene changes were just awful. The mountains are obviously painted. Even the end of the movie — you get the feeling that they've run out of money, the producer on it said, 'OK, you guys, you've got 15 minutes to wrap it up.'"
Glass' goal was to make the scene transitions more seamless and provide the film with a churning energy that is both baroque in its chamber ensemble and contemporary in its minimalist style.
"For any composer, what an opportunity," he said. "The transitions that you don't see visually, you can hear them. I would anticipate, so you begin to hear the Dracula theme coming before the scene's even over, and before you know it he's walking into the picture."
In his 2015 review of a performance at the Theatre at Ace Hotel in L.A., Times film critic Kenneth Turan was disappointed by the final work — and the audience's reaction.
"Unfortunately, like many modern audiences, some of the crowd at the Ace treated 'Dracula' not like a horror classic but rather an unintentional comedy," Turan wrote. "Yes, the film is of its time and place, with theatrical gestures and at times florid dialogue, but laughing at places that are not meant to be funny always feels like a regrettable reaction."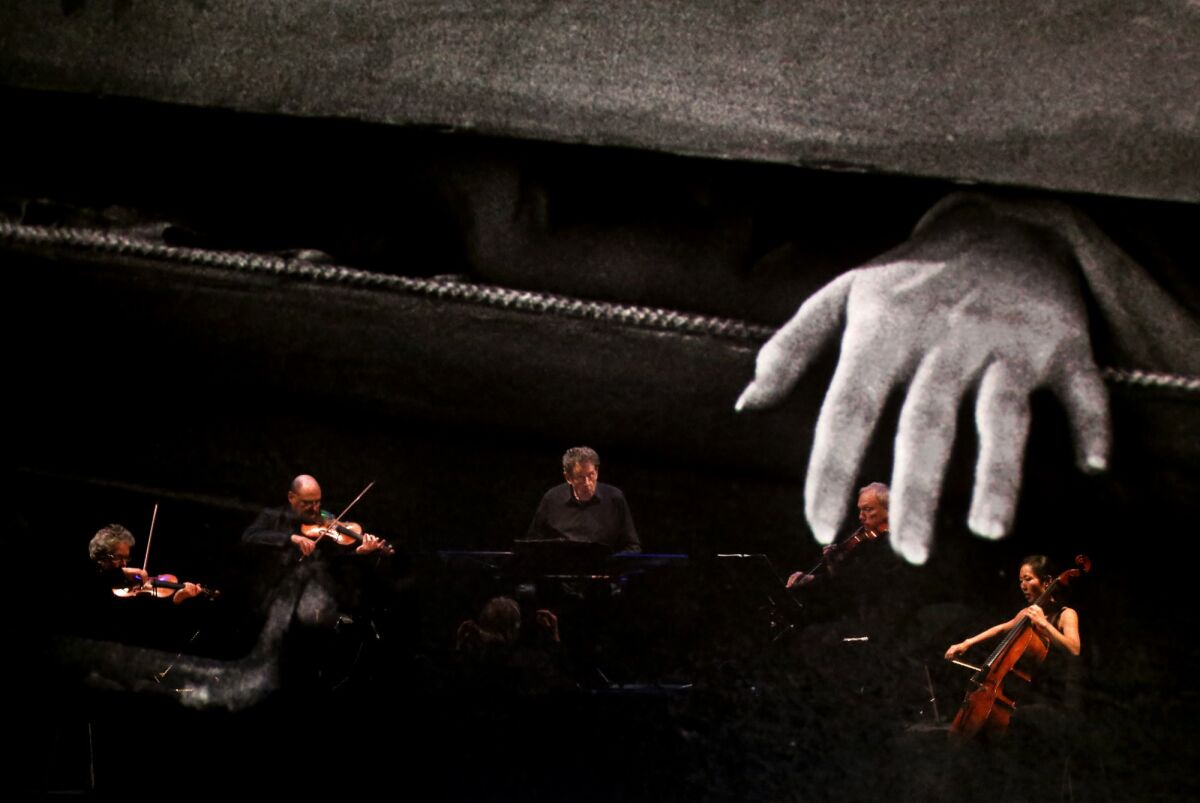 Glass doesn't mind the laughter. He finds the film hilarious.
"There are jokes all through it," he said. "When the caretaker is talking to the maid, and he says, 'They're all crazy except me and you, and sometimes I wonder about you' — I mean, that's a classic joke."
Fear and laughter often go hand in hand, he said.
"Years ago I did a piece called 'Candyman' — a good old slasher movie. And it's not dissimilar, in a certain way. As it scares us, it makes us laugh harder. It's such a curious thing — you'd have to talk to a real psychologist about this — but it seems that we enjoy being scared by these things, and the enjoyment easily turns into laughter."
Glass has had great success in film — more than 70 scores including his Oscar-nominated one for "The Hours" and the documentaries of Godfrey Reggio ("Koyaanisqatsi") and Errol Morris ("The Thin Blue Line"). "Dracula" wasn't the first old film he belatedly scored. He wrote an opera companion for Jean Cocteau's 1946 classic, "La Belle et la Bête" ("Beauty and the Beast"), which Los Angeles Opera will present live to picture Oct. 28 to 31 at the Ace.
Glass hoped to do even more films. He said Universal came to him and said, "We've got these three pictures: 'Dracula,' 'The Mummy' and 'Frankenstein.' Which one do you want to do?"
The composer replied, "I want to do all three."
He never had the opportunity to finish that horror trilogy (he imagined scoring "Frankenstein" with an organ and chorus), but he said he would still do it if asked.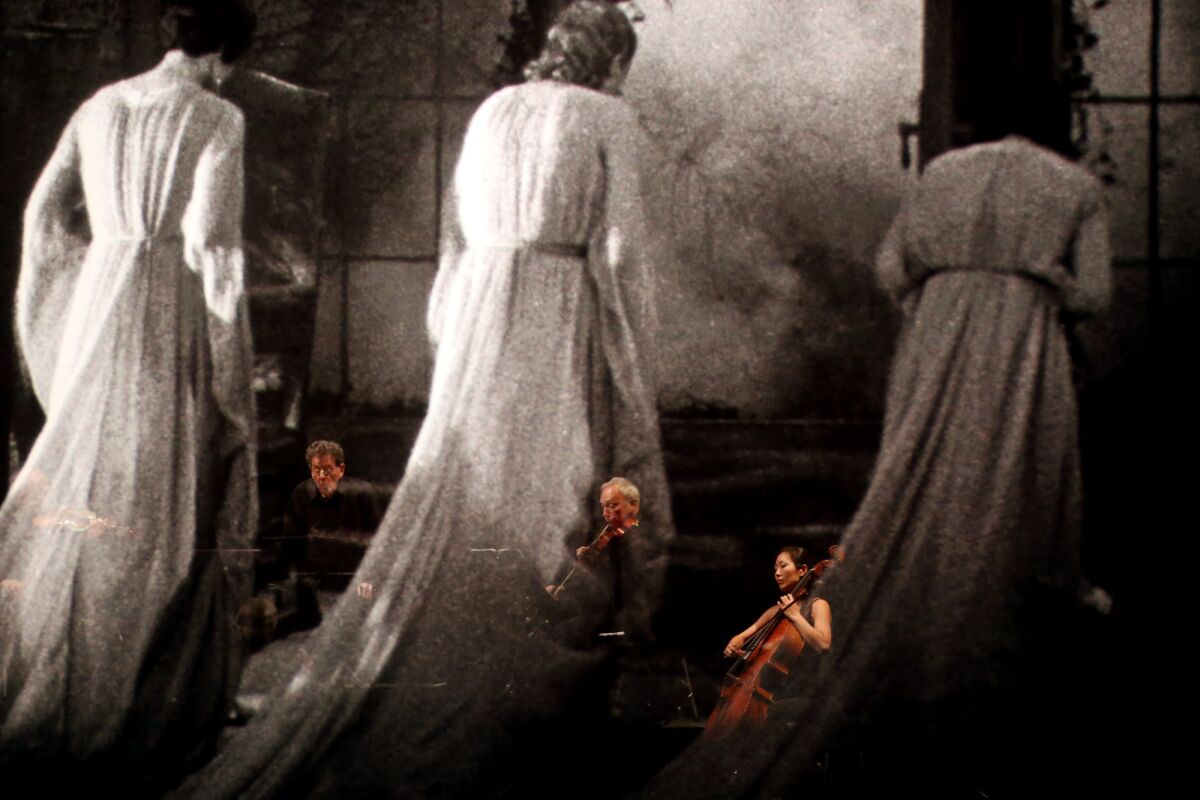 SIGN UP for the free Essential Arts & Culture newsletter »
"Dracula" was written for string quartet, but when Glass conceived of taking the show on the road, he thought: "That's stupid. I could have written a piano part for myself. So I simply did."
He's written many pieces for Kronos, but this is the only one he performs regularly with the group. That makes it special to him. He wagered they've played "Dracula" hundreds of times.
"I've asked all the members of Kronos, 'Are you getting tired?'" he said. "They said, 'Hell no, let's keep doing it!' It's a really fun piece to play. Everybody who comes has already seen it somehow, so it's like revisiting a party that you went to when you were 25 or something, and everybody's still there. Everyone's still having a good time."
It doesn't matter whether they're in the Czech Republic or Orange County, Glass said. People always come dressed as the vampire. They laugh, and they applaud.
"People abandon themselves to this experience," he said.
At the end of the film — spoiler alert — it's implied Dracula is going to receive a stake through his heart.
"But far from killing off Dracula," Glass said, "it just becomes a kind of immortal, classic film. In a funny way, Dracula has outwitted the picture company and the music company and everybody else. Dracula is still there, still coming out of his coffin whenever we play the piece, and he's still carrying on his mischief the way he always did."
'Dracula' with Philip Glass and the Kronos Quartet
Where: Segerstrom Center for the Arts, 600 Town Center Drive, Costa Mesa
Info: Segerstrom at (714) 556-2122, scfta.org; Philharmonic Society at (949) 553-2422, PhilharmonicSociety.org
See all of our latest arts news and reviews at latimes.com/arts.
MORE NEWS AND REVIEWS:
Review: 'Gem of the Ocean,' a devastating revival at South Coast Rep
Review: 'Bright Star' at the Ahmanson
Carmen Cusack finds her place in L.A.
Carrie Coon, at the top of her game, returns to the stage where it all began
Tonya Pinkins in a story of gun violence and a mother's loss
---
UPDATES:
10:25 a.m.: This article has been updated to reflect the cancellation of the Sunday performance. The presentation, originally scheduled for Saturday and Sunday, is now Saturday only.
---
Get our L.A. Goes Out newsletter, with the week's best events, to help you explore and experience our city.
You may occasionally receive promotional content from the Los Angeles Times.