'Poor Yella Rednecks': Kung fu, F-bombs and the immigrant superheroes of playwright Qui Nguyen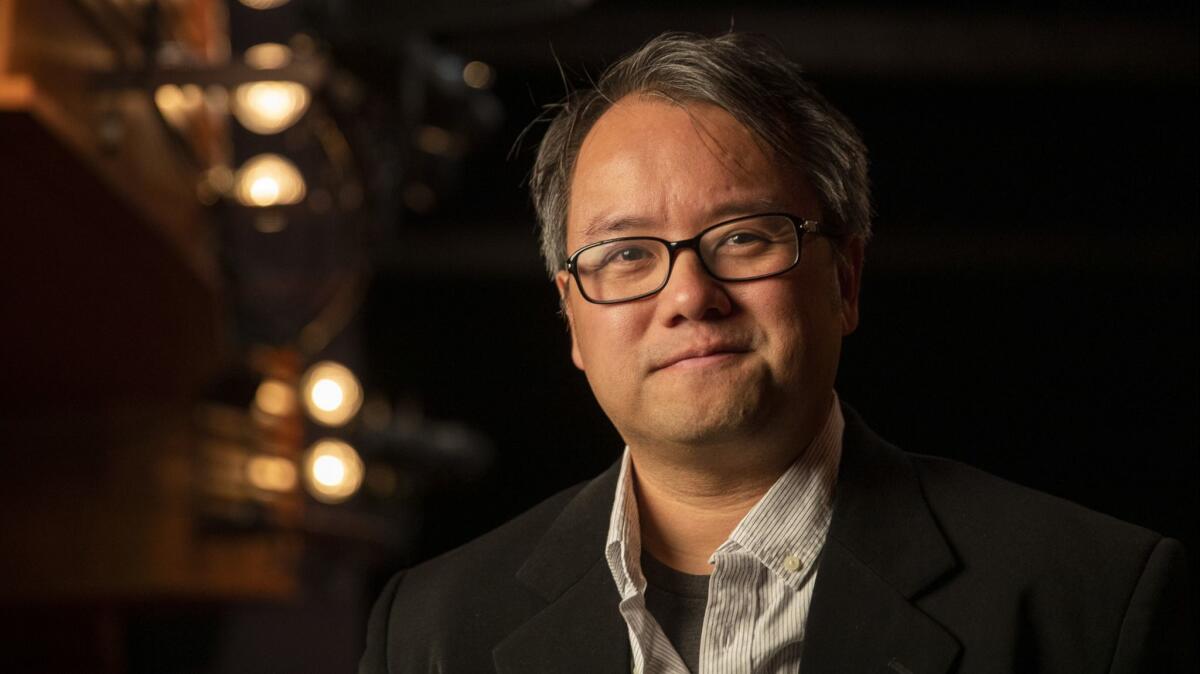 The young Asian woman pauses, surveying items in her grocery shopping cart. Realizing she doesn't have enough money to pay for everything, she curses under her breath, quickly glances over her shoulder, then stuffs a loaf of bread into her purse.
Out of nowhere, a store employee appears. "Robber dodger!" he yells. She tries to evade him, but another man sneaks up behind her, yelling, "Stop!" She's surrounded. Undeterred, she swings her purse at one man, then turns with a high kick to the other. In a flash, she's in full martial arts mode, spinning, kicking, jumping, then seizing a mop that she wields like a kendo fighting stick to fend off her pursuers. A cop enters, gun drawn: "Drop the bread!"
"Good," says a voice from behind a bank of nearby tables in a rehearsal room at South Coast Repertory in Costa Mesa. "Let's do it again."
Playwright Qui Nguyen, dressed in jeans and a plaid button-down shirt with the sleeves rolled up, watches intently as the all-Asian American cast repeats the scene, a snippet of his new play, "Poor Yella Rednecks." Occasionally, he leans to whisper to director May Adrales, whose gentle voice commands the rehearsal space.
"I'm not a First World Asian. In the words of Ali Wong, 'I'm a jungle Asian,' " Nguyen says later, laughing. "My community was blue-collar. Yes, I'm making the Asian actors superheroes, but I want to make sure they have all the nuances and complexities a poor, white character would have."
"Poor Yella Rednecks" is the sequel to Nguyen's "Vietgone," which premiered at South Coast Rep in 2015. "Rednecks" begins previews Saturday and opens a week later.
The plays, co-commissioned by SCR and Manhattan Theatre Club, follow the love story of Nguyen's mother and father, Tong and Quang, who met in the Fort Chaffee refugee camp in Arkansas after they escaped Vietnam during the fall of Saigon. "Poor Yella Rednecks," which Nguyen lovingly nicknamed "Vietgone 2," zeroes in on the challenges the couple face as blue-collar immigrants, recently married and starting a family.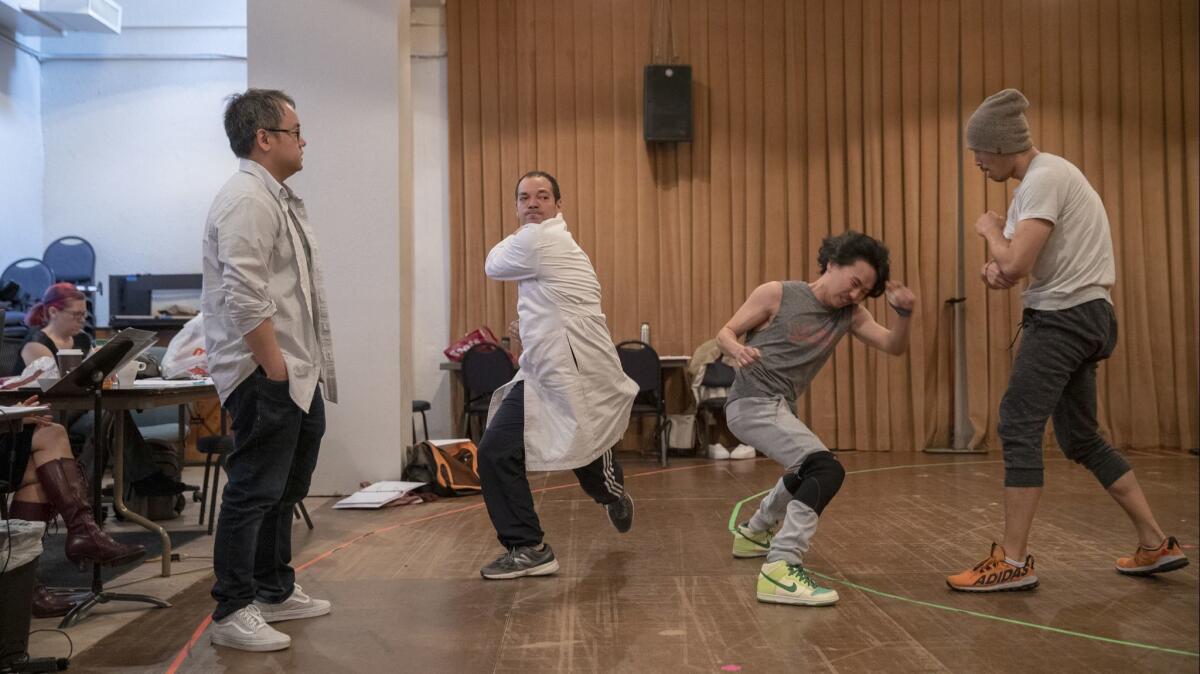 His latest play comes at a time when Asian Americans in theater, film and television appear to be having a moment. After "Vietgone" premiered in Costa Mesa, it ran off-Broadway at MTC in 2016, hitting New York on the heels of George Takei's "Allegiance" on Broadway and "Fresh Off the Boat" on television. In 2017, David Henry Hwang's "M. Butterfly" was revived on Broadway, followed by Hwang's "Soft Power," which premiered at the Ahmanson Theatre a year later, just a few months before "Crazy Rich Asians" and "Searching" hit movie theaters.
What makes Nguyen's work different is its unflinching portrayal of working-class immigrants. While structuring the plays as traditional three-act, character-driven theater, Nguyen has infused the works with some of the signature features of the New York-based Vampire Cowboys, an Obie Award-winning troupe he co-founded in 2000.
Company members produced what they dubbed "geek theater," which largely catered to the Comic-Con demographic. Their shows, like "She Kills Monsters," "Soul Samurai" and "Alice in Slasherland," melded all the things Nguyen loved since he was a child: superheroes, zombies and comic book-style action adventures, mixed with swordplay, kung fu, puppetry, hip-hop music and projections.
Plus, colorful language.
Within minutes after the curtain rises on "Vietgone" and "Poor Yella Rednecks," the characters drop expletives, at times at a fast and furious pace. "It's going to make some people bristle. You know, 'I can't believe he uses so many cuss words.' Yeah, well, that's just how I write; that's how my brain thinks," Nguyen says, smiling, but unapologetic.
♦ ♦ ♦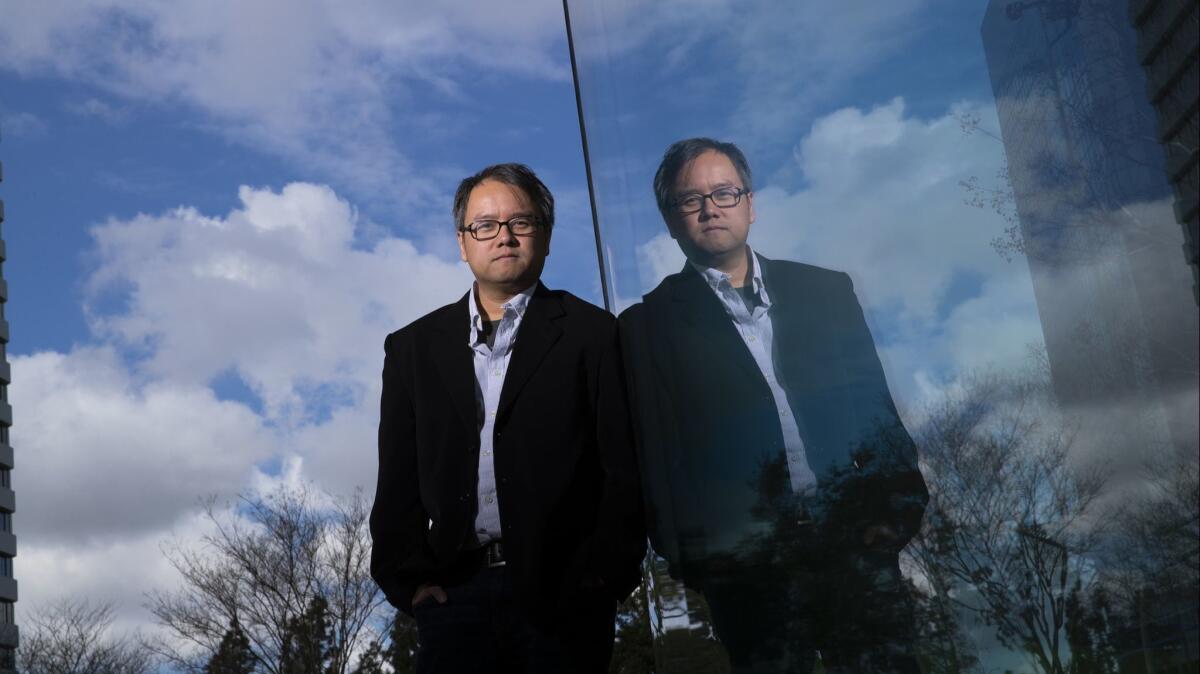 As a budding playwright, Nguyen knew he wanted to write about the Vietnamese immigration experience through the lens of one family — his own. His first attempt, in 2006, was "Trial by Water." Upon reflection, he says, "it was a really crappy play. But it was done very sincerely. It was me imitating playwrights I had read that I enjoyed."
He proudly invited his mother to see his show. "She saw it on a night when it was a really receptive house, so I was stoked," he says. "But I could tell she was super unimpressed. She said, 'It just didn't sound like you. … My son is funny and surprising and rebellious. I expected that to be onstage.'"
Mom was right. Nguyen admits that when he stopped trying to mimic the work of others, he felt much more at ease.
"I was writing a play to get noticed so I could transition to TV and film, where I could make more money. But when I started doing it my way, I loved it," he says. "It's all because of her."
When it came time to write "Poor Yella Rednecks," Nguyen found the subject hit much closer to home than "Vietgone."
"It's way more personal," he says. "This is more universal stuff. There's a lot more poetic license on this one because it's about my parents' marital problems, but some details are my story, things my wife and I have gone through."
For the next play in the cycle, Nguyen will return to the topic he addressed in "Trial by Water": his family's efforts to bring his orphaned cousin to the United States and how the state of Arkansas — and then-Gov. Bill Clinton — embraced his family. Down the road, he says, he'll write two more plays, one dealing with the death of his beloved grandmother, who immigrated to Arkansas with his mother, and another looking at his parents' latter years.
"The ultimate goal is to have these five plays exist so a strong Asian male and a strong Asian female could play Quang and Tong throughout their entire career,'' he says. "There's that natural thing where you sort of hit a certain age, and all the roles start to disappear. For Asian Americans especially, when you get to a certain age, it's like, 'Oh, we have roles for you, but you have to play a wizened, old grandmother or someone from China.' This is an opportunity to create roles where they still feel like they're real Asian Americans, and they get to invest in these characters who have a history."
♦ ♦ ♦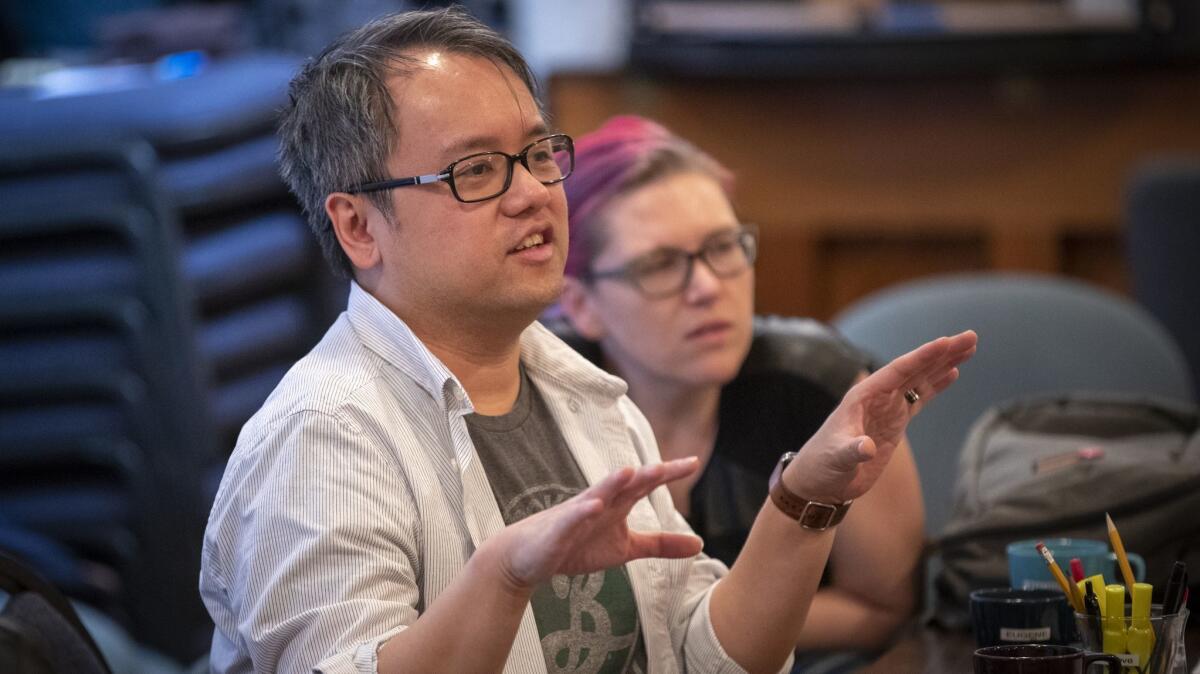 "Vietgone" opened to glowing notices from critics across the country as the play moved from Costa Mesa to MTC, with additional productions at Seattle Rep and Oregon Shakespeare Festival. " 'Vietgone' careens wildly, threatening whiplash to heighten our amusement. By the end, however, this riotous theatrical cartoon won me over with its simple honesty," Charles McNulty wrote in The Times.
"It's weird," Nguyen says. "I did 'Vietgone,' and it did well, and it seemed like Hollywood was, like, 'Come to me!' But all that stuff was happening simultaneously — while I was writing 'Vietgone,' I was writing for TV."
About three years ago, Nguyen, 42, and his wife, Abby Marcus, decided it was time for him to concentrate on film and television. The couple, who met in the early days of the Vampire Cowboys when she came on as their producer, moved to Los Angeles from Brooklyn with their two young sons. Within a year, Nguyen picked up a Daytime Emmy Award, which he shared with the writing team for the preschool animated program "Peg + Cat." He went on to work on the Syfy series "Incorporated" before moving to film as a writer for Marvel. He's currently working as a screenwriter for Disney Animation.
"I started in TV, then I went to Marvel, and then I went back to TV for a while and did AMC and Netflix, and now I'm back in film for Disney," he says. "I feel like I'm late to the game, so I'm hungry to succeed."
Although he's living his TV and film dream, he's not willing to give up writing for the stage. In fact, Nguyen remains one of the most sought-after young playwrights, with commissions from theaters across the country, including Center Theatre Group in L.A. and Goodman Theatre in Chicago, Oregon Shakespeare Festival and New York's Atlantic Theater Company and Playwrights Horizons.
Another commission, "Revenge Song," will open at the Geffen Playhouse in Westwood next year. This play revolves around the real-life character Julie d'Aubigny, a 17th century French opera singer and sword fighter. The production will mark the reunion of the Vampire Cowboys, which largely disbanded when Nguyen moved to L.A.
" 'Revenge Song' is incredibly theatrical — pop music and sword fights and puppetry and multimedia — but centered on a very fascinating character," says Matt Shakman, artistic director at the Geffen, adding that Nguyen was the first playwright he called when he stepped into his job in 2017.
"He's definitely known for more of a downtown vibe and audience. But there's so much heart in his work," says Shakman, who had seen performances by the Vampire Cowboys when he was living in New York. "It is sort of a roll of the dice, but I'm betting on this exceptional person and one of the most talented playwrights in America. I'm happy to take that bet."
♦ ♦ ♦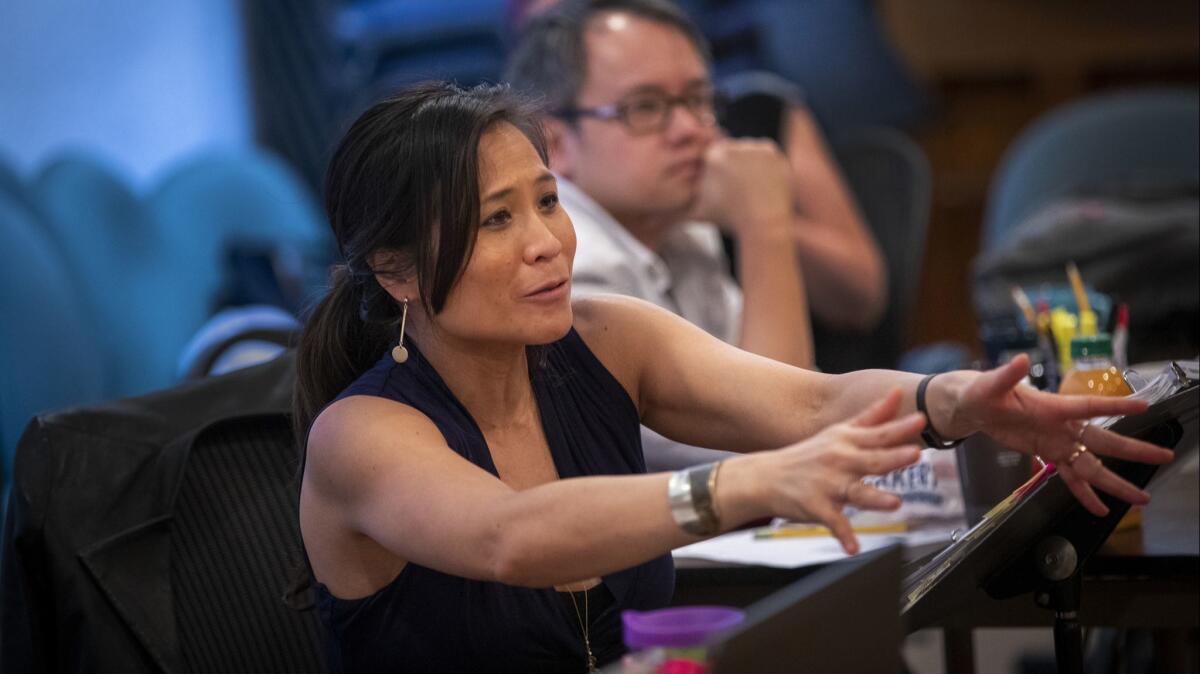 Bringing diversity to the stage is nothing new for Nguyen, who, since the earliest days of Vampire Cowboys, made it his mission to regularly feature strong women, people of color and LGBTQ actors and characters. But now his canvas is larger, and he wrestles with the weight of responsibility that comes with being more high profile.
"I think it's something I avoided for a very long time. I'm just this immature, mischievous guy," he says, modestly. "I'm probably not as eloquent as David Henry Hwang or Constance Wu, talking about this stuff. But I accept and embrace my leadership role in the community, in trying to make it a better place and trying to empower not just Asian kids but kids who don't feel represented."
His generosity extends not just to characters on the page but the artists he works with.
Adrales, who has collaborated with Nguyen on "Vietgone" and "Poor Yella Rednecks" since their earliest incarnations, credits the playwright with helping to create real opportunities for Asian American artists and bringing different viewpoints to the stage.
"I feel like my whole career has been spent trying to carve out space for underrepresented stories," says Adrales, who is Filipino American. "I love what this play does; it really lays a flag in the ground in saying that immigrants and people of color, who have largely been left out of the American mainstream, are part of the very DNA and fabric of this country."
Now that Nguyen has a range of outlets for his work, he's committed to using them to ensure that these long-unheard voices are celebrated.
"I want everyone to come to my shows and leave feeling, 'You know what, I'm seen.' I think that's really important," he says. "Whether it's for TV, film or theater, I'm trying to create heroes that people can aspire to and see the strength of their spirit. I totally embrace that role."
♦ ♦ ♦ ♦ ♦ ♦ ♦ ♦ ♦ ♦
'Poor Yella Rednecks'
Where: South Coast Repertory, 655 Town Center Drive, Costa Mesa
When: Previews run from Saturday through Thursday, opening night is April 5, ends April 27. Regular run performances are at 7:30 p.m. Tuesdays-Thursdays, 8 p.m. Fridays, 2:30 and 8 p.m. Saturdays, 2:30 and 7:30 p.m. Sundays (check for exceptions)
Tickets: $23 and up (subject to change)
Info: (714) 708-5555 or scr.org
Support our coverage of local artists and the local arts scene by becoming a digital subscriber.
See all of our latest arts news and reviews at latimes.com/arts.
Get our L.A. Goes Out newsletter, with the week's best events, to help you explore and experience our city.
You may occasionally receive promotional content from the Los Angeles Times.