Review: Glenn Ligon explores race in America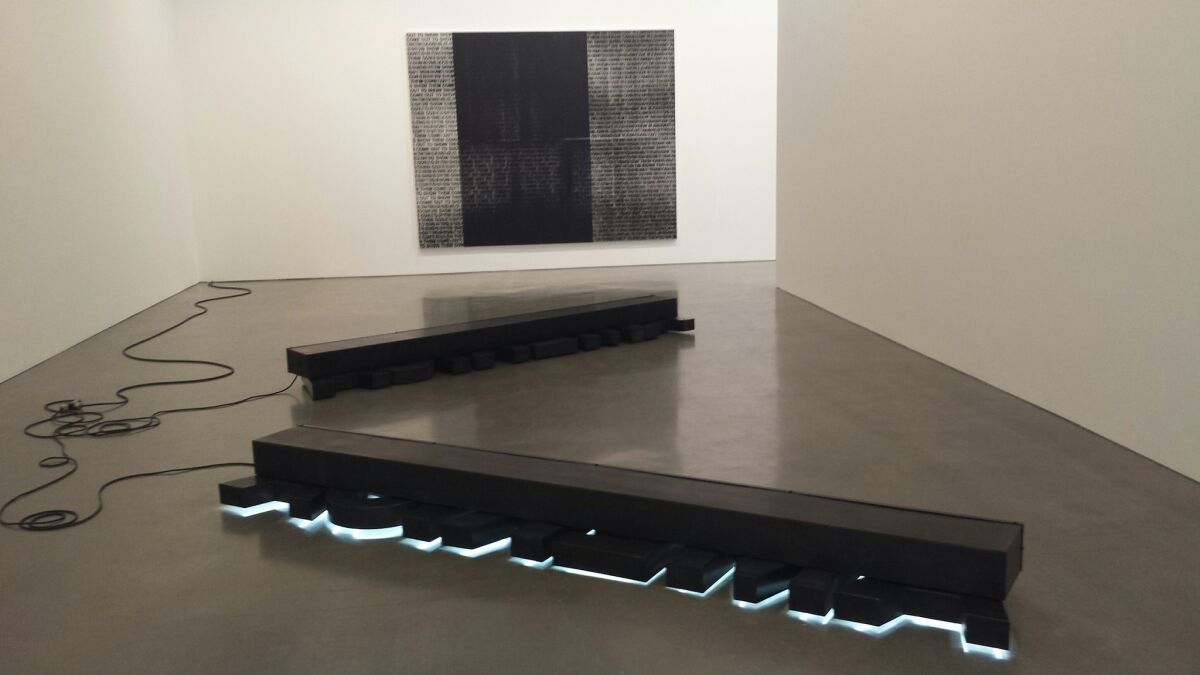 Remember post-racial America? Shortly after we elected the first African American president, some eager folks decided that a couple of hundred years of home-grown racial terrorism hadn't really done deep and lasting damage to the national DNA.
The most appropriate retort to that delusion might be: "You lie."
At Regen Projects, Glenn Ligon rips a page from a 1959 blues wail of lost love, "What's the matter now?" by Mississippi Fred McDowell, recorded just before the New York-based artist was born.
Conceptually its sentiment is woven through Minimalist composer Steve Reich's taped-speech work "Come Out," commissioned for a 1966 benefit concert to support six African American teenagers who were wrongfully accused of murder. Reich's piece looped bloody testimony that included the words "come out to show them."
The result is a series of big, visually stuttering silkscreen paintings, each repeating the phrase. As the plea accumulates, it gradually disappears into layers of inky black paint until, finally, the canvas is entirely black. The text is barely legible, embedded within the painting's body.
A grim sculpture has a pair of big, neon signs spelling 'America' sprawled face-down on the floor. Its electrical cord is a tangle, its light flickering on and off like dying embers.
Quietly moving is a small reliquary nearby. It holds a paint-smudged text of James Baldwin's classic essay "Stranger in the Village," his biting story about the experience of being black in an all-white hamlet.
The hard anger of Baldwin's text has been stabbed with black paint. The powerful words are obliterated, while simultaneously registering a coiled frustration that matches the writer's vexation. Ligon's show is infused with an awful, persistent relevance.
Twitter: @KnightLAT
Regen Projects, 6750 Santa Monica Blvd., Hollywood, (310) 276-5424, through April 18. Closed Sundays and Mondays. www.regenprojects.com
Get our L.A. Goes Out newsletter, with the week's best events, to help you explore and experience our city.
You may occasionally receive promotional content from the Los Angeles Times.