Review: The drama flies with the elbows in the 'Roller Derby Play' at the Kirk Douglas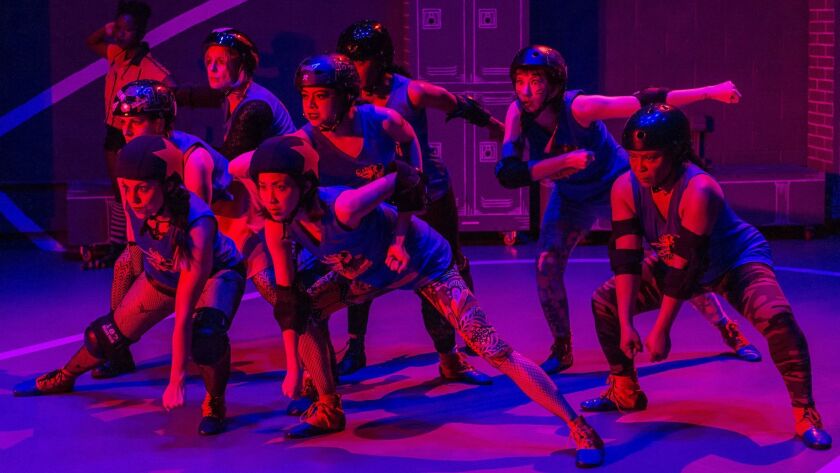 Center Theatre Group kicks off its third annual Block Party program, which remounts successful recent productions from three local theater companies, with Gina Femia's lively and enjoyable sports dramedy "For the Love Of (Or, the Roller Derby Play)."
The inventively staged show premiered in L.A. last spring at Theatre of Note with mostly the same cast and key crew members. It won't make you an expert on the ins and outs of all-female roller derby — that raucous, bruising contact sport with a long and checkered history — but it will certainly give you enough working insight to follow along.
Femia gets the basics out of the way from the jump as Lizzie Lightning (Tania Verafield), take-no-prisoners star "jammer" (designated scorer) of the amateur Brooklyn Scallywags, offers a snappy and admittedly cursory recount of the rules. The fun, chase and excitement of the sport are perhaps the chief takeaways — and certainly what drive the play.
We don't really see the games in action — and that's fine. The colorfully clad actors cleverly conjure up the "jams" (matchups) through stylized dance moves, creatively choreographed by director Rhonda Kohl. (The cast cavorts between scenes as well, backed by Gilly Moon's dynamic sound design.)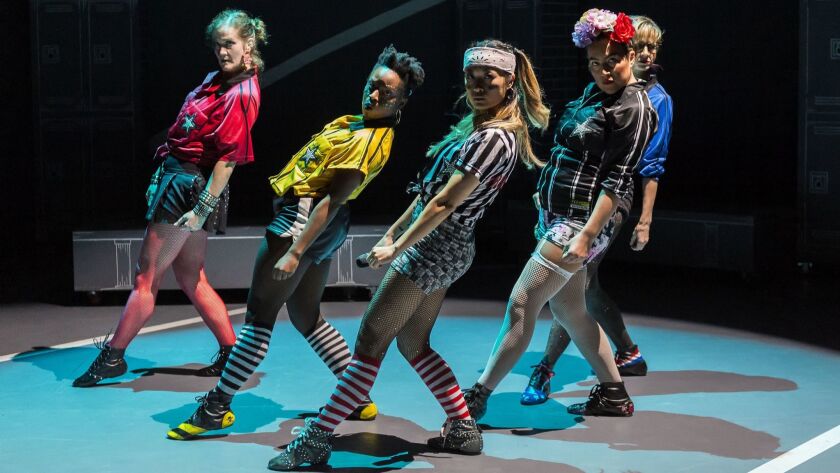 L.A. THEATER: Our weekly column on the stage scene. »
We follow the course of a season through games that, along with bout-announcer intros, often transition us between the show's movie-like string of dramatic interactions. Eli Smith's flat-gray set, with a roller derby track at its center, transforms with the help of Rose Malone's lighting and a collection of painted boxes that evoke various locations: a locker room, a tattoo parlor, a dance club, a car, different apartments — though it all looks a bit rudimentary on the Douglas' large stage.
The main thrust of the non-derby scenes involves talented tyro teammate Joy Ride (cast newcomer Briana Price) as she finds herself torn between her growing passion for the sport and her waning feelings for longtime love Michelle (Elinor Gunn), a recently unemployed artist with a jealousy streak.
Meanwhile Lizzie, the ex-girlfriend of Scallywags coach Andrea the Vagiant (standout Alina Phelan), shamelessly flirts with Joy, who's intrigued, if wary, around her surly and seductive new friend. Although this romantic triangle's emotional quotient plays credibly enough, it skitters into light melodrama in ways that Femia's generally hard-edged script largely avoids.
REVIEW: IAMA and Latino Theater Company's "Canyon" »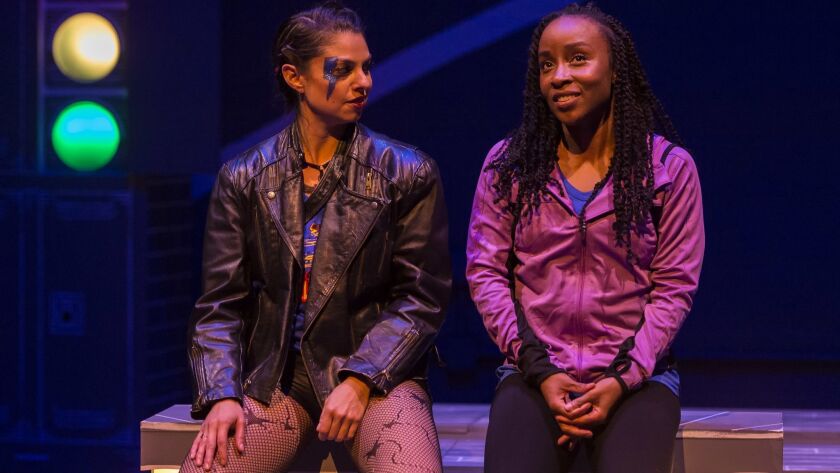 REVIEW: 'The Judas Kiss' at Boston Court Pasadena »
The other teammates are given just a few broad-stroked scenes to flesh out their personal lives, resulting in a somewhat lopsided feel to the show's ensemble vibe. Still, we're stirred or amused just enough to connect with these vitally different women.
They include the feisty, 40ish Anna-Stecia (Yolanda Snowball), who's also a caring night nurse; Diaz de los Muertos (Crystal Diaz), a fierce competitor haunted by her brother's untimely death; Squeaky Mouse (Liesel Hanson), an offbeat college student who finds her voice; Hot Flash (Lynn Odell), a brassy mom in her early 50s; and brainy, stressed-out law student Prosecute-Her (Jenny Soo).
The cast members commit to their brash-talking, invective-hurling, take-me-as-I-am parts, wearing their characters' at times shaky self-possession and arm's-length warmth with a lived-in authenticity. Even when Femia's dialogue feels a tad warmed-over, the actors keep us invested.
There's a more propulsive, full-length one-act at the heart of Femia's two-hour, two-act play. But for now, you could do worse than to strap yourself in for this gritty, exuberant lap through the rough-riding world of roller derby and the eclectic women who play offense and defense, on and off the track.
♦ ♦ ♦ ♦ ♦ ♦ ♦ ♦ ♦ ♦
'For the Love Of (Or, the Roller Derby Play)'
Where: Kirk Douglas Theatre, 9820 W. Washington Blvd., Culver City
When: 8 p.m. Tuesday-Friday, 2 and 8 p.m. Saturday, 1 and 6:30 p.m. Sunday; ends Sunday
Tickets: $25-$62 (subject to change)
Info: (213) 628-2772, www.centertheatregroup.org
Running time: 2 hours (including one intermission)
Support our coverage of local artists and the local arts scene by becoming a digital subscriber.
See all of our latest arts news and reviews at latimes.com/arts.
---
Inside the business of entertainment
The Wide Shot brings you news, analysis and insights on everything from streaming wars to production — and what it all means for the future.
You may occasionally receive promotional content from the Los Angeles Times.