The 99-Seat Beat: Roller derby, 'Glass Menagerie,' Native Voices and a five-actor Hamlet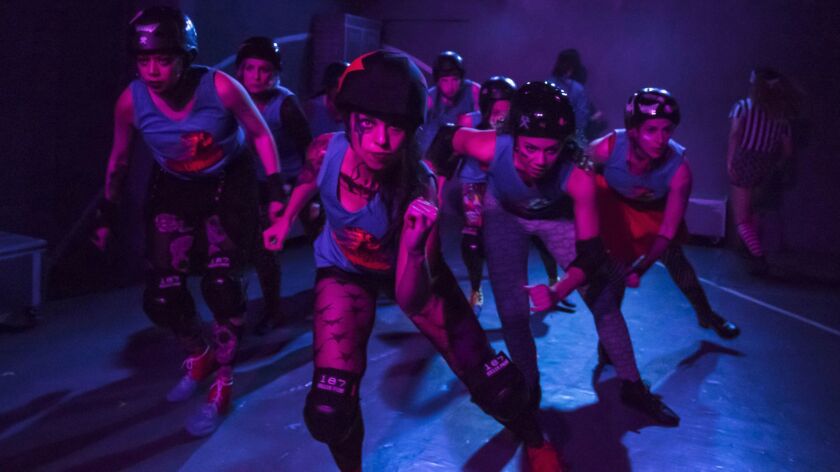 There are only so many seats in a theater, only so many performances in a run, and once the set is struck, a production won't exist in exactly the same form again. How can we cope with the ephemeral nature of it all?
Some companies re-create productions as faithfully as possible. Others add new elements to old favorites or start from scratch with a new take. This week's recommendations from L.A.'s small-theater scene cover the spectrum as Theatre of Note's "For the Love Of (Or, the Roller Derby Play)" gets remounted in Center Theatre Group's Block Party in Culver City, A Noise Within opens "The Glass Menagerie" in Pasadena, "Pure Native" opens at the Autry in Griffith Park and the Hamlet role gets split five ways at New American Theatre in Hollywood.
Roller Derby at the Douglas
The essentials: For its Block Party, now in its third year, Center Theatre Group selects three productions from L.A.'s lively 99-seat stages to remount at the Kirk Douglas Theatre. Gina Femia's "For the Love Of (Or, the Roller Derby Play)," the first of this year's trio, was a hit for Hollywood's Theatre of Note last year.
DAKIN MATTHEWS: Longtime L.A. theater stalwart hits his peak at 78 and plays the judge in Broadway's 'To Kill a Mockingbird' »
Why this? CTG, which includes the Ahmanson Theatre and the Mark Taper Forum as well as the Douglas, sometimes faces flak for favoring big-budget touring shows. By exposing more audiences to the work of small local companies, Block Party feels like a big step in the community-building direction. Also, "For the Love Of" is about roller derby — specifically an all-female, strictly amateur, bruisingly brutal version of the sport.
Details: Kirk Douglas, 9820 W. Washington Blvd., Culver City. 8 p.m. Tuesdays-Saturdays, 6:30 p.m. Sundays; ends March 17. $25-$72. (Ticket package is available for all three Block Party shows, including Skylight Theatre Company's "Rotterdam" and Antaeus Theatre Company's "Native Son.") (213) 628-2772, centertheatregroup.org
'Glass Menagerie' at A Noise Within
The essentials: The Pasadena repertory company A Noise Within has specialized in classics for more than 25 years, so it's no stranger to Tennessee Williams' paradigmatic 1940s memory play, "The Glass Menagerie." Twenty years ago, co-artistic director Geoff Elliott played the role of the narrator Tom Wingfield, while Deborah Strang was his domineering mother, Amanda. Strang is back as Amanda, but Elliott has ceded Tom to the eternally delightful Rafael Goldstein and has taken the director's chair.
REVIEW: In the new 'Diana,' the British princess seems as American as a Broadway musical »
Why this? Some plays feel as if they grow up with us, illuminating different phases of life and never getting old. A Noise Within's reliable cast — which also includes Erika Soto as Tom's timorous sister, Laura, and Kasey Mahaffy as her Gentleman Caller — seems like a recipe for full-on catharsis.
Details: A Noise Within, 3352 E. Foothill Blvd., Pasadena. In repertory; see website for schedule. Ends April 26. $25. (626) 356-3121 or anoisewithin.org
'Pure Native' at the Autry
The essentials: Native Voices at the Autry, in residence at the Autry Museum of the American West in Griffith Park, produces new work by Native American, Alaska Native and First Nations playwrights — the only Equity company in the country with this mission. Each Native Voices production is the first of its kind, so if you're tired of catching shows 400 years after they open, here's your chance to get in on the ground floor. Vickie Ramirez's "Pure Native" is a romantic comedy that explores the competing claims of tradition and innovation on a reservation community.
PASADENA: Nia Vardalos to reprise her role in 'Tiny Beautiful Things' »
Why this? The preceding description may suggest that Native Voices is the sort of company that audiences support on moral grounds, but the production's artistic potential is the juiciest enticement. Sharp writing and strong performances promise to reward people who go.
The details: Wells Fargo Theater, the Autry, 4700 Western Heritage Way, Los Angeles. 8 p.m. Thursdays and Fridays, 2 p.m. Saturdays and Sundays; ends March 24. $15. (323) 495-4354 or theautry.org/nativevoices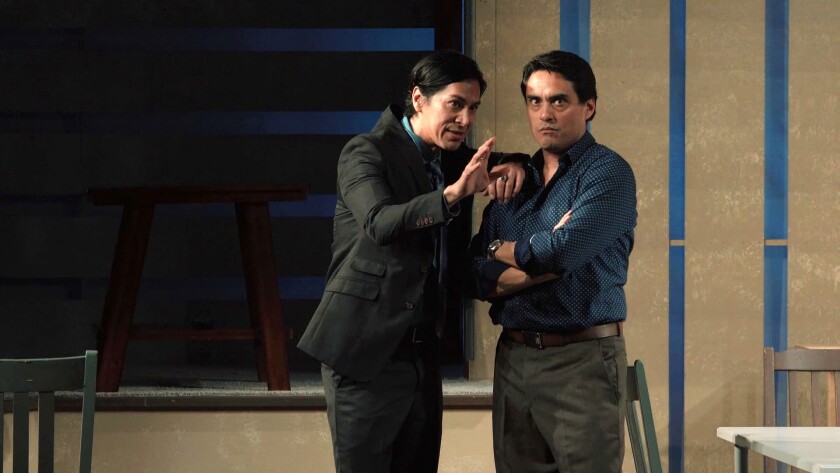 'Hamlet' with an identity crisis
The essentials: You've probably never heard of "Hamlet," a seldom-produced revenge tragedy by an obscure Elizabethan dramatist. But the hoary relic raises questions about identity that continue to beguile and bemuse. Literary scholars puzzle over how differently Prince Hamlet behaves from act to act — it's almost as if there are five different Hamlets! In this "Hamlet," there are.
Why this? Do lines such as "What a piece of work is man!" and "God hath given you one face, and you make yourself another" resonate differently if their speaker's face keeps changing? The 6th Act, in residence at the New American Theatre, tests this proposition by dividing the role among actors of varying gender, ethnic background and age. Director and adapter Matthew Leavitt (author of the play "The Boomerang Effect") and actress Liza Seneca are co-artistic directors of the 6th Act, a new company with the motto "fresh takes on timeless stories."
Details: New American Theatre, 1312 N. Wilton Place, Hollywood. 8 p.m. Fridays and Saturdays, 3 p.m. Sundays; ends March 31. $25. hamletla.eventbrite.com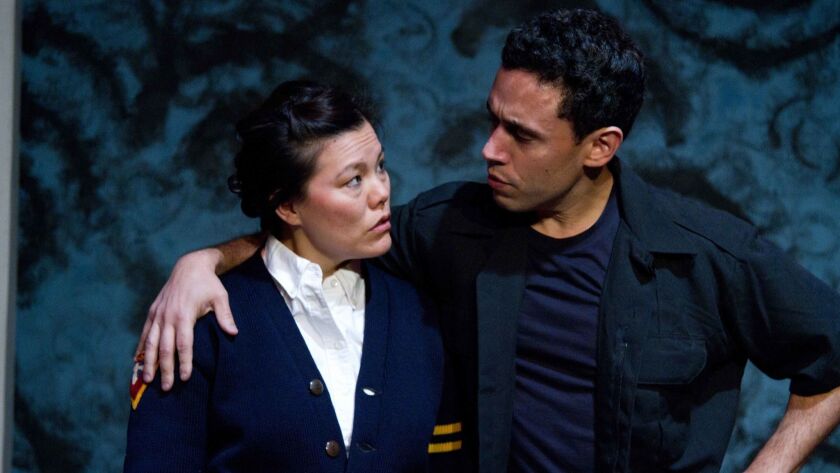 The 99-Seat Beat appears every Friday. Our reviewers shortlist offerings with an emphasis on smaller venues. Some recommendations are shows we've seen; others are based on the track record of the company, playwright, director or cast.
Support our coverage of local artists and the local arts scene by becoming a digital subscriber.
See all of our latest arts news and reviews at latimes.com/arts.
---
From the Oscars to the Emmys.
Get the Envelope newsletter for exclusive awards season coverage, behind-the-scenes stories from the Envelope podcast and columnist Glenn Whipp's must-read analysis.
You may occasionally receive promotional content from the Los Angeles Times.