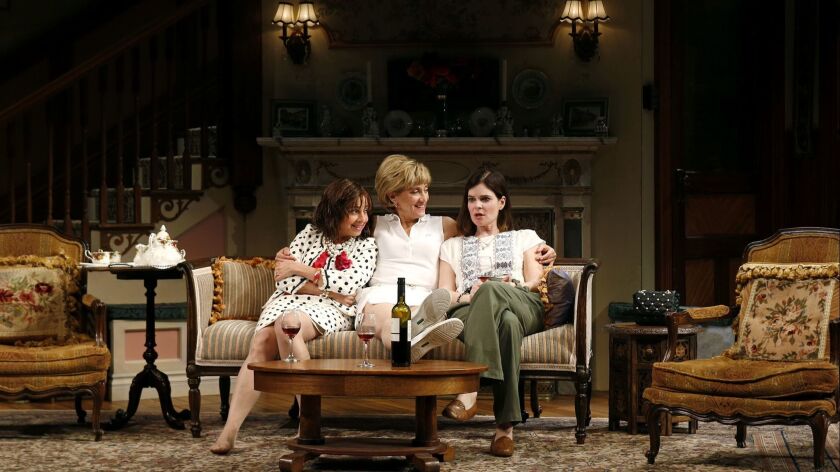 There was a time, not too long ago, when it seemed like you could barely sit down in New York City without watching one of Wendy Wasserstein's plays.
The writer, who died in 2006 at only 55, was a darling of Broadway throughout the 1980s and 1990s, beloved for her wit as well as her sympathetic and nuanced portraits of women, whom she insisted, in merry defiance of the patriarchy, on placing center stage.
Nowadays Wasserstein's plays get produced so infrequently that South Coast Repertory's decision to revive "The Sisters Rosensweig" is interesting in and of itself. Why "The Sisters Rosensweig" rather than, say, "The Heidi Chronicles," which won the 1989 Pulitzer Prize for drama?
Although she came of age in the 1970s in a wild and woolly era of experimental theater, Wasserstein also had soft spot for well-made classics. "The Sisters Rosensweig," which she wrote in 1991 and which is running through June 2 at the Costa Mesa theater, is in part an hommage to Chekhov's "The Three Sisters."
Wasserstein's middle-aged Rosensweigs may have grown up in Brooklyn in the second half of the 20th century rather than in Russia at the end of the 19th. But like Chekhov's sisters, the Rosensweigs struggle to find themselves, and happiness, in a world with tragically limited options for intelligent, ambitious, passionate women.
"Sisters" may still have plenty to tell us as a culture — intelligent, ambitious, passionate women don't necessarily have more options now than they did then — and it provides some delightful set pieces for the talented cast that director Casey Stangl has assembled here. But its loudest voice is still the creaking of its dramaturgy. Throughout the first act you can hear ropes fraying and levers snapping behind the scenes as Wasserstein strains to maneuver her colorful, wisecracking characters into the same room.
That these characters were inspired by real people doesn't, oddly, make them more plausible. Wasserstein based the Rosensweigs on herself and her two sisters, Sandra and Georgette, while adding fictional touches to all three.
The eldest Rosensweig, Sara (Amy Aquino), is managing director of the Hong Kong/Shanghai Bank Europe. Twice-divorced, she lives in London, in a beautifully appointed house in Queen Anne's Gate (one of John Iacovelli's stunning sets), with her teenage daughter, Tess (Emily James).
As played by the likable Aquino, Sara's a brusque, intimidating figure with chic clothing and a stiff blond helmet of hair. She has distanced herself from her Jewish roots to the point of pronouncing "schedule" the British way — but she has preserved a girlish sense of mischief.
The middle sister, Gorgeous (Eleanor Reissa), is a married mother of four who lives in Massachusetts and has her own radio advice show; she embraces cliches of American Jewish life, dresses exclusively in knockoff designer clothing, frantically lights Sabbath candles at the slightest suggestion of twilight and describes things she likes as "funsy."
The youngest sister, Wendy's stand-in, Pfeni (Betsy Brandt), is a human-rights journalist-turned-travel writer who breezes into town between assignments to see her boyfriend, Geoffrey, a bisexual theater director (Bill Brochtrup). Although Pfeni is autobiographical — Wasserstein had numerous love affairs with unobtainable, openly gay men — she is the sketchiest of the three characters, a kind of shorthand embodiment of commitment-phobia.
The story is really Sara's. It's her 54th birthday, and she's had a bad year. An operation for "female trouble" kept her from attending their mother's funeral. She's involved in an unsatisfying relationship with a conservative politician (Julian Stone), whom daughter Tess calls a Nazi behind his back. Tess has taken up with a young Lithuanian activist (Riley Neldam) and is planning to fly to Vilnius the next day.
Sara is preparing her own birthday dinner when a stranger arrives at her door, an American furrier named Mervyn Kant (Matthew Arkin). He turns out to be a friend of the puckish Geoffrey's, but he isn't gay or bisexual. He's very straight, and upon clapping eyes on Sara he quite mysteriously determines to win her heart, in spite of her reluctance to be wooed.
Arkin plays up the character's bull-in-a-china-shop cluelessness, and Sara obviously detests him from the outset. She hasn't gotten all the way to London just to be romanced by a Brooklyn furrier. So their ensuing love story comes as a surprise to everyone.
Wasserstein provides each character a bittersweet revelation about where he or she belongs in the world, and plenty of jokes and 1990s cultural references — which feel inevitably dated. It's still refreshing to see a story centered on women, their efforts to achieve emotionally and intellectually fulfilling lives, and their relationships with one another. This revival, although it exposes some wobbly engineering in the script, is bound to make people feel anew the loss of Wasserstein's unique voice. What would she have had to say about America today?
♦ ♦ ♦ ♦ ♦ ♦ ♦ ♦ ♦ ♦
'The Sisters Rosensweig'
Where: South Coast Repertory, 655 Town Center Drive, Costa Mesa
When: 7:30 p.m. Tuesdays-Thursdays, 8 p.m. Fridays, 2:30 and 8 p.m. Saturdays, 2:30 and 7:30 p.m. Sundays; ends June 2
Tickets: $23 and up
Information: (714) 708-5555 or www.scr.org
Running time: 2 hours, 40 minutes
See all of our latest arts news and reviews at latimes.com/arts.
MORE THEATER:
'How to Get Away With Murder' actor stars in the provocative 'Soft Power'
Jane Anderson gives her 'Baby Dance' some smart new steps
'Solo Must Die,' and so must this 'Star Wars' musical spoof
The guide to dance in L.A.: 12 standout companies to know and how to see them
---