Why 'Constitution' and not 'The Ferryman' should win the Tony for best play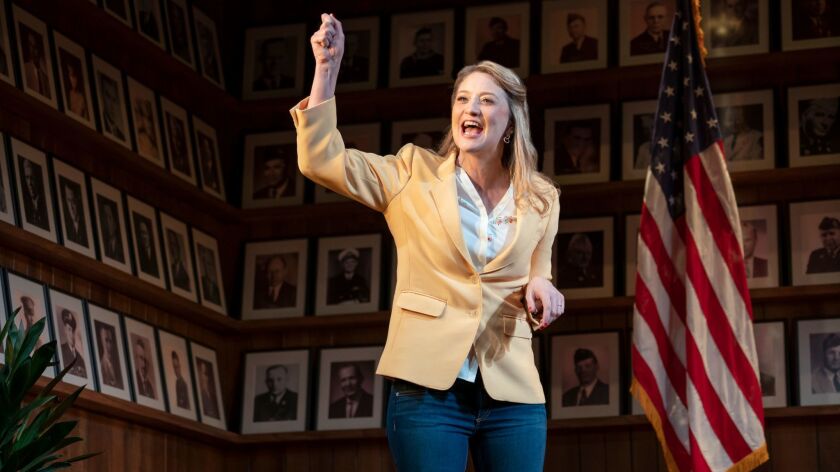 Theater Critic
The 2019 Tony Award for best play has seemingly come down to a two-way race between the season's biggest prizewinners: Jez Butterworth's "The Ferryman" and Heidi Schreck's "What the Constitution Means to Me."
Schreck's drama won an Obie and was named best American play by the New York Drama Critics' Circle. Butterworth's play won the Outer Critics Circle Award for best new Broadway play and was named best play by the New York Drama Critics' Circle. The safe money is on "The Ferryman" to add a Tony to its collection, but I'd vote for "Constitution" in a heartbeat.
I've seen Butterworth's play twice, once in London and then again in New York. The production, directed by Sam Mendes at the Bernard B. Jacobs Theatre, is magnificently acted by a large ensemble cast. The big and busy farmhouse kitchen lends this drama, set in Northern Ireland in 1981 with no end in sight to the Troubles, a picturesque domesticity. The threat of violence in a community of complex political loyalties is handled with great suspense, and even more impressive is the playwright's unleashing of surprise in a drama that sets up predictable patterns only to subvert them.
But for all the dramatic finesse, "The Ferryman" has structural problems, most notably a sluggish first act that indulges in a fair amount of stage Irish caricature and scene-setting, complete with pagan ritual, foreboding fairies and copious drinking. Theatrical cliché outruns local knowledge. Audiences may respond the way they might to a crackling (if overstretched) TV drama spiced with mobster menace, but "The Ferryman" fails to live up to the frothing hype on both sides of the Atlantic.
The Independent in Britain breathlessly proclaimed an "instant classic." Solidly entertaining and often gripping, I'll readily concede. But "The Ferryman" strikes me as an ersatz 20th century Irish drama that falls short of Sean O'Casey, Tom Murphy and Brian Friel at their best. (A more honest blurb might read: "A quasi Irish classic for a Broadway instant!")
I seem to have a Jez Butterworth problem. "Jerusalem," an even more heralded play by the British dramatist, left me scratching my head at the overwhelming critical fanfare. The great Mark Rylance won a Tony for his performance as the forest-dwelling Johnny Byron, a modern-day, drug-dealing Falstaff who struttingly lives up to his nickname "Rooster." But I found the 2011 Broadway production exhausting to the point of grueling. A contemporary vision of England as a despoiled (and increasingly state-controlled) Eden that harks back to Shakespeare's festive comedies and the poetry of William Blake, the play is rich in character color and debauched wit. But more expository than expansive, "Jerusalem" is better at sketching Byron and his merry band of outlaws than in setting them in dramatic motion over three protracted acts.
Not all of Butterworth's plays are overwritten and overtaxing. "The River," which came to Broadway in 2014 with Hugh Jackman in the role of the Man, is both underwritten and underimagined, a surreal wisp of a tale that clutched at Yeats but wound up embracing thin air.
A few people I've talked to wish that Schreck's "What the Constitutions Means to Me" could be acknowledged with one of those retired Tony Awards for best special theatrical event — or some honorary trophy for work that falls between the cracks. The thinking here is that as strongly affecting as the show may be, it's more of a performance piece than a play.
Has "Constitution," nimbly directed by Oliver Butler at the Helen Hayes Theater, been miscategorized? Is it technically a play? I've considered these questions myself but find them tiresomely retrograde. They take us down a path that will confine Broadway to the hidebound state it has been trying to break free from in an era that has an endless appetite for tourist-friendly musicals but little room for path-breaking drama.
The argument that has given me the most pause is one I haven't heard voiced: Would Schreck's autobiographical work, in which she re-creates one of the constitutional debate competitions that earned her college tuition money when she was a teenager, be as effective if performed by another actor in the leading role?
It is hard for me to imagine "Constitution" played by someone other than the author because the story, which bravely reveals Schreck's own experience of having an abortion while living in "an abortion-free zone" in the state of Washington as a young woman, is so acutely personal. Having been introduced by the author herself, this uniquely theatrical memoir has made Schreck's individuality seem integral. I'm open to the possibility of someone else starring in the role of Heidi Schreck on a Broadway tour, though I think the experience might be less jarring for theatergoers who haven't yet seen Schreck slip back into her younger self while her adult consciousness reframes the debate about private liberties and female autonomy that rages on today.
Yet Schreck's indispensable role as a performer (for which she received an acting nomination) is hardly disqualifying. The Tony for best play honors both the play and the production, and this isn't the first time that the synergy between script and performance has been fundamental to a work's success. Doug Wright's "I Am My Own Wife," which won the best play award in 2004, seemed to be custom-made for the protean talent of Jefferson Mays, the sole cast member, who won a richly deserved Tony for his portrayal of Charlotte von Mahlsdorf and the dozens of other characters who crop up around her.
LUCAS HNATH: The 'Hillary and Clinton' playwright meticulously masters the messiness of life »
The analogy isn't exact, as Mays isn't playing a version of himself, but the basic principle holds: For award purposes, it's not always easy to separate the play from the production. Another example that illustrates this is "War Horse," which was adapted by Nick Stafford from Michael Morpurgo's novel. I doubt there are many "War Horse" enthusiasts who would argue that the Tony for best play was earned by the script alone. Even Nicholas Hytner, who was the artistic director of London's National Theatre, which launched the production, was mystified when it beat Butterworth's "Jerusalem" for the top prize.
In his memoir "Balancing Acts: Behind the Scenes at the National Theatre," Hytner candidly admits, " 'War Horse' was a superlative show, with a very effective script, but the greater part of the vision behind it was not the playwright's. It was the apotheosis of a new and vigorous strand in the National's repertoire that was the collaborative vision of directors, designers, puppeteers, musicians, videographers and choreographers, as well as writers."
I can understand why Hytner felt a "category error" was made. But until the Tony pooh-bahs split the best play award into best dramatic production and best play, we will have to accept that sometimes it's the script and sometimes it's the production that's being honored — a point of confusion that often comes to a head when the playwright is left in limbo as self-congratulating producers hog the spotlight as they accept the award. The directing Tony should perhaps cover the production, as it seems to be doing in the case of this year's biggest omission from the best play competition, "To Kill a Mockingbird," but confusion reigns even for Broadway insiders.
Still, there are stronger arguments for why "What the Constitution Means to Me" should win for best play. Schreck is part of a vibrant democratizing push in the American theater that's expanding the range of voices and the scope of sensibilities. She represents (along with Tarell Alvin McCraney, whose "Choir Boy" is also in best play contention with Taylor Mac's "Gary: A Sequel to Titus Andronicus" and James Graham's "Ink") the future of playwriting rather than an idea of drama that squares with the past.
"Constitution" isn't perfect. When it moves beyond Schreck's story to more fully incorporate the other performers, the work exhibits a loose casualness, especially in the final stretch when a youngster is brought out to debate Schreck and be handed the constitutional baton. But the central dramatic journey, in which Schreck sets her experiences as a woman in the broader context of her family's history and the embattled history of our Constitution, is cannily crafted.
Much as I would like the work to benefit from the national boost a Tony Award would bring, it's not simply the urgency of the message on reproductive freedoms that makes this for me the Broadway play of the year. What sets "Constitution" apart is the way its political concerns have been so thoroughly humanized.
It's not possible to comprehensively define a play, but at its most basic level it's a plan for a theatrical experience that brings an audience into a deepening relationship with figures onstage. In observing characters who are both similar and dissimilar to themselves, theatergoers vicariously undergo a protagonist's challenges and, if all is fully realized, experience an analogous expansion of consciousness.
More than Butterworth's "The Ferryman," "Constitution" satisfies this cathartic requirement. Schreck's play is likely too unconventional to win. But it's the dramatic experience I will remember long after the hoopla over the awards has been forgotten.
TONY AWARDS: This year's nominations sort out an eclectic, erratic season — with mixed results »
---
Your essential guide to the arts in L.A.
Get Carolina A. Miranda's weekly newsletter for what's happening, plus openings, critics' picks and more.
You may occasionally receive promotional content from the Los Angeles Times.