Review: In Nicky Silver's 'Too Much Sun,' family follies on the Cape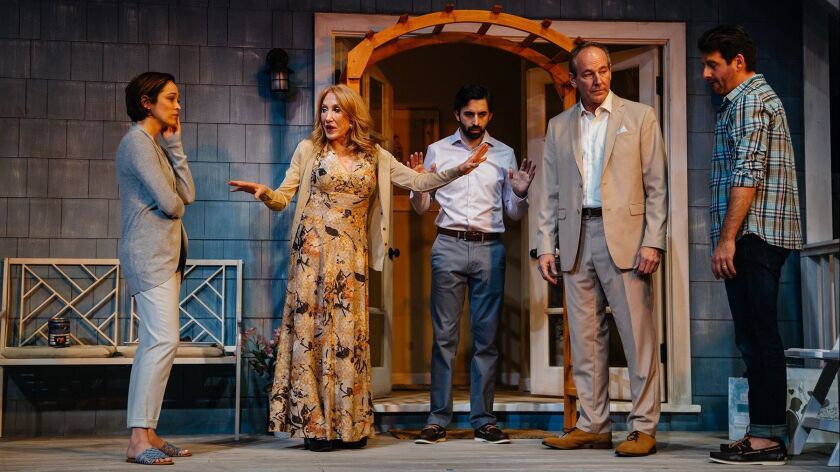 Although he has long championed daring work, veteran director Bart DeLorenzo takes a walk on the tame side in "Too Much Sun," Nicky Silver's comedy-drama staged as a visiting production at the Odyssey Theatre.
DeLorenzo has assembled a superb cast and an exceptional design team for this West Coast premiere, and he doesn't miss a trick in his well-paced show.
Silver, a popular playwright produced off and on Broadway, is known for scathingly funny and absurdist comedy-dramas about urban families in crisis. Yet even DeLorenzo's best efforts can't redress the deficiencies of "Too Much Sun," which contains clunky subplots of a foreseeable ilk and never quite forges a cathartic connection among its characters, much less with the audience.
The action opens on a wonderfully farcical scene, as moderately renowned stage diva Audrey Langham (Diane Cary), now on the down side of her career, has a spectacular meltdown during rehearsals for a Chicago production of "Medea." She flees the theater for Cape Cod, where daughter Kitty (Autumn Reeser) and son-in-law Dennis (Bryan Langlitz) have a summer house.
Included in this somewhat self-consciously Chekhovian milieu are Winston (Clint Jordan), the year-round Cape resident who lives next door; Winston's teenage son Lucas (Bailey Edwards), a deceptively laid-back drug dealer, still ravaged by his mother's recent suicide; and Gil (Joe Gillette), the nervous agent's assistant dispatched to bring the recalcitrant Audrey back to Chicago.
MORE THEATER: Our weekly column on Southern California's stage scene. »
It's been more than two years since Audrey has been in touch with Kitty, and time has only exacerbated Kitty's blazing resentment against her mother, whom she blames for deliberately keeping her away from her father. With her career on the skids and a lawsuit for breach of contract filed against her, the six-times-married Audrey sets her snare for the well-to-do neighbor Winston, who falls for Audrey like an overripe peach. During Audrey's unwelcome visit to Kitty and Dennis' house, tensions build, secrets are concealed and tragedy ensues.
Silver knows his way around a one-liner, and he sets up some delightfully silly situations. However, the unfolding disaster is so predictable that it lacks emotional impact, and the characters verge on stereotype.
Despite that, the actors are terrific, particularly Cary, whose Audrey is so narcissistic and self-involved we should detest her rather than root for her every step of the way as we do. If Audrey's semi-redemption seems a bit unlikely, it's through no fault of Cary, who hard-sells her character like a wily hawker at a street bazaar.
♦ ♦ ♦ ♦ ♦ ♦ ♦ ♦ ♦ ♦
'Too Much Sun'
Where: Odyssey Theatre, 2055 S. Sepulveda Blvd., Los Angeles
When: 8 p.m. Thursdays-Saturdays; 2 p.m. Sundays. $32-$37. (310) 477-2055 x2. OdysseyTheatre.com Running time: 2 hours, 10 minutes.
Support our coverage of local artists and the local arts scene by becoming a digital subscriber.
See all of our latest arts news and reviews at latimes.com/arts.
---
From the Oscars to the Emmys.
Get the Envelope newsletter for exclusive awards season coverage, behind-the-scenes stories from the Envelope podcast and columnist Glenn Whipp's must-read analysis.
You may occasionally receive promotional content from the Los Angeles Times.