USC's dance school has its first graduates. Where do they go from here?
On Friday the 33 students who make up the USC Glorya Kaufman School of Dance's inaugural class will graduate. More than 60% of them will leave USC employed, said Jodie Gates, the school's vice dean and artistic director, "which is unheard of in the dance field."
Some will be like Jackie Schiffner, who will take a traditional dance grad's route and join BalletMet, a company in Columbus, Ohio. Others, however, will attempt to make their way in a rapidly changing landscape for dance.
Ahead of their graduation, The Times held a roundtable talk with four undergrads from the inaugural Kaufman class about their plans to forge a career in dance. All started in 2015 at the school, which was founded with a gift from philanthropist Glorya Kaufman and which in 2016 celebrated the opening of a $46-million, 54,000-square-foot dance center, the first campus building dedicated to dance study.
ARCHIVE: USC celebrates the opening of a $46-million building for dance »
Schiffner originally planned to study math or science in college, but a gut feeling led her to join the fledgling dance school. That's where she rediscovered her love for ballet and found a new confidence in her abilities.
"It was really scary for us," she said of her class, adding later, "there was nobody before us, so we all had to take a leap of faith."
Like many seniors this time of year, the dancers have endured questions about their intended career paths. Much of the skepticism, they said, has come from fellow students.
Brianna Mims recalled the first days of her Arabic and philosophy classes, when students introduced themselves and seemed puzzled by her major.
"They're like, what are you doing?" Mims, 21, said. She attributed her classmates' reactions to a lack of value placed on the arts.
How does a dance student prepare for a career in the field? The first two years consisted of foundational training in ballet, hip-hop and contemporary techniques. The students took classes from faculty who included William Forsythe, d. Sabela grimes and Complexions Contemporary Ballet co-founder Desmond Richardson.
They studied other forms of dance like ballroom and Bollywood, they worked on improvisational techniques, and in the final two years they specialized in performance or choreography. They thought deeply about how their art would impact society.
Traditionally, when dancers left college, they sought out contracts with dance companies. Now, with arts funding scarce and some established companies folding, dancers are forced to get more creative.
As a freshman, Satori Folkes-Stone thought she would join a dance company immediately after graduation. Instead, she will be moving to New York and performing in a Broadway production that she's not yet allowed to reveal.
"We're in a gig economy," Folkes-Stone, 22, said. "Dancers also now represent that, in that they are able to jump into many different contexts and work with different people."
Mims and Jordan Johnson, 24, said they are also pursuing freelance tracks after college.
Mims will continue making her own art, tackling issues around mass incarceration. She plans to fund her art through grants and with commercial gigs, which have included work as a backup dancer.
Johnson formed a choreographic collective with a fellow USC dance student and choreographed live shows for a Long Beach-based indie pop band, Half Alive. After graduation, his collective will tour and perform with the band throughout the U.S. and Europe.
It's not exactly a stable career, but that's exciting to Johnson. In order to make a living, "I just have to do a lot of creative things. I have to work in music videos or work in this commercial way," he said. He also envisions performing in concert dance shows while "creating my own stuff that is just fulfilling to me."
Even those who join a company, "you kind of accept the fact that you're always going to be living paycheck to paycheck," Schiffner said. "But it is something that if you choose that life, you have to love it that much that you're willing to work for next to nothing."
Dance salaries range widely. Even coveted positions with a midsize dance company can top out at around $700 a week for a season of performances.
Which may be why students' dreams have to go beyond a paycheck. What might they be doing 10 years from now? Mims said she dreams of starting an arts program at a Syrian refugee camp, or maybe creating a fashion line. Johnson wants to choreograph for major artists and feature films while also integrating his passion for dance with global community development. Schiffner said she contemplates eventually joining a European dance company.
They all want to teach and mentor young students. Folkes-Stone may be Broadway-bound, but when she reaches her 30s she hopes she's changing the dance landscape for young people in some way, she said. "I'm so excited to relay the information we've learned here to them."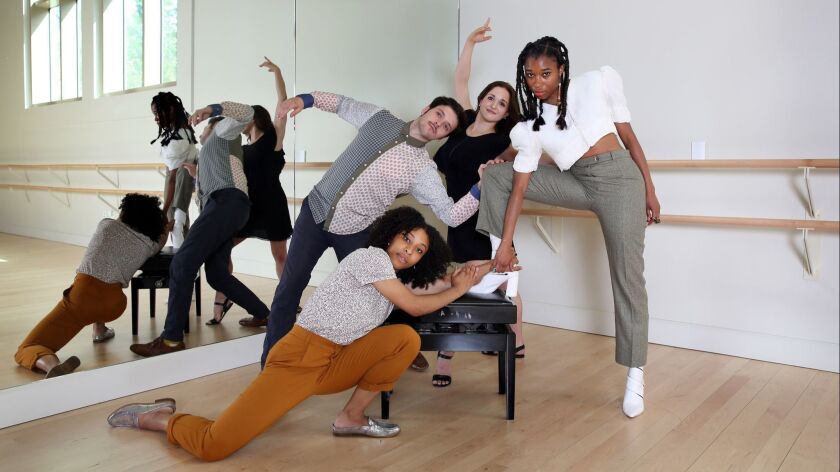 ARCHIVE: To Glorya Kaufman, the art of dance is a gift on several levels »
---
Inside the business of entertainment
The Wide Shot brings you news, analysis and insights on everything from streaming wars to production — and what it all means for the future.
You may occasionally receive promotional content from the Los Angeles Times.