Critic's Notebook: Hollywood takes a 'Velvet Buzzsaw' to the art critic. This art critic responds
Art Critic
Remember Waldo Lydecker?
Waldo was the mordant newspaper culture-critic in "Laura," Otto Preminger's stylish, labyrinthine 1944 murder mystery about a breathtaking beauty who, as the movie opens, is first known to the audience from the big portrait immodestly hung above the fireplace in her own apartment. Edging out Addison DeWitt, the wickedly acid-tongued theater critic caricatured half a dozen years later in "All About Eve," he's American cinema's most telling fictional critic.
"I don't use a pen," Lydecker patiently explains about his snooty critical duty. "I write with a goose quill dipped in venom."
Eventually, Lydecker is revealed as Laura's murderer — or, to be specific, as the killer (by a disfiguring shotgun blast to the face) of another woman whom he thought was her. His character, narcissistic and acerbically funny, is a polished distillation of an otherwise conventional American bromide about what critics do: In the act of rendering artistic verdicts, critics kill beauty.
Waldo Lydecker isn't exactly an art critic, but more of a gossip columnist/critic. But then, neither is Morf Vandewalt, the protagonist with a similarly satirical name smoothly played by Jake Gyllenhaal in "Velvet Buzzsaw." The new horror movie, set in a corner of a nearly unrecognizable Los Angeles art world, is streaming on Netflix.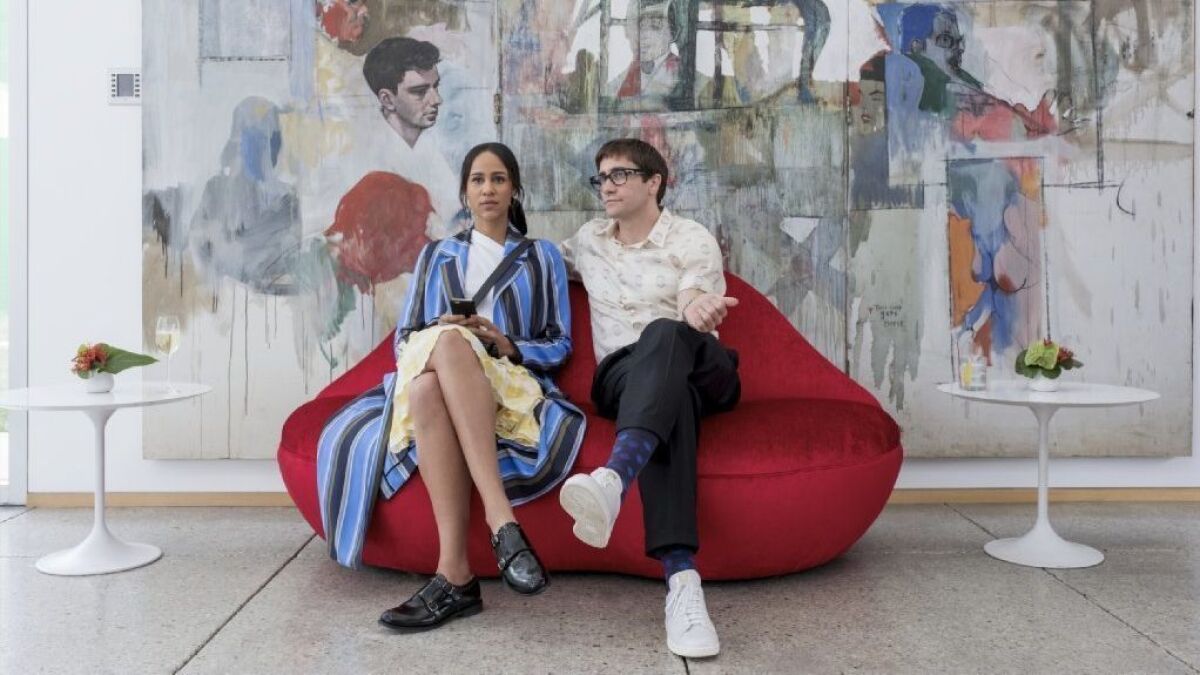 Styled in skinny suits, jazzy socks, casual but carefully coifed hair and prominent eye-wear, Morf looks more like museum director Michael Govan or gallerist Jeffrey Deitch than shambling art critic Jerry Saltz or — well, me. (OK, I'll confess to the Tom Ford glasses, but that's about it.) Swanning around the art world, chitchatting with pensively folded arms and serving up airy pronouncements to artists, dealers, consultants and others, Morf effortlessly changes his spots.
"Velvet Buzzsaw" opens at Art Basel Miami Beach, the annual December getaway that's the last chance for a big shopping opportunity in sexy, sunny Florida before New York City's winter snows set in. To launch a horror film with the horror that is a glossy art fair merely telescopes the confused cinematic problems dead ahead.
Morf's criticism is said to have a Lydeckerian quality of the scorpion's sting, but it isn't much in evidence. More common is a bland quip at a funeral in the landmark Hollywood Forever Cemetery, where he ponders the banal tomb before him and unhappily murmurs, "Imagine having to spend eternity in that."
Schemer, climber, manipulator, wielder of high-minded covers for low-minded exploitation, Morf doesn't do much actual writing. Of course, writing of any kind, including criticism, is a pretty solitary and time-consuming gig, which is about as exciting to watch as paint drying on canvas. On screen, a movie needs to juice it up.
For one brief moment, we see Morf eagerly tapping away on a keyboard. He's decided to write a book about a newly discovered but very dead artist, whose unsold inventory of ghoulish paintings purportedly promises big piles of cash to assorted art-world mercenaries — including the corrupt critic.
The writer stretches out buck naked on a midcentury modern lounge chair in a midcentury modern house in the Hollywood Hills, laptop strategically placed in his lap. (I may have the Tom Ford eyewear, but I do not have the Gyllenhaal abs.) The pose is a nod to Lydecker, introduced to the "Laura" narrative when stretched out naked and writing in his bathtub, typewriter shelf likewise advantageously placed.
The homoerotic undertones in Lydecker's relationship with the handsome detective assigned to Laura's murder case are pretty camp. (Oscar-nominated actor Clifton Webb, himself homosexual, almost didn't get the part because studio head Darryl F. Zanuck thought him too effeminate.) They surface as essential overtones in "Velvet Buzzsaw," where a second muscle-hunk dispenses with his towel to swim naked in the pool as an indifferent Morf types away.
Gyllenhaal once lived across the way from David Hockney, celebrated painter of midcentury modern boys in midcentury modern swimming pools, so I fantasize that the scene was born of that. Whatever the case, 1944 is long gone: The "Buzzsaw" critic is also sleeping with a beautiful female gallery assistant, taking Lydecker's chaste obsession with Laura to a 21st century level.
Writer-director Dan Gilroy gestures toward a couple of other movies too — especially in the horror genre that "Velvet Buzzsaw" both follows and attempts to satirize, rather unsuccessfully.
Before a gruesome hanging, the victim glimpses a grainy clip of an art-movie showing costumed trick-or-treaters — think "Halloween." The doomed gallery assistant gets doused in liquid paint, the famous scene from blood-drenched "Carrie" turned upside-down as the rivulets of paint that poured on the floor — reminiscent of artist Lynda Benglis' feminist work, circa 1969 — run up the assistant's legs, finally engulfing her entire body.
Even a maimed (and murderous) robot sculpture on crutches occupies a niche somewhere between Jordon Wolfson's actual animatronic art and Vincent Price's dead-body sculptures in "House of Wax" or the ravenous Chucky doll of "Child's Play."
But, horror conventions aside, ultimately it's "Laura" that's out there lurking in the dark.
Spoiler alert: The murderer in "Velvet Buzzsaw" is exposed early on, but it is not a person. The murderer is art. Paintings and sculptures come to momentary life, turning on the frail humans who don't measure up to art's robust standards. One by one, they kill off amoral art world denizens obsessed with money rather than meaningful aesthetic virtues.
In "Laura," the critic kills beauty. In "Velvet Buzzsaw," beauty bites back. Art gets its revenge.
The movie is less a sharp satire — arguably the toughest brand of comedy to write — than it is a veiled lament fixated on art and commerce. Yet, what kind of art? Venality does have a high public profile in today's art world, but it has only a modest presence in the day-to-day life of art.
Instead, Hollywood is where dollar signs rampage like Freddy Krueger. Framed within the everyday commercial realities of movie art, this revenge fantasy unfolds as a moviemaker's slash-fest. "Velvet Buzzsaw" feels wrong because it isn't really about the art world after all.
Get our L.A. Goes Out newsletter, with the week's best events, to help you explore and experience our city.
You may occasionally receive promotional content from the Los Angeles Times.