At the Women's March, the Community Chorus joined the protest — in song
The Community Chorus, which took part in the Women's March in Los Angeles on Saturday, formed specifically to perform at protests, political events and fundraisers for social causes.
At the Women's March in downtown Los Angeles on Saturday, amid the cacophony of chants and shouts, a subtler melodic sound caught the attention of marcher Dina Khouri. Sporting a bright pink knitted pussy hat, the Woodland Hills resident made her way through the crowd to the corner of Hill and 1st streets.
There, amid all the protest signs, hot dog carts and T-shirt vendors, Khouri unexpectedly found what she'd been searching for: a choral group singing in a unified, clear voice. She found a protest choir called Community Chorus.
"One of my New Year's resolutions was to join a choir," she said. "And look what just presented itself! It's so lovely. I love this city, and I love this day!"
Khouri wasted no time, snagging a sheet of lyrics from a chorus member and joining the group mid-song. "I love to sing, so why not?" she said.
Multimedia artist and composer Carolyn Pennypacker Riggs formed the Community Chorus in 2016. The group meets twice a month for rehearsals at the Women's Center for Creative Work in the Elysian Valley neighborhood of Los Angeles and regularly performs at protests around the city. It's free and open to anyone, regardless of singing experience or ability to read music. Although Riggs does bring in professional guest musicians to work with the group, the point isn't to perfect vocal technique. It's to come together.
On Saturday morning, volunteer choral director Tany Ling led the Community Chorus enthusiastically. The soprano had arrived at the march a little before 10 a.m. with a backpack full of pop-up choir supplies: water, a folding metal music stand, a binder of sheet music, a tambourine and a ukulele. For two hours she led two dozen women –– most wearing red in support of the Los Angeles Unified School District teachers' strike –– as they serenaded marchers.
"Woohoo! Sing it, women!" one passerby shouted in support of the chorus as she waved a sign that read, "Your Vote Is Your Voice."
"Let your little light shine, shine, shine," the group responded, singing along to a tune based on music by Pamela Warrick-Smith.
In place of songs by Bob Dylan and Pete Seeger, this protest choir sang "Rise" by Solange, "Hold On Be Strong" by Outkast and "Sing About Love" by British alt-rock band Chumbawamba. There were punk song covers too, including "Keep Your Laws Off My Body" by the Dog Faced Hermans.
"We wanted to get away from '60s-era protest songs composed by white males," Ling said.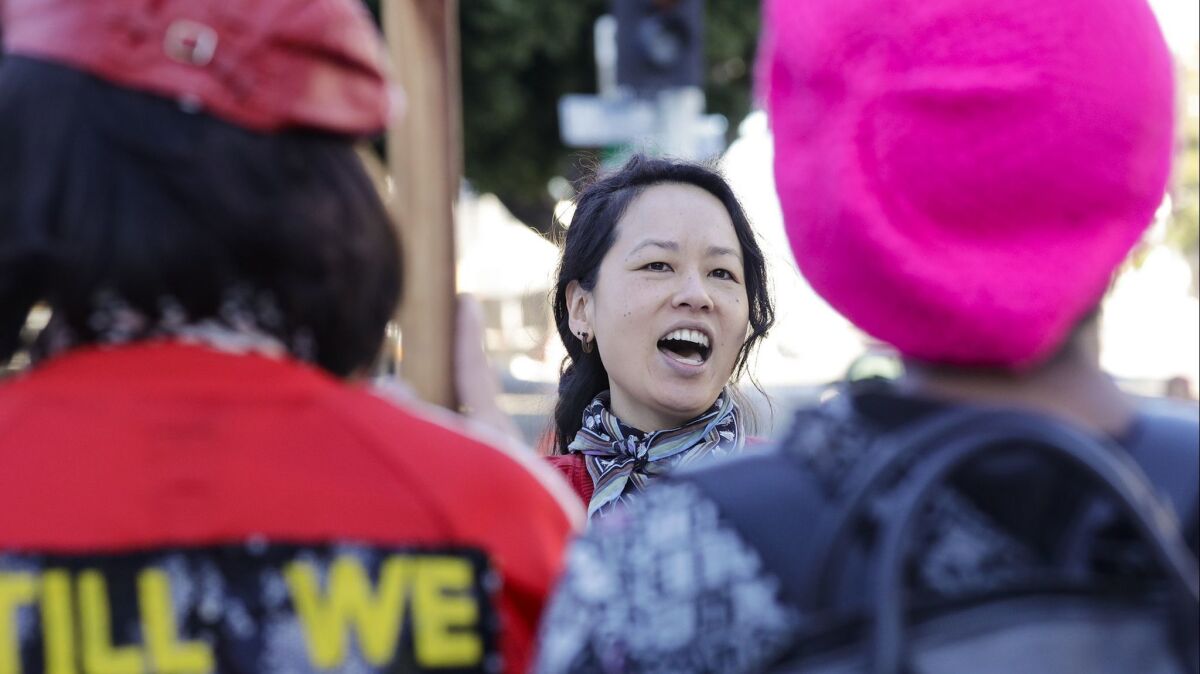 Community Chorus founder Riggs said by email that she formed the group to ease protest fatigue. Launching a protest choir would keep her engaged, accountable and marching, she hoped. A native of Oakland, Riggs grew up attending protests and sees them as a necessary and important "motivating experience, not the end-goal."
Riggs apparently isn't alone in craving that sort of communal motivation. According to Ling, the Community Chorus is outgrowing its rehearsal space. Nearly 40 members attended a week ago, and new members join at each rehearsal.
The group has been busy. Last week it joined striking teachers at Delevan Drive Elementary in the Glassell Park neighborhood of L.A. twice, singing strong despite cold, rainy weather.
"Our music got soggy and so did we," Ling said. But, rain or shine, the group plans to continue singing alongside LAUSD teachers as long as the strike continues.
Riggs chooses which events the group will sing at, many driven by resistance to President Trump and his policies, including immigration and family separation at the border. The chorus also sings at fundraisers for organizations such as JusticeLA, which advocates for prison reform, and it canvassed as a group for candidate (now Congresswoman) Katie Hill.
After the Women's March performance, choir member Jessica Basta was energized.
"I thought today was very powerful," she said. "We have a lot of songs that are low-key, they're not upbeat like a lot of the chants going by. But I love hearing these different voices come together with the same message. Listening to that today gave me chills."
Please support our coverage of local artists and the local arts scene with a digital subscription.
See all of our latest arts news and reviews at latimes.com/arts.
---
Get our L.A. Goes Out newsletter, with the week's best events, to help you explore and experience our city.
You may occasionally receive promotional content from the Los Angeles Times.