How Grand Avenue elevated L.A.'s music scene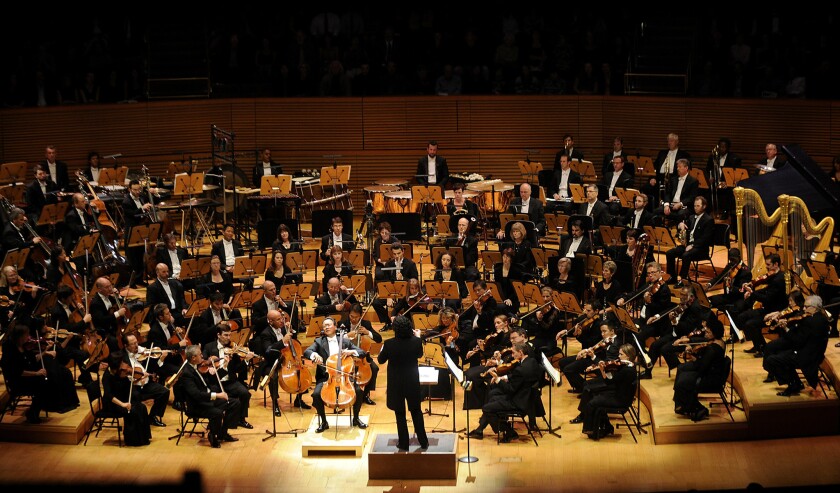 Music Critic
To an important degree, Grand Avenue is Music Street.
Not all of it, of course. The bland towers between the Central Library and 3rd Street might appear an affront to music, sitting on land that should have been devoted to the arts. Below 5th Street, Grand Avenue bustles but ceases being grand; it's a place to have dinner before ascending the hill for the street's main purpose.
But everything north of 3rd Street exists because of — and has been involved in some way with — music, which ultimately revived the blight of 1950s Bunker Hill.
The Dorothy Chandler Pavilion — built as a home for the Los Angeles Philharmonic — started it all when it opened in 1964. Actually, it was Dorothy Buffum Chandler, wife of Times publisher Norman Chandler, who started it all a decade earlier. In charge of the newspaper's women's sections and its cultural pages (in those days often lumped together), she led the campaign to save the Hollywood Bowl from bankruptcy in the early 1950s. That gave her a taste for becoming a community arts organizer and for the L.A. Phil, which, through her support, she came to help manage.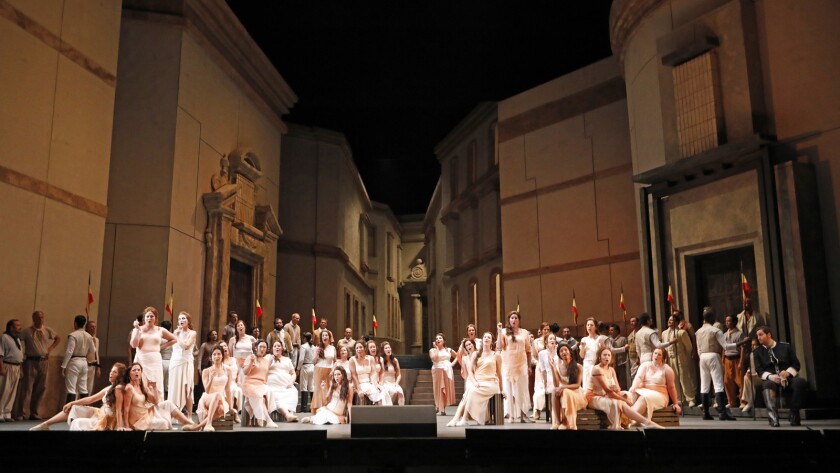 FULL COVERAGE: Grand Avenue project »
The L.A. Phil had long needed a proper concert hall, having outgrown the architecturally fascinating but acoustically inadequate Philharmonic Auditorium at Olive and 5th streets. Chandler led a historic fundraising campaign, getting pennies from schoolchildren and tearing up $10,000 checks from celebrities she knew could afford more and whom she shamed into donating $25,000.
Nor did she hesitate to take advantage of The Times' resources to promote her project. Despite objections that Bunker Hill was too unseemly to be a cultural mecca, Chandler argued that this could be a noble effort at urban renewal. She liked that it was on a hill, believing that an arts institution should be, like a Greek temple, on worship-worthy high ground. That gentrification would be good for Chandler real estate interests in the area didn't hurt.
But she mainly wanted a music center. (The Mark Taper Forum and Ahmanson Theatre, which opened in 1967, were afterthoughts, if enthusiastic ones. The Taper was originally hoped to be a chamber music hall and at first shared its stage with the Los Angeles Chamber Orchestra, which charmingly played on whatever theater set happened to be up.)
The Dorothy Chandler Pavilion, looming most noticeably above the street, set the tone, so to speak, for a newly grand Grand Avenue. The opening of the Museum of Contemporary Art added further arts luster to Grand, even though the elegant Arata Isozaki-designed building was partially hidden from street view. MOCA, moreover, originally presented itself as an unusually music-friendly institution, putting on concerts and music-related exhibitions, the most noteworthy being the unforgettably original John Cage-inspired "Rolywholyover" in 1993.
Then came the Colburn School, first as a training academy for young musicians and later a full-fledged conservatory. The $28-million building opened in 1998.
Five years later, Grand Avenue became home to a new L.A. icon — Frank Gehry's Walt Disney Concert Hall, whose transformative power is now a matter of Southern California — and music — history.
Even the avenue's most recent addition, the Broad museum, couldn't resist the musical pull of Disney. At the moment, it has some of the most imaginative musical programming of any major California museum.
There have been, of course, missed opportunities on Grand. A plan to continue the cultural reach of the street south of Disney with a dance theater, hotel and other amenities was replaced by lumbering office towers. Gehry's proposal to lower the Music Center to street level and connect it to a fanciful Grand Park was rejected. The Gehry-designed mixed-use development across from Disney Hall stalled for decades.
Now that development is finally being built. The good news for those who fear we could be saddled with a West Coast version of the new Hudson Yards looming like a little Dubai over New York's nearby Chelsea district is that architecture is on our side. With Gehry's masterpiece across the street, he can be counted on to find subtle and salient means to inspire a far less commercial character to the development.
But the real secret weapon promises to be a new 1,100-seat concert hall that Gehry is designing as part of an extension to the Colburn School on Olive Street, just behind the new development. It will resemble the recent Pierre Boulez Saal in Berlin, the magical small hall that Gehry designed for Daniel Barenboim's West-Eastern Divan Orchestra, or WEDO, made up of young Israeli and Arab musicians. The audience sits in the round, with an oval-shaped balcony of only two rows hanging from the ceiling. The connection between musician and listener is as direct as if you were wearing living headphones. I've never experienced anything like it.
Just as Disney has inspired the L.A. Phil's unprecedented institutional vision, so has the Boulez Saal. While used for student rehearsals and WEDO performances, the venue has imaginative nightly concerts that can be anything from recitals by the world's greatest musicians to a series that features Turkish or other world music. Robert Wilson staged a performance installation around Bach's motets in it. Tickets, no matter what, remain inexpensive, assuming you can snag one.
Moreover, the new Colburn hall will be an anti-Shed. Unlike the flashy massive performance and art installation structure meant to give the sterile Hudson Yards some street cred, the new Colburn hall will be a hidden jewel inside a Gehry building housing studios and rehearsal space for students and a 700-seat studio for experimental and late-night cabaret, which is exactly what the burgeoning downtown scene needs.
Still, there are troubling questions and caveats. The Colburn School has little practice as a presenting organization. The venturesome Piano Spheres and Monday Evening Concerts at its Zipper Concert Hall are rentals, and Colburn students, faculty and administrators are notorious for not attending. Barenboim brought in a brilliant arts administrator to run the Boulez Saal. Colburn will need the same.
The model might be REDCAT, the CalArts-run black-box theater underneath Disney. It has become, along with UCLA, the primary presenter in town of imaginative theater, music, dance and multimedia events, judiciously including only the most worthwhile and newsworthy CalArts student events. But Mark Murphy, the director for the last 15 years, is now leaving, and the school has yet to offer guarantees that it will follow Murphy's lead.
But the biggest danger is the elephant in the room — or on the avenue. New subway stops are being constructed just down the hill from the new Colburn expansion and next to REDCAT. What could be better? Nothing, if the subway, which will run under Disney, doesn't ruin the hall's acoustics. The county insists that it is making a great effort to make sure vibrations are contained, but such assurances can run hollow.
When Carnegie Hall converted an underground movie theater to a new performance space, Zankel Hall, the New York Metro promised it would slow the nearby subway trains down during performances if they made too much noise. They made too much noise, but the Metro discovered that slowing down trains would throw the entire subway system off its schedule. Now, more than 15 years later, the trains still make too much noise.
In the Bay Area, BART was initially whisper quiet in 1972 when the first trains rolled in. These days the clattering is so loud riders can hardly hear themselves think.
We don't know what the Metro under 2nd Street will sound like, or not sound like, or what kinds of vibrations it will produce. Should we be worried? Gehry is.
At the very least, we decidedly need full oversight. Inspectors must make double sure every rivet is up to silent standards. Infrastructure maintenance will be required for as long as Grand Avenue remains as Music Street — or Gehry Avenue, which is basically the same thing.
---
Your essential guide to the arts in L.A.
Get Carolina A. Miranda's weekly newsletter for what's happening, plus openings, critics' picks and more.
You may occasionally receive promotional content from the Los Angeles Times.