Staying in Vegas? Not the Guggenheim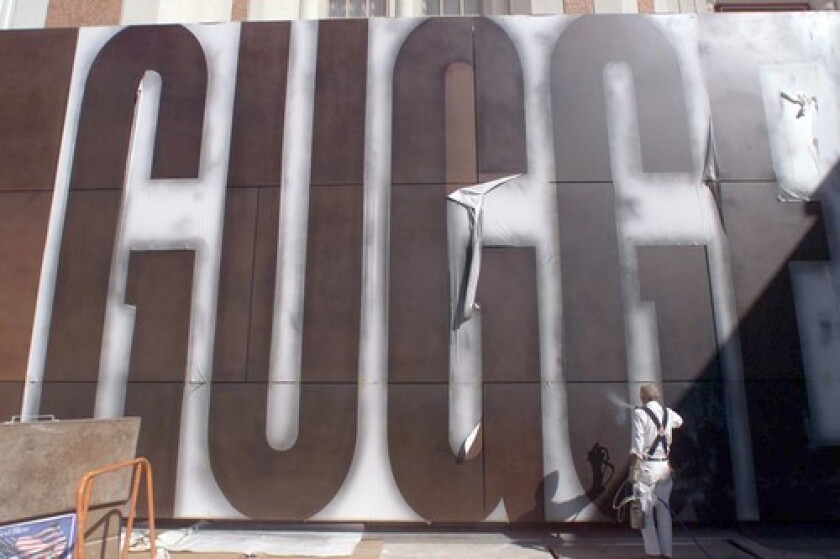 Los Angeles Times Staff Writer
LAS VEGAS -- —
Dustin and Lindsay Phillips had no idea they were part of the beginning of the end of the Guggenheim's great Las Vegas adventure, a seven-year gamble that is coming to a close with the museum taking its chips -- its paintings -- back home.
The Nashville couple hadn't even known there was a Guggenheim Hermitage Museum in the Venetian. They'd come to town "just for Las Vegas," spotted the Guggenheim's entrance around the corner from the hotel-casino's check-in desk, then wandered in. "It's awesome to see the real thing," said Dustin, 26, as he stood before a Monet landscape painted in 1908 in the real Venice, with the real canals. "I was surprised they didn't charge admission," his wife added.
She had to be told the reason: The Guggenheim and the Venetian had just announced that the contract to operate the "museum" -- actually four linked galleries -- was coming to an end, and as a thank-you to the public the $15 fee was being waived through the last day, May 11. "It was a mutual decision," a Guggenheim spokeswoman said of the closing.
The Phillipses were among the first in the door April 11 when the everyone-gets-in-free policy began at the show, "Modern Masters From the Guggenheim Collection." That night, they were seeing "Phantom of the Opera" in what had been a much larger (63,000-square-foot) Guggenheim-in-Vegas showplace but where there never was a second exhibition after the initial Frank Gehry-designed "The Art of the Motorcycle" ran 15 months.
The closing of the last Guggenheim space will leave only the Bellagio Gallery of Fine Art as a reminder of the ballyhoo over how the Las Vegas Strip was going to attract families and cultural tourists along with gamblers, before "What Happens in Vegas Stays in Vegas" proved a better sell.
It was a decade ago that Steve Wynn began promoting the novelty of using his soon-to-open Bellagio to display the art he'd been accumulating at New York auctions and in Europe, thus acknowledging "my customers' highest capacities for the appreciation of beauty."
Wynn used a 90-foot-tall sign that in olden days would have heralded Frank Sinatra or Dean Martin to announce, "Coming soon: VAN GOGH MONET RENOIR and CEZANNE." Next was the announcement by the museum world's own unabashed promoter, the Guggenheim's Thomas Krens, of a joint venture with Russia's State Hermitage Museum to bring more art to "where the heathens are," in two Rem Koolhaas-designed spaces in the Venetian that were going to earn millions for the museums and hotel.
But then came opening day in 2001. . . right after the Sept. 11 terrorist attacks, which had a devastating effect on cultural institutions and tourism alike.
Perhaps that was the omen that the embrace of art was not going to have its envisioned outcome here. Or perhaps that came later, when Wynn accidentally punched a hole in his prized Picasso, "Le Reve." In the wake of his sale of the Bellagio and its gallery to the MGM Grand Mirage, he had once planned to name the new Wynn resort after the painting. He eventually thought better of it and named his new property the Wynn Las Vegas, where his second attempt at an art gallery -- displaying his personal collection that included works by Rembrandt and Vermeer -- was aborted after less than a year, closing in 2006.
"When I first came, [Las Vegas] was being pitched as a family destination. Now it's not. We're back to colorful night life," said Elizabeth Herridge, who has headed the Guggenheim Hermitage for five years. "I think we felt our time was up, quite honestly."
The Guggenheim Hermitage, like the Bellagio Gallery, did not claim to be a collecting institution in the manner of an actual museum. But with its impending closure, some locals have criticized it for using recycled exhibits and lacking "special programming for Las Vegas," as one commentator put it, adding: "Unlike the Bellagio Gallery . . . the Guggenheim seemed like a Vegas outsider, a satellite to New York."
Herridge said she sensed that some people wanted "to gloat over the fact that we're leaving." But she pointed out that although fantasies of earning a fortune did not "turn out to be reality, unfortunately," the small exhibit space had drawn crowds that would make most American museums envious: 1.1 million paying customers over 6 1/2 years, plus 20,000 students allowed in free.
The museum estimated that 95% of its visitors were tourists, many not fitting any stereotype of art lovers, like the young couple who came in behind the Phillipses. Carl Meister and Karyn Vondracheck were treating themselves to a Las Vegas getaway after a stressful few years. Both were captains in the Army, he two months back from Iraq, she four months. They too noticed the Guggenheim while registering at the Venetian and checked it out after having seen Cirque du Soleil at the MGM Grand the night before.
"The Cezanne is really interesting," said Meister, who hopes to pursue an MBA. Both he and Vondracheck -- who plans to become a nurse -- were disappointed to hear the galleries were about to go dark. "I think this would be a nice break for people," he said, "a quiet time . . . to get away from losing money."
Behind them were two older women, high school classmates about to have their 50th reunion in Ohio. They'd earlier seen the entertainer who bills himself as Big Elvis and came here after reading it was closing. "I said, 'I've got to go see that,' " said Maureen Milligan, a retired English teacher from Phoenix who especially liked two Braque still lifes, "Violin and Palette" and "Piano and Mandola," painted during Cubism's formative period.
Herridge said the philosophy of the Guggenheim Hermitage had been to send visitors the message that "you don't have to know anything about this to enjoy it; we're not going to make you feel intimidated," but without dumbing down the art. Nonetheless, while "we broke even and even made money sometimes," the museum director said, attendance had dropped the last two years. "Seven years is dog years in Las Vegas," she added. "All good things come to an end."
"It will be missed," said Libby Lumpkin, who was the original curator of the Bellagio Gallery and now heads the Las Vegas Art Museum.
"In another city, that operation would have been considered a major success. It's just that in Las Vegas, the value of square footage on the Strip is so high and can yield enormous profits."
Lumpkin said the Guggenheim was also hurt by the relocation of the Venetian's valet parking stand, which sent fewer people near the museum. It also suffered, she said, from being enveloped by the hotel, which has not announced what it will do with the space. "People really do bond with art institutions," Lumpkin said, "but it's difficult for visitors to bond with a building that's a box inside someone else's building . . . even if it's a beautiful box."
The Las Vegas Art Museum, which is eight miles from the glittering string of casinos, draws just 15,000 visitors a year. But it is planning to move closer to the action, to downtown -- where a Las Vegas Museum of Contemporary Art may also be in the works. What's more, the MGM Mirage announced last month that it is spending $40 million on public art at its $8-billion development of condos, hotels and shops on the Strip, including sculptures by Maya Lin, Henry Moore and Claes Oldenburg.
"I believe there is a future for the cultural tourist in Las Vegas," Lumpkin said. "It's too bad it didn't happen immediately."
---
The complete guide to home viewing
Get Screen Gab for weekly recommendations, analysis, interviews and irreverent discussion of the TV and streaming movies everyone's talking about.
You may occasionally receive promotional content from the Los Angeles Times.