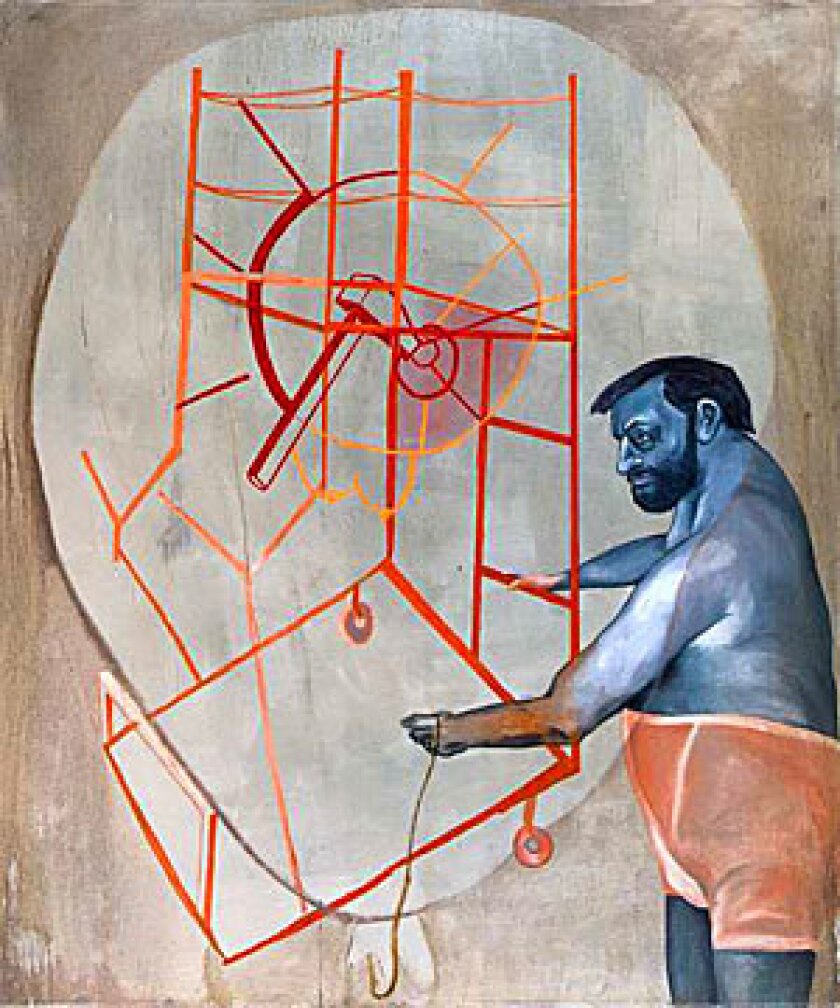 Times Art Critic
A WICKED sculpture at the entrance to the retrospective exhibition of Martin Kippenberger's work at the Museum of Contemporary Art crystallizes the manic tone that made the German-born Conceptual artist such an influential force, beginning in the 1980s. Then, in the show's first gallery, a thoroughly flat-footed installation also demonstrates what made his work so maddeningly uneven. Kippenberger died of cancer in 1997, at age 44, so we'll never know whether his early achievements would have been multiplied or divided over the long haul, but MOCA's sprawling, 250-work show gives a welcome overview, warts and all.
The sculpture, "Santa Claus Lamp" (1994), is a carved Styrofoam figure, bulky in profile and more than 7 feet tall, cast in silvery aluminum. The torso twists so the blocky boots below point in a different direction, making the otherwise upright figure visually tipsy. Jolly old St. Nick is crossed with a lamppost, the crimson lightbulb glowing inside its lantern head suggesting both the red nose of reindeer Rudolph and of a cartoon skid-row drunk.
Smeared brown paint dribbles down over Santa's pompom cap, turning it into a scatological crown. And, as if this were some dowager empress in drag out for a lovely night at the opera, a gloved hand holds up an incongruous pleated fan. The sculpture embodies a sense of childish excess and morbid yearning, innocent generosity soiled by aristocratic noblesse oblige. Its overall wretchedness elicits a wide grin, but the laughter is akin to whistling in the dark.
Call me crazy, but Kippenberger's hot-Santa-mess encapsulates the nausea of the social meltdown being splashed across the front pages of America's newspapers better than anything I've yet seen-- and it was made 14 years ago. The sculpture's pitch-perfect tone, deep and profound abjection, ricochets off the work of such other seminal artists as Mike Kelley, while Paul McCarthy's varieties of Kris Kringle madness followed soon after in performances, installations and graphics, which continue to the present. Kippenberger's work is an art in conversation with other artists, which makes for a bracing dialogue.
Then in the first room, a large, dull installation makes you wonder where Santa could possibly have come from. Surely not the artist responsible for this.
Twenty-nine tall tubes wrapped in imitation birch-tree paper are propped up on metal stands, like a wobbly amusement park forest. Gigantic pills carved from wood are scattered in their midst on the floor. MOCA has also mingled a few other Kippenberger sculptures among the trees, perhaps to juice things up.
Alka-Seltzer, along with many unidentified medications, mixes with Castelli Seltzer, named for Leo Castelli, the gallery owner perhaps most responsible for launching the contemporary American art market. The wince-inducing 1990 escape down Alice's rabbit hole looks like noisy student work.
Antacid marked with a Castelli imprint certainly signifies a conflicted feeling about art's place in contemporary society. That conflict -- art as a refuge for brilliant misfits, all the while humming at the centers of conventional wealth and power -- is an engine that drove Kippenberger's practice.
It wasn't entirely new; when Diego Velázquez painted tender Baroque portraits of the buffoons and dwarfs who amused the king of Spain, he was also reflecting on his own queasy situation as a court diversion. But it was new to the American art world; and it was also new to the German art world, busily reassembling itself a generation after Nazi crimes against both humanity and modernity. Kippenberger's best paintings are a group of self-portraits in which he shows himself as a portly Picasso, his artistic genius mercilessly mocked by the fact that he's dressed only in oversized underpants.
Something of the self-portraits' insouciance is seen in an early, 1981 project, where the artist employed an anonymous movie-poster painter to reproduce photographs and pictures Kippenberger selected. (A similarly commercial distancing device to remove the artist's hand had been used by John Baldessari in 1966.) The diverse selection looks like a group show. My favorite is a view into a tweed sport jacket's pocket, seen as if one were resting chin on chest and looking down into it. A nerdy row of six ballpoint pens nestles in the pocket's dark and cavernous womb, while a seventh is eccentrically affixed across the front with a rubber band, like a daring, acrobatic writing tool.
The project is emblematic of a Kippenberger problem: Conceptual art is language-driven, wary of painting and sculpture and cautious of the art market. However, inspired by such diverse countrymen as Joseph Beuys and Gerhard Richter, Kippenberger struggled with the flexible possibilities of making salable Conceptual sculptures and paintings. The results are mixed.
"Blue Lagoon," eight sheet-metal sections of a blue Ford Capri, welded to hangers and suspended on the wall, is a sophomoric joke. It tweaks the transcendent beauty of the watery Italian grotto referred to in the car's model.
The anxiety of the dilemma, however, is nicely evoked in 1985's "The Modern House of Believing or Not," a six-panel picture painted in the colors of stomach bile. It shows Frank Lloyd Wright's Guggenheim Museum, founded as an American tribute to the spiritual power of European nonobjective art. Kippenberger's cobbled-together work sheds any pious idealism, depicting instead a monstrous factory, or perhaps some bizarre "death star," ringed by storm clouds.
His doubts about the limitations of Modernist art were widely shared. So a 1987 series of paintings making fun of an abstract grid -- the iconic Modernist format -- by portraying it as a variety of gingham plaids seems little more than coy. He could be very funny, but intentionally bad painting was already a 1970s fad; this insertion of the idea into the roaring '80s art market doesn't add much.
By contrast, Kippenberger's modest drawings made on simple sheets of hotel stationery are his most sustained body of work, representing the disconnected nomadism of contemporary art-life in myriad ways -- poignant, perverse, matter-of-fact and daydreamy. During his brief career he lived and worked in Hamburg, Florence, Berlin, Paris, Cologne, Los Angeles, Seville, Madrid, Frankfurt and Vienna. Which is to say, everywhere and nowhere. The solitariness of looking at scores of small hotel doodles keys right into their disengaged motifs.
MOCA curator Ann Goldstein has split the big show in two, with most of it in the museum's main building and a few works in Little Tokyo's Geffen Contemporary. It concludes with "The Happy End of Franz Kafka's 'Amerika,' " a soccer-field-size 1994 installation. The customized found-furniture transforms a bleak Midwestern employment office into a Mad Hatter's tea party. Negotiations over individual human dignity and worth are undertaken in such places, and it's not a pretty sight.
The work is also clearly a meditation on the place of artists in the often vicious spectacle of contemporary society. Like in "Santa Claus Lamp," a ghastly desolation thrums within Kippenberger's field of brutal play. Its Dickensian timeliness reverberates.
christopher.knight@latimes.com
MOCA, 250 S. Grand Ave. and 152 N. Central Ave., Los Angeles. Closed Tuesdays and Wednesdays. Ends Jan. 5. (213) 626-6222. www.moca.org.
---