'Memphis' at La Jolla Playhouse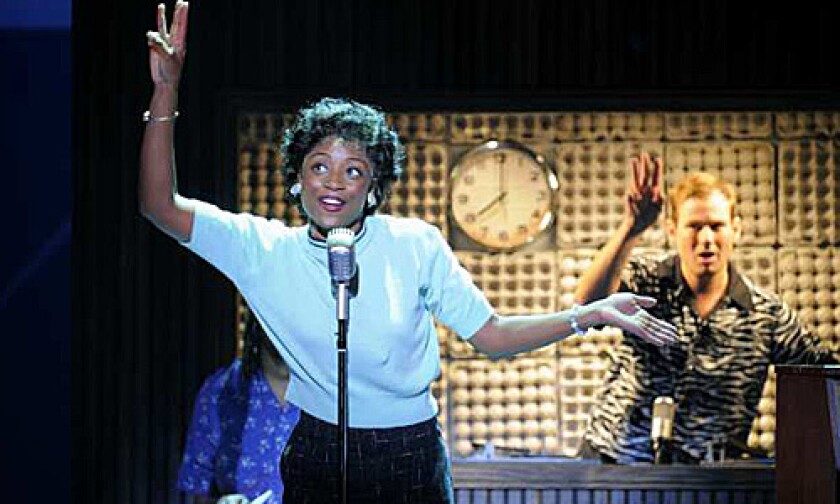 Los Angeles Times Staff Writer
LA JOLLA -- The story of early rock 'n' roll is a truly American tale.
The music probably wouldn't have been possible if not for the proximity of people from diverse backgrounds, overhearing each other and appropriating what they liked. Yet if America in the late 1940s and early '50s was beginning to come together in music, the country, in most other ways, remained deeply divided. "Memphis" -- a musical being given an exuberant, high-gloss staging at La Jolla Playhouse -- looks back on this time and finds a message at once chilling and full of hope.
The agents of change in "Memphis" are radio DJs who dared to cross America's color line by playing the music of black artists alongside that of white musicians. In the fictionalized figure of Huey Calhoun reside many of the traits of one DJ in particular: Memphis' Dewey Phillips.
Since this is a story about music, it seems only appropriate that that's what's heard wall to wall, separated only by relatively brief sections of dialogue. Composer and co-lyricist David Bryan, a keyboard player and songwriter for Bon Jovi, gives the songs the vintage sounds of gospel and rhythm and blues. Listen closely and you can hear these numbers not only giving voice to the characters' emotions, but also charting, through gradual developments in the sound, the early course of rock 'n' roll.
Backed by nine members of an onstage band, the songs build to incredible peaks of energy. The audience responds with the sort of roar you usually hear only in sports stadiums.
As directed by Christopher Ashley, La Jolla Playhouse's new artistic director, the musical is given the fluidity and high-tech stagecraft of -- dare we hint? -- a Broadway show. No stranger to New York, Ashley directed the Elvis hit-parade musical "All Shook Up," which, like "Memphis," was written by Joe DiPietro, best known for the musical-revue phenomenon "I Love You, You're Perfect, Now Change."
Scenes change almost cinematically thanks to panels that iris like a camera's lens, a DJ booth that pops up from and descends back into the floor, and a lot of moving set pieces. The look is very much of the story's period, and yet, given all of the technology unleashed by designer David Gallo, it's also distinctly of the 21st century.
Huey is a nonconformist, a man ahead of his time. As played by Chad Kimball (who made such a strong impression, despite being in a cow costume, in the 2002 revival of "Into the Woods"), he's lovable but a bit of a pill. Dirt poor and not expected to amount to anything, he advances through sheer force of will. He's so wound up that his mere presence is exhausting.
He's given a love interest: a local black singer, played by Montego Glover, who has the dynamite voice and electric presence that could carry her to the big time. Their attempt at romance is symbolic of the larger struggle being depicted. Unready to see them together, society knocks them down.
The show's ideas aren't new; we've seen much of this before in "Dreamgirls," "Caroline, or Change" and "Hairspray." And even though so much of the presentation, including the choreography by Sergio Trujillo, is energetically crafted, the headlong rush of the first act dissipates in the balkier second, and neither act knows quite when to stop.
But this is a story about obstacles overcome, and "Memphis" leaves its audience with a lot to feel good about. In its best moments, America sings a song of inclusion, and as one, we rock 'n' roll.
"Memphis," Mandell Weiss Theatre, Revelle College Drive at La Jolla Village Drive, UC San Diego campus. 7:30 p.m. Tuesdays and Wednesdays, 8 p.m. Thursdays and Fridays, 2 and 8 p.m. Saturdays, 2 and 7 p.m. Sundays. Ends Sept. 28. $46 to $75. (858) 550-1010 or www.lajollaplayhouse.org. Running time: 2 hours, 25 minutes.
---
Your essential guide to the arts in L.A.
Get Carolina A. Miranda's weekly newsletter for what's happening, plus openings, critics' picks and more.
You may occasionally receive promotional content from the Los Angeles Times.