Louis Vuitton suit adds fraud allegation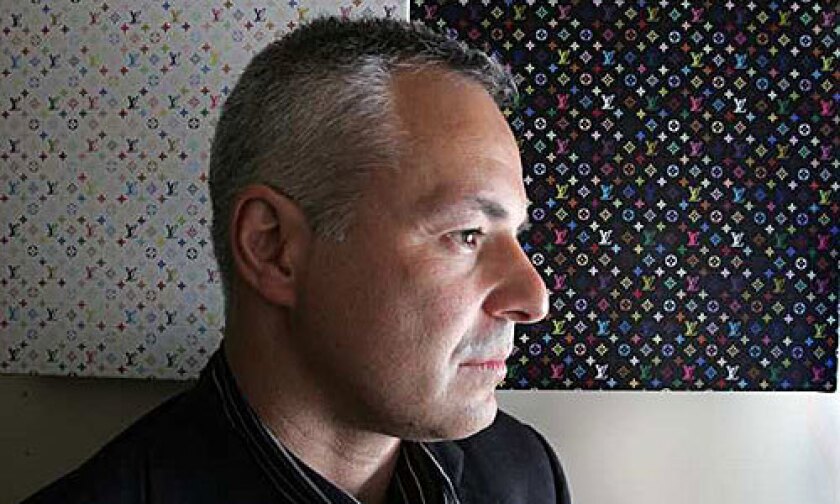 They may not have realized it, but the folks who snapped up as much as $4-million worth of limited-edition prints by artist Takashi Murakami two years ago at the special Louis Vuitton boutique inside his exhibition at L.A.'s Museum of Contemporary Art apparently were getting nicely mounted handbags -- minus the snaps and straps.
At least one buyer, Clint Arthur, is steamed enough to have sued Louis Vuitton for fraud. "Louis Vuitton . . . knew that neither [Arthur] nor anyone else would pay $6,000" if it was clear they were getting factory leftovers from handbag production, says a legal memo that Arthur's attorneys filed last week in U.S. District Court in Los Angeles, countering Louis Vuitton's attempt to have Judge A. Howard Matz dismiss the case as groundless.
The point of installing a boutique inside the "Copyright Murakami" exhibition at MOCA's Geffen Contemporary building was to highlight the Japanese pop artist's trademark blurring of the lines between art and commerce, MOCA officials said at the time of the 2007-08 show. But Arthur contends that selling repurposed handbag material as 500 collectible art prints priced at $6,000 and $10,000 crossed the line from commerce to fraud because Louis Vuitton allegedly hid the fact that the prints were made from the same fabric sheets as the Murakami-designed bags and accessories selling nearby for almost $1,000.
When Arthur initially sued Louis Vuitton North America and MOCA last June, those class-action lawsuits alleged only that both had failed to provide information about the artworks required under California's Fine Prints Act.
He and his attorneys added the fraud allegation in August, after finding a 2007 interview in the journal ArtInfo in which MOCA's chief curator, Paul Schimmel, admitted that he was "surprised" that Murakami "took the materials that he had printed for various [Vuitton] products . . . and he had them stretched like paintings and made into a very large but numbered edition" of prints to be sold in the boutique. Schimmel had invited the artist and Louis Vuitton to set up the store inside the Geffen exhibition -- a rare, if not unprecedented, move for a major art museum.
Attorneys for the multibillion-dollar luxury goods company argue in legal papers that Arthur has no case because, as an experienced collector of fine art prints, he should have known from the context that he might be getting something that would blur the lines between art and manufacture. "Such ambiguity is . . . part and parcel of the Murakami aesthetic and thus, was part of the bargain," says one Louis Vuitton legal memorandum in the case.
Louis Vuitton also argues that because the boutique's sales brochure advertised the prints as "canvasses revisited by Takashi Murakami," and because their design was identical to handbags in the same boutique, Arthur should have known that he wasn't getting what he says he expected: works created specifically as limited-edition prints.
Arthur's refusal to take a refund of the $12,000 he paid for two prints, plus interest, shows that his suit is merely an "opportunistic" bid for "windfall profits," Louis Vuitton further contends. A hearing is scheduled for Monday on the motion to dismiss. A spokeswoman said Wednesday that the company had no comment beyond what's in its legal briefs.
Arthur, a Los Angeles resident who owns a company that sells gourmet butter to restaurants, says he's driven more by the urge to reveal art-world wrongdoing in high places than to reap a big verdict or settlement.
"For this to happen with one of the world's top artists in one of the world's top art museums stinks . . . and that's why I'm going to keep going until I get to the bottom of this," he said. "Who came up with this scam? Why did they do it? Is this some sort of mischief Murakami's having at the expense of his collectors?"
Arthur scoffs at Louis Vuitton's suggestion that the handbags on sale nearby should have tipped him off that the prints were not an original design: "It's not my responsibility to inspect their handbags. I'm only interested in collecting fine art." As for the prints being sold as "revisited" Murakami works, Arthur said: " 'revisited' means he's gone back and done another take . . . another riff on that same concept or idea" -- rather than putting a frame around pre-existing handbag material.
Another new development in the case is Louis Vuitton's admission that it ignored some provisions of California's 39-year-old Fine Prints Act, which requires dealers in limited-edition prints to disclose an array of information, including how the works were created and to post a sign informing customers of their rights under the law.
"Louis Vuitton is not ordinarily in the business of selling fine prints, but rather is in the business of manufacturing and selling luxury handbags, luggage and accessories," contend the company's attorneys in a memo intended to persuade the judge that its violation of the act was not done "willfully." If it was, the merchant could be subject to damages under the Fine Prints Act of triple what it originally charged for the prints -- potentially $12 million if Arthur's case goes forward as a class action.
The separate class-action suit against MOCA in Los Angeles Superior Court, reported by The Times last year, alleges no fraud but concerns failure to provide proper certificates for three Murakami prints that Arthur bought for $2,655 at the regular museum shop. Judge William Highberger is expected to rule by summer whether that case should go forward. MOCA contends that the suit should be dismissed because last month it gave Arthur the legally required certificates it had previously failed to provide; Arthur says that in describing two of his purchases as "posters," the certificates raise even more troubling questions about whether MOCA was cheating buyers by charging inflated, limited-edition prices for mere posters.
Suing to assert his rights under the Fine Prints Act is "not some trifling nuisance," Arthur said. "These are investment-quality art products. The disclosure impacts their value, and the success or failure of my investment. It also tells whether or not I was scammed."
---
Inside the business of entertainment
The Wide Shot brings you news, analysis and insights on everything from streaming wars to production — and what it all means for the future.
You may occasionally receive promotional content from the Los Angeles Times.