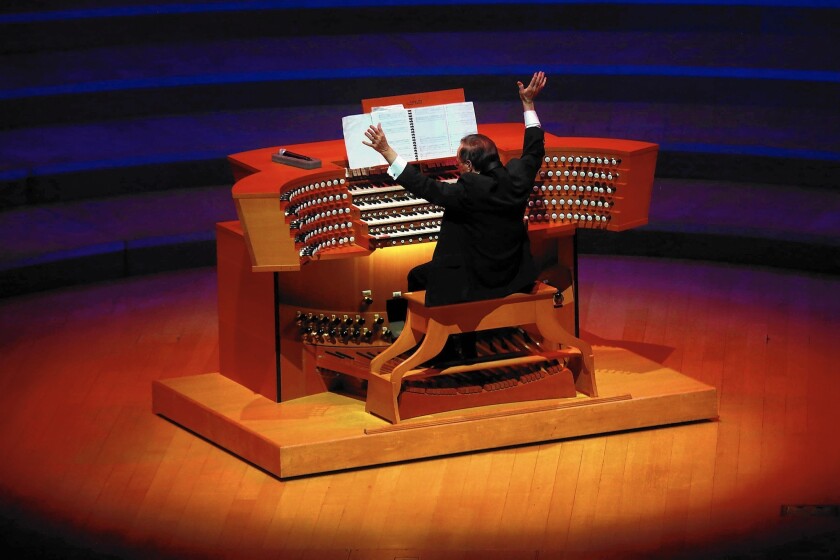 Los Angeles Times Music Critic
Once the flashiest organist of his generation, a controversial '60s classical musician whose Bach rocked and who turned Couperin into psychedelic pop song, Anthony Newman appeared the model of a mild-mannered 73-year-old at his Walt Disney Concert Hall recital Sunday night. He wore a baggy tuxedo with a white pocket-handkerchief. He spoke timidly to the audience.
His playing was not flashy, although it was often loud. His phrasing could be surprisingly pedestrian — score-bound, emphasizing downbeats, clipping final notes. In two well-known Bach pieces — Toccata, Adagio and Fugue in C Major and Fugue in G Major ("Gigue") — he went in for thick textures, the details of counterpoint not obvious.
There were moments, all evening, when he seemed to be sight reading, which was more than a little peculiar because everything other than those Bach pieces were either written or arranged by Newman. But none of this means Newman has lost his ability to perplex and, when all goes right, astound. He remains a one-off, full of fascinating, even flamboyant, contradictions behind his modest exterior.
To begin with, he happens to be the composer of what may be the strangest opera of our time. There have been a number of Marilyn Monroe operas, an "Anna Nicole" and even "The Devil and George Bush." But Newman's "Nicole and the Trial of the Century" tops them all for novelty. It is the O.J. trial treated in the musical style of a Handel opera. An L.A. production (or one anywhere) is long overdue.
Knowing of the wonderful perversity of "Nicole" helps put the many contradictions of Newman's Sunday recital in perspective. He began with a set of his Baroque trumpet-tune arrangements. These once-obscure tunes, thanks in part to Newman's advocacy of them in the '70s, brought them into the popular realm of "Masterpiece Theater" and a British wedding. On this occasion, Newman merrily barreled through them, bringing out few details, obscuring pretty much all that made them popular.
Then he turned to his own fantasies based on Stravinsky, who happened to dislike the pipe organ. First, Newman gave the full 18th century heavy German, God-glorifying cathedral organ treatment to excerpts from "Oedipus Rex," an oratorio inspired by Verdi but written in Stravinsky's 1930s French/Russian neo-Classical style. A thick layer of organ fat replaced Stravinsky's lean instrumental style, and the thundering opening Oedipus theme was delivered with earthshaking power.
More peculiar still was the world premiere of Newman's Fantasia and Fanfare on Stravinsky's "Canticum Sacrum." Although he came out of an avant-garde '60s tradition, the organist has adamantly returned to tonality and folkish accessibility. "Canticum Sacrum," however, is a work from 1956 in which Stravinsky was moving toward the 12-tone style that Newman has made such a point in rejecting.
What Newman does in this fascinating fantasy and fanfare is isolate Stravinsky's rhythmic procedures and find in them something almost akin, if far spicier, to the Baroque trumpet fanfares with which he began the evening. In the end, Newman, who has long been an ascetic Zen practitioner, offers a scintillating dolling-up of Stravinsky's ascetic late style.
In the second half, Newman had another companion piece and premiere. But he played both his new Adagio, Toccata and Fugue in D Major and Bach's Toccata, Adagio and Fugue in surprisingly offhand ways, making little effort to bring out details. Had he wanted to, he could have gone to town with his jazzy toccata.
It was at this point that I came to the conclusion that Newman is a Zen organist. He simply reflects in his playing the attitude of no attachment. He may lay on the volume for effect, but he resists the idea of momentum.
But then he went and made a big deal of three small, early, minimal Mozart sonatas (K. 283, K. 67 and K. 278), which Newman arranged grandly for organ. Here he played Mozart with goal-directed momentum and engaging flair. Bach's "Gigue" Fugue followed in swinging style.
The short encore was "Le CouCou," a delightful ditty by the 18th century French composer Louis-Claude Daquin. Newman brought, for the first time all night, a light touch and colored it exquisitely.
Twitter: @markswed

---