Review: 'Tone Clusters' a darkly prescient work by Joyce Carol Oates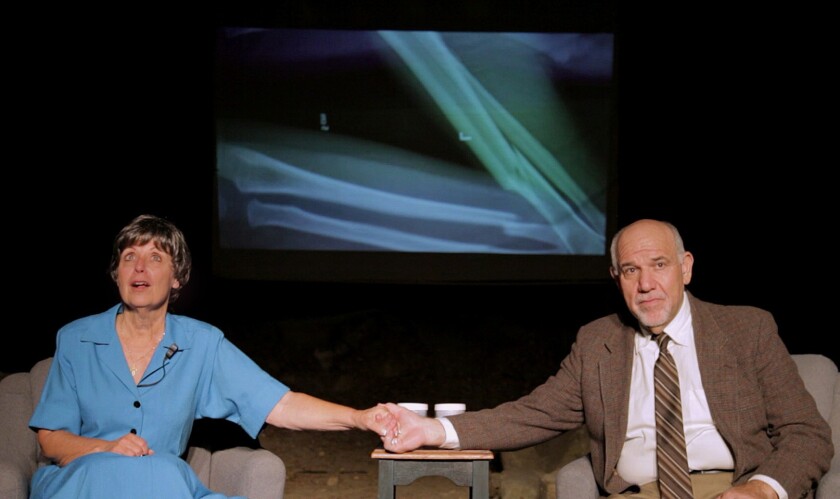 We all have a yearning for a coherent narrative in life, maintains Joyce Carol Oates, but that illusory comfort is off the table in her one-act play, "Tone Clusters," at Will Geer's Theatricum Botanicum.
For anyone familiar with Oates' fiction, it will come as no surprise that the piece is dark, elliptical and uncompromising in its intellectual rigor. Written in 1990, it also proved eerily prescient in depicting the media's ever-increasing voracious and invasive exploitation of tragedy.
L.A. stage veterans (and real-life spouses) Alan Blumenfeld and Katherine James are perfectly cast as the Gulicks, seemingly ordinary New Jersey suburbanites being profiled in an abstractly-rendered TV studio by an unseen interviewer (voiced by Jeff Wiesen). As designer Chris Sibley's disturbing video montages play out behind them and flanking monitors display their reactions in close-up, the couple squirm and flounder as they're bombarded with questions that span particle physics to Aristotelian logic to neural circuitry while obliquely circling the real reason they're being interviewed.
With only a sliver of knowledge of the world around them, they have no language to deal with metaphysical questions, Oates commented in a guest appearance at the show's opening night post-play discussion. Their distress only deepens as the interviewer zeroes in on their recollection of events surrounding a brutal murder.
"The more you think about something you remember," Oates added, "the more lost you become on a sea of uncertainty." Mike Peebler's staging mercilessly traces the Gulicks' emotional disintegration as they employ denial, deflection and rationalization to dodge a horrifically painful truth.
Four brief opening monologues by Oates, (performed by Jonathan Blandino, Cynthia Kania and the particularly effective Sarah Lyddan) explore cross-dressing, anorexia and the sudden end of a marriage, peeling back the corner of a window into solitary secrets without surrendering their mystery.
ALSO:
Artifacts continue the 9/11 narrative in a new book
Critic's notebook: Nearly 10 years old, Disney Hall needs upgrades
Zumthor's LACMA design has potential, but think of the factory model
"Tone Clusters," Will Geer's Theatricum Botanicum, 1419 N. Topanga Canyon Blvd., Topanga. 8 p.m. Thursdays through Sept. 26, Friday Oct. 4, ad Saturday Oct. 12. $25. (310) 455-3723 or www.theatricum.com. Running time: 1 hour, 30 minutes.
---