Culture and Trump: Los Angeles artists speak out on why they joined the march for women
They began to gather just after 7 a.m. Saturday at the Good Luck Gallery, a small art space on Chung King Road in Los Angeles' Chinatown. Owner Paige Wery, who showcases the work of outsider artists, threw open the doors in advance of the women's march in Los Angeles to offer artists, friends and colleagues a base from which to attend the downtown action.
She also offered hot coffee, a bathroom and a table full of art supplies — so that last-minute arrivals could produce protest posters.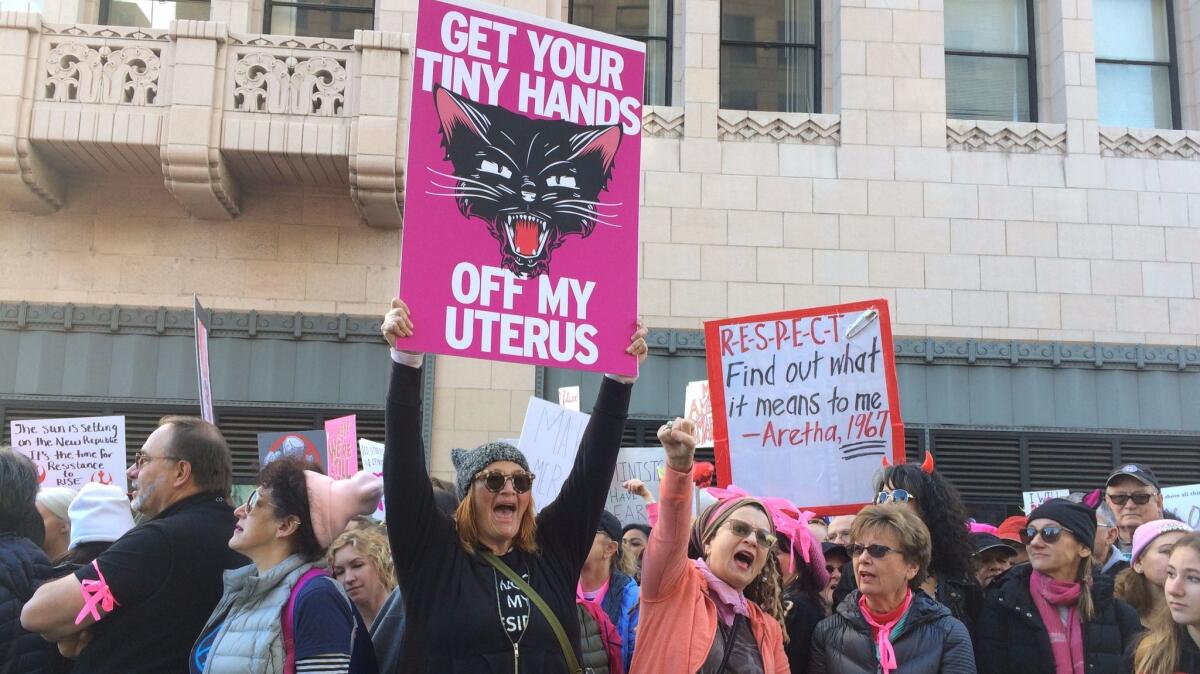 "I didn't know if anyone would show up, but they did!" Wery said. "There were people here all day yesterday, too. A lot of artists — but also a lot of people I'd never met."
Paul Kopeikin, who runs Culver City's Kopeikin Gallery, showed up with boxes of doughnuts and a fabric sign on his back that read "Not My President."
"I think artists feel they belong to a group that is directly affected," said Kopeikin, bearing a placard that reads "Unity!"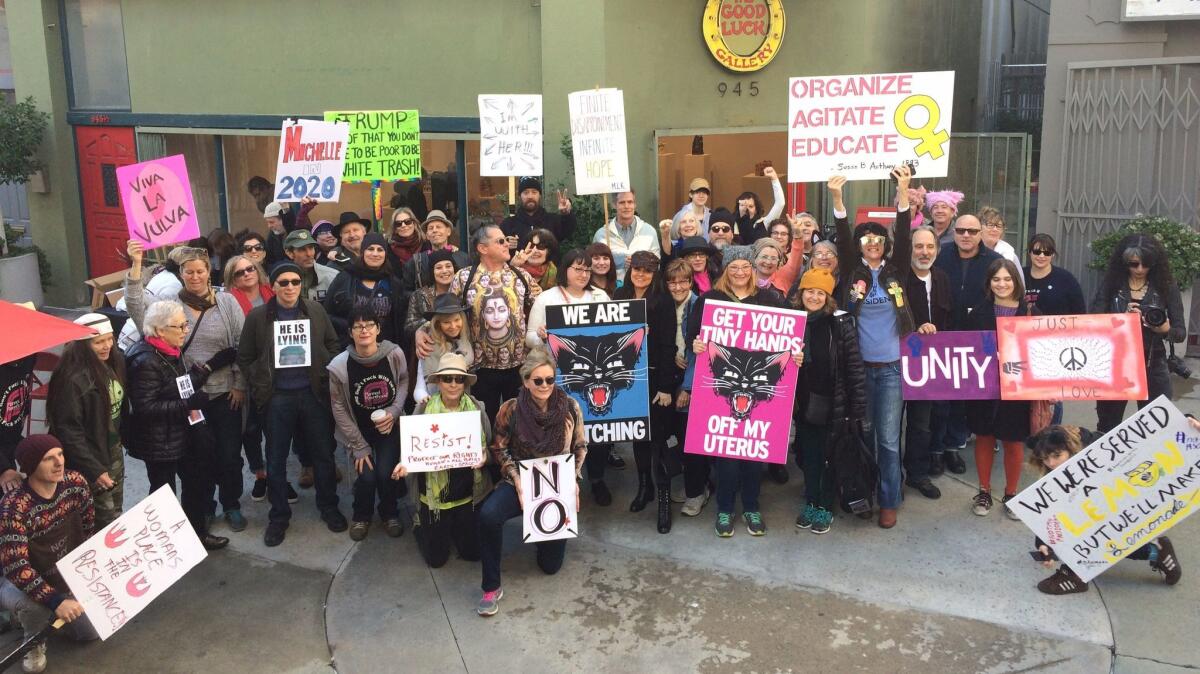 Artists need to bring that voice of opposition to this cause — with every drop of blood and every tear.
— Catherine Opie, artist
"Trump represents the worst," Kopeikin continued. "He doesn't give money to the arts. He doesn't give money to anything. He's unique in that he doesn't support anything."
The Women's March has energized artists and other arts workers from all over Los Angeles. Throughout the week, groups have been gathering at arts spaces such as East Los Angeles' Self-Help Graphics and the Santa Monica gallery complex Bergamot Station to fabricate posters and establish meeting points in advance of the protest. On an artist loft building on Spring Street downtown, the painter known as Gronk hung a flag of his recurring female character, Tormenta, to cheer on the protesters.
At 8:45 a.m., the group of artists at Good Luck Gallery gathered for a group portrait and then began the 30-minute walk to Pershing Square, the starting point of the march.
Chris McCall said she was motivated to attend for a number of reasons. Among them: Trump's position on the arts.
"I'm an art advisor," she said. "I spend my time championing artists and he wants to cut the [National Endowment for the Arts]."
The group melded into the larger crowd near Pershing Square where artist Catherine Opie, a renowned photographer who sits on the board of the Museum of Contemporary Art, was taking pictures (and helping with crowd control).
"It is often artists who are a public voice of opposition," she said. "And artists need to bring that voice of opposition to this cause — with every drop of blood and every tear."
She stood amid the thousands who were stuffed into the sidewalks near Broadway and 5th Street, bearing signs that read, "My Kids Deserve Better" and "Get Your Tiny Hands Off My Uterus."
Close to 10 a.m., someone with an earpiece shouted, "Somebody get the celebrities!"
Jane Fonda soon materialized with a group of other women, carrying a large banner that read, "Rise Against the Predator in Chief." Soon after, a row of motorcycles grinded their gears and the march began to move chaotically forward.
Opie snapped away amid the sea of people in face paint and costumes and pink caps — and moments later she was lost in the crowd.
--------------
This is one of several inaugural weekend dispatches in which I follow L.A.'s cultural institutions, big and small, to see how they are responding — or not — to the advent of the Trump administration.
Sign up for our weekly Essential Arts & Culture newsletter »
ALSO
Culture and Trump: Artist Edgar Arceneaux on inauguration day at LACMA recalls Reagan's inaugural gala
Artist R.H. Quaytman blocks public access to her MOCA painting in protest of Trump inauguration
The L.A. artist who lip-synced Donald Trump's inauguration speech as a clown
The Actors' Gang joins theater world's national call to create light for 'dark times'
Culture and Trump: A free comic offers artist 'Resist!'-ance at the Hammer Museum
Get our L.A. Goes Out newsletter, with the week's best events, to help you explore and experience our city.
You may occasionally receive promotional content from the Los Angeles Times.