Child separation during World War II: How an exhibition at L.A.'s Museum of the Holocaust resonates today
Karola Ruth Siegel was just 10 years old when her mother put her on a train from Frankfurt to Switzerland. It was winter, sometime in January 1939.
"I remember my mother hugging me," she recalls. "I remember my grandmother running when the train pulled out. My grandmother was a very religious woman. She said, 'Trust in God. We are going to see each other again.'"
They never did.
Siegel — now better known as Dr. Ruth K. Westheimer, the popular sex therapist — was one of the 10,000 Jewish children who fled Nazi Germany on the "Kindertransport," an international, non-denominational rescue effort that got Jewish children out of Germany, Austria, Czechoslovakia and Poland in 1938 and 1939, right before the outbreak of World War II.
Like the majority of Jewish children who fled Nazi territory on the Kindertransport (German for "children's transport"), Westheimer was the only member of her immediate family to survive the war.
Of her girlhood life in Frankfurt she retains only memories — and a small washcloth bearing her initials.
"The only thing I took was a washcloth," she says via telephone from New York City, where she has lived since 1956. "For whatever reason I do not know."
I don't do politics, but I felt a moral obligation to speak up.
— Dr. Ruth Westheimer
This year marks the 80th anniversary of the Kindertransport, the subject of a new exhibit at the Los Angeles Museum of the Holocaust. "Childhood Left at the Station: A Tribute to the Children of the Kindertransport," as the exhibition is titled, is a tiny show, focusing on the stories of 10 individuals — including Dr. Ruth — whose parents were willing to send them into the hands of strangers in the hopes that they would survive the ravages of the Nazi regime.
But it couldn't be timelier, landing at a moment when U.S. headlines are filled with reports about child separation policies deployed (and later rescinded) by U.S. authorities at the Mexican border, policies that have split parents from children and led to traumatic reunions.
Curator Jordana Gessler says the timing is coincidence, since the exhibition has been in the works for a year and a half. "But I've been saying a lot in the last few months that when I was conceiving this exhibition, never did I think it would be as timely as it is."
Certainly, the contexts are wildly different: The Kindertransport separated children from their parents as a way of saving them from the Nazis, while the U.S. government has separated families at the border as a way of dissuading further immigration. But the angst of children pried from parents serves as gripping point of intersection.
"When people don't look at the past, history repeats itself," Gessler says. "There are so many things we could be learning that people unfortunately are not learning."
Each of the 10 personal stories in "Childhood Left at the Station" serves as a stand-in for 1,000 others; an estimated 10,000 children were shipped out.
"I wanted to have a show that covered the vast areas that these children came from," Gessler says. "Some of them came from lower-income families, some came from middle-class families. … They all experienced extreme difficulties."
A few of the stories focus on the experiences of children who became well-known figures, not just Dr. Ruth but sculptor Frank Meisler, known for his design of the Kindertransport monument that currently stands in Liverpool, England. Some of the lesser-known individuals include Charles Susskind, who was 17 when he left Prague. He caught one of the last Kindertransport trains out of the Czech capital, just a few weeks shy of his 18th birthday. (Had he turned 18 any sooner, he wouldn't have been eligible for Kindertransport.)
On display will be the suitcase Susskind carried, bearing the green, hand-painted number that identified him as a child refugee.
"It's tiny," Gessler says. "Probably 18 by 14 inches. That suitcase is all he brought with him."
Susskind later taught electrical engineering at UC Berkeley. He died in 2004.
"No matter how old they were, it's a childhood left behind," says Gessler. "Your hometown, your apartment, your school, your favorite restaurant, your family — everything that we as people associate with childhood being gone forever."
The show is built more on narrative than on artifacts, though there are some of those in the mix — such as old passports, surviving family photos and the Montblanc pen set given to 11-year-old Sylva Oppenheimer as a birthday gift by her parents, the last gift she received from them before she escaped and they were killed.
Particularly poignant are a set of a dozen postcards by Rita Berwald (mother of museum board member Michele Gold).
Berwald, who was born in Leipzig in 1924, was sent to England — the country that accepted the vast majority of child refugees. During her time there, she wrote regular postcards to an aunt and uncle in Switzerland in hopes that they might be able to relay news to her family in Germany.
"They're so demonstrative of the anxiety, fear and sadness of being separated from her parents," Gessler says. "She was so desperate for information from her parents. The postcards are heart-wrenching."
Her parents did not survive the Holocaust. Berwald died in 2008.
But her postcards serve as stirring documents of the past — and perhaps an indicator of a present in which parents and children have been torn apart in the name of politics.
In June, George Packer, a staff writer for the New Yorker, wrote of attending a dinner in New York that included German Chancellor Angela Merkel, former Nixon Secretary of State Henry Kissinger and Westheimer. In his story, he recounted a discussion about the refugee crisis in Europe — and Westheimer's quiet plea about the cost of doing nothing.
"She told us the story of the Evian Conference, held on Lake Geneva, in July 1938, where countries from around the world gathered to debate the plight of Germany's Jews," he writes. "In the end, only one country — the Dominican Republic — agreed to take in a substantial number of Jewish refugees. All the others, including the United States, made excuses."
In an interview with The Times, Westheimer says that she doesn't ordinarily like to get into politics.
"Somebody who talks about sex from morning to night can't talk about politics," she says with humor. "But this, I have to stand up and be counted. I was very upset to see that terrible happening on the border. I don't do politics, but I felt a moral obligation to speak up."
The discussion is heavy, but she signs off with a bit of trademark Dr. Ruth uplift.
"We are a strong country," she says reassuringly. "We are going to survive this."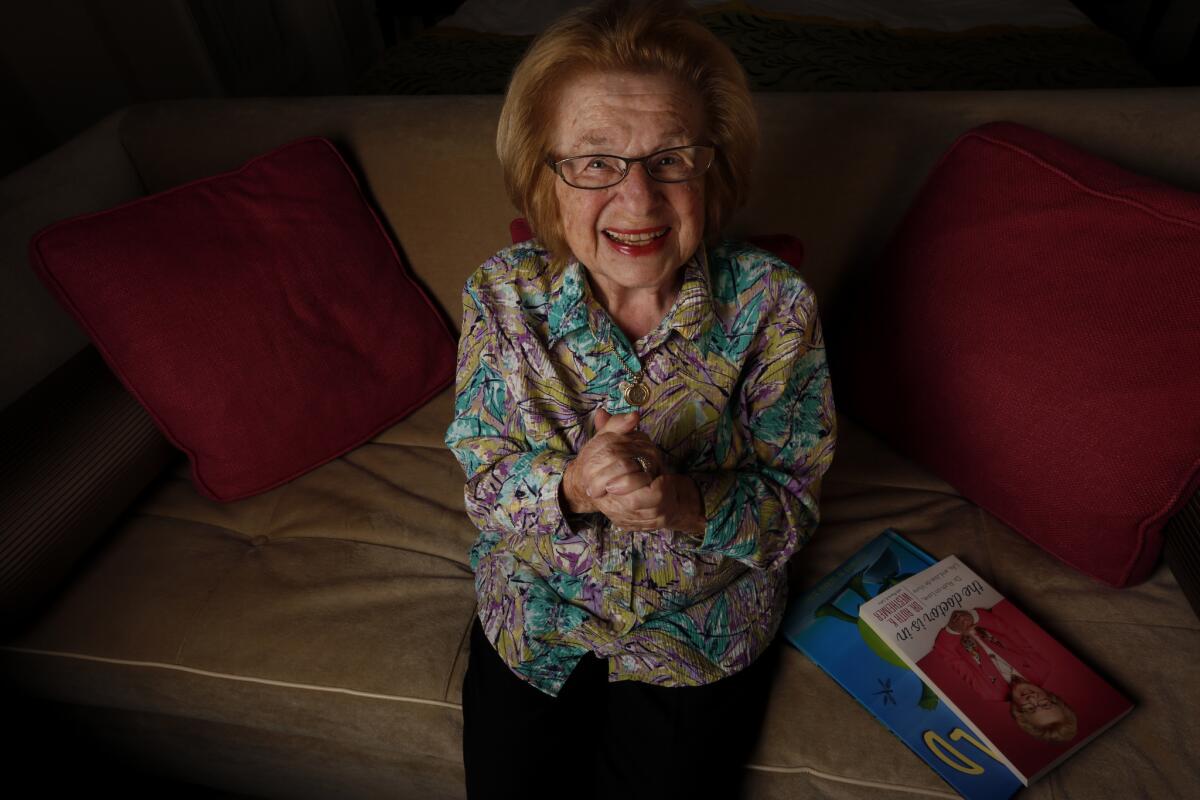 "Childhood Left at the Station: A Tribute to the Children of the Kindertransport"
Where: Los Angeles Museum of the Holocaust, 100 S. The Grove Drive, Fairfax, Los Angeles
When: Through Dec. 31
Info: lamoth.org
ALSO
In installations at the Hammer and MOCA, Lauren Halsey riffs on the nature of space and black identity
'From Hollywood to Nuremberg': How three noted filmmakers used their cameras to document Nazi atrocities
In heightened climate of intolerance, Los Angeles Museum of the Holocaust names new leadership
Lives on the line: How the art of Danica Phelps takes on environmental and humanitarian dimensions
Sign up for our weekly Essential Arts & Culture newsletter »
carolina.miranda@latimes.com | Twitter: @cmonstah
Get our L.A. Goes Out newsletter, with the week's best events, to help you explore and experience our city.
You may occasionally receive promotional content from the Los Angeles Times.