It's the holidays! A good time for a bit of Shakespeare, some "Amelie" and John Adams' "El Niño." I'm Carolina A. Miranda, staff writer at the Los Angeles Times, with the week's most intriguing (and furriest) cultural stories:
Happy Holidays!
The official art dogs of The Times wish you peace and love and liver treats! They are: Henry Knight, an Australian Terrier who loves long walks in the park, as well as Australian aboriginal art (especially bark painting), and serves as research assistant to Times art critic Christopher Knight; and my canine chaperone Bonnie Miranda, an American Staffordshire Terrier who adores nude sunbathing and the Viennese Actionists (all that meat!). For the record: No dogs were harmed in the making of these photos. Though I can't say the same for The Times' photo studio …
A Shakespearean year
A year that saw all manner of political melodrama couldn't be a more perfect one in which to consider the plays of William Shakespeare, with their power grabs and scheming. It also happened to be the 400th anniversary of the Bard's death. Times theater critic Charles McNulty rounds up the year's "rich banquet of productions" — from a mesmerizing staging in Dutch by Ivo van Hove to Phyllida Lloyd's "Shakespeare Trilogy," which set several of the playwright's works in a contemporary women's prison. Los Angeles Times
On a lighter dramatic note, McNulty also checked out the production of "Amélie, A New Musical" at the Ahmanson Theatre in Los Angeles. Starring Phillipa Soo, who appeared in "Hamilton" on Broadway, this quirky show, writes McNulty, "is the perfect holiday bauble." It's on view through Jan. 15. Los Angeles Times
Holiday productions
And since we're on the subject of holiday entertainment, there are a number of new productions that make for good family outings:
— At the Segerstrom Center for the Arts in Costa Mesa, there is "Elf the Musical," inspired by the Will Ferrell movie about an elf named Buddy who goes to New York City in search of his father. Los Angeles Times
— The humor-inclined Troubadour Theater Company pays tribute to David Bowie in "Little Drummer Bowie" at the Falcon Theatre in Burbank. Los Angeles Times
— And "The King and I" is on view at the Pantages Theatre in Hollywood. The sumptuous musical about the life of a Western teacher in a Siamese court features a "blissful" cast and "eye-popping" sets, according to reviewer F. Kathleen Foley. Los Angeles Times
A revelatory Nativity oratorio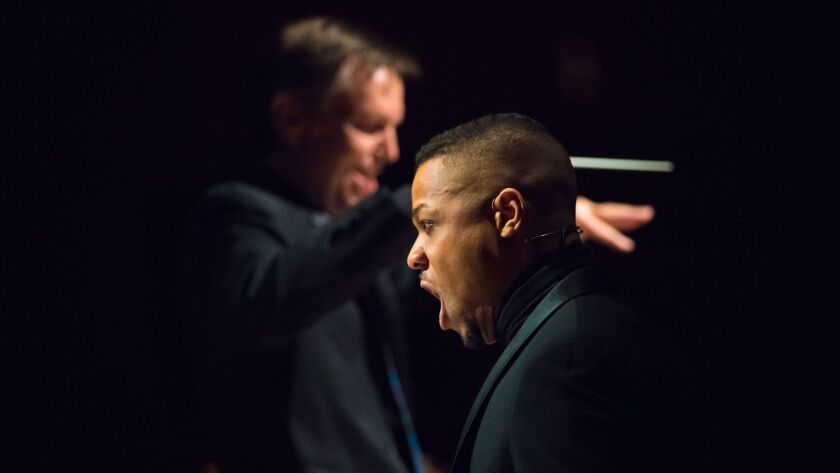 A pair of back-to-back performances at Walt Disney Concert Hall paired Handel's "Messiah" with a work it helped inspire: American composer John Adams' Nativity opera "El Niño," which first premiered in 2000. Classical music critic Mark Swed reports that "Messiah" was "smoothly radiant and elegant" but "lacked any element of surprise," while "El Niño" featured a "rhythmic energy" and "exact lilt of difficult syncopations" that made it feel vital. Los Angeles Times
Rick Owens furniture, sort of
A new exhibition of furniture by avant-garde fashion designer Rick Owens at MOCA's Pacific Design Center exhibition space is really the work of his wife and partner, Michèle Lamy. The name of the exhibition, in fashion industry style, is attributed to the house, which bears Owens' name — but the creative force behind the ox-bone benches and a 9-foot totem wrapped in camel hair is Lamy. Owens didn't even appear at the show's opening. "I don't want to get in her way," he told Times reporter Deborah Vankin. "This is really a moment for Michèle." Los Angeles Times
Vankin also writes about the word that the arts simply couldn't get enough of this year: immersive. Los Angeles Times
Speaking of which, the wildly successful Dutch musical "Soldier of Orange" incorporates projections, sandstorms and a rainstorm in a simulated sea — for immersive theater to the extreme. Los Angeles Times
Trump and the Rockettes
The Rockettes are slated to perform at Donald Trump's inauguration. But many of the dancers have expressed concerns about doing so, including one performer who took to Instagram to decry the decision: "The women I work with are intelligent and are full of love," she writes, "and the decision of performing for a man that stands for everything we're against is appalling." The dancers' union, however, has issued a statement saying boycotting the event is "invalid." New York Times, the Wrap, Broadway World
Speaking of which, the lineup is out for the All American Inaugural Ball and it features Lt. Col. Oliver North and an '80s cover band called the Reagan Years. One hopes that somewhere there is a performance troupe called the Iran-Contra Dancers, because that's all this is missing. All American Ball
In other news…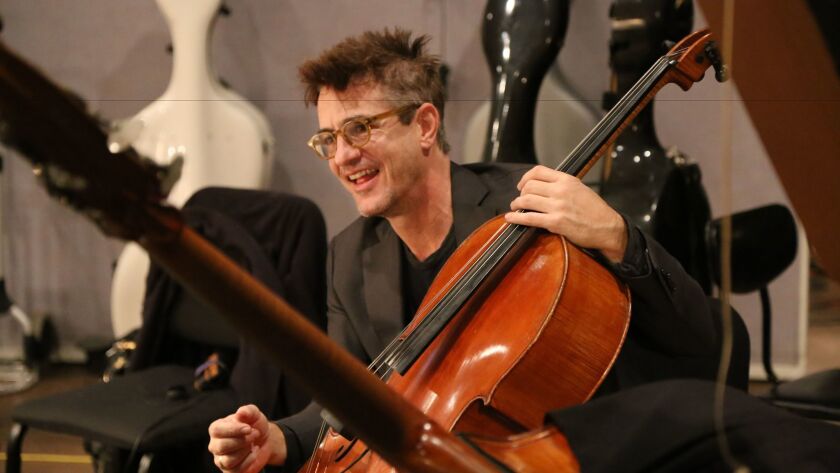 — Actor Dermot Mulroney has a behind-the-scenes role in "Rogue One" — playing the cello. Los Angeles Times
— The Pasadena Playhouse has lined up Al Pacino for a new production of Dotson Rader's "God Looked Away," about the life of Tennessee Williams. Los Angeles Times
— The mariachi men of Yugoslavia. Roads & Kingdoms
— A four-year conservation effort in Belgium has reinvigorated the 15th century Ghent Altarpiece and revealed details about its fabrication. New York Times
— An exhibition of photography at the Japanese American National Museum examines the lives of Japanese American farm labor during World War II. Los Angeles Times
— MOCA's Grand Avenue building has a bright new facade thanks to L.A. painter Jonas Wood. Los Angeles Times
— From a chapel in a juvenile hall to a wall covered in hand-blown bells at the coroner's office, writer Matt Stromberg reports on a years-long inventory of L.A. County's little-known artistic and architectural treasures. LA Weekly
— The new book "Rauschenberg" tracks Robert Rauschenberg's work and legacy. Los Angeles Times
— How red and green became the colors of Christmas. (Hint: Coca-Cola.) NPR
— Elegant images of the 1970s cars of New York City. (Look at all that parking!) Automobile
— Novelist Zadie Smith on optimism and despair. New York Review of Books
And last but not least…
Blood Orange's hypnotizing video ode to contemporary dance. Dance Magazine
Thank you for reading throughout 2016! I will see you all in the new year!
Sign up for the Essential Arts & Culture newsletter »
Find me on Twitter @cmonstah.
---