Newsletter: Essential Arts: Interpreting John Cage, Lincoln Jones' 'Burlesque,' a fast-food play and Lari Pittman
Another week. Another slew of interesting culture happenings. I'm Carolina A. Miranda with your weekly dose of what's essential in the world of art and culture:
SPIRIT OF CAGE
In 1965, composer John Cage sketched a composition for piano on hotel stationery in Stockholm. Last week, musicians Thurston Moore, David Toop, Jon Leidecker and Gino Robair interpreted this loose work at the conclusion of a Cage conference in Pomona. Times classical music critic Mark Swed: "I never experienced two sounds sounding the same; under it all was a sense of unseen weird life below the sonic surface." Los Angeles Times
8 MILE PARTY
Mark Swed attended the eight-mile long street party that marked the 100th anniversary of the Los Angeles Philharmonic. Things kicked off at Disney Hall with Gustavo Dudamel leading John Williams' "Music for Brass" and concluded with Williams conducting music from "Star Wars" at the Hollywood Bowl. In between, there were Korean drummers, Katy Perry, Wynton Marsalis and a Oaxacan band. Los Angeles Times
Swed also reviewed the L.A. Phil's official Disney Hall kickoff, which included the premiere of Andrew Norman's "Sustain": "a near out-of-body experience that sounds like, and feels like, the future we want, sans dystopia." Los Angeles Times
Matt Cooper has the week ahead in classical music, including a mini-festival devoted to Claude Debussy. Los Angeles Times
ON BROADWAY & BEYOND
Times theater critic Charles McNulty had a sit-down in New York with Michael Cera and Lucas Hedges, who are appearing in playwright Kenneth Lonergan's "The Waverly Gallery." "Theater isn't natural," says Hedges, who broke out in Lonergan's 2016 film "Manchester by the Sea." "You have to find a way to make something that you know is going to happen surprise you." Los Angeles Times
Plus, McNulty reviews Bekah Brunstetter's "The Cake" at the Geffen Playhouse. The story is about a baker (played by Debra Jo Rupp) who refuses to make a cake for a lesbian wedding. Aspects of the play — sparked by the Supreme Court case about a similar baker who refused to make a wedding cake for a same-sex couple — can feel a bit sitcom-ish, says McNulty. But Rupp's performance "ripples with doubt and misgivings." Los Angeles Times
ON THE STAGE
A franchise sandwich shop serves as microcosm of U.S. work life in Bess Wohl's "American Hero" at the Pasadena Playhouse. The play "approaches big American themes with gentle humor rather than pulverizing seriousness," writes reviewer Daryl H. Miller. Los Angeles Times
Philip Brandes reviews "A Picture of Dorian Gray," based on Oscar Wilde's novella, at A Noise Within. This play emphasizes the story's "psychosexual elements" and actor Colin Bates "effectively charts Dorian's moral decline," he writes, but not all of Wilde's text "lends itself to the stage." Los Angeles Times
Matt Cooper has the latest in theater, including theatrical chameleon Sarah Jones' latest, "Sell/Buy/Date." Los Angeles Times
And Kathleen S. Foley has the latest at 99-seat theaters, including a play that imagines "The Merchant of Venice" from a Jewish perspective. Los Angeles Times
DAGGERS AND TELENOVELAS
Painter Lari Pittman has a new show at Regen Projects that pairs imaginary people with imaginary textiles that bear images of daggers and hand axes. I chatted with Pittman about these, as well as his interest in telenovelas and how violence can be made beautiful. "Aestheticized violence is actually more disturbing," he says. "It's interesting how Catholicism was very, very deft at organizing representations of violence while wearing the garments of the sublime." Los Angeles Times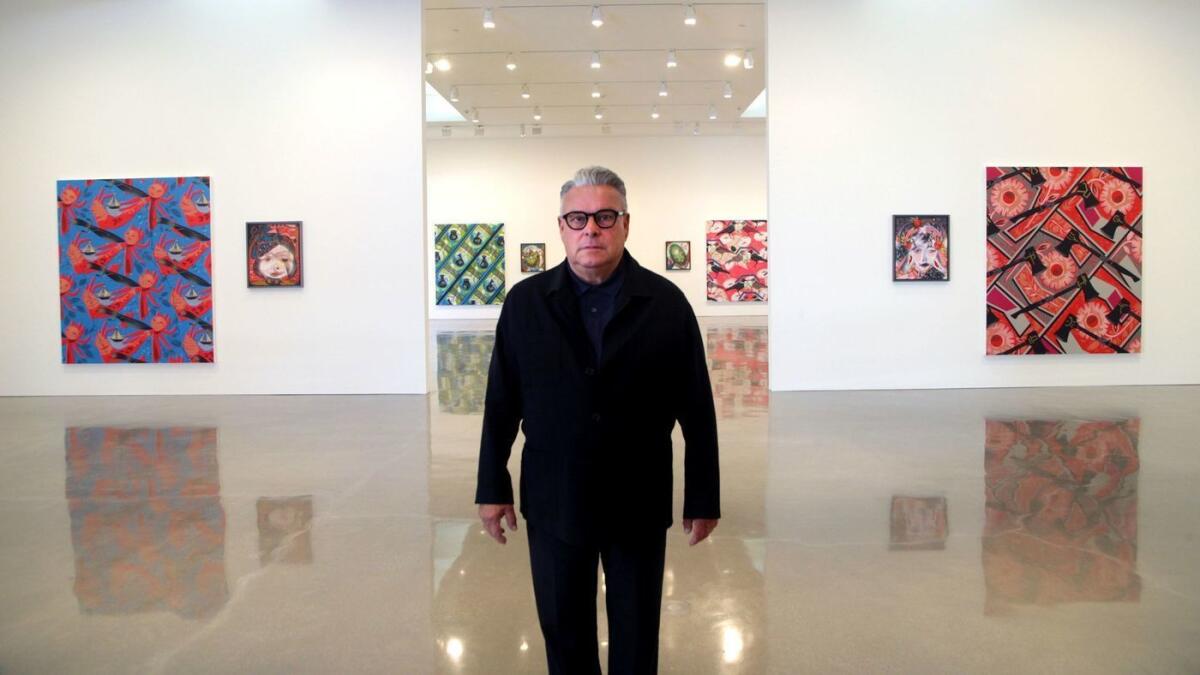 Times contributing reviewer David Pagel reviews Pittman's show. "We usually assume that portraits are for people and that textiles are decorative, a matter of pattern and pleasantness as well as background enhancement," he writes. "Pittman scrambles such 'either/or' exclusivity by painting portraits of each." Los Angeles Times
ADVENTUROUS WOMEN
For years, conservator Maurine St. Gaudens has worked on paintings by early women artists from California and found little to no information available on many of them. "Sometimes you'd get this really great painting and all you'd find is, 'She was a teacher, she lived with her parents and she was a spinster,'" she tells me. To fill the gap — which includes tales of tequila and mules and hysterical fits — St. Gaudens gathered their histories in a four-volume set and a new show at the Pasadena Museum of History. Los Angeles Times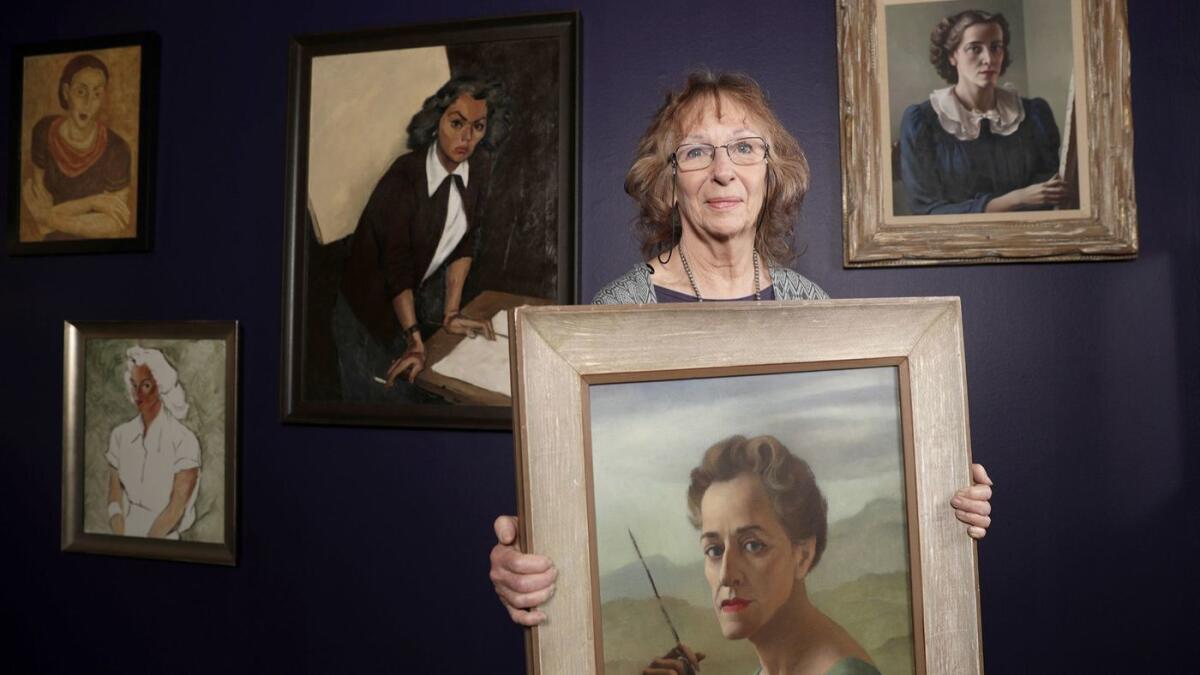 AN ARCHITECT'S WORK
Times contributor Mimi Zeiger profiles photographer Janna Ireland, who has been creating a record of the work of late architect Paul R. Williams, the first black member of the American Institute of Architects. Los Angeles Times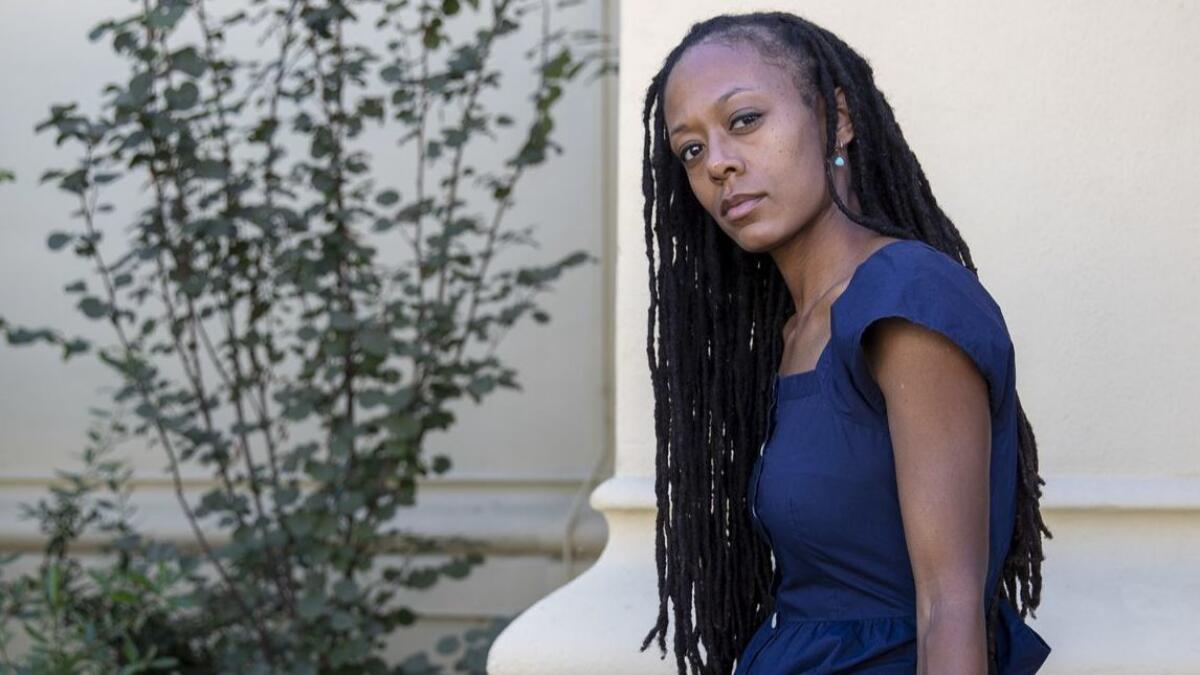 IN THE GALLERIES
Times art critic Christopher Knight has been hitting the galleries. Of a show of photographs by Jo Ann Callis at Rose Gallery that features the artist's staged scenes from the '70s, he says, "Callis masterfully manipulates her fabricated scenes. She leads a viewer to the edge of what could be a violation of social norms — or what could just as easily be nothing remotely untoward." Los Angeles Times
Knight also reviews Celeste Dupuy-Spencer's paintings at Nino Mier Gallery, "bracing" new works that "ricochet off religious fundamentalism," and pieces by Adam Saks at Meliksetian Briggs Gallery inspired by the spiritual pilgrimage to Santiago de Compostela.
A NOVELIST'S ART
When Victor Hugo died in 1885, few were aware he left behind nearly 3,000 pen-and-ink drawings, many composed during his exile on the Channel Islands. "His isolation resulted in haunting images of landscape and architecture," writes The Times' Jessica Gelt. The Hammer Museum will display 75 of these drawings. Los Angeles Times
And check my Art Datebook for many more openings and ongoing gallery and museum shows, including the performance art group En Cuatro Patas, who will appear at the Broad museum to attack a clay bust of a powerful figure one slap at a time. Los Angeles Times
DANCE & SONG
Lincoln Jones took time during rehearsals of his new American Contemporary Ballet work "Burlesque" to talk with The Times' Jeffrey Fleishman about his collaboration on the dance with composer Charles Wuorinen. "It's the most exciting process," Jones said. "You get to create something from scratch. You can plant an idea in a composer's head." "Burlesque," paired with a re-imagining of "Inferno," a previous Jones ballet, will open the company's new season this weekend. Los Angeles Times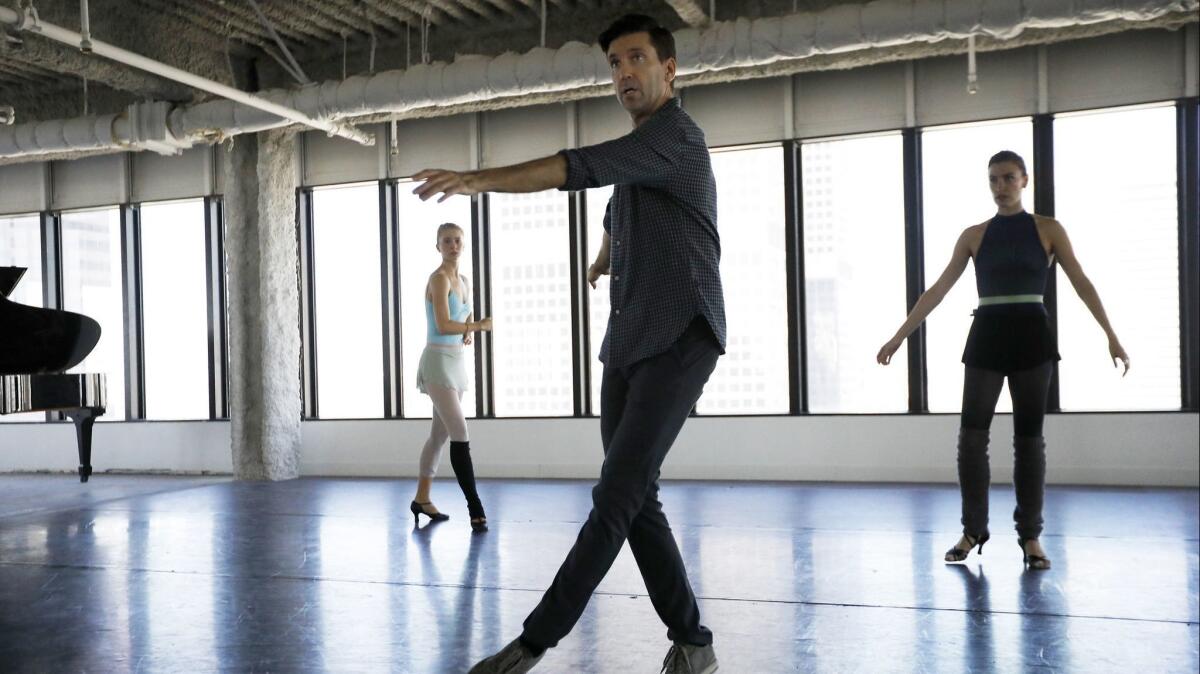 SONG & DANCE
Songwriter Billy Strayhorn wrote some of Duke Ellington's most well-known songs, including "Take the 'A' Train" and "Satin Doll." Now choreographer David Roussève has made him the subject of a new work titled "Halfway to Dawn." Los Angeles Times
Plus, Matt Cooper rounds up what's happening in dance, including an architecturally driven work at the Ahmanson Theatre. Los Angeles Times
IN OTHER NEWS…
— A Miami-based developer has bought L.A.'s Santa Fe Art Colony and artists are now facing 82% rent hikes. Hyperallergic
— Frances Anderton has a great interview with sociologist Eric Klinenberg on why shared public spaces are key to bringing a society together. KCRW Design and Architecture
— The new crop of MacArthur Fellows includes L.A. violinist Vijay Gupta and composer Matthew Aucoin. Los Angeles Times
— Kriston Capps looks at the "sublime viewing experience" architect Thomas Phifer created for the Glenstone collection in Maryland (with a fascinating detour into the workings of the Senate Finance Committee). Washington City Paper
— William Poundstone says Gerald Buck's little-seen collection, portions of which are at UC Irvine, "lives up to the mystique." Los Angeles County Museum on Fire
— "We're talking less about whether a work is good art but simply whether it's good — good for us, good for the culture, good for the world." A terrific essay by Wesley Morris on how we evaluate art in 2018. New York Times
AND LAST BUT NOT LEAST…
The earliest surviving radio broadcast of Duke Ellington. WBGO
carolina.miranda@latimes.com | Twitter: @cmonstah
Get our L.A. Goes Out newsletter, with the week's best events, to help you explore and experience our city.
You may occasionally receive promotional content from the Los Angeles Times.