Essential Arts & Culture: MOCA's new director, Bowling season and LAX-adjacent art
Hello weekend! I'm Times staff writer Carolina A. Miranda with a look at all the hot stuff in the world of arts and culture:
MOCA HAS A NEW DIRECTOR
The big news this week is that after months of turmoil, L.A.'s Museum of Contemporary Art has hired a new director: Klaus Biesenbach, from New York's Museum of Modern Art. Biesenbach, perhaps best known for organizing a survey of Marina Abramovic's work in 2010, told me that he felt "honored and grateful" to assume the post. But critics have raised concerns that the hire doesn't reflect the diversity of Los Angeles. Los Angeles Times
Times art critic Christopher Knight says that MOCA has repeatedly made the mistake of giving the top job to "a series of ambitious curators, whose administrative record is secondary at best" and that "naming Biesenbach to the top post repeats that error yet one more time." But he notes that the MoMA curator may have the know-how necessary to remake the board and thereby reinvigorate the museum. He also offers the incoming Biesenbach some good advice: Make MOCA free, build up the staff and make the museum L.A.-centric. Los Angeles Times
Plus, Jori Finkel reports on L.A.'s (split) reaction to the Biesenbach hire. New York Times
And Lee Rosenbaum on Biesenbach's tone-deaf initial interviews. CultureGrrl
IN THE GALLERIES
Now that The Times has moved to El Segundo (within shouting distance of the LAX tarmac), it is fitting that Christopher Knight is reviewing a show that is connected to LAX: "Grounded," a show of photography by John Divola and Zoe Crosher at the El Segundo Museum of Art, which examines the territory of airports, those "psychologically charged zones of anxiety." Los Angeles Times
Knight also checked out Xavier Cázares Cortéz's "lively installation" at the UC Riverside Culver Center for the Arts — an assortment of flotsam the artist has arranged by color as if it were one vast Color Field painting. Los Angeles Times
Plus: Contributing reviewer Leah Ollman has a look at a group show at Steve Turner that connects the dots between mail art, drawing and weaving, and brims with "small gems and large wonders." Los Angeles Times
And she also checks out a show by Leon Borensztein at Little Big Man gallery, in which the photographer starkly captures the life of his special-needs daughter. Los Angeles Times
Need more art? Find an Icelandic journey and unusual denim fashion in my weekly Datebook. Los Angeles Times
ART OUT OF TIME
Fifty-five works — paintings, photographs, sculpture, film and installation — take on the passage of time in a new exhibition at the Broad museum titled "A Journey That Wasn't." The Times' Deborah Vankin sat down for a Q&A with one of the artists: Elliott Hundley, whose intricate paintings spark with visual drama. "For me, it's about how we interface with information and culture or existential threat," he tells her. "There's a lot in our world that can make us feel quite small." Los Angeles Times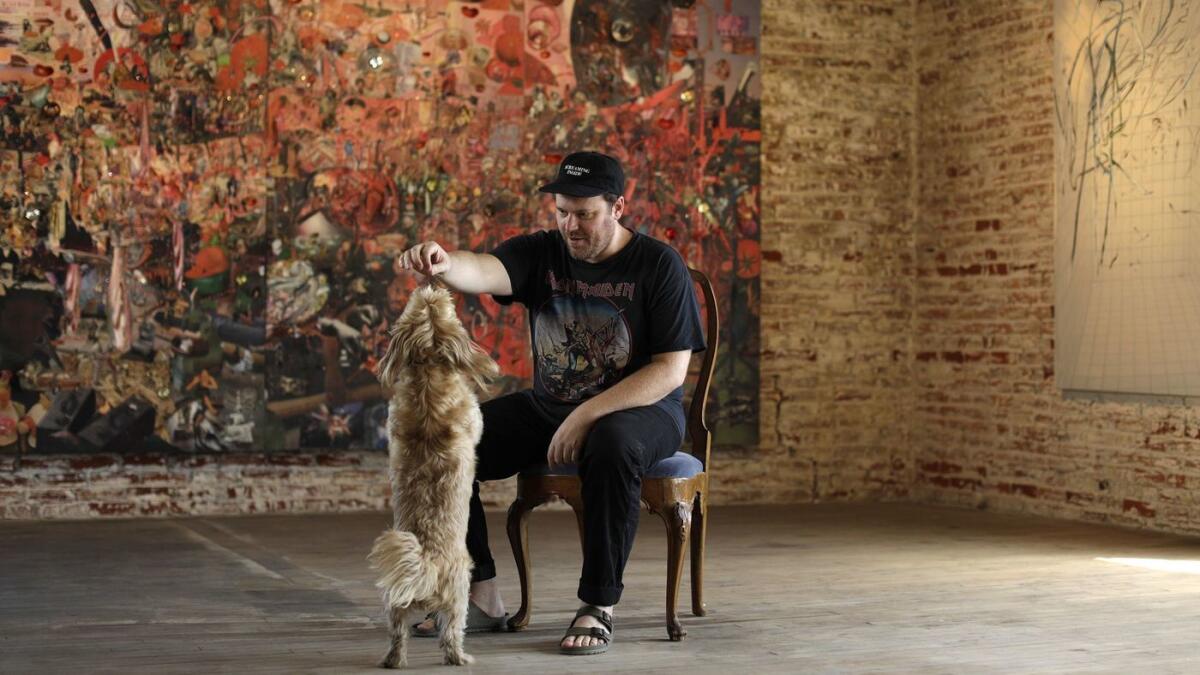 Plus: The Broad has some intriguing shows coming up, including a solo by Shirin Neshat and the Tate Modern's critically acclaimed "Soul of a Nation," about art and race relations in the U.S. during the age of Black Power. The Art Newspaper
WOMEN TAKE THE STAGE
The Broadway musical "Waitress" has grossed more than $115 million and productions will soon launch in Australia and Britain. That is remarkable for any work of theater — even more so when all of the key creative talents are women: composer Sara Bareilles, book writer Jessie Nelson, choreographer Lorin Latarro and director Diane Paulus. "It's pathetic that it's so rare," Bareilles tells The Times' Jessica Gelt. Now the question is: How might the show's success change theater? Los Angeles Times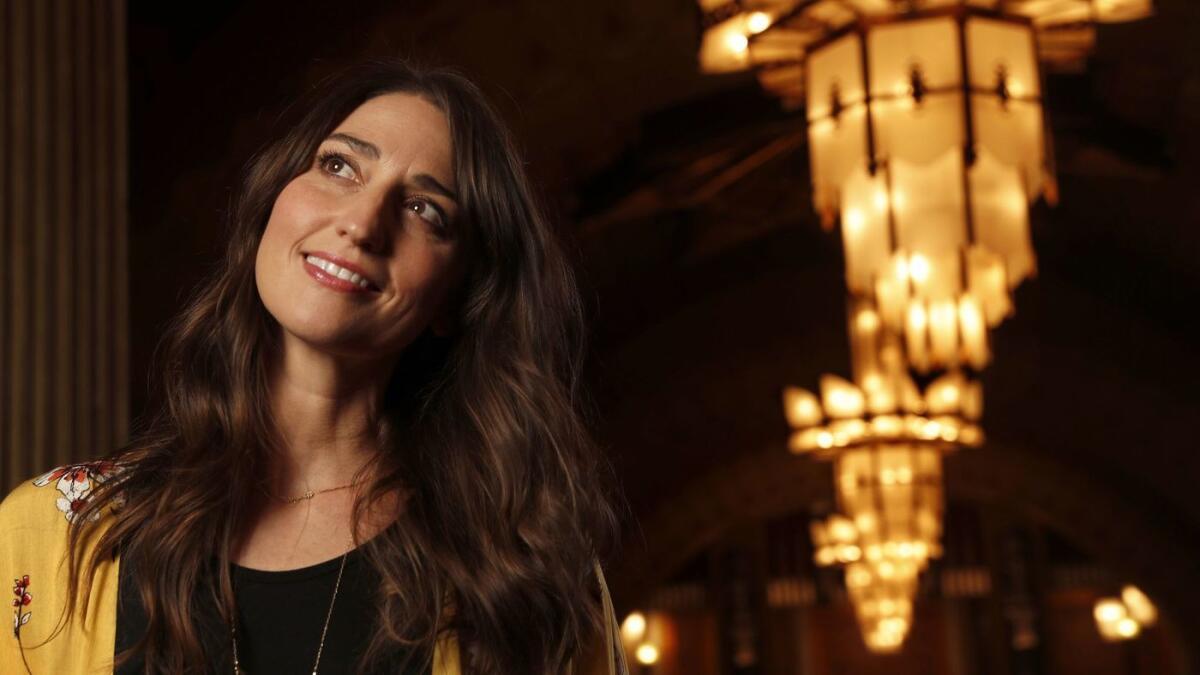 As the national tour of "Waitress" lands at the Hollywood Pantages Theatre, Gelt sat down with Bareilles, to discuss her next move — which includes working on an album of personal tunes. "I'm definitely baring my soul and speaking to this beautiful feminist movement that's happening," she says. Los Angeles Times
SIDLING UP TO SONDHEIM
The Times' Daryl H. Miller checks out the revival of the Stephen Sondheim revue "Side by Side Sondheim" on view at the Odyssey Theatre in West L.A. The show is a little old-fashioned and "less than scintillating," he reports, cherry-picking songs that ignore some of Sondheim's later masterworks. Los Angeles Times
Miller took in the recent production of "Annie" at the Hollywood Bowl over the weekend and it was a good time: "By the end of this inquisitive if ultimately conventional presentation, the audience at Friday's first performance found itself in the lap of a large and loving nuclear family while more broadly connecting with a sense of America as one big household." Los Angeles Times
For more performance, check out Matt Cooper's weekend picks, which include a little Shakespeare in the park and some new ballet. Los Angeles Times
PAINTING THE STAGE
Contributing reviewer Laura Bleiberg offers a tip to anyone seeing Raiford Rogers Modern Ballet: Sit far enough from the stage so you can see all of the dancers as once. "What Rogers does so unusually well, sometimes extraordinarily, is to paint the stage with moving pictures," she writes of the company's recent show at the Luckman Fine Arts Complex. Los Angeles Times
CLASSICAL NOTES
It's summer and we gotta whole lotta Bowl going on — as in: Hollywood Bowl.
Contributor Tim Greiving gives us an advance on a lost score by Henry Mancini that is set to land there next week, while Richard S. Ginell reports on a snappy presentation of lesser-performed works by Stravinksy led by conductor and composer Matthias Pintscher, who will direct the Ojai Music Festival in 2020.
Plus, Ginnell was in the stands to check out Chilean conductor Paolo Bortolameolli's Bowl debut. "It's the rare conductor who can find ways to make the experience feel intimate," he writes. But Bortolameolli "kept his cool, delivering works by Saint-Saens and Dvorak while also dexterously navigating the audience's unfettered impulse for applauding between movements and sometimes kicking wine bottles down the stairs." Los Angeles Times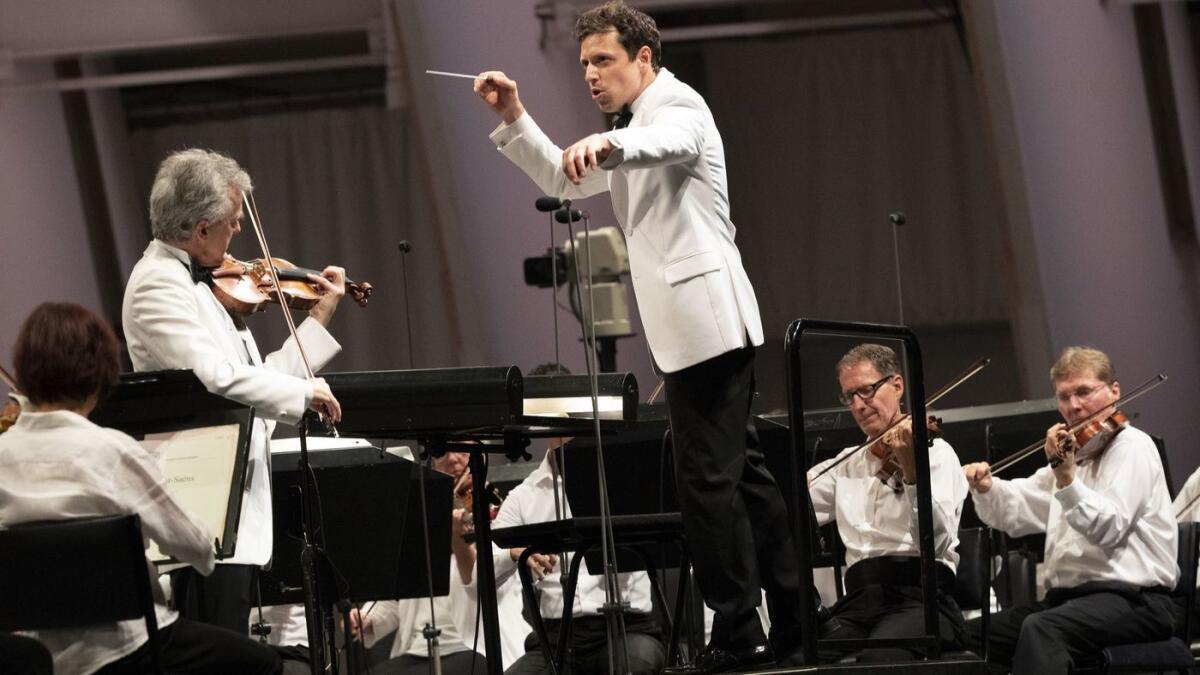 CRANACHS STAY AT THE NORTON SIMON
The Norton Simon will be allowed to keep a pair of paintings by Lucas Cranach the Elder once looted by the Nazis from a prominent Dutch-Jewish family, per a decision issued by the U.S. 9th Circuit Court of Appeals. A descendant has been trying to get the paintings back since the '90s. Los Angeles Times
A timeline of the legal battle over the Cranachs. The Art Newspaper
William Poundstone wonders if justice was truly done. Los Angeles County Museum on Fire
IN OTHER NEWS…
— A St. Petersburg court has ordered the destruction of a work of art that shows a decaying photo of President Vladimir Putin. Hyperallergic
— Despite threats from President Trump to eliminate it, the National Endowment for the Arts keeps on tickin'. Artnet
— Sort of related, but not: Apparently Trump doesn't like brutalism. But does brutalism like him back? Boston Globe
— And because the State Department seems unable to pick an artist to represent the U.S. at the Venice Biennale, Paddy Johnson is offering ideas. Observer
— The Museum of Modern Art is facing labor unrest as it moves forward on a $450-million expansion. Artsy
— Dotan Saguy's photos of Venice Beach capture the neighborhood's circus-like atmosphere. Los Angeles Times
— Dance films made on an iPhone. New York Times
— Oh, just a crazy tale about a small-town couple and their stolen De Kooning. Washington Post
AND LAST BUT NOT LEAST...
Manspreading in art. New Yorker
Sign up for our weekly Essential Arts & Culture newsletter »
carolina.miranda@latimes.com | Twitter: @cmonstah
Get our L.A. Goes Out newsletter, with the week's best events, to help you explore and experience our city.
You may occasionally receive promotional content from the Los Angeles Times.