Santa Ana's Grand Central Art Center may be SoCal's most innovative space for artists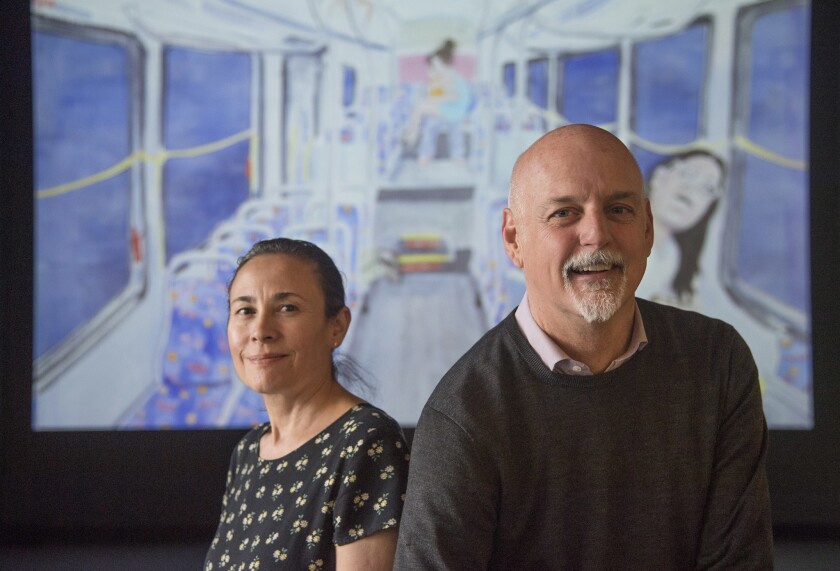 They will celebrate with cake. Not just one cake. Twenty cakes. After all, the Grand Central Art Center in Santa Ana is celebrating its 20th birthday.
Each cake will feature an image from art projects the center has helped produce over the years. An image of artist Carmen Papalia being led through the streets of Santa Ana by a marching band in a performance that reflected on blindness. Or the album cover for artist David Greenberger's sound piece, "It Happened to Me," which features cover art by Ed Ruscha.
"We'll have all these different projects that will be served throughout the evening," said John Spiak, director of the Grand Central Art Center.
In addition to cake, there will be a new mural by painter Jon Haddock, an installation involving a locked room by artist-in-residence Lucas Murgida, paintings by Yevgeniya Mikhailik and Jennifer Levonian, giveaways of Greenberger's album and some "little surprise performances," Spiak added cryptically.
It will be an imaginative celebration for a space that has approached art-making in imaginative ways — less a traditional gallery space than a creative lab where artists can research and test new ideas, even those that don't quite fit in a white box.
"We invite artists we believe in and trust," Spiak said. "We don't ask them to have a project. There is no timeline for residencies. For us, it's about listening to that artist and connecting them to resources in the community. There doesn't have to be a concrete outcome."
How Southern California became the backdrop to an opera about a 'hysterical' woman »
The Grand Central Art Center was launched in 1999 as a joint venture between Cal State Fullerton's College of the Arts and the city of Santa Ana. The university covers the director's salary; Santa Ana leases the center its downtown space — a two-story, block-long building on West Second Street — for $1 a year. Here, the center maintains a 78-seat black-box theater that is programmed by local theater company Wayward Artist, and it supplies free office space to cultural groups such as Barrio Writers, a creative writing camp for neighborhood youth.
Grand Central also maintains several exhibition spaces. The first show, which opened in February 1999, featured a survey by the late painter James Doolin, known for his stylized landscapes of Southern California. Since then, the galleries have featured works by a range of contemporary artists, including paintings by lowbrow icon Robert Williams, drawings by Don Bachardy, a performance by Kenyatta A.C. Hinkle and Tyler Matthew Oyer, plus a sound art project by the collective Postcommodity (a group that made headlines when it bisected the U.S.-Mexico border with balloons in 2015).
One of the center's most innovative aspects has been its residency program, which has drawn artists from all over the region and the world to spend time in Santa Ana and make work.
There is no application process; artists must be invited. Nor does the center require artists to propose a concept in advance.
"They're invited here with no project in mind," said associate director Tracey Gayer, who has worked at the center for 13 years. "Instead, we're just like, 'Come check it out, and if it feels right, great.' I don't think that happens at a lot of other institutions."
Spiak said the goal is less about "bringing" art or artists to Orange County than in encouraging artists to engage what is already there.
"Santa Ana is filled with culture," he said. "This town probably has the best Day of the Dead event anywhere. We want this to be a place where culture is generated in collaboration with community and with respect to what's happening here."
This approach has led to a range of intriguing projects. Venezuelan-born artist Saskia Jorda created an installation that explored quinceañeras, inspired by the many quinceañera gown shops on nearby 4th Street. Colombian artist Adriana Salazar researched death rituals in the U.S., visiting cemeteries, casket builders and mortuaries all over Orange County. For her project, she created a surreal installation out of the metallic parts — rods and replacement joints — left behind when human bodies are cremated.
Rich layers of life from one of L.A.'s pioneer black female artists »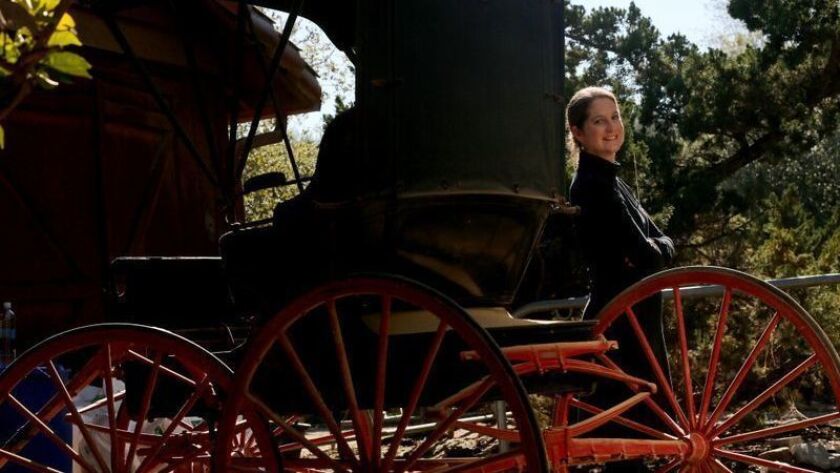 Most notably, the center in 2012 hosted composer Lisa Bielawa, who used her time there to conceive of an episodic opera designed for television about a young woman experiencing hysterical fits. Grand Central connected her with the Orange County School of the Arts, where Bielawa found her lead (a rising teenage opera singer named Rowen Sabala). They also helped raise money — including grants from the Warhol Foundation and the MAP Fund — to finance the shoots, one of which took place inside Alcatraz in San Francisco.
"Vireo," as the opera was called, ultimately aired in 12 parts on KCET.
"We're really proud of 'Vireo,'" Spiak said. "We're proud of so many other projects, too. It's really about listening to the artists."
That listening has resulted in many long-term relationships.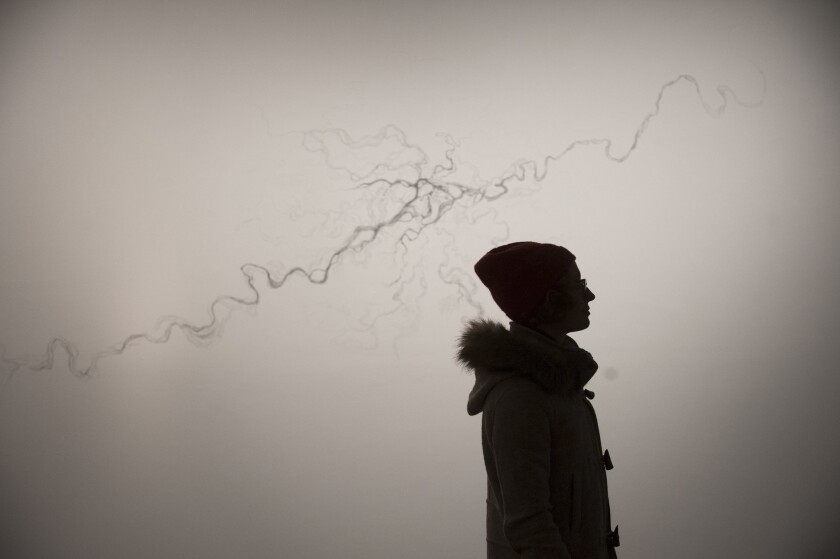 Misael Diaz and Amy Sanchez Arteaga are the founders of the Cognate Collective, which has a years-long history of producing socially engaged works that have explored topics such as identity and the U.S.-Mexico border, alternative histories and informal economies. For one of their earliest projects at Grand Central, they collected oral histories from the downtown Santa Ana area and broadcast them on a hyper-local radio transmitter that they carted on a wagon around the streets of Santa Ana.
It's a performance that has had a longlasting effect: Their histories are now part of the archives at the Santa Ana History Room at the public library.
"Having the gift of time, it allowed us to think about the unique specificity of Calle Cuatro [4th Street], without having to force or stretch to make connections," Diaz said. "It allows us to adapt to the site not on our terms, but instead what the site is dictating."
"It's the kind of residency that allows us to build community," Sanchez added. "Artists live in such itinerant and precarious ways. Here I feel supported by Grand Central, but also by community members for whom this might not have been part of what they usually do."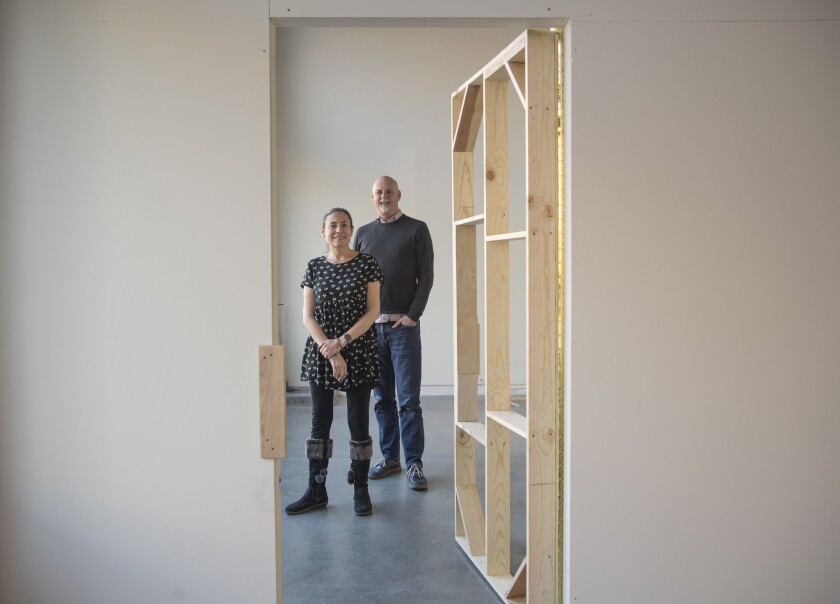 The two have been artists-in-residence at Grand Central for five years and continue to create projects inspired by the neighborhood.
"It's become really generative that we don't just do a project and then leave and then assess the impact or failure in some formal terms in a gallery," Diaz said. "Our work has to be accountable because we live here. It's not like, 'Oh bye, that didn't really work.'"
All of this has made Grand Central an important part of the Southern California arts ecosystem, providing a space in which artists can engage difficult ideas on their own terms.
"We are not in L.A., we are not in New York," Spiak said. "We can work with an artist on new projects and maybe that artist can take a new direction. We can allow them to take risks. It might be their first solo show ever. If it it fails, it's in Orange County. You won't be ripped by all the press."
Even as the center celebrates its 20th anniversary, Spiak said he is less interested in looking back than in moving forward. In fact, he has his own ideas for things he has yet to achieve.
"I really want to do something on the Santa Ana River sometime," he said. "And I'd love to do something on the Balboa ferry — something really performative."
If you find yourself on a ferry in Newport Beach, keep your eyes peeled.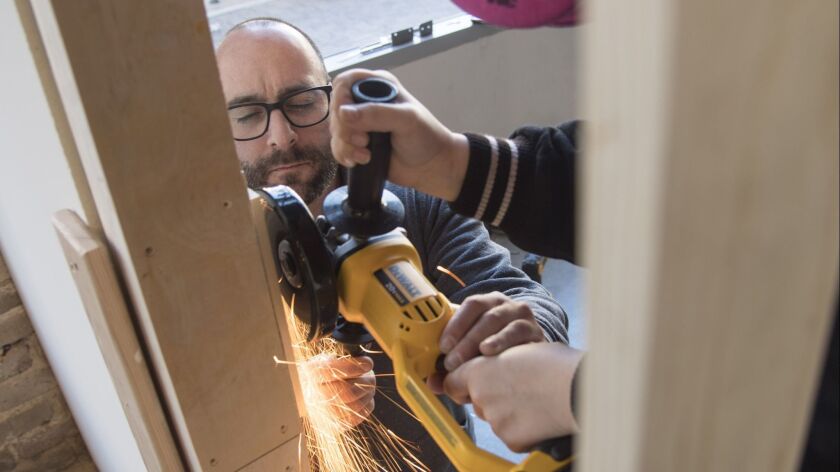 Grand Central Art Center 20th anniversary celebration and exhibition
Where: 125 N. Broadway, Santa Ana
When: Saturday, 7 p.m to 10 p.m.
Info: grandcentralartcenter.com
Sign up for our weekly Essential Arts & Culture newsletter »
carolina.miranda@latimes.com | Twitter: @cmonstah
---
Get our daily Entertainment newsletter
Get the day's top stories on Hollywood, film, television, music, arts, culture and more.
You may occasionally receive promotional content from the Los Angeles Times.