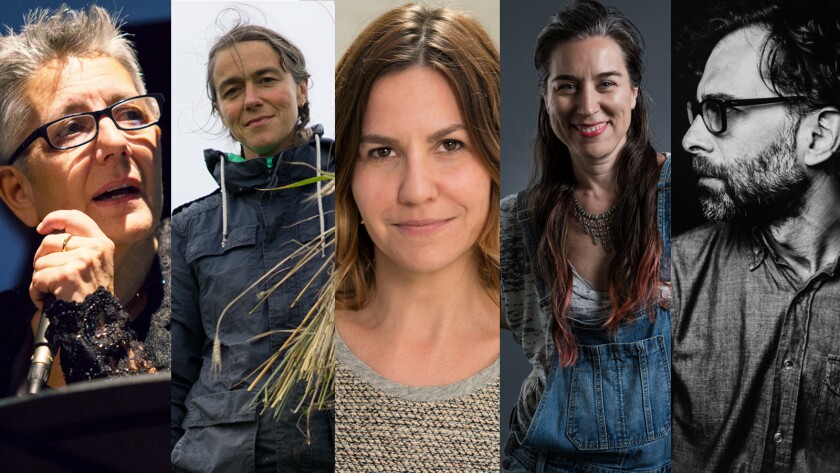 An experimental composer who once created a new piece of music every day for a year. A video artist whose surprising work grapples with complex issues relating to the human mind. And a choreographer whose ritualistic pieces explore the nature of the human body. Those are just some of the recipients of the 2017 Herb Alpert Award in the Arts, granted by the Santa Monica-based Herb Alpert Foundation in collaboration with the California Institute of the Arts.
The five recipients, announced Thursday, are theater director Daniel Fish, choreographer luciana achugar (who spells her name in all lowercase letters), artist Amy Franceschini, composer Eve Beglarian and video artist Kerry Tribe. Each winner — a mid-career artist producing important, experimental work — receives a $75,000 grant as part of the award.
"It supports work that is often more experimental and less commercial," says Irene Borger, who oversees the awards. "It's not about being lockstep with what everyone is doing. It has a kind of freedom in it."
Now in its 23rd year, the Herb Alpert Award has handed out a cumulative total of 115 prizes — more than $7 million — since it first launched in 1995. Each year, the award honors artists working in five fields: dance, music, theater, visual arts and film or video.
Borger says that supporting boundary-breaking work at this political moment is more important than ever.
"I think one of the things that has always been part of the Herb Alpert awards is an awareness of what has been going on in the world, but this time it felt more crucial," Borger says. "I think it's interesting that everyone here is interested in making these artistic communities, even if those communities only last as long as a performance."
The theater productions of the New York-based Fish, for example, examine issues of violence and justice and have been known to break down the physical space between performer and audience. Belgarian, who also lives in New York, is known for her many collaborations with poets, artists, filmmakers and members of rural communities. Franceschini, based in San Francisco, is a founder of Futurefarmers, a collective that works internationally to get people to reconsider their relationship with nature. And achugar's dances often invite viewers to become part of her dance process.
Tribe, the lone winner from Los Angeles, is known for creating films and film-inspired installations that ruminate on issues of science, perception and the mysteries of the mind. In 2015, she created a video installation at 356 Mission in Boyle Heights that explored aphasia, a language disorder that can hamper a person's ability to communicate — a work that Times critic Christopher Knight described as among her "most resonant."
The recipients will be honored with a special lunch at the Herb Alpert Foundation offices in Santa Monica on Friday.
For more on the recipients and the awards, visit herbalpertawards.com.
Sign up for our weekly Essential Arts & Culture newsletter »
ALSO
Ford Theatres announces new collaborations for summer 2017 season
Joining eastward march, Berggruen Institute plans second location in MacArthur Park
Genevieve Gaignard turns the self-portrait into a mirror of culture yet again
Herb Alpert Foundation to donate $10.1 million to LACC — making studies for music majors tuition-free
---