Newsletter: Essential Arts & Culture: Museum-quality emoji, George Lucas goes LA vs. SF, a new Hedwig
George Lucas goes museum-happy. A telenovela on stage. A sumptuous (if rather strange) Reniassance Madonna. I'm Carolina A. Miranda, culture writer for the Los Angeles Times, and here's your guide to the week's most intriguing arts stories:
Lucas hedges his bets
Now that Chicago has proved inhospitable to the idea of George Lucas' Museum of Narrative Art, the movie mogul has set his sights on California. But will it be Southern or Northern Calfornia? The movie mogul submitted designs for a museum in Los Angeles and San Francisco simultaneously. "Call it hedging your bets, call it beefing up your odds," writes Times architecture critic Christopher Hawthorne of this bizarre gambit, "call it the architectural equivalent of quite publicly asking two people to prom on the same day." Los Angeles Times
In other, more sane, architectural news, Hawthorne paid a visit to the new federal courthouse in downtown Los Angeles designed by Skidmore, Owings & Merrill — a building he describes as "an unusually polished work of civic architecture." Los Angeles Times
Wonderfully weird Madonna
The gilded, 6-foot tall Madonna created by Italian Renaissance painter Giovanni de Paolo when he was just 24 years old normally resides at the Norton Simon Museum in Pasadena. But this unusual depiction of the Virgin — cradling a very large baby Jesus — is now on view at the Getty Center as part of a special conservation initiative. The painting, writes Times art critic Christopher Knight, features the heavenly and the earthly woven together in flashes of gold, rich botanical detail and "the rosy blush of human flesh juxtaposed with ethereal bodies." Los Angeles Times
Emoji art
The design department at New York's Museum of Modern Art has acquired everything from Tetris to the "@" symbol for its permanent collection. Now it has added a palette of emojis. "Emojis as a concept go back in the centuries, to ideograms, hieroglyphics and other graphic characters, enabling us to draw this beautiful arch that covers all of human history," Paola Antonelli, a senior curator at the museum tells The Times' David Pierson. "There is nothing more modern than timeless concepts such as these." Los Angeles Times
Telenovela theater
A new play by Karen Zacarías takes on the cheesy, histrionic, plot-twisty Latin American soap as a point of inspiration, writes Times theater critic Charles McNulty, for a work that also shares "storytelling DNA with Shakespeare's romances." On view at South Coast Repertory through mid-November, "Destiny of Desire" is "directed to perfection" by José Luis Valenzuela, head of the MFA directing program at UCLA's School of Theater, Film and Television. It's a work, says McNulty, that "shimmers here with majestic theatrical artistry." Los Angeles Times
And since we're on the subject of Shakespeare (sort of), McNulty also reviewed the modern re-staging of the Bard's "A Midsummer Night's Dream" by the Independent Shakespeare Company Studio in Atwater Village — a production, he writes, that prizes "pungency" over "precision." Los Angeles Times
New-generation Hedwig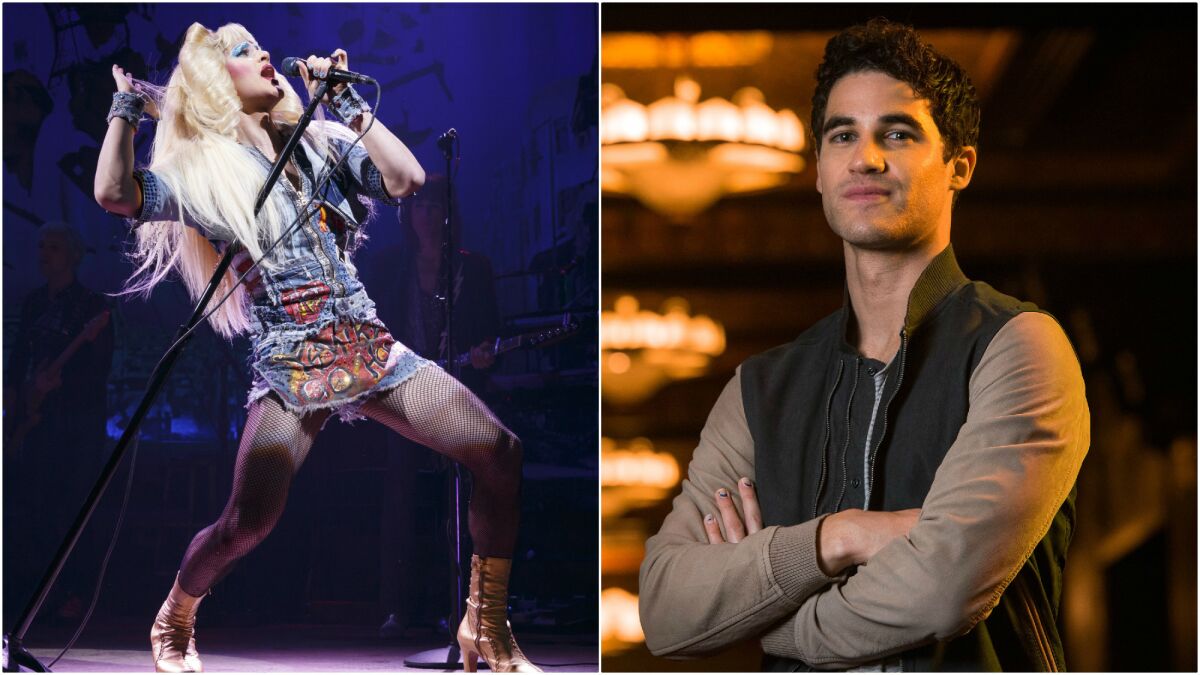 "Hedwig and the Angry Inch," the riotous late-'90s musical about love — and a sex-change operation — gone seriously wrong, has landed back in Los Angeles at the Pantages. The Times' Jessica Gelt speaks with the show's star Darren Criss, who once starred on "Glee." Says Criss of the experience: "This could very well be the greatest role I ever play." Los Angeles Times
Deindustrialization on the stage
For her play "Sweat," now on view at the Public Theater in New York, Pulitzer Prize-winning writer Lynn Nottage spent 2 ½ years interviewing residents of the town of Reading, Pa., the poorest city in the country according to the 2010 Census. "People always spoke of their city in past tense, never in present or future tense," Nottage tells The Times' Daryl Miller of the experience. "That's the thing that made me sit up and pay attention, because people who can't imagine their city in present tense are already in trouble." Los Angeles Times
A candidate and his magic suit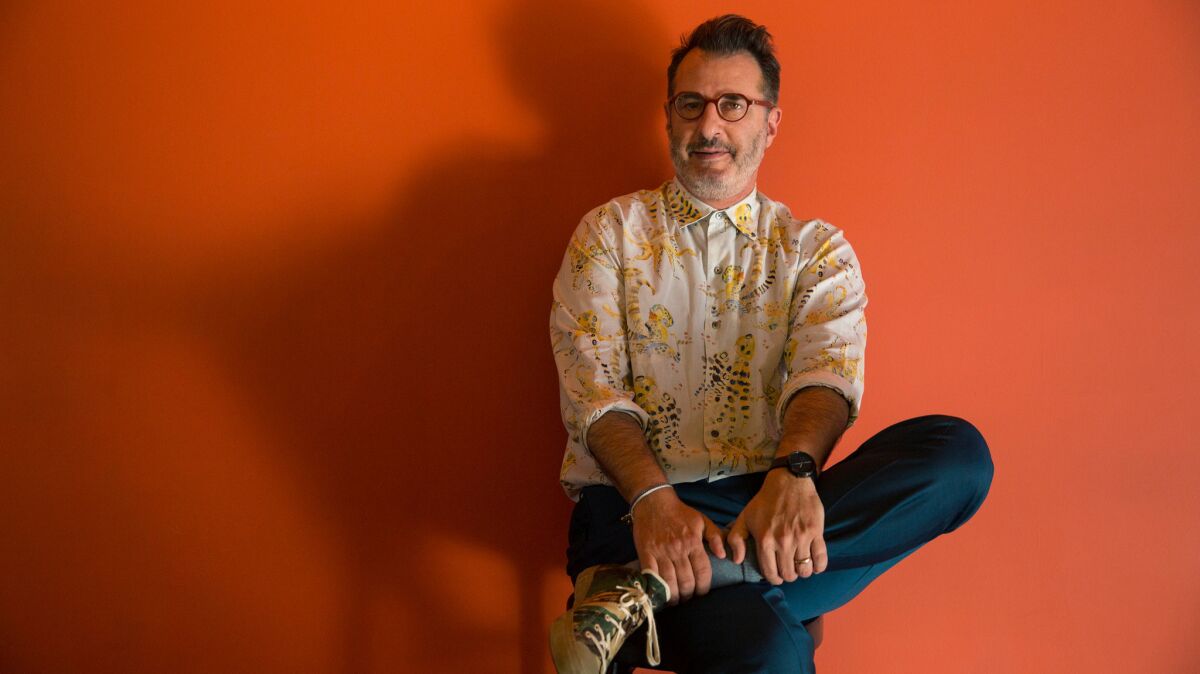 A timely new play by writer Jon Robin Baitz tells the story of an unlikeable businessman turned presidential candidate and the talismanic suit he dons for a debate. "Vicuña," is on view at the Kirk Douglas Theatre through November. Its creator tells Times contributor Barbara Isenberg that it's a "response to the madness of the presidential election." Los Angeles Times
Beta test for downtown's Main Museum
The Main Museum, a new downtown arts institution, isn't set to open its doors until 2018. But starting Sunday, artists Suzanne Lacy and Andrea Bowers are taking over the unfinished space for "Performance Lessons," one of a series of Beta Main happenings. The two will live at the space for 10, days during which Lacy will teach Bowers how to be a performance artist. Part of the lesson plan: a Japanese archery demo and a Wiccan gathering. Los Angeles Times
Sheltering black travelers
During segregation, the Negro Motorist Green Book was an essential guide to the places African American travelers could eat, gas up and lay their heads. Artist Candacy Taylor has been recording the surviving spots once listed in this important guide — and she tells me about some of the Los Angeles locations. The Green Book, she says, was a "practical solution" to a "horrific problem." Los Angeles Times
This week I also sat in on a unique class spearheaded by the L.A. County Museum of Art: Veterans Make Movies is teaching military veterans the ins and outs of making films, and, more importantly, making their voices heard. Los Angeles Times
In other news…
— The Planning and Land Use Management Committee has approved a scaled-back Frank Gehry design for Sunset Blvd. Los Angeles Times
— The director of Shakespeare's Globe Theatre in England is leaving after conflicts over the use of modern lighting and amplification. The Telegraph
— Despite record ticket sales, the Chicago Symphony Orchestra has still posted a deficit. Chicago Tribune
— The Grand Ave arts festival in downtown Los Angeles takes place this weekend. Jessica Gelt has a guide. Los Angeles Times
— A U.S. couple bequeaths their collection of 19th and early 20th century masterpieces to the Musée d'Orsay in Paris. France 24
— The director of the National Gallery in London says a Matisse painting in its collection is not Nazi-looted art. The Art Newspaper
— The Prado in Madrid to stage its first show dedicated to a female artist (that'd be 17th century still life master Clara Peeters). It only took 200 years. The Art Newspaper
— Thirteen canvases by painter Agnes Martin at the heart of an authentication lawsuit by a London gallery. The Art Newspaper
— Canada has its own Beast Jesus, and it's amazing. CBC
— The Museum of Contemporary Art San Diego has formally announced an expansion designed by architect Annabelle Selldorf that will allow the museum to show off its intriguing collection in a more permanent way. Los Angeles Times
— The Smithsonian's Archives of American Art have received a grant from the Walton Family Foundation to help digitize their collections. Artforum
— An interview with Elena Palumbo-Mosca, the woman who used her body to paint for artist Yves Klein. BBC
— The Washington Ballet announces it will once again be using a live orchestra. Washington Post
— Pierre Koenig's Case Study House #21 is for sale. Curbed
And last but not least…
From the annals of performance art: A tree crosses a road; the police get involved. Hyperallergic
Sign up for our weekly Essential Arts & Culture newsletter »
Find me on Twitter @cmonstah.
---
Get our daily Entertainment newsletter
Get the day's top stories on Hollywood, film, television, music, arts, culture and more.
You may occasionally receive promotional content from the Los Angeles Times.