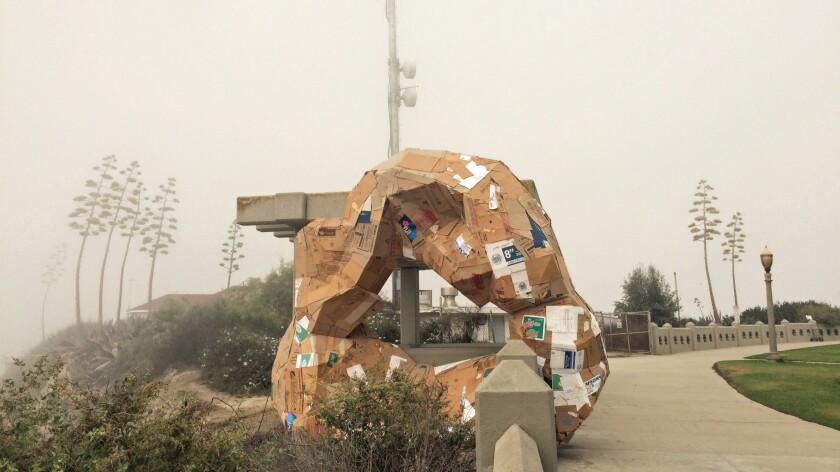 In ancient Rome, important military victories were often commemorated with a triumphal arch — often a standalone structure that was wide enough and grand enough to allow a procession of soldiers to march through.
One of the most famous of these is Rome's Arch of Constantine, built in AD 315 to honor the victory of Constantine over his rival and brother-in-law, Maxentius — a battle that eventually led to his domination over the entire Roman Empire (and reportedly inspired his conversion to Christianity).
Since then, triumphal arches have made appearances throughout the history of Western architecture. Paris' iconic Arc de Triomphe, inaugurated in 1836, was built in honor of the French Revolution and victories in the Napoleonic Wars. In New York City, the Washington Square Arch, designed by architect Stanford White in the late 19th century, marked the centennial of George Washington's first inauguration.
And here in Southern California, we have the Alhambra arch (more formally known as the Gateway Plaza Monument), a Moorish-inspired stucco-and-drywall gateway constructed in 2010 near the San Gabriel Valley's western border. It memorializes neither a victorious battle nor a historical happening, nor any actual triumphal arches you might find in Alhambra's namesake in Spain — but it does serve as an important marker of our region's long-running love affair with faux history.
It is this venerable architectural form, with its rich and colorful history, that L.A. artist Michael Parker has taken on in his installation at Point Fermin Park in San Pedro as part of the ongoing public art biennial, "Current: LA Water."
"The Ides (arch du triumph) mapped by Vi Ha," as the piece is called, is almost an anti-monument. Crafted entirely out of humble cardboard, it has the aspect of a very larger cruller — one that frames views of Angel's Gate, the entry to the Port of Los Angeles, the point at which a vast amount of global trade takes place. (The Port of L.A. is the busiest container port in the Western hemisphere.)
The artist chose cardboard specifically because of what it represents economically.
"Cardboard, although conjuring up images of trash and homeless shelters on Skid Row is, ironically, also the material that power structures use to cheaply and efficiently move capital," Parker tells me via email. "It is an everyday material: efficient, cheap, strong, and indispensable to our global infrastructure of trade."
Think of it as a triumphal arch for the age of Amazon — an era in which ideas and goods all come neatly delivered in a branded box.
Interestingly, Parker devised the initial shape of his sculpture not in cardboard but in clay. Using that more pliable material — the artist is also a ceramist — he conducted a series of quick gesture studies in which he attempted to produce arch-like forms in 10 seconds. (His studies are now on view at the Point Fermin Lighthouse.) He then scaled up one of those clay pieces into the large cardboard sculpture that now clings to the cliff edge in San Pedro.
As far as triumphal arches go, Parker's sculpture is modest — it's roughly 12 feet tall, versus Constantine's Arch that is almost 70 feet tall. But its bizarre, tumescent forms serve as a good reminder of the materials on which today's empires are built: Boxes and boxes and boxes of stuff.
-------
When: Through Aug. 14
Where: Sites across Los Angeles; Michael Parker, "The Ides (arch du triumph) mapped by Vi Ha," Point Fermin Park, 739 West Paseo Del Mar, San Pedro
Info: currentla.org
Find me on Twitter @cmonstah.
ALSO
An artist's imposing new monument at Echo Park Lake honors Angelenos killed in violent crimes
Why Mel Chin is giving away the land art design of his subversively charming Current: LA native garden
The Hammer biennial's breakout star? A 78-year-old retired gardener from Compton who once worked for Marlon Brando
---