From a TMZ tour bus to a seat at the Oscars: My search for elusive celebrity culture in Los Angeles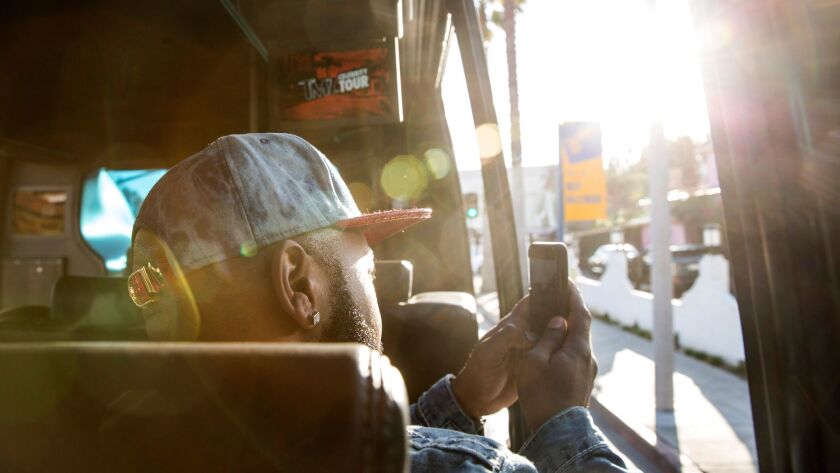 "You know what she wants to do?" spits Aunt Mattie bitterly at the aspiring Esther Blodgett (Janet Gaynor) in William A. Wellman's 1937 picture "A Star Is Born." "She wants to go to Hollywood."
Standing before the Dolby Theatre at Sunday's Academy Awards, it's easy to think of Hollywood as a physical place of bricks and mortar. There's the theater, dressed up in red carpet and miles of gold beads. There are the roaring crowds in bleachers before a scrum of cameras. And there's Salma Hayek in her clinking lavender gown, gliding through like a Technicolor caryatid.
By midweek, all evidence of the Oscars will be gone. Hollywood Boulevard will be reopened to tourists and buskers. And the closest most of us will get to stars will be the ones embedded in the pavement.
Hollywood, it turns out, is an elusive concept.
And by Hollywood, I don't mean the Los Angeles neighborhood of roughly 78,000. I mean "Hollywood," the idea. Hollywood the stand-in for ambitions of fame. Hollywood, "the beckoning El Dorado … Metropolis of make-believe," in the words of Wellman's show business movie. Hollywood, that place the resentful, like Aunt Mattie, pronounce with disgust.
Fame's fugitive qualities, however, don't stop almost 50 million tourists a year from chasing it when they land in Los Angeles.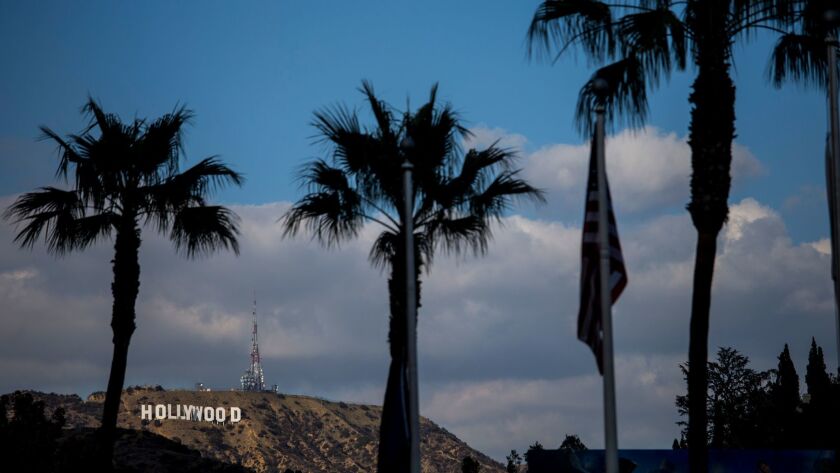 How to visit a place that is an idea? How to touch fame, record it?
But how to visit a place that is an idea? How to touch fame, record it? And how to explain to out-of-town guests that "Hollywood" isn't a cinematic array of studios and sidewalk cafes brimming with movie stars, but a tourist strip of un-muscular men in droopy Superman costumes?
Los Angeles is not "Hollywood." (Only one out of roughly 48 Angelenos work in the entertainment industry, according to L.A. County's Economic Development Corp.) But for those who want to commune with celebrity, the city offers the illusion of access. And for the better part of a week, I commune with the seekers: visiting famous film locations, culminating in the most famous location of all — the Academy Awards.
To get into the mood, I even take a TMZ Celebrity Tour.
"You'll be entertained for two hours and you'll see some celebrities!" says the young man who leads our group to a tour van with a license plate that reads "TMZ 1."
"Maybe," he adds softly, after a strategic pause.
I begin my communion with the Hollywood Walk of Fame.
Celebrity may be ephemeral, but you can't take a picture of ephemeral. It doesn't merchandise well either.
Which is why almost six decades ago, the Hollywood Chamber of Commerce "glamorized" Hollywood Boulevard with black terrazzo stars bearing the names of entertainment icons.
Visitors wouldn't see Burt Lancaster in person when they came to Los Angeles, but they could sure visit his star (installed in 1958 near what was once known as Grauman's Chinese Theatre). Afterward, maybe they'd have lunch and buy a mini Oscar statuette.
More than 2,600 stars are now on the Walk of Fame — Ozzy Osbourne, Carmen Miranda, Angela Bassett, Donald Trump (the president's star is vandalized regularly). On Thursday, "Star Wars" star Mark Hamill will be added to the lineup — in prime real estate outside El Capitan Theatre.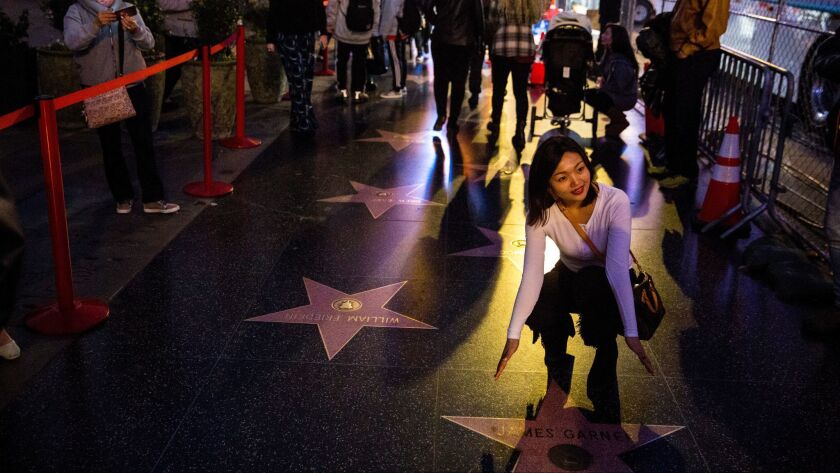 People feel connected to that celebrity or that movie or that era — it's a big deal ... I've seen people crying and weeping.
Alison Arngrim, actress
There is something incantatory about visiting the Walk of Fame on a crowded night, as people beckon the spirits of live and dead celebrities they admire by exclaiming their names: "Muhammad Ali!" "Harrison Ford!" "Oh, Antonio Banderas, I love him."
As a set for picture-making, the Walk of Fame was prescient — feeding the desire for image half a century before Instagram. It's a vivid example of the ways the physical landscape of Los Angeles has been molded by the desire for a dalliance with renown.
A more extreme example is the Hollywood & Highland shopping mall on that same strip. Modeled on the Babylon scene from D.W. Griffith's 1916 epic "Intolerance," it's a picture-making set inspired by a literal film set.
After its 2001 debut, then-L.A. Times architecture critic Nicolai Ouroussoff, described it as "a gigantic urban eyesore." That matters little to the tourists who climb the arch to take pictures of the Hollywood sign in the distance.
A woman hands me her smartphone, gestures toward the Griffith-inspired elephants and in halting English says, "Picture, please."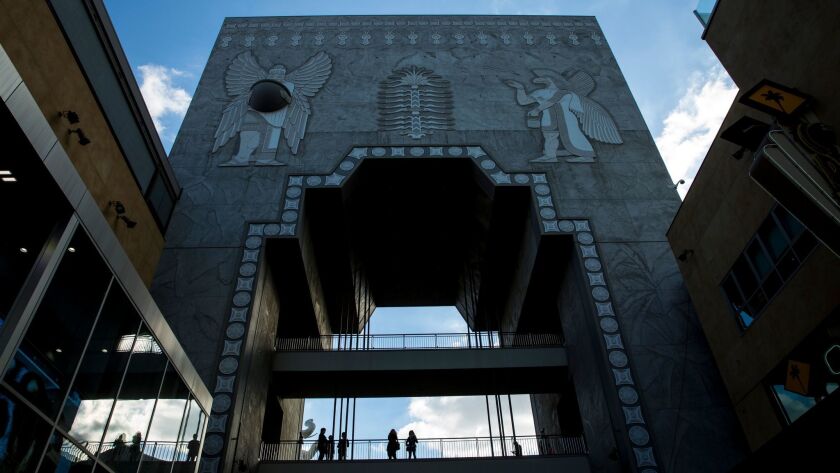 In "Los Angeles Plays Itself," Thom Andersen's dyspeptic documentary about how Los Angeles is portrayed on film, he notes that in the city, "A place can become a historic landmark because it was once a movie location."
For months after the release of "La La Land," the Royal Pagoda Motel in Chinatown bore the sign "La La Land Was Filmed Here" — even though the hotel appears only for seconds on screen. A block over on Hill Street is the Foo Chow Restaurant, which still advertises its role in 1998's "Rush Hour."
"A bestseller movie by Jackie Chan Rush Hour was shot here," reads a utilitarian sign on the restaurant's gray facade — right above a banner advertising $4.50 lunch specials.
The Los Angeles Tourism & Convention Board posts movie location maps on its website, including sites from 2001's "The Fast & the Furious."
I cruise by the Echo Park home of Vin Diesel's character, Dominic Toretto, and a nearby market that was Toretto's Cafe in the movie.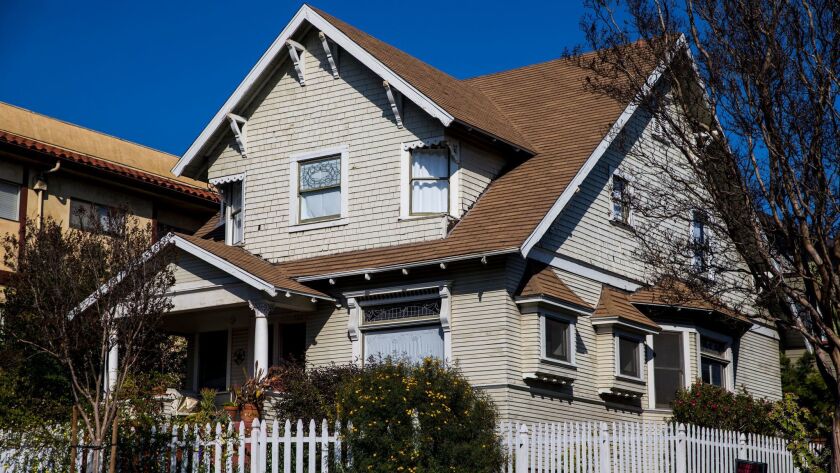 A man in a silver Toyota pulls up in front of the market (called Bob's in real life), but doesn't get out. It's raining. He snaps a picture and drives off. You may not see the famous. But you can walk (or drive) in their footsteps. And this is a desire perhaps most perfectly channeled by celebrity tour companies such as TMZ.
Over our two-hour excursion on a blustery afternoon, Times photographer Kent Nishimura and I cruise by sites both famous and infamous: the Hollywood Roosevelt Hotel, where the first Academy Awards were held (in 15 minutes) in 1929, and the In-N-Out on Sunset Boulevard where Paris Hilton was nabbed by police for allegedly driving under the influence.
Included in this pantheon of important sites are celebrity hair salons, celebrity restaurants and a visit to the Beverly Hills street sign where Kanye West hit his head in 2013. This point is brought to life by the TMZ video playing on repeat.
The young man seated before us is from Memphis. It is his first visit to L.A. I ask him what inspired him to take a TMZ tour.
"Well, this is L.A.," he says.
In his book, "The Frenzy of Renown: Fame and Its History," author Leo Braudy notes that the ways fame has been cultivated go back to ancient cultures. Alexander the Great was so intent on being known in his vast, conquered empire, he emblazoned his likeness on currency.
"Little House on the Prairie" star Alison Arngrim, who played Nellie Oleson, leads her own Hollywood celebrity tour with Dearly Departed. Known as the Nastie Nellie Oleson Tour, it is treated by some fans as a religious pilgrimage.
"People feel connected to that celebrity or that movie or that era — it's a big deal," Arngrim says. "I've seen people crying and weeping."
After our TMZ tour, Nishimura and I end up at Pink's, famous for its hot dogs — but also for being the site of an episode of "Jackass" in which Brad Pitt is kidnapped from the line and thrown into a van to the horror of onlookers. (It was all a setup.)
Pink's was never in "La La Land" but it does sell a "La La Land" hot dog — smothered in a mountain of guacamole, sour cream and bacon. It costs $8.95.
Certainly, the pinnacle of celebrity access is the Academy Awards. But its access can also be illusory.
On television, the red-carpet arrivals event appears to resemble the cinematic premieres of yore: fans cheer as the famous stride up the red carpet to the theater. But the fans in the stands — about 700 of them — are chosen by lottery well in advance of the show.
Only the famous get to walk the main red carpet. Everyone else is sent along a side lane where a battalion of security guards prod you to keep moving. If you're not a celebrity, accessing the Oscars is like going through the world's most glamorous airport security line — complete with metal detectors.
From there, flashbulbs go off as you walk up the steps to the Dolby Theatre. Except they're not flashbulbs — they're strobe lights timed to mimic camera flashes.
During the awards, when "Black Panther" star Chadwick Boseman goes onstage to present, he says, "Some people build fences to keep people out. Other people build fences to keep people in" — a reference to President Trump's anti-immigrant polices.
It's an ironic reference given that the Academy Awards takes place inside a blocks-wide security cordon that would make the average U.S.-Mexico border crossing blush: there are cement barriers and policemen with mirrors. Casual gawkers are kept at a distance — in narrow sidewalk pens surrounded by chain link.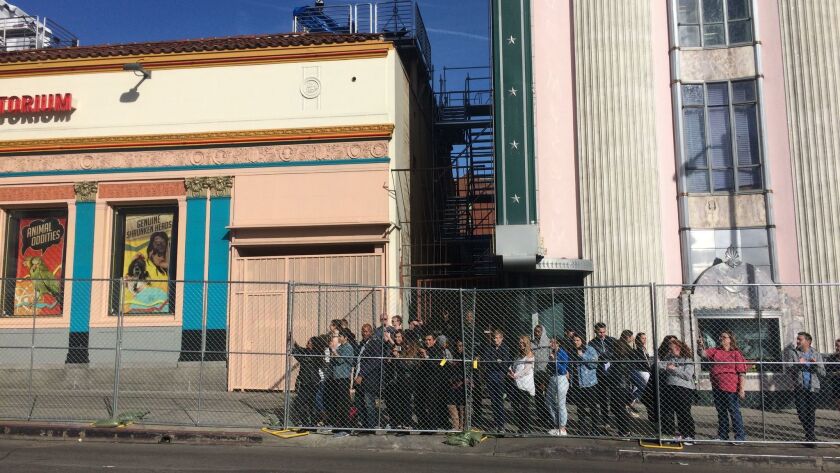 The Academy Awards takes place inside a blocks-wide security cordon that would make the average U.S.-Mexico border crossing blush.
Even inside the awards, there are limits. My ticket admits me to the mezzanines — where I sit with other reporters and industry professionals. The celebrity zone below is protected by a guard and a velvet rope.
After the awards, as the celebrities move on to their parties, I slip out of the theater and walk east along Hollywood Boulevard, where a few dozen fans hope to see a star from their pen, to little success.
At North Cherokee Avenue, I finally make it past the yards of chain link and amble up to Christy Hilario's hot dog cart. On the menu: a bacon dog with all the fixings.
A man in a sweatsuit comes by and offers to sell us a pair of Nike Air Max sneakers for $30. "It's a bargain," he says, offering up a grocery bag with a pair of shoes.
Hilario declines and says business has been slow because of the Oscars.
Has she seen any celebrities?
"No," she says with a laugh. "Here, all you get is Zorro and old Spider-Man."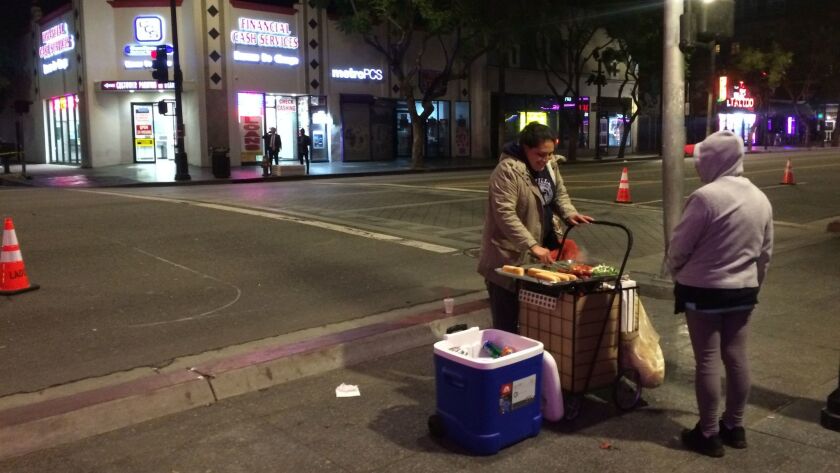 To read this article in Spanish click here
Sign up for our weekly Essential Arts & Culture newsletter »
---
The complete guide to home viewing
Get Screen Gab for weekly recommendations, analysis, interviews and irreverent discussion of the TV and streaming movies everyone's talking about.
You may occasionally receive promotional content from the Los Angeles Times.