In the wake of Prince's death, a very short history of the color purple
When Prince unexpectedly passed away earlier this week, the outpouring of grief was instantaneous: Old performance videos and concert photos popped up all over the Internet and buildings the world over — including Los Angeles' City Hall — draped themselves in purple lights.
And it didn't end there. One TV station in Indiana illuminated its evening news set with purple lights, the New Yorker magazine quickly distributed a purple cover, and the "Rain Room" attraction at the L.A. County Museum of Art became the Purple Rain Room — all in the name of going #PurpleForPrince.
Purple is a potent and powerful color. And certainly, the Purple One, as the musician born as Prince Rogers Nelson was often referred to, had to have known that.
"It is the color of royalty and of the church," explains Victoria Finlay, the Bath, England-based author of "The Brilliant History of Color in Art." "Purple is a branding color, a very special color. Not many people use it."
Interestingly, it was the Romans who made purple a color of social stature.
"They really got attached to purple," says Finlay. "There were rules about who could wear purple and the rules often changed. Sometimes people could wear purple if they paid taxes and sometimes only the Caesars could wear purple. There were periods where if you wore purple and you weren't aristocratic, you could be killed."
Its status came partly from the fact that making Tyrian purple, as the Roman shade of purple is known, was a difficult, expensive and rather murderous enterprise. During the Roman era, the color came from the shell of the Bolinus brandaris mollusk, known as the purple dye murex. More than 250,000 of these creatures were needed for just half an ounce of dye — enough to stain a single toga.
"It was the ultimate luxury," says Finlay. "But, actually, the stuff smelled vaguely of fish. The Caesars definitely smelled."
Since then, purple has retained its connotation of royalty and power in Western culture — worn by kings and by cardinals.
When the French King Louis XVI was painted by Antoine-François Callet in 1779, it was in a purple coronation robe. Likewise, a long-lost portrait of Britain's Edward VIII, who abdicated in 1936 before he could be crowned king, shows him wearing purple, in anticipation of assuming the throne.
There were periods where if you wore purple and you weren't aristocratic, you could be killed.
— Victoria Finlay, author of "The Brilliant History of Color in Art"
Finlay says that this royal history is why the color works so well for a musician named Prince. "I do think he was really playing with the royal color and the royal name," she says. "I've always imagined that it was him living up to his rather wonderful name."
The color, interestingly, began to become more democratized in the 19th century, when new synthetic dying techniques made it easier to produce. (We have British chemist William Henry Perkin to thank for that. He accidentally discovered the dye while looking for ways to synthesize quinine.)
But though anyone can wear purple these days, it nonetheless remains a special color — one associated with great beauty.
In Alice Walker's famous novel, "The Color Purple," Shug Avery tells Celie: "I think it pisses God off if you walk by the color purple in a field somewhere and don't notice it."
Likewise, purple has also been associated with sadness.
"Rather poignantly, purple as well as black has been a color of mourning," says Finlay. "There was a newspaper story that in 1952, when [British King] George VI died, people were reporting black and mauve knickers in haberdashers windows."
"Purple is the last color on the spectrum," she adds. "It's the color of being present and not being present. It's symbolic of that boundary of being and not being, seeing and not seeing. It's a powerful color in that."
A color well suited to Prince, an artist who was never confined to one genre, one style, one way of thinking.
"If he was going to choose one color," says Finlay, "purple is it."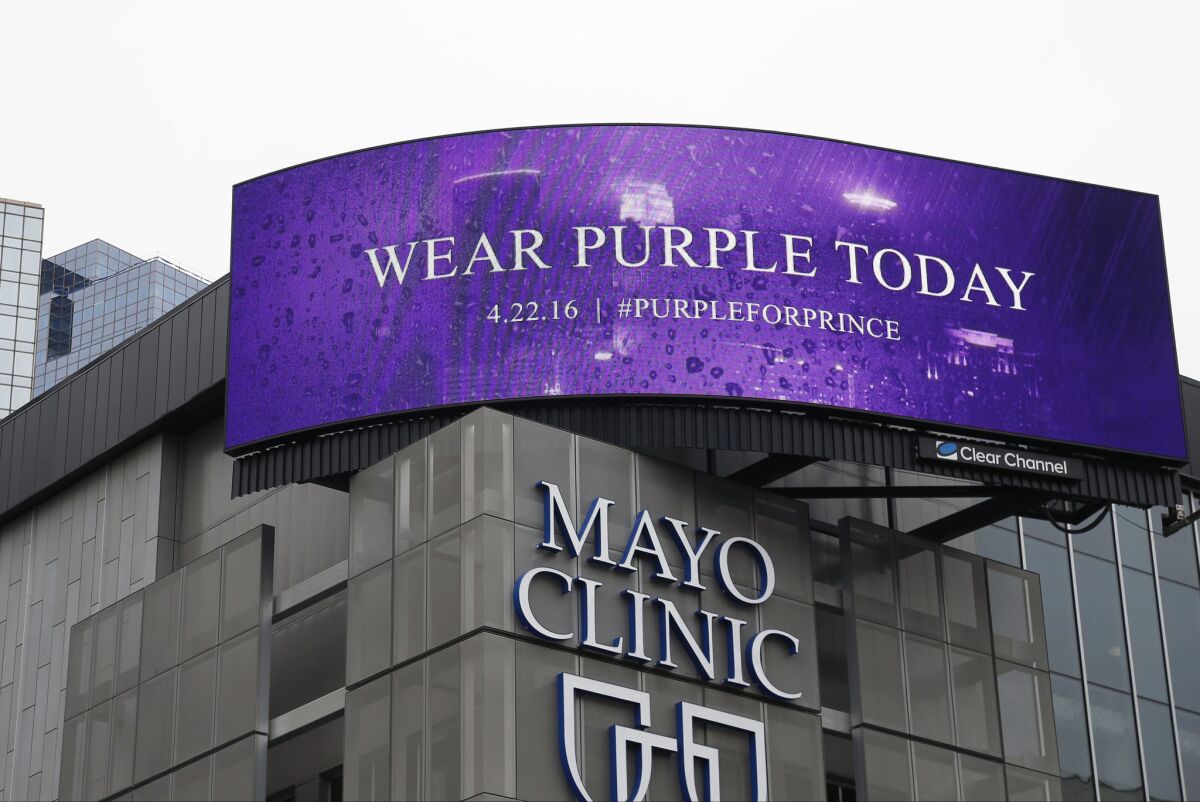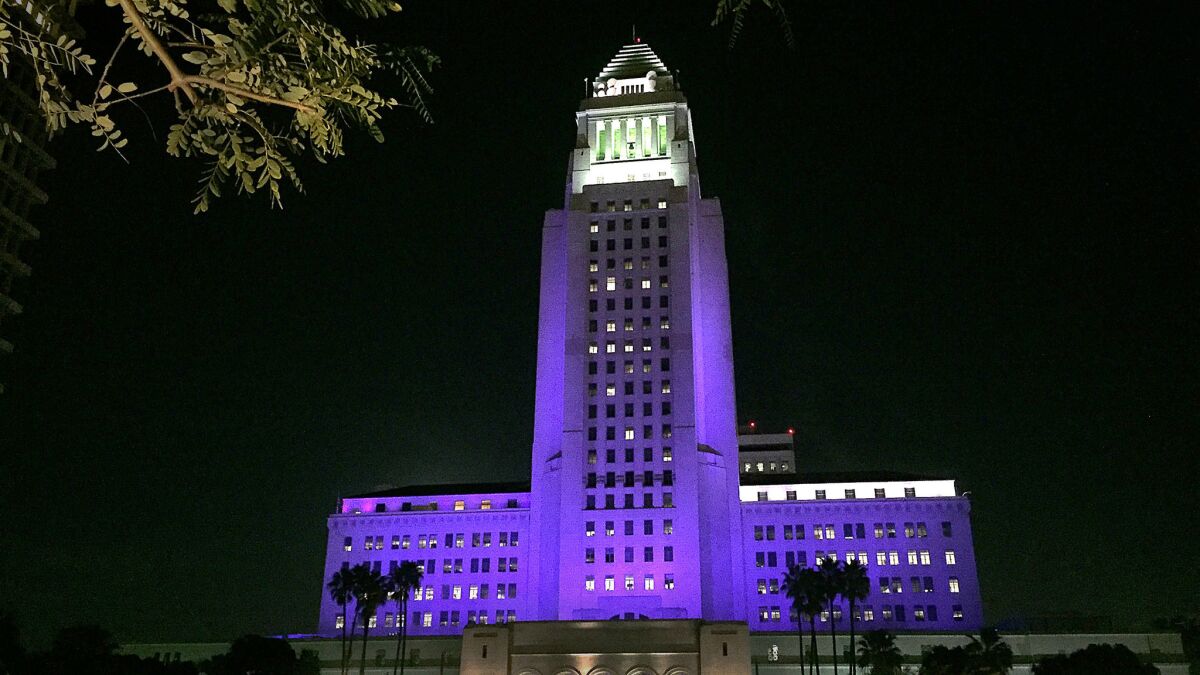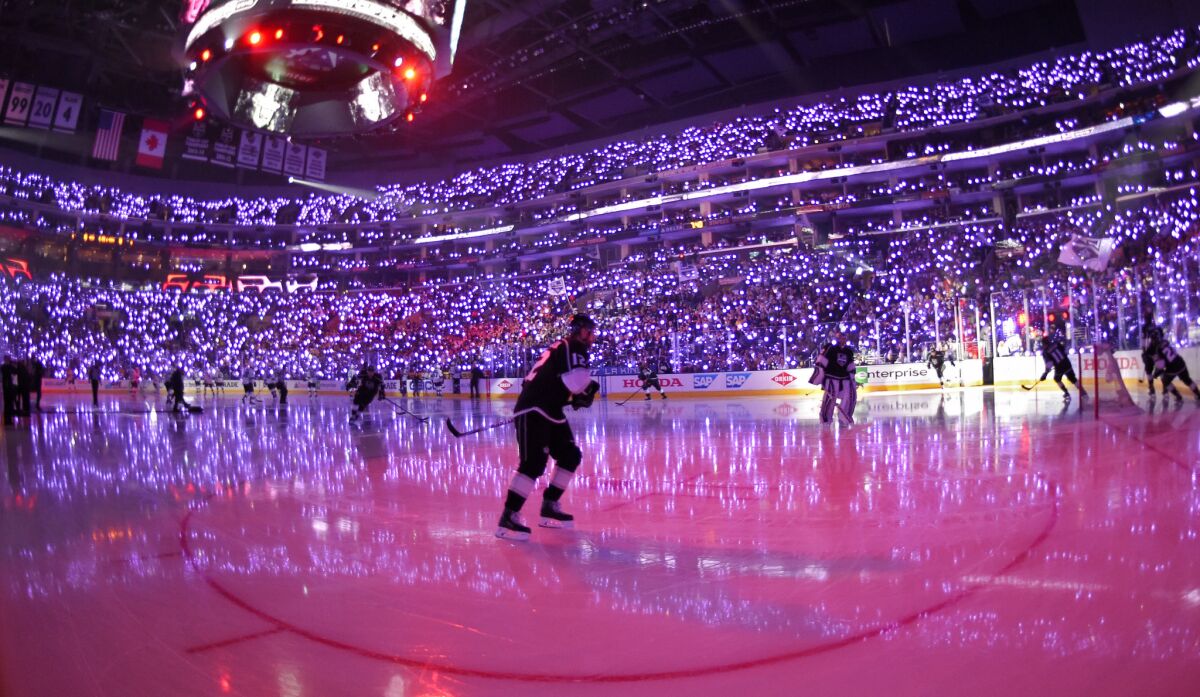 Find me on Twitter @cmonstah.
ALSO
In Minneapolis, everyone has a story about Prince
Prince practiced door-to-door evangelism
Value of Prince's $300-million estate is expected to soar in coming years
---
Get our L.A. Goes Out newsletter, with the week's best events, to help you explore and experience our city.
You may occasionally receive promotional content from the Los Angeles Times.