Rafael Cardenas didn't set out to be a photographer. For a time, he worked as a paralegal. Then he worked at a doctor's office. There were other gigs in between. But since he was a kid, he has carried a camera — be it a pocket-sized Kodak 110 or an old Canon Rebel, with which he shot film.
He used these to capture images of friends and family and whatever else struck his fancy. But Cardenas didn't get serious about picture-making until roughly half a dozen years ago, when he bought a professional Canon EOS 10D from a colleague at an old job.
"I sat him down and bought him a beer so that he could show me a little bit about the camera," Cardenas says. That informal session functioned as his photography master class.
Sign up for our free Essential Arts & Culture newsletter »
Cardenas has since used that machine (and various others) to capture the gamut of Los Angeles life, primarily on the Eastside. This includes black-and-white photos of playful boys suspended in the bright waters of a swimming pool, a skater sailing along a sun-bleached street and a man lifting his shirt to reveal a broad chest tattoo of a Superman logo — not to mention countless moments of revelry and quiet contemplation.
The photographer, who was raised in East L.A. and now lives in Boyle Heights, has gathered a collection of more than a hundred of these images in the new, limited edition artist book "Mas Aca" (Over Here) — which features an introductory essay from fellow artist Harry Gamboa, one of the founders of the collective Asco. The book will officially debut on Friday evening with a special event at the Boyle Heights design space Espacio 1839.
Cardenas says that "Mas Aca," in many ways, represents the culmination of an experiment. Shortly after he acquired that first professional camera, in 2009, he decided he would take a picture a day and post it to a blog. (It's something he still does on his website, rafa.la).
"I did it so that I could get used to the camera," he says. "I shot like that for a whole year and halfway through it people started telling me to do an exhibit."
Within that first year, he'd had a small show of photographs at the Boyle Heights bar Eastside Luv. That showing led to other exhibitions and opportunities — with Cardenas becoming a professional photographer in the process. (He works as an independent event photographer.)
The challenge is to make it good and make it for me. It's doing it for the art.
Rafael Cardenas, photographer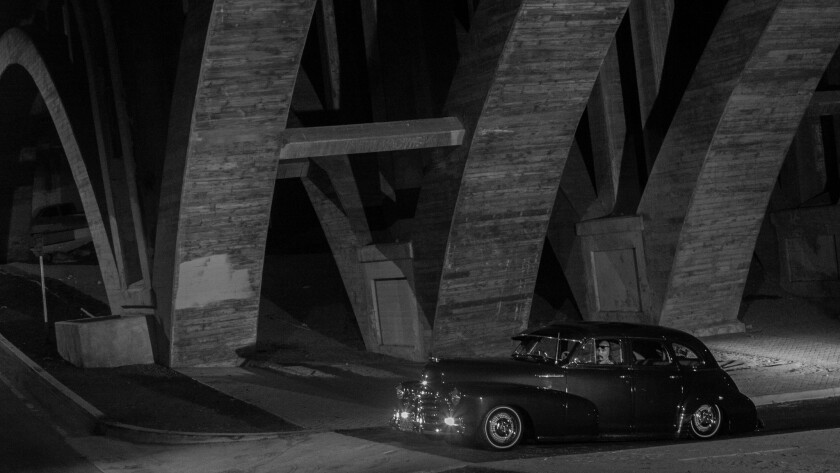 But it's the artistically minded work — inky, black-and-white images that play with the subtleties between darkness and light — that most impassions him.
In 2014, Cardenas led a community portraiture project during the 40th anniversary of the nonprofit arts space Self Help Graphics. That same year, he began shooting for the Public Radio International project "York & Fig," a series that explored the topic of gentrification in Highland Park. And last month, his street images went on long-term view at the Hollywood and Highland Metro station in Hollywood.
"One of the things I've experienced is how lucky I am that people have watched me as I've learned," he says. "This is my learning process."
Over the years that process has led to a panoply images depicting Eastside life — from neighborhood cultural figures to kids smashing piñatas as well as late-night diners at a local burger stand and protesters at an immigration rally.
As his Boyle Heights neighborhood becomes a focal point in struggles over gentrification and displacement, Cardenas says he has given some thought to the fact that he is capturing his neighborhood during a period of inexorable change.
But even so, it's the picture that always comes first.
"I honestly don't go out with an intention to shoot a specific thing," he explains. "I kind of just go about my day and carry my camera and shoot whatever is around."
"The challenge is to make it good and make it for me," he adds. "It's doing it for the art."
+++
Rafael Cardenas
Limited artist edition (11" x 13"; series of 100): 112 pages, $200
A more economical 10" x 8" version will be available for order via the artist's website, rafa.la, starting this weekend.
Where: Cardenas launches "Mas Aca" at a special launch and artist talk at Espacio 1839, 1839 E. First St., Boyle Heights, Los Angeles, rafa.la and facebook.com/Espacio1839
When: Friday, 7 p.m. to 10 p.m.
After-party: After the book launch, guests are invited to Eastside Luv, the bar next door (1835 E. First St.), for an informal gathering.
Exhibition: Prints from Cardenas' book will be on view at Espacio 1839 through July 31.
Find me on Twitter @cmonstah.
ALSO
Rafael Cardenas: Individual portraits capture a community
'I've been flashed. I've been mooned': The Hollywood Boulevard adventures of artist Tim Youd, who is spending July retyping John Rechy's 'Numbers' at Griffith Park
As Gronk's set designs go on view at CAFAM, the artist talks opera, painting and B-movie crab monsters
Without spandex or superhero cleavage, artist Gina Wynbrandt creates a funny, very real comics heroine with a Justin Bieber problem
Investigating Carmen Miranda and fighting the 'biennial effect': Two Latin American artists in L.A. prepare for Pacific Standard Time
L.A. artist Carl Cheng's darkly amusing supply kits for the apocalypse
---
UPDATES:
10:28 p.m.: Updated with information about the exhibition at Espacio 1839.
This article was first published at 4:53 p.m. July 8.
---